Ladies
Chloe & Joe's Stamford Wedding
For Chloe and Joe, it seems like the best things really do come to those who wait. After a lengthy 10-year engagement the local couple tied the knot at a newly refurbished Haycock Hotel in August…
Wedding Photographer: Rebekah Robert Photography, 07736 931496, www.rebekahrobert.com.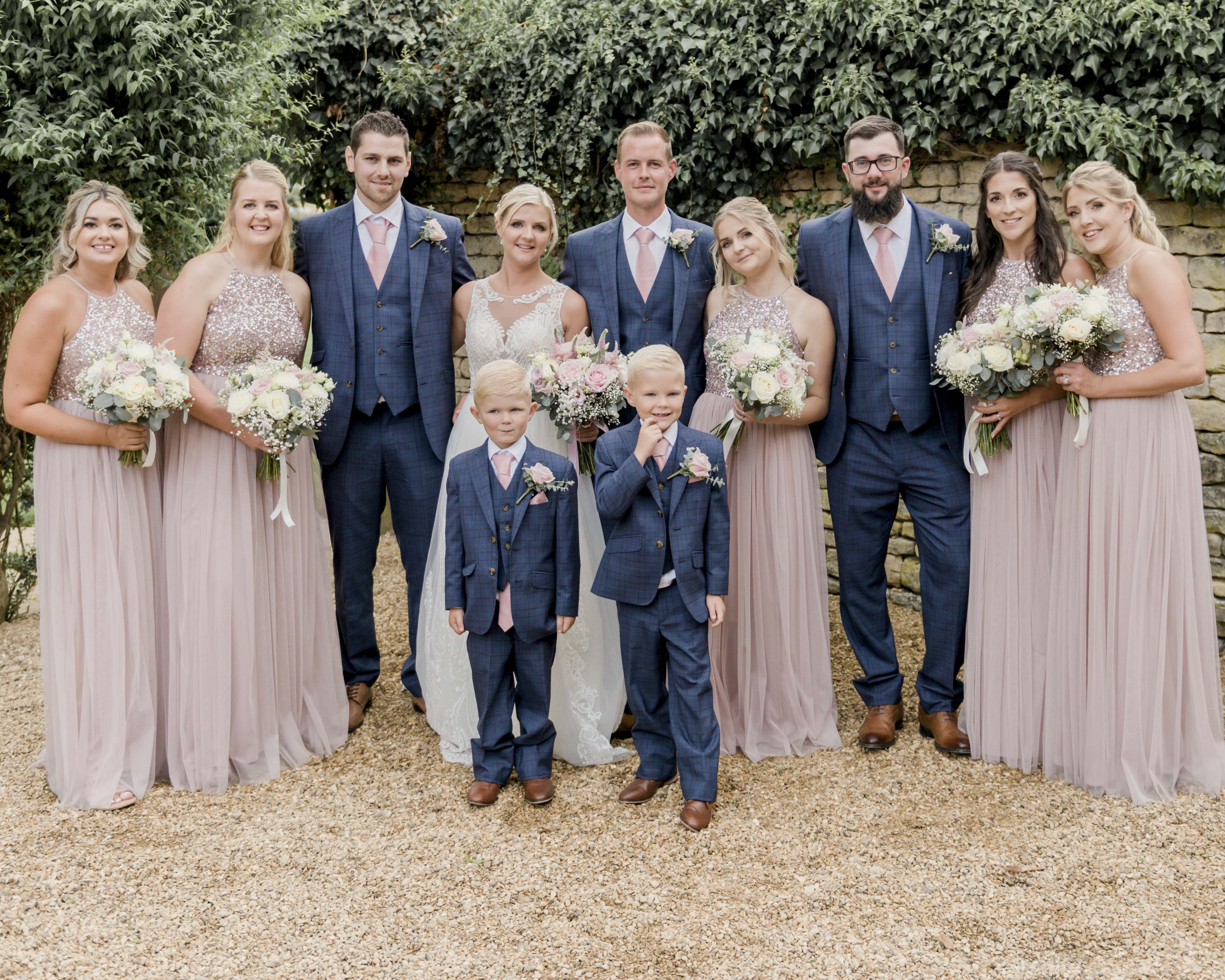 Priorities. They're so different today. In decades gone by, you'd marry first then move in with one another. Very few people do that today, and so when they do marry, it's less about the beginning of a couple's life together and more a statement of enduring love and permanence. Chloe Buckenham and Joe Carter were engaged some 10 years ago, enjoying a surprise proposal during a visit to London for Chloe's 21st birthday. Since then, they've put their efforts into building good careers, making a home and raising their children Ryan and Jayden.
Upon finally finding time to get married, their first step wasn't to call the register office, or local church, or a wedding venue, but rather to seek advice from Chloe's friend and very trusted friend Rebekah Wilson of Rebekah Robert Photography whose expertise, as an established wedding photographer, was something the couple were keen to make the most of.
"She's a brilliant photographer and works with her husband Rob, so together they capture the wedding from both the bride's point of view and the groom's point of view too."
"We also asked her advice on venues, too, but viewing them was a bit difficult at the time because of Covid. We originally planned the day for June but had to delay until August, when we could marry with fewer restrictions on social distancing and so on. One of the benefits of that, however, was that it meant that the refurbishment of The Haycock Hotel was complete."
"When we first looked around there was still work being completed, but the result is absolutely beautiful. They told us about the chandelier they'd ordered for the ballroom and the finishing touches they were about to introduce, and it all sounded amazing."
"Happily when the day arrived it all looked fantastic and what was really nice about the place is that it was large enough that the bride and the groom each had their own suites to get ready in, separate from each other, without seeing each other before the ceremony."
"We also liked the fact that the ceremony room and the ballroom for the reception were separate but right next to each other."
Chloe says she was lucky too, with the dress she found at Snob, an acronym of Susan Nicholas Opulent Bridal. Susan is a stockist of Mori Lee gowns but she's also a gifted dressmaker and created a bespoke wedding dress for Chloe which had a tapered A-line silhouette with a lace and bead overlay.
"It was a beautiful gown, and Susan is really recommended, she really listens to what you want and delivers just the kind of wedding dress you want. I had no idea at first what I was looking for so that was really useful."
Lockdown also meant it was difficult to try on bridesmaids' dresses and outfits for the grooms. Separate Zoom meetings to try on bridesmaids dresses led Chloe and her five bridesmaids to opt for some soft blush pink dressed she found at John Lewis.
The groomsmen's suits, meanwhile, were  found at Robert Goddard menswear, and had a subtle pink pinstripe in the tailoring to bring out the couple's chosen colour scheme.
"We also found Fran Pacey from Attention 2 Detail, and she was really great. She provided the chair covers, styled the tables and created the table plan and name cards for the wedding reception tables. Again, everything she did tied in with our colour scheme, too."
"Our cake was created by Sherrie Ablett who created a two-tier Victoria sponge and worked with our florist, Sarah, who's based in Wisbech, to decorate it with fresh flowers."
"It really was an amazing day, it was everything we hoped for and I wouldn't change anything in terms of suppliers or where we married. In fact the only thing I'd have changed is the slight disaster which occurred right at the last minute."
"Just three days before the day my mum and stepdad tested positive for Covid and couldn't be at the wedding. It was a real shame but I think it's important when you're planning a wedding to remember that not everything will go the way you want it to, the weather and so on. You've just got to let that go and enjoy yourself. The most important thing is to marry your best friend and to celebrate your love for one another."
Wedding Ceremony & Reception: The Haycock Hotel, Wansford, 01780 782223, haycock.co.uk.
Wedding Dress: Susan Nicholas Opulent Bridal (SNOB), 01354 680077, www.s-n-o-b.co.uk.
Groomsmens' Outfits: Robert Goddard Tailoring, 01775 722001, www.robertgoddard.co.uk.
Venue Decoration: Fran Pacey, Attention 2 Detail, 07969 384677.