So-called prodigy houses were built by courtiers, and those who enjoyed new-found status as nobility. Burghley House is one of the finest examples, but in addition to being impressive from driveway to doorway its interiors, too, were designed to convey William Cecil's new status…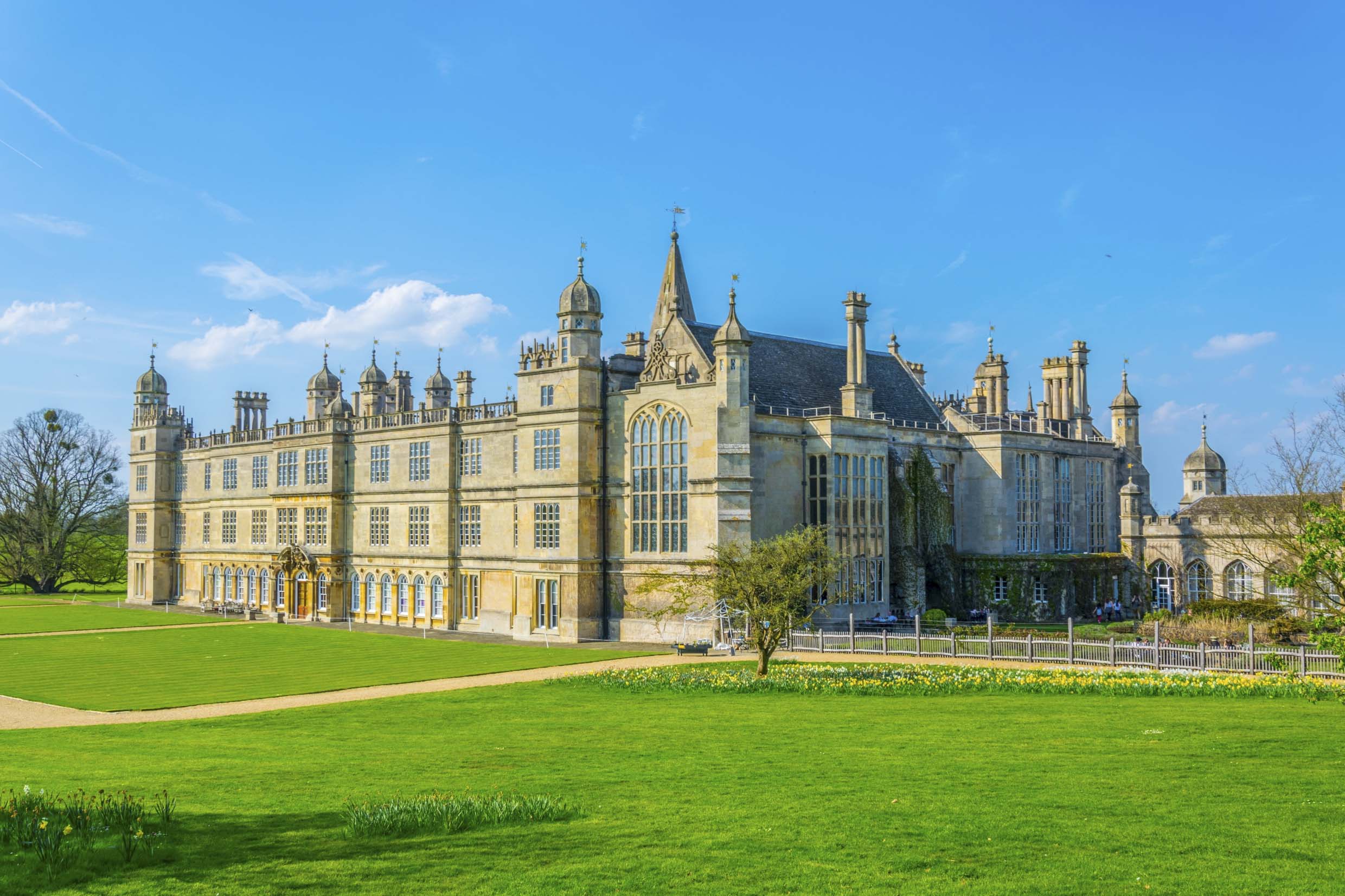 The Sheer Scale of Burghley House is immensely impressive. 34 'main rooms' on the ground floor and first floor, with a further 80 rooms throughout. But if the scale of a prodigy house is to impress, its interiors must be commensurate with a property that, for more than 450 years, has remained one of the most impressive stately homes in Britain.
Building Burghley House…   
Born in 1520, William Cecil studied law at Gray's Inn from 1541 and served under the Duke of Somerset before caring for the affairs of Princess, later Queen, Elizabeth. He became a member of the Privy Council in 1558 and her Lord Treasurer from 1572, styled Baron Burghley, Knight of the Garter. Serving the Queen for over 40 years was not a challenge to be taken too lightly, and hard  work should always yield a reward, hence Burghley decided to create for himself a property on the family estate in Stamford.
William Cecil's grandfather was Sir David Cecil, a Welsh nobleman who moved to Stamford and served Henry VII. He later served Henry VIII and was Sergeant at Arms, Sheriff of Northamptonshire and JP for Rutland. His son, Sir Richard Cecil, had three daughters as well as son William who was educated at The King's School, Grantham and Stamford School before reading law. Construction of Burghley House began in 1555 and was completed in 1587, the house costing £21,000 in 1587, which would equate to about £7m in today's money.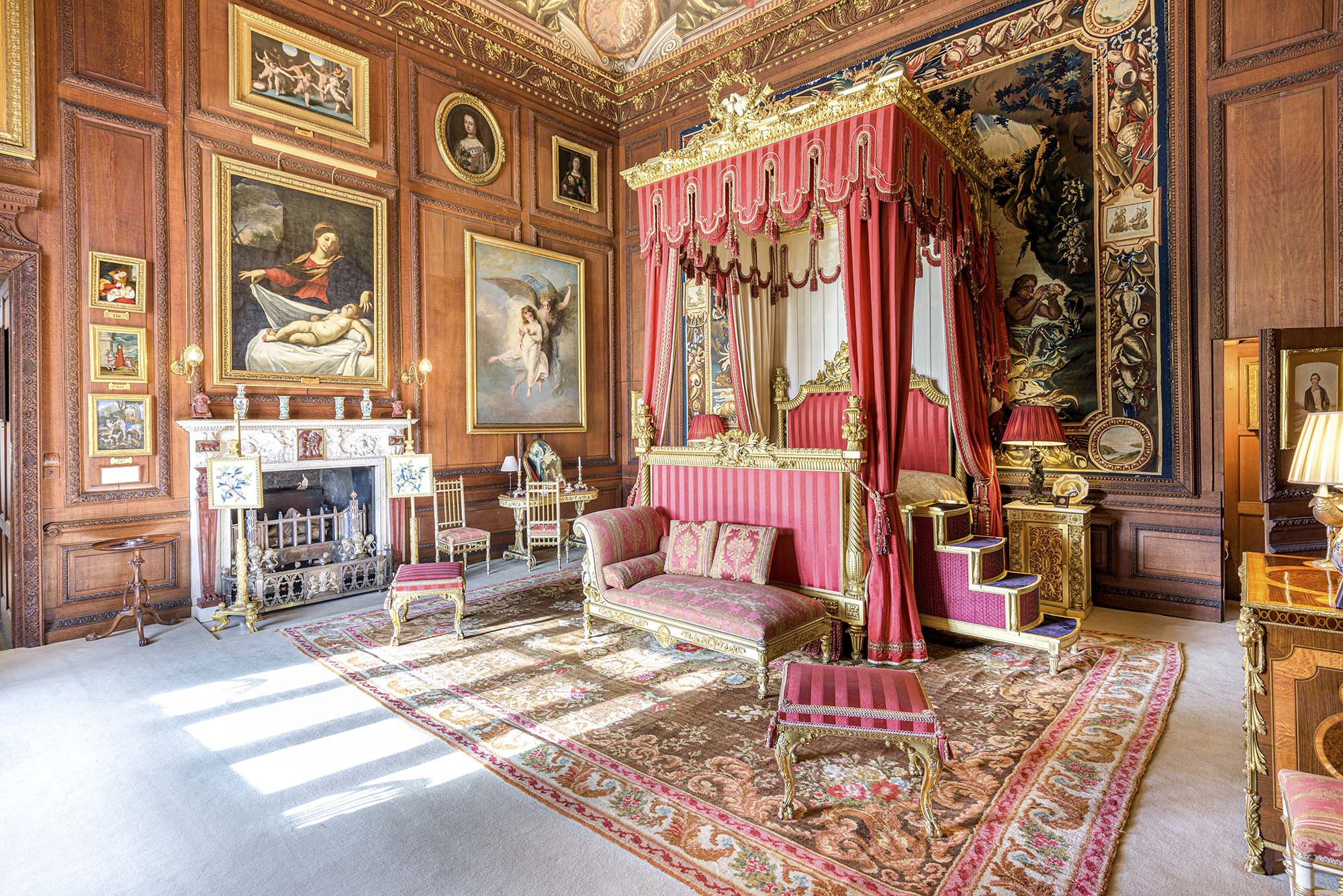 And so to bed…         
Should you have been lucky enough to secure an invitation to stay with William Cecil or with one of his descendants, you'd be assured of the very best accommodation, especially when it's time to head upstairs.
Of course the way the property's interiors are furnished is attributable to successive generations of the family. For instance, The 9th Earl employed Mayhew & Ince to create the Black & Yellow Bedroom's elaborate carved bed in the 1770s. On the walls of the bedroom are Fame, a 'berainesque' style wall panel, and an allegorical tapestry entitled Fortitude.
Henry, 10th Earl and 1st Marquess (1754-1804) created the Second George Room, with its spectacular State Bed and curtains which were created by London's Fell & Newton in 1795. Prior to a visit by Queen Victoria and Prince Albert in 1844, the bedroom was redesigned with a slightly smaller bed and a decorative space used by Victoria to plant a tree in the formal gardens which is still visible from the window.
Queen Elizabeth I's Bedroom is a bit of a misnomer as the monarch didn't actually stay at Burghley. The state bed dates back to the 17th century and although its curtains and counterpane are 20th century in origin, the embroidered brocades and braidwork are original. The bedroom, and a few other rooms on the west side of the house were originally part of the immense Tudor Long Gallery, but were divided up by the 5th Earl during the 1600s.
Verrio's Frescoes…
Among the highlights of Burghley House's interiors, Antonio Verrio's frescoes    remain a standout feature. Featuring in the last series of The Crown, Verrio painted scenes from ancient mythology, around the very grand reception room. Verrio served the crown for over 30 years during the 15th and 16th centuries and is credited with introducing the Baroque style to England. His work can also be seen at Chatsworth, Windsor Castle and Hampton Court as well as Burghley House.
The Heaven Room was the first to be commissioned, followed by the ceiling of the Hell Staircase, but Verrio dies before further work could be completed, and it was left to Thomas Stothard to finish the room over a century later. The staircase shows the mouth of hell as represented by the gaping jaws of a cat, and within, countless souls in torment with Death, the Grim Reaper, wielding his sickle.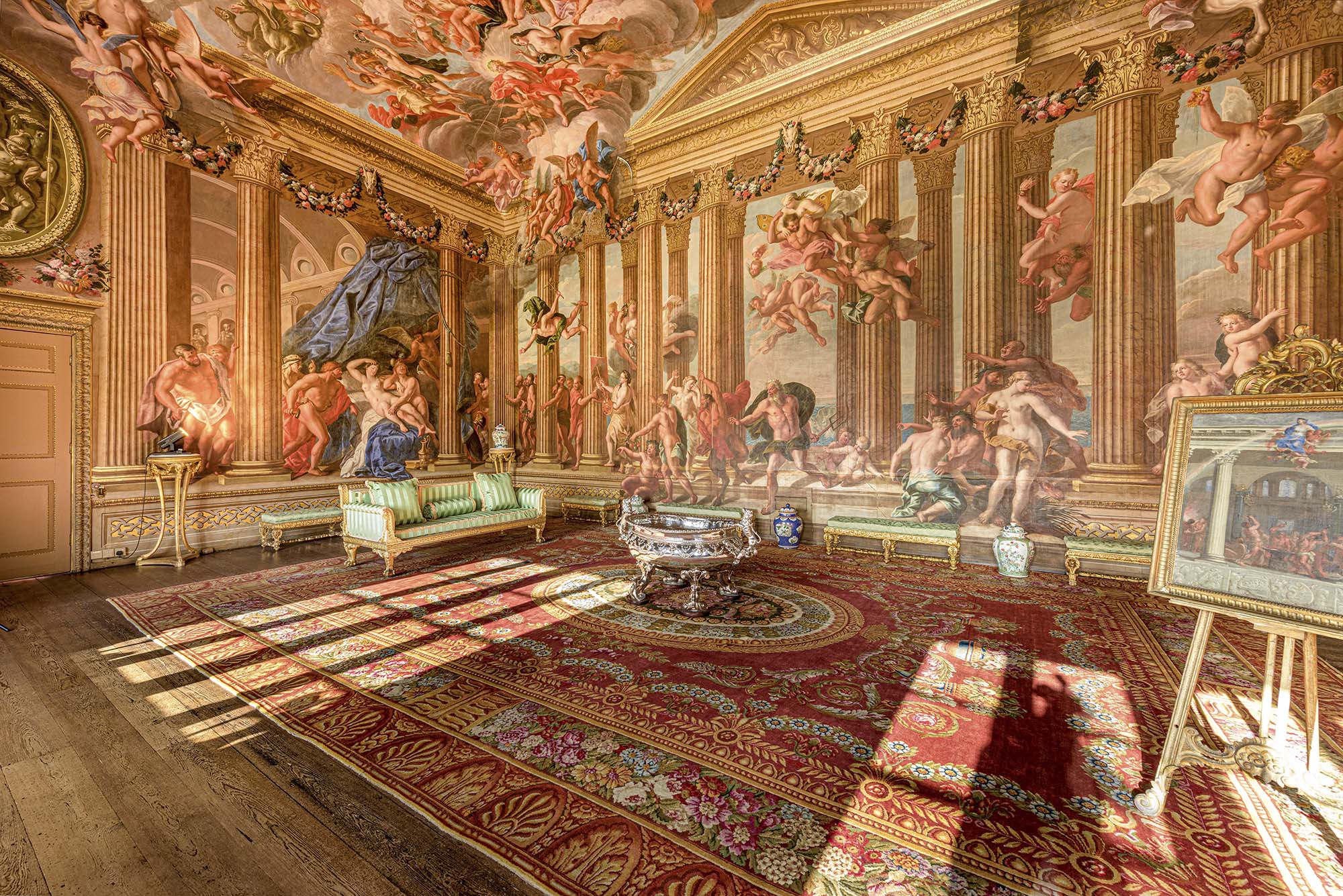 The Old Kitchen…      
The most conspicuously Tudor rooms of Burghley House, the Old Kitchen has a fan-vaulted room and lantern which would have been open in order to vent away the smoke and cooking smells from a small army of kitchen staff labouring to keep William Cecil and his descendants in prandial clover. Of particular note is the 260-piece batterie de cuisine which dates from the late 18th century… it's rather a bit fancier than your average set of Le Creuset cookware.
The Billiard Room…   
As well as creating Burghley House's parkland, Lancelot 'Capability' Brown also turned his hand to creating the intricate plaster ceiling of the Billiard Room. Within the room are six members of the aforementioned Bedlam Club, founded in 1684 by John Cecil, 5th Earl and reconvened in 1705 by John Cecil, 6th Earl. It was a tradition to refer to members of the club as animals; the latter was known as grand master 'Lion,' but there was also a 'Bull' and 'Swan' which gave Stamford's pub its name.
The Chapel…  
And after all that bedlam, successive generations have been able to repent in the chapel, mostly furnished in the 17th and 18th centuries. The 5th and 9th Earls of Exeter were keen to incorporate Italian artwork, and so a number of old masters can be seen in the room, including Paolo Caliari's Il Veronese altarpiece, acquired by the 9th Earl in 1769. The chapel's pulpit was commissioned from Mayhew & Ince, who had also provided Burghley's Black & Yellow bedroom with its elaborate carved bed.
Burghley House reopens in March from Wednesday to Sunday, from 10.30am, tickets £20/adult, see www.burghley.co.uk or call 01780 752451.