If you're looking for a deliciously different dining out option, we'll direct you to the small – but perfectly formed – dishes presented by The Exeter Arms. It's a superb option for those seeking huge flavours and a relaxed, innovative, and achingly cool evening out…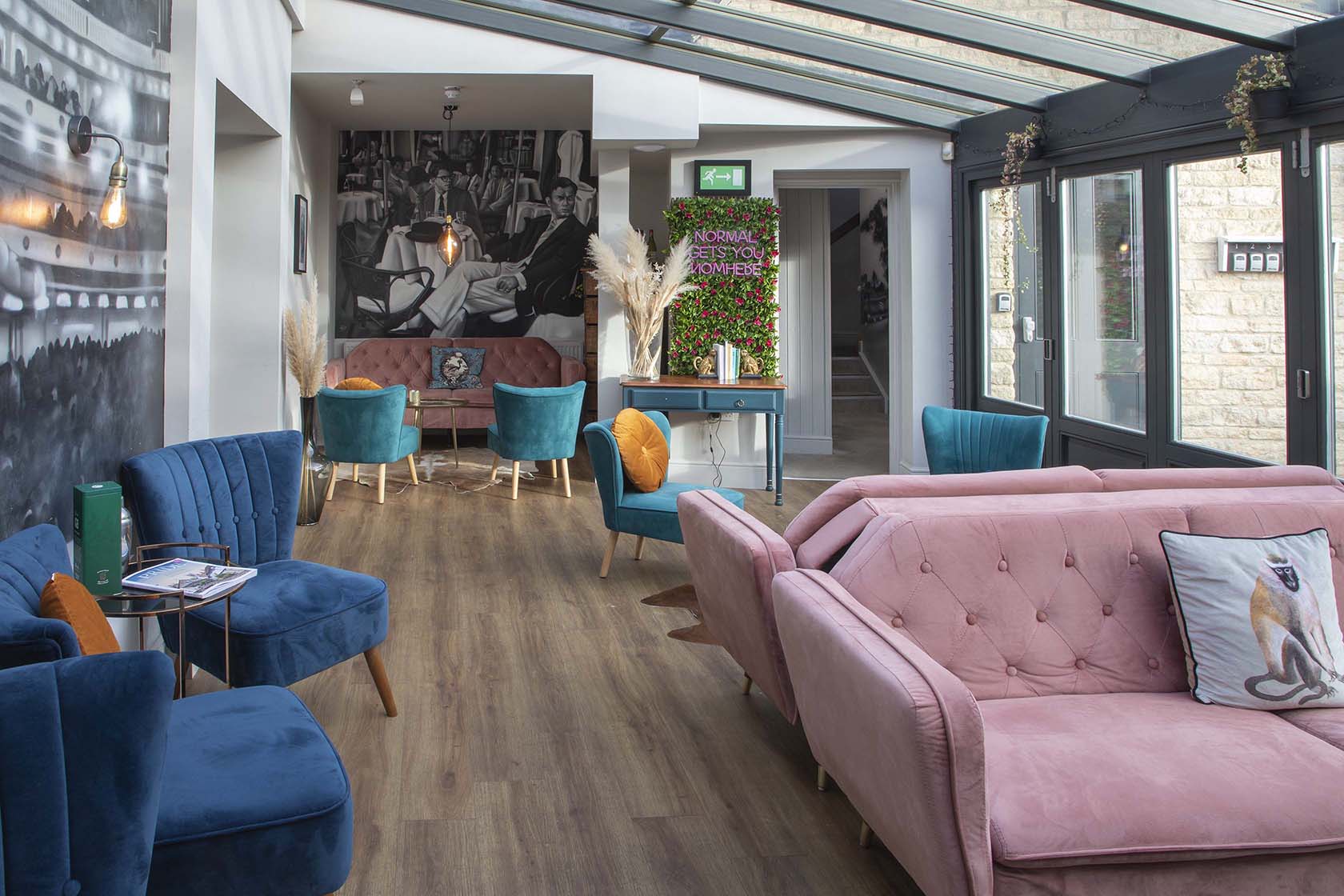 Appearances can be deceptive. Approach The Exeter Arms at Easton on the Hill and you'd be forgiven for thinking that this is another country pub restaurant so familiar in the respect of the area's culinary vernacular. You'd be wrong. Within the sandblasted stone walls of the building – which is Grade II listed and dates back to 1765 – is an innovative dining experience based on the current trend towards small dishes.
"There's no point in offering something that's less than – or even equal to – what somebody is expecting," says Jack Smee. "If you're going to offer something, offer something different. And if it's going to be different… make sure it's better!"
"We're all dining out more and more, and traditionally that means a starter, a main course, then a pudding and then you leave. We think that amid this well-rehearsed ritual, the joy of dining has been lost. Instead, we want our diners to take their time, enjoy their evening, to know that they have their table all night and to really reconnect with the people they're dining with. We want to create a slower, more relaxed, more enjoyable experience."
Alongside a most commendable ethos, the pub restaurant has been offering a small dishes dining concept since opening in May 2020.
The place was formerly a public house, mostly predicated upon wet trade but with a bit of pub food. When Gary Eldred took it on in May 2020, it took a couple of months to freshen the place up, sandblasting walls and floors, sourcing some smart new furniture and splashing about some trendy Farrow & Ball Lamp Black. The result is a really funky looking place, with a 10 seater bar area, 20-seater restaurant and a private dining room for up to 10.
To the rear of the venue is an orangery which will be branded as Novus and specialise in cocktails this summer. Beyond that is a terrace area with a stone-baked pizza oven.
Until the weather behaves itself, dine inside and you're treated to a wood burner in the bar, and a smart look and feel commensurate with the team's aim to provide a really good dining out experience.
"Providing small plates isn't a gimmick," says Jack. "It provides a more sociable way to dine, it spreads out the pleasure over more dishes and it means the kitchen team can really flex their creativity."
"Everyone – whether in the kitchen or at front of house – contributes suggestions and ideas, so everyone's enfranchised in creating dishes. We also believe in ensuring that our team is well-rested too. Hospitality involves working long hours and an exhausted team isn't a team that performs at its best."
"We've a single menu for both daytime and evening service, with meat, fish and veg-based small dishes, as well as table dishes which are small-dish-based side accompaniments. There are four options for each and the descriptions deliberately give us room to ensure the dish that arrives at your table isn't necessarily what you're predicting."
"Just because you're familiar with the dish's ingredients or flavours, doesn't mean we can't still surprise you in terms of how something is prepared or presented."
"We also try to include a dish which is a sort of flagship or a bit more cryptic. For instance, last summer our Day by the Sea dish featured a halibut tartare with a potato cone and curried pea purée with homemade ketchup. It was a fish 'n' chip style dish but presented to resemble an ice cream that had been dropped… it's based on an experience Gary had as a child, visiting the seaside!"
"It was an enormously popular dish, a real talking point, and we think it'll be making a comeback later this year."
We joined the Exeter Arms for a preview of their newest dishes that will launch as Pride goes to press. These included a fish dish cooked en papillote, served to the diner in its paper case with leek and apple… it's a modern take on a classic French dish which Dan prepared when he worked at Claridges.
Elsewhere there was a beef steak prepared in the style of Bordelaise with pink sirloin and an escargot sauce. A third dish was a pork cutlet with rhubarb and a tarragon emulsion. All were flawless and joyful.
"Different is good, but better is essential," says Jack. "We don't want to be gratuitously different for the sake of it. We suggest between five and seven dishes per couple, including a couple of table dishes – our triple-cooked bone marrow chips are enormously popular."
"And for dessert we've a really good collaboration with Sam Riley, the Rutland Chef, who helps us design signature desserts and canapés prior to dining or our petit fours served with coffee."
"The idea is that dining with us makes you happy. When flavour, texture, execution and presentation come together, really enjoyable things can happen!"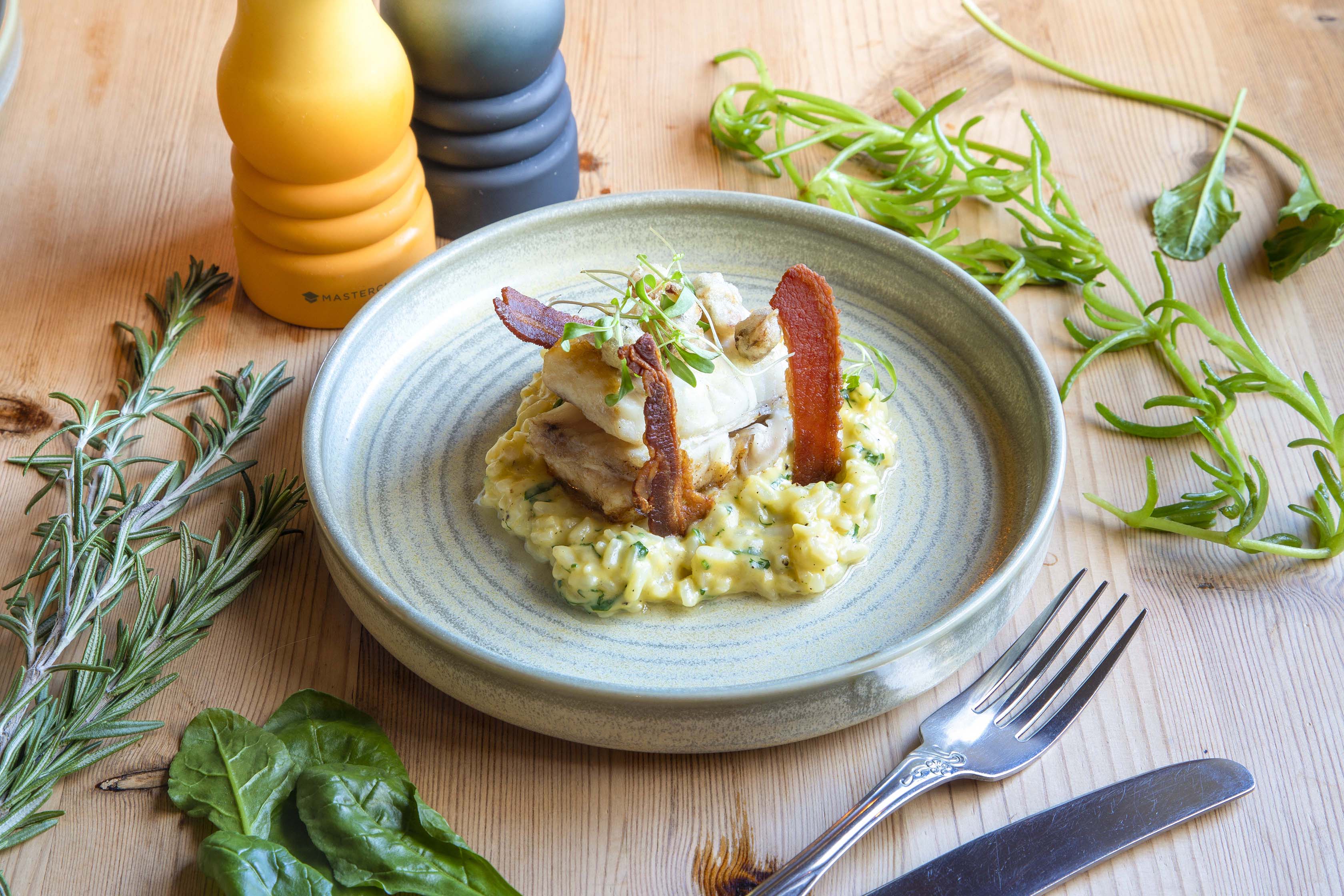 On the Menu
Meat Dishes
Pork cutlet, rhubarb, tarragon emulsion £18.
Sirloin beef steak, Bordelaise £22.
Fish Dishes
Smoked haddock en papillote, leek and apple £16.50.
Turbot, sweetcorn, clams, bacon £19.
Vegetable Dishes
Aubergine parmigiana £12.50.
Butternut squash, miso, sesame, seaweed £11.
Table Dishes
Triple cooked chips, curry sauce £6.50.
Brioche, baron bigod, dried fruits £9
Sweet Dishes
Carrots, cake, dill – designed by The Rutland Chef £12.5.
Nashi pear, toasted coconut, thai basil £12.
NB: All menu items are subject to change.
The Exeter Arms at Easton is based at Easton on the Hill, Stamford, PE9 3NS. Call 01780 723862 or see www.theexeterarmseaston.co.uk. Open for dining from Wednesday to Sunday, from 12-2.30pm and 6pm-9pm.