We've an absolutely fantastic recommendation for dining out this month in the form of The Millstone at Barnack. Having opened in July last year, the team is gearing up for the first full summer of trading. With a great vibe and terrific food, we predict that it'll be very popular indeed!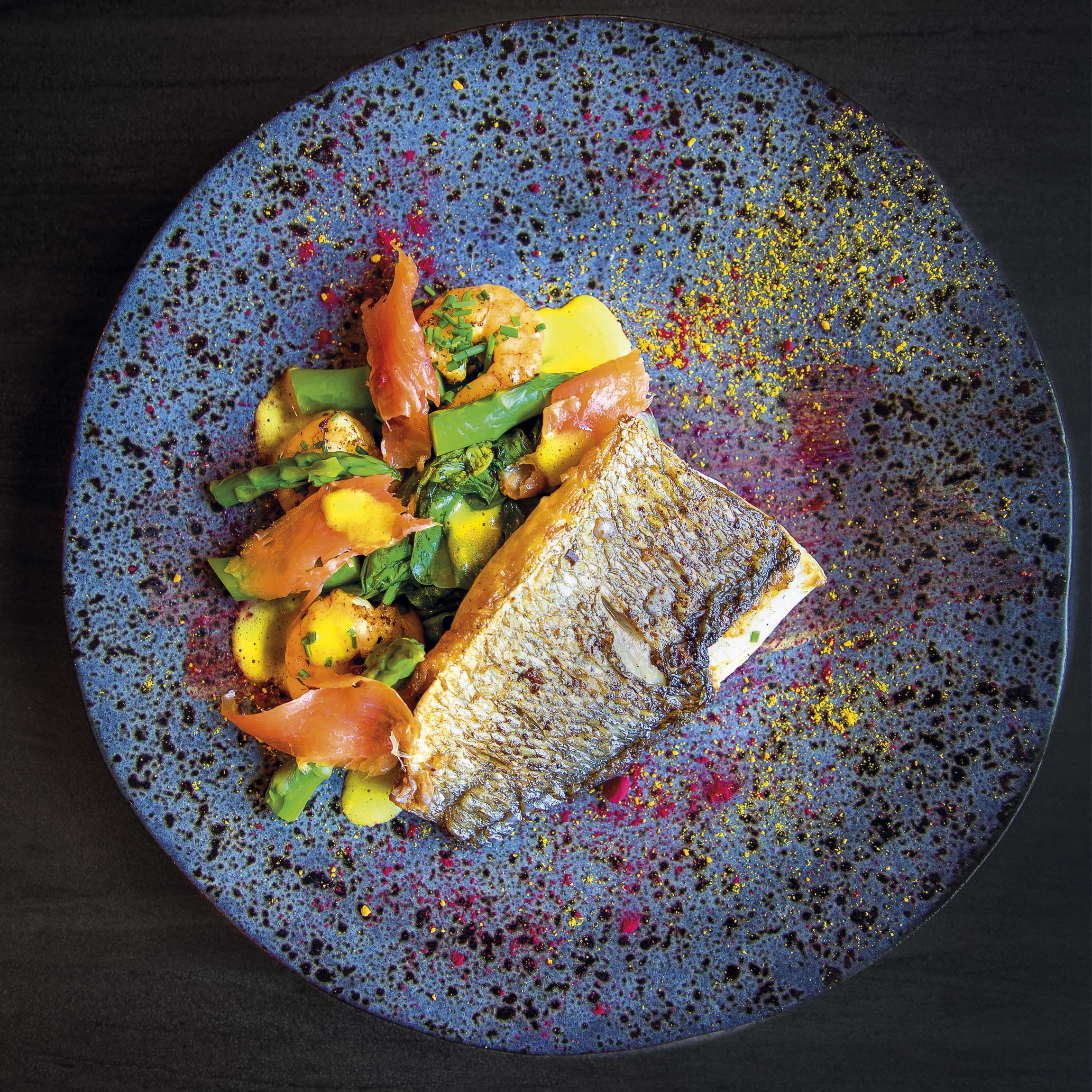 Summertime, and the living is easy. Indeed, that was one of the tracks playing in the background as we photographed dishes from the brand-new summer menus of The Millstone in Barnack. It's an absolute belter. The restaurant I mean… but the song too, I guess.
On such a sunny day, Gershwin's composition was one of a few light, upbeat and thoroughly fitting tracks on the playlist curated – according to owners Paul and Laura McSorley – by the whole team. Everyone has had some input to the music and it's better for the fact that each member of staff is so keen to contribute. And that's consistent with the secret behind the success of The Millstone at Barnack itself. They're a smashing team, each of whom works together, clearly caring a lot about looking after the customers and all invested in providing a really good experience for diners.
The place is 350 years old, so it carries a Grade II listing, and its architecture is vernacular to the area, with blonde limestone and Collyweston slate. It was the village's pub until the place shut in 2020 by which time it had become an Everards watering hole, concerned more with the wet trade the brewery could derive, rather than offering good food.
Paul originally had the notion to convert the place for residential purposes, but with an inclination to 'try something different,' hit upon the idea of rescuing a village pub, then installing a management team whilst continuing to pursue his third career, delivering hospitality packages to corporate customers for global sporting fixtures.
God laughs when men make plans, though, and whilst the original idea was to set the business up and leave its running to someone else, Paul and Laura find themselves very much involved in the day-to-day running, having fallen in love with the cut and thrust of the hospitality industry – and finding themselves really enjoying contact with their customers and the locals. Purchasing the place in January 2021 and reopening six months later, Paul and the team completed a full refurbishment of the place and when chef Sam Sharman joined the team, he too got stuck in with the refurb and proudly points out the beams in the restaurant that he personally sandblasted.
The bit that many other restauranteurs would dread – the refurbishment – was par for the course for Paul, and when the place reopened in July 2021, the results of the new oak flooring, back-to-stone renovation, new kitchen and modern colours (the new wood panelling is finished in Farrow & Ball Inchya Blue, incidentally) all contribute to an overall impressive-looking place to dine.
Happily, chef Sam's talents extend well beyond wielding a sandblaster with impunity. A new summer menu is slightly restructured from previous ones, and will offer a choice of eight starters/small plates (available in a sort of tapas format), plus eight à la carte main courses and eight desserts. There's a stone-baked pizza menu too, which seems ubiquitous in many a pub restaurant now, but is especially suited to The Millstone at Barnack because the place has an elevated south-facing terrace with a dedicated bar at the back. If you've kids or dogs, or if you fancy dining al fresco or if it's just too sunny to be stuck indoors, this is the place for you.
Alternatively, indoors, there's a private dining area which also provides additional restaurant covers for about 16 diners, plus The Nack (in the bar… Bar-nack?) with 14 covers, and a snug for about eight people with a cosy log burner. Paul and Laura have also retained an area at the front of the pub especially for locals, ensuring they look after the village as well as those who come to dine from further afield.
Speaking of which, to the rear of the pub, adjacent to the courtyard, is a coffee shop with a bar on an upper level and a built-in village store offering essentials like milk and bread, as well as local meat, chocolate and so on.
The dishes that emerged from the kitchen for us to photograph were a preview of The Millstone's summer menus. Our starters were a brown crab dish with pea panna cotta and mango sorbet, plus a dish of pan-seared scallops with parsnip and pomegranate. Main courses were a pan-seared sea bream dish with sautéed spinach and prawns. My absolute favourite dish, though, was a venison loin main course with a cannelloni of venison shoulder bolognese. Rich, epic and absolutely fantastic.
Desserts? I was fond of the sticky toffee pudding, which is robust pub restaurant fayre but proved especially well-executed – rich, unctuous and thoroughly satisfying – although ultimately, my heart could only belong to the chocolate brownie which was out of this world, with a smashing ice-cream and dehydrated raspberry crumb.
One of the nicest aspects of The Millstone is that as a diner, you're instantly aware of the nature of the place. This is a restaurant for the community, but one which also functions as a true destination pub restaurant which for good reasons attracts locals from further afield too.
The place looks fantastic, but its beauty isn't skin deep. It's a great place to dine this summer both during the daytime and in the evening… ideal if you want to spread your wings and reach for the sky.
On The Menu
Starters
Pan-seared scallops with curried parsnip puree, parsnip crisps and pomegranate £12.
Brown crab on toast with pea panna cotta and mango sorbet. Confit duck leg raviolo with spring onion broth and crispy skin, £10.
Main Courses
Venison loin shoulder bolognese with celeriac cream and cavolo nero £30.
Pan-seared sea bream with sautéed spinach, prawns.
Barbecued miso poussin with lemon & thyme hasselback potatoes, garlic purée, chilli crisp £26.
Tagine of lamb shank with cous-cous, braised carrots, harissa and aubergine caviar £26.
Desserts
Sticky toffee pudding with ice cream.
Chocolate brownie with ice cream and raspberry.
NB: Menu items subject to change.
The Millstone at Barnack, Millstone Lane Barnack, PE9 3ET. Call 01780 769979 or see www.themillstonebarnack.co.uk.