Food & Drink
Dining Out: Exceptional Cuisine at Hambleton Hall
Silver service and a silver anniversary in 2019, as Hambleton Hall celebrates a quarter of a century since Aaron Patterson arrived at Hambleton Hall to set a precedent of peerless gastronomy at Tim & Stefa Hart's country house hotel, located on the reservoir's peninsular…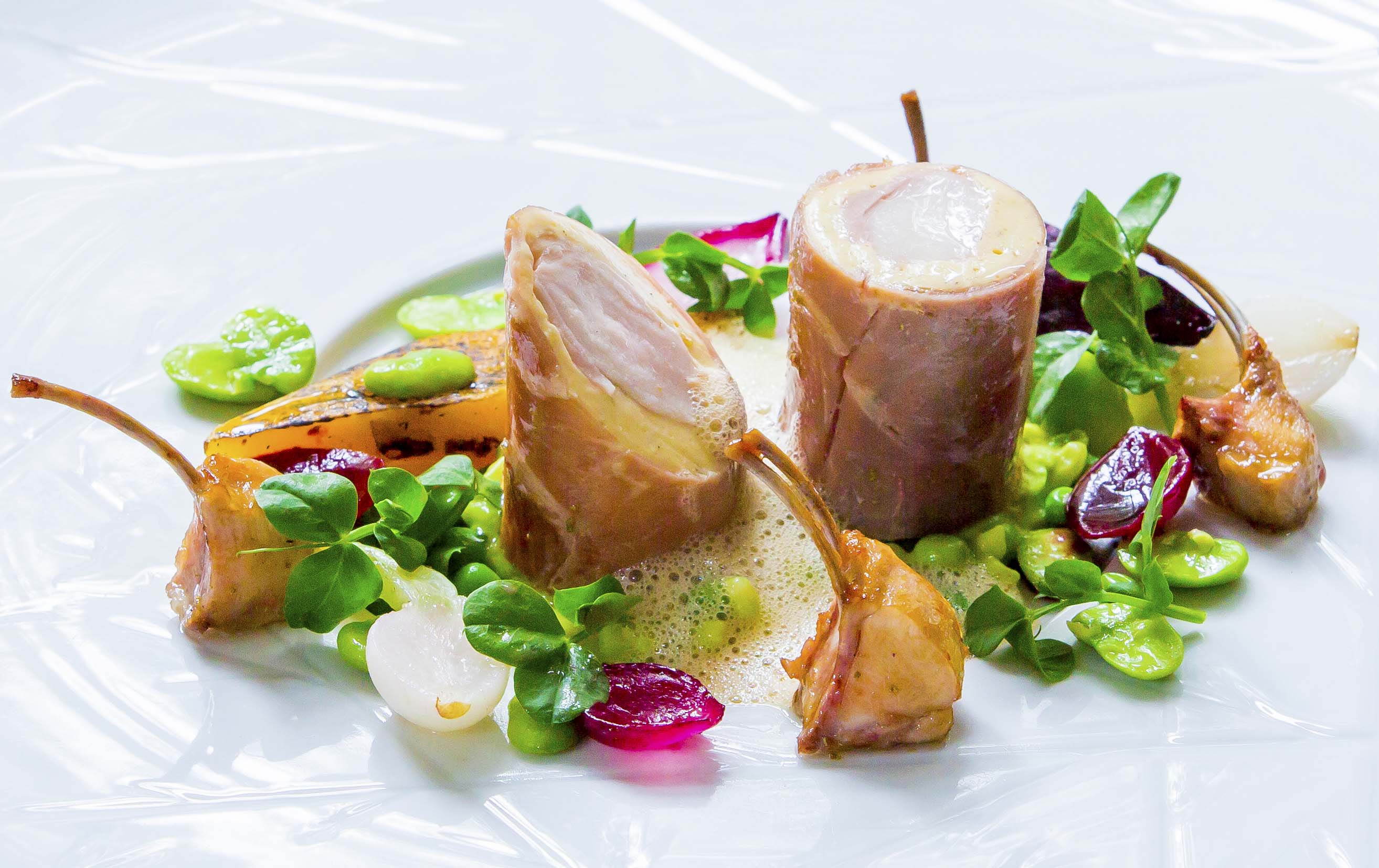 I've a little anecdote about Hambleton Hall that I'd like to share as a sort of preface to this month's dining out recommendation. On New Year's Eve I stopped by at Hambleton Hall to photograph guests at the hotel's black tie function. One guest was joined by her two well-behaved and well-heeled terriers who were being chaperoned from their room to the guest's car prior to the commencement of the night's champagne and canapé reception.
A little later the guest was in the drawing room and remarked to her companions that "Chris [Hurst, general manager] always recognises us but he always remembers the dogs' names too… it's the little things, isn't it?"
It certainly is when you function at the level of Hambleton Hall; even more so when you've had nearly 40 years setting a precedent for comfortable luxury. In assessing a restaurant, it's easy to overlook the importance of the guest's experience, more commonly known as front of house, and instead just focus on the food. But it's an aspect of a guest's overall experience that Hambleton always gets right.
Chris and the rest of the team, including restaurant director Graeme Matheson and sommelier Dominique Baduel are gifted when it comes to anticipating and fulfilling a guests' every whim with keen attention to detail but also a relaxed and friendly manner that ensures Hambleton Hall, for its posh feel is never too stiff or intimidating, just… very pleasant. This means guests are able to enjoy the hotel's exceptional dining, courtesy of Aaron Patterson in absolute comfort.
Dogs aren't permitted in communal areas, which means that the dining room is of course off-limits. I'd be a bit glum if I were them, missing out on Aaron's super six course New Year's Eve menu, which included a chicken liver & foie gras parfait, crab raviolo and loin of fallow venison. Their loss.
No matter when you choose to dine though, Aaron Patterson and his brigade have ensured that Hambleton Hall has remained at the forefront of gastronomy since his arrival 25 years ago this year.
Tim and Stefa purchased the hotel in 1979 and by 1982, the hotel had gained a Michelin star. It's an accolade the dining room has retained ever since, and Aaron wonders aloud whether his drive for simplicity and focus on a new menu a year or two ago may soon earn a second star too. That would be a nice boast, but the improvement in Hambleton Hall's dining experience is likely to be negligible as inspectors' criteria at multi-star level is finicky at best; downright pedantic at worst. Besides, everyone at Hambleton Hall from Aaron to Chris to owner Tim uses their guests' happiness as the most important metric, not the number of stars it can boast.
A 60-cover dining room plus beautifully designed gardens make Hambleton Hall ideal for an early spring break. Non-residents can dine for a wholly reasonable £31.50/two courses (£8.50/supp., three courses) as part of the area's Lunch for Less promotion in March. À la carte dining meanwhile is £78/three courses; £98/four courses and a tasting menu for parties comprises six courses plus coffee for £95/person.
The restaurant's high price point is justifiable by virtue of the fact that premium suppliers like Launde Farm Lamb keep a large brigade of chefs busy with dishes that take a huge amount of time and effort, certainly beyond those of most restaurants. Aaron and his brigade also grow a number of their ingredients in the hotel's 17 acres of grounds and of course the hotel also has its own bakery headed up by Julian Carter.
English oysters and other shellfish, meat and fish are sourced from artisan suppliers from across the country, whilst Tim and sommelier Dominique Baduel cultivate a 400-bin cellar that should satisfy even the most discerning would-be wine buff looking to show off their knowledge. Elsewhere, Hambleton Hall's 17 bedrooms have been very tastefully and  individually decorated by Stefa and prove both luxurious and comfortable for guests.
With a programme of events from wine tasting evenings to nights where guest chefs take over the kitchen, there's always a reason to visit Hambleton Hall. Perhaps the best reason though, is a keen appreciation for the hard-working team who not only maintain Hambleton Hall's impeccable standards, but ensure guests always leave the hotel wagging their tails… metaphorically if not literally.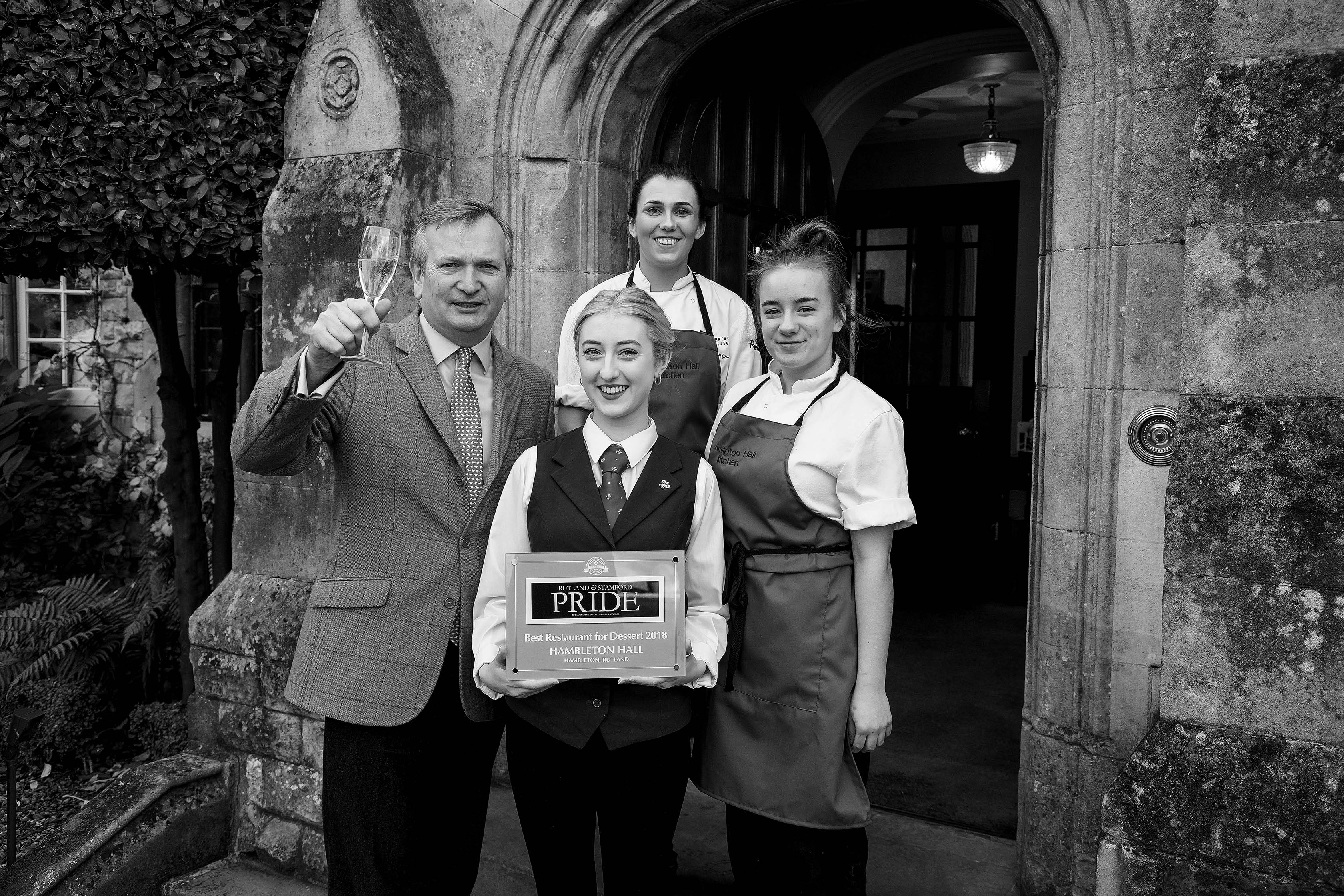 On the Menu…
From the Menu of the Day at Hambleton Hall £78/three courses £98/four courses.
Starters
Slow cooked octopus, yuzo, miso, pickled vegetables.
Chicken liver parfait with fig.
Cornish crab, radish and ginger caviar.
Fish Courses
Pan fried fillet of John Dory, leek, watercress and Chanterelle mushrooms.
Main Courses
Roast loin of veal with violet globe artichokes, and truffle risotto.
Breast of Merrifield Farm duck, kumquat, orange and caramel.
Launde Farm lamb with Mediterranean vegetables, ewe's curd and rosemary sauce.
Desserts
Hambleton Hall tiramisu.
Crab apple soufflé with clotted cream ice cream.
Coconut and lime nougat glacé with pineapple, ginger and chilli..
NB: Featured dishes are subject to change.
Opening Times
Monday to Saturday: 12noon – 2.30pm.
Evening Service: Monday to Saturday 7.00pm – 9.00pm.
Sunday Lunch: 12noon – 2.30pm.