Ladies
The Wedding Album: A Festive Wedding…
Having met in cyberspace, Laura and Lee fell in love with one another and then with their traditional wedding venue. The groom was intimately acquainted with their reception venue… given that he helped to build it!
Photographer: Lee Daniels of SimpLee weddings, 07738 255683, www.leedanielsphotography.com.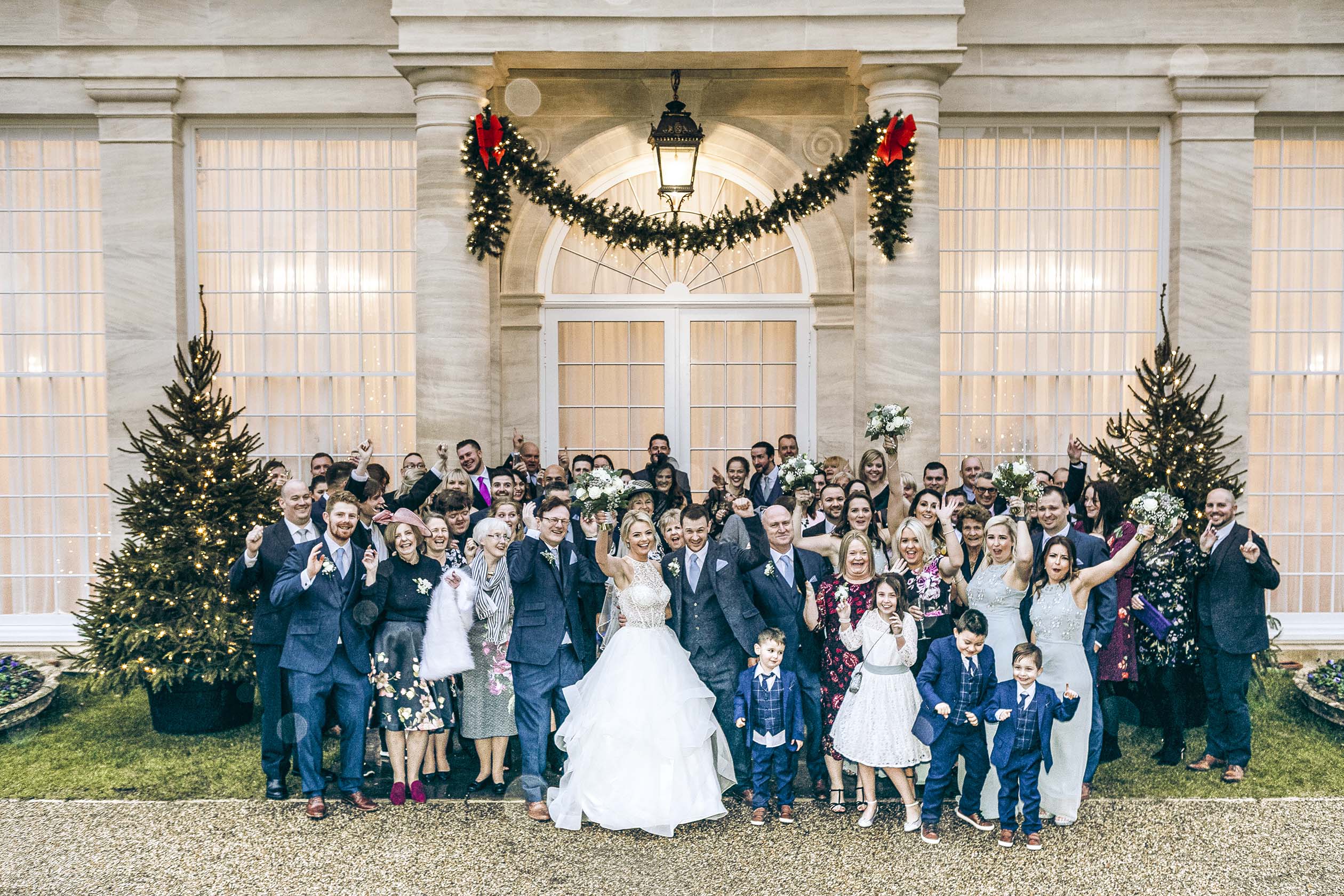 Laura & Lee met in the thoroughly modern environs of cyberspace, and had only just dipped their toes into the world of online dating before meeting one another. Whilst many people may have at least one cautionary tale about online dating to share, Laura & Lee's story can, happily, somewhat restore your faith in this thoroughly modern  approach to finding your perfect match.
"We had both signed up to an internet dating site and Lee then messaged me to say hello. We went to an ice-hockey match for our first date and had our second date the following day. We quickly fell for one another and then moved in together a few months later."
"Lee has always lived in the area, but I grew up in the Cotswolds. I moved to Peterborough after finishing University and qualifying as a Primary School Teacher. Lee is a stonemason and one of his largest jobs was a stunning new orangery adjacent to the Grade I stately home of Rushton Hall… the place that would later become the venue for our wedding reception!"
Lee proposed to Laura on their holiday during a cruise around the Greek Islands. "I have always loved Greece so it was the perfect place for Lee to propose," she says. "Lee proposed in Santorini, which was the island I was most looking forward to visiting. It was also the day after my birthday."
"We decided to stop for a drink in a beautiful bar, and that's where Lee proposed. Santorini has the most magical scenery and we've promised ourselves that we'll go back one day soon as a married couple."
"The day after Lee proposed, we were at sea on the cruise ship so we decided to have a relaxing afternoon by the pool looking at venues. We knew we wanted to get married the following year and decided on a winter wedding. After the cruise, we went to look at a few venues, but nothing could compare to Rushton Hall."
"Many of my friends are already married so we've been to many summer weddings. I wanted something totally different, but I also knew that choosing Rushton Hall as our venue ensured we would have beautiful pictures no matter the weather. To be a little different, we decided to marry at Christmas, instead of the summer."
"I embarked on the majority of planning by myself, however I made sure Lee was involved in all the major decisions. Family and friends also helped with lots of the little details too."
As Laura was planning a winter wedding the bride opted, rather sensibly, for a long sleeved wedding dress… however, like many brides, before her, she ended up falling in love with a completely different style!
"I ended up choosing a ball gown dress designed by Mori Lee, with a beautiful flounced organza skirt and a beaded, high halter bodice. It made me feel like a princess! I couldn't have been happier."
"We were married at the beautiful Rushton Hall which was the perfect venue and one that Lee knew well… as he had helped to build its Orangery! The stone faces of the building are breathtaking and we loved the elegant style of Rushton Hall itself.           The hotel's Kerrie Morrell helped us to plan the day, and Lee Daniels of SimpLEE Photography captured some amazing images alongside our videographer Dez Lartey.
"We found Lee at a local wedding fair. I loved the look of his pictures and could see his style fitting perfectly within what I had planned for our wedding. Lots of our guests mentioned how amazing he was on the day as well as complimenting our pictures when they were released."
Laura and her bridesmaids' hair was by Hair Perfection Peterborough and the girls' makeup was by Makeup By Alaina. "We also decided to have a pianist play during the wedding breakfast, we choose Okiem who was amazing."
"One of the moments I will treasure most is sitting back and listening to our pianist during the wedding breakfast and just feeling grateful for all our family and friends who were able to share our special day with us."
As Laura & Lee were having a Christmas wedding they left for their honeymoon on Christmas Day. The newly married couple went to New York for their honeymoon which Laura says was truly magical.
"My advice to other couples would be to make sure you spend lots of time with each other on your wedding day. We took ourselves away from everyone for five minutes a few times in the day which was just lovely."
Wedding Suppliers:
Wedding Venue: Rushton Hall, 01536 713001, www.rushtonhall.com.
Wedding Dress: Mori Lee, www.morilee.co.uk.
Wedding Video: Dez Lartey, www.dezlarteyphotography.com.
Wedding Hair: Hair Perfection Peterborough, www.hairperfectionuk.com.
Wedding Makeup: Makeup By Alaina, 07745 849995, www.alainaclarke.com.
Wedding Entertainment: Okiem, 0333 006 5550 www.okiemofficial.com.