This month's dining out recommendation is simply superb! It's a village pub restaurant that provides great quality dining in a lovely atmosphere. With its unfussy dining and great flavours The Bewicke Arms is a winner this winter!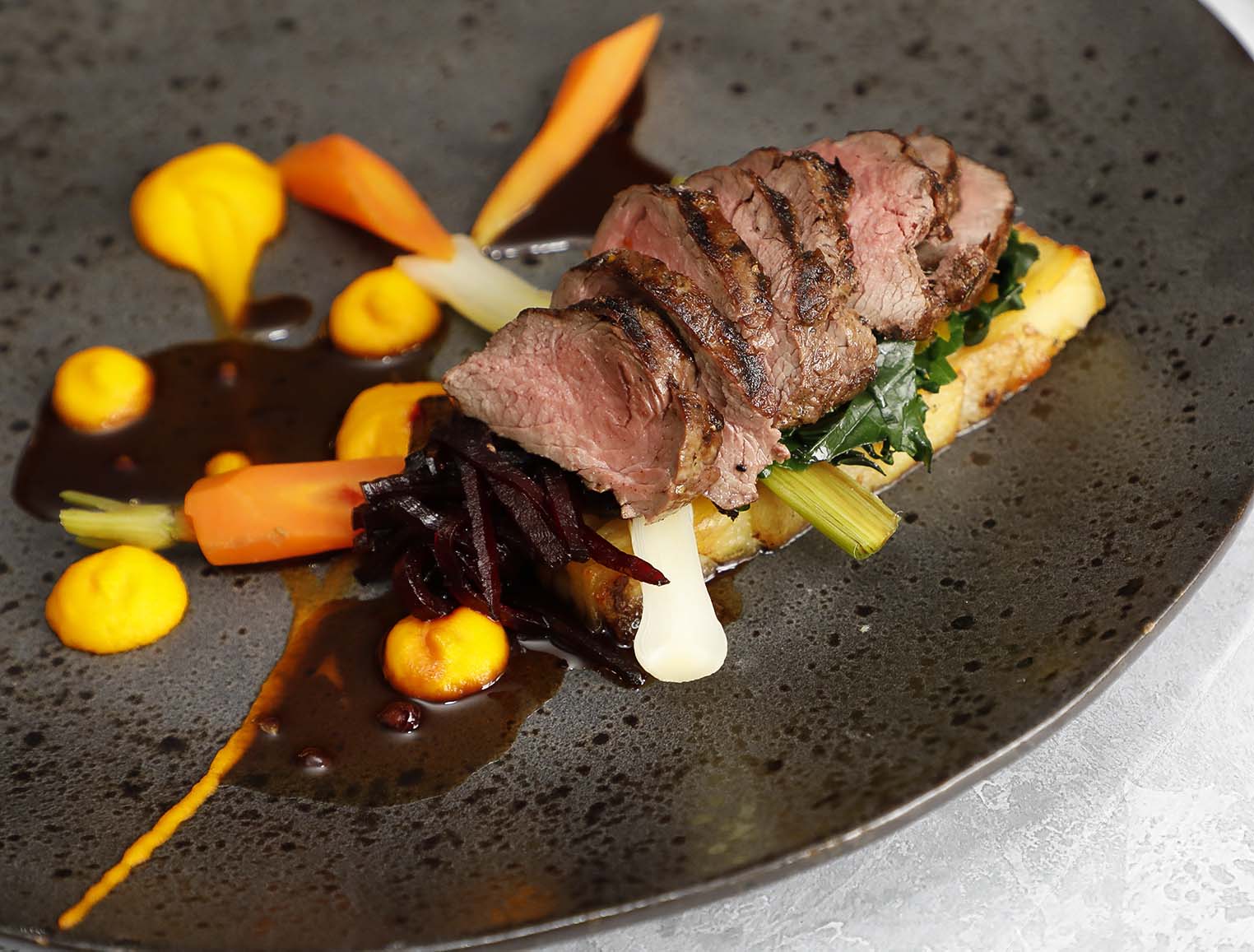 "We want to satisfy, not show off," say Erin and John. They're the custodians of this month's suggested dining out venue. And it's a proper belter. If you've time this month – and you should have, with most of the usual festivities curtailed by the nefarious virus – you should absolutely, definitely and unequivocally make your way over to Hallaton's Bewicke Arms. Over 450 years old, Grade II listed and built of thatch and ironstone, the place is absolutely beautiful.
Inside there are open fires, stripped tables, stone walls and wonky beams. John has done a great job of decorating the place in a smart navy blue colour and has freshened the place up beautifully, but the charm of The Bewicke Arms is by no means merely superficial – its appeal runs much deeper.
Interestingly, the village is home to the old Leicestershire tradition of Easter Monday bottle-kicking; ostensibly an 18th century tradition but probably one with a longer history than that.
It was of course cancelled this year, but in ordinary times it involves a hare pie, three bottles and a folklore-sanctioned scrap. The, rules – such as they are – state 'no eye-gouging, no strangling and no use of weapons,' but frankly if that even needs to be said, I'm probably inclined to give it a miss.
Instead, I'll visit this month to enjoy very good winter dining courtesy of the couple and their Head Chef Cosmin Bordeianu. Erin & John are a lovely couple and both were born and raised in the village.
As teenagers, they each enjoyed a stint up to their elbows as potwashers and both later helped out behind the bar. The couple later worked in Gloucestershire where they lived for four years before deciding they wanted to return to their village.
At that time Erin's mum, the pub's licensee, was looking for new custodians for the place and so Erin & John made the decision to run the place and moved in exactly a year ago as I write. Knowing the pub so well, they had a clear idea of the direction they thought The Bewicke Arms should go in.
The restaurant's 50-60 covers are all distributed around the building, so nowhere feels too crowded – especially important in times of social distancing – but among the various cute little candlelit spaces in which to dine, there's one area of note in particular.
John refers to it as 'the cubby hole,' but from this point onward I'm renaming it 'snogger's corner.' It's a lovely out-of-the-way nook with a table for two. Candlelit and intimate, it's the perfect place for a romantic meal… which brings us to the venue's food.
"We love dining out but we find ourselves frustrated when restaurants and their dishes try to be too complicated or fussy," says Erin.  "This place has character, so we didn't need to reinvent its look or feel. Accordingly, we wanted the food to be about satisfying diners, not showing off. We wanted each dish to have flavour, not fuss."
The pair say they have a great relationship with Cosmin who's on the same page food wise. A single ingredient takes pride of place in a dish and is used to best effect – allowed to shine. Anything else used in the dish either enhances that ingredient, or it's omitted.
The menu is gloriously simply and beautifully written. No fuss, no pretentiousness, just quality. Personally I dislike extensive menus with too much choice, and a chef with fewer dishes on the menu has, I feel, greater confidence in their ability to provide something appealing in fewer options.
The Bewicke Arms has a single-sided menu which changes fortnightly, with around five starters, six main course options and two desserts plus a cheese option. I'd order – and doubtless enjoy – each and every one of the main course options.
Local ingredients are used extensively in each dish, with Tugby's Keythorpe Walled Garden providing vegetables, butchery sourced from the Beesley family – renowned local farmers – and local chocolatier Nenette providing bespoke seasonal truffles handmade especially for The Bewicke Arms' petit fours. Cosmin also makes his own ice creams, sorbets and bakes certain speciality breads in house whilst his kitchen garden yields microherbs and so on.
"We also have our own really brilliant wine merchant who is local to us, really supportive and very proactive," says Erin. "He keeps an eye on our menu and makes suggestions for dishes accordingly."
It's a necessary element of their hospitality, because the area surrounding The Bewicke Arms is quite well-heeled and has its fair share of London commuters who expect to return home and enjoy a traditional country pub dining experience, but with the same quality food – and wine – they're used to in the city.
And therein lies the talent of Erin, John and Cosmin. Together they have exercised great judgement in ensuring The Bewicke Arms is smart, but traditional, in its ambience and provides very high quality dishes, but still manages to remain faithful to its intended remit of unfussy and enjoyable dining.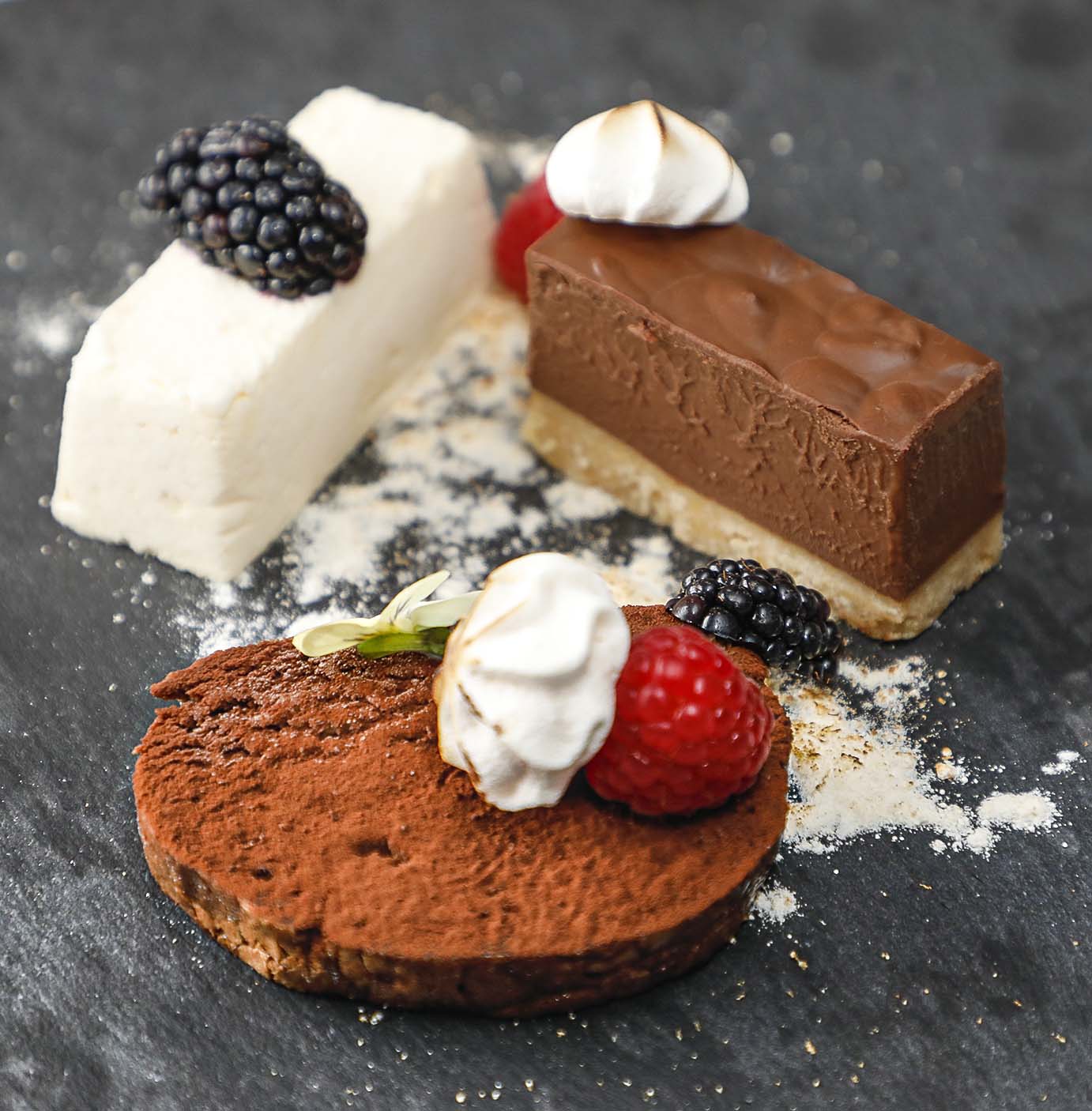 On The Menu
Starters
Lobster and salmon ravioli with beef consommé £8.
Pan fried scallops with black pudding bon bon, crispy house pancetta and pea purée £8.
Main Courses
Pan roasted Barbary duck breast with pumpkin purée, fondant potato, purple kale, roasted fig and blackberry jus £17.
Butter poached halibut with house spicy pork sausage, parsnip purée, lemon & tarragon gnocchi, and rainbow chard £16.50.
Venison steak with Dauphinoise potatoes, curly kale, sweet pickled beetroot, carrot purée and juniper jus £17.
Desserts
Trio of chocolate, comprising chocolate delice, white and vanilla chocolate parfait and chocolate roulade, £7. Banana soufflé with white chocolate ice cream £6.
NB: Featured dishes are subject to change.
Open For Food
Wednesday, Thursday, Friday: Open 5pm – 10pm. Food served 6pm – 8.30pm,
Saturday: 12 noon – 10pm. Food served 12 noon – 2pm and 6pm – 8.30pm.
Sunday: 12 noon – 7pm. Food served 12 noon – 5pm.
The Bewicke Arms, is located on Eastgate, Hallaton, LE16 8UB. Call 07511 785593 or see www.thebewicke.com.