'Here comes the sun,' declared George Harrison. 'It's been a long cold lonely winter.' Happily though, it looks like summer is here, lockdown is being eased and Covid is on its way to being defeated. And where better to celebrate? Hambleton Hall! It seems like years since we've been here, and how wonderful to be able to return!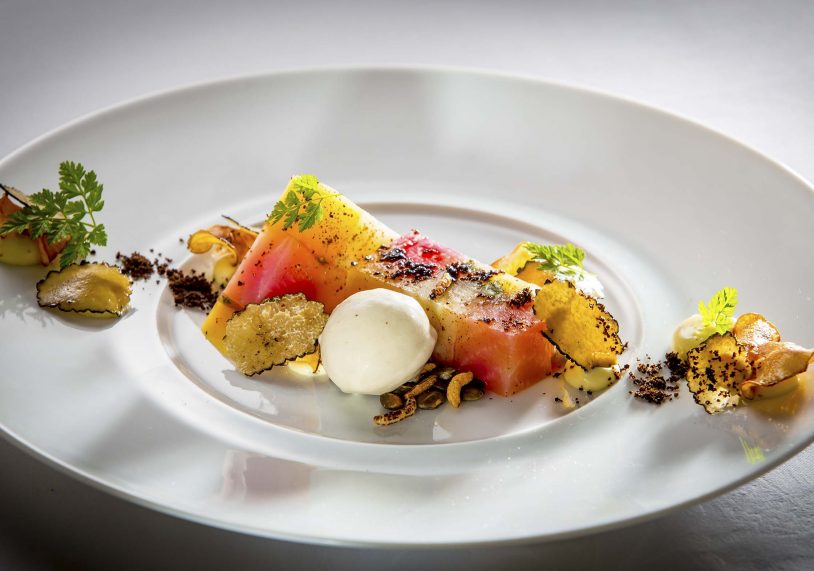 It's a big year for Aaron Patterson and for his brigade over at Hambleton Hall. "It's my 30th anniversary at the hotel," he says. "And of course, there's the reopening to look forward to. It's been a long time coming. The whole brigade is thrilled."
After a disruptive year for the hospitality industry, finally we received the news that we were all looking forward to; the Prime Minister's plans for the gradual relaxation of lockdown. And shortly after, we received the press release which announced Hambleton Hall would be opening from 12th April until 15th May for an al fresco dining experience offered exclusively during lunchtime service.
When the opportunity to book a table emerged, it took just a weekend for the overwhelming majority of covers throughout the month to be filled.
As Pride goes to press there are a few reservations still to be claimed but you might need to compromise slightly on time or dates. Happily, across the UK, from 17th May, something approximating normal service will resume throughout the hospitality industry, with restaurants once again able to open for indoor service.
On that date Hambleton Hall will again welcome diners back during both lunchtime and evening service in the hotel's 50-cover dining room. And there's yet more good news, too!
"Just before the first lockdown we invested in a brand-new kitchen for the hotel. It's state-of-the-art, with induction cooking ranges, air conditioning and a fresh layout. It'll make it easier and create a more comfortable environment for our brigade of 18 chefs whilst working, and it'll help us to both maintain our standards and retain our focus when creating an exceptional experience for our diners."
Aaron has also invested in a new kitchen at home; somewhere to play, he says. "Cooking at home is different, but it's still a pleasure," he says. "I'm 52 years old this year and right from the age of 16, I've been working long shifts in a commercial kitchen."
"I've never had so much time on my hands, and whilst the first lockdown was warm and sunny, this time it has been a bit cold and murky, so I've more or less lived in the kitchen and have had so much time to experiment and create new dishes. When I've not been in the kitchen, I've had my head stuck in a cookery book!"
"I believe I've more than 40 new dishes which are worthy of our menus, although because we're a restaurant with a strong belief in seasonality, some will be filtered in throughout the year."
In between his experiments, techniques and menu developments, Aaron has also kept in touch with his 18-strong brigade and is happy to report that they're looking forward to getting back to work, initially on the slightly simpler al fresco lunchtime menu with its four choices over three courses then, later in May, back working at full capacity.
"It's a lovely time to return to the kitchen too," says Aaron, "As there are plenty of ingredients to make the most of, from wild garlic and morels to and gariguettes."
"During lockdown I've taken my exercise by working in the kitchen garden and it has been heaving with really lovely fresh produce that we can use in our dishes."
As Aaron – also a partner in the business – approaches the 30th anniversary of his arrival at Hambleton Hall, the country house hotel celebrated its 40th anniversary last year, albeit in a much more pared back fashion than it was anticipating.
Founded by Tim & Stefa Hart in 1980, the 19th century former hunting lodge with its 17 bedrooms has a long-serving team from Aaron to Sommelier Dominique Baduel to Restaurant Director Graeme Matherson and its General Manager Chris Hurst.
Together, the team moves heaven and earth to make diners feel welcome and to provide an unequalled experience, very comfortably justifying the retention of its Michelin star and 4 AA rosettes year after year.
Any sense that dining at Hambleton Hall carries a premium is balanced out by the obvious time, effort and talent invested in each dish, and by an immaculate setting. Tim takes a keen interest in curating the gardens and interior designer Stefa creates beautiful interiors throughout the hotel.
The whole team are not only assiduous in their attention to detail but absolutely lovely – warm and welcoming – too.
It's no wonder, then, that Aaron and the rest of the team are keen to return to the kitchen and resume efforts to provide a great experience for their audience.
"It's going to be rather manic I think, as everyone clamours to see friends again and we rush to revisit our favourite restaurants," says Aaron. "But what a summer it's going to be! We're really looking forward to welcoming diners back – for al fresco dining at first but then indoors from late May – and we've some stunning new dishes that will ensure we fulfil every single expectation!"
Hambleton Hall is situated on Ketton Road, Oakham LE15 8TH. Call 01572 756991 or see www.hambletonhall.com.
Opening Hours (food service):
12th April to 15th May: Al fresco lunch, book online.
From 17th May, Seven Days: Lunchtime Service: 12noon – 2.30pm. Evening Service: 7pm – 9pm.