Greater Lincolnshire is responsible for 10% of England's agricultural output, and the sector is worth £1.8bn to the UK economy. This month we'll meet the farmers maintaining our reputation as the county that feeds the country…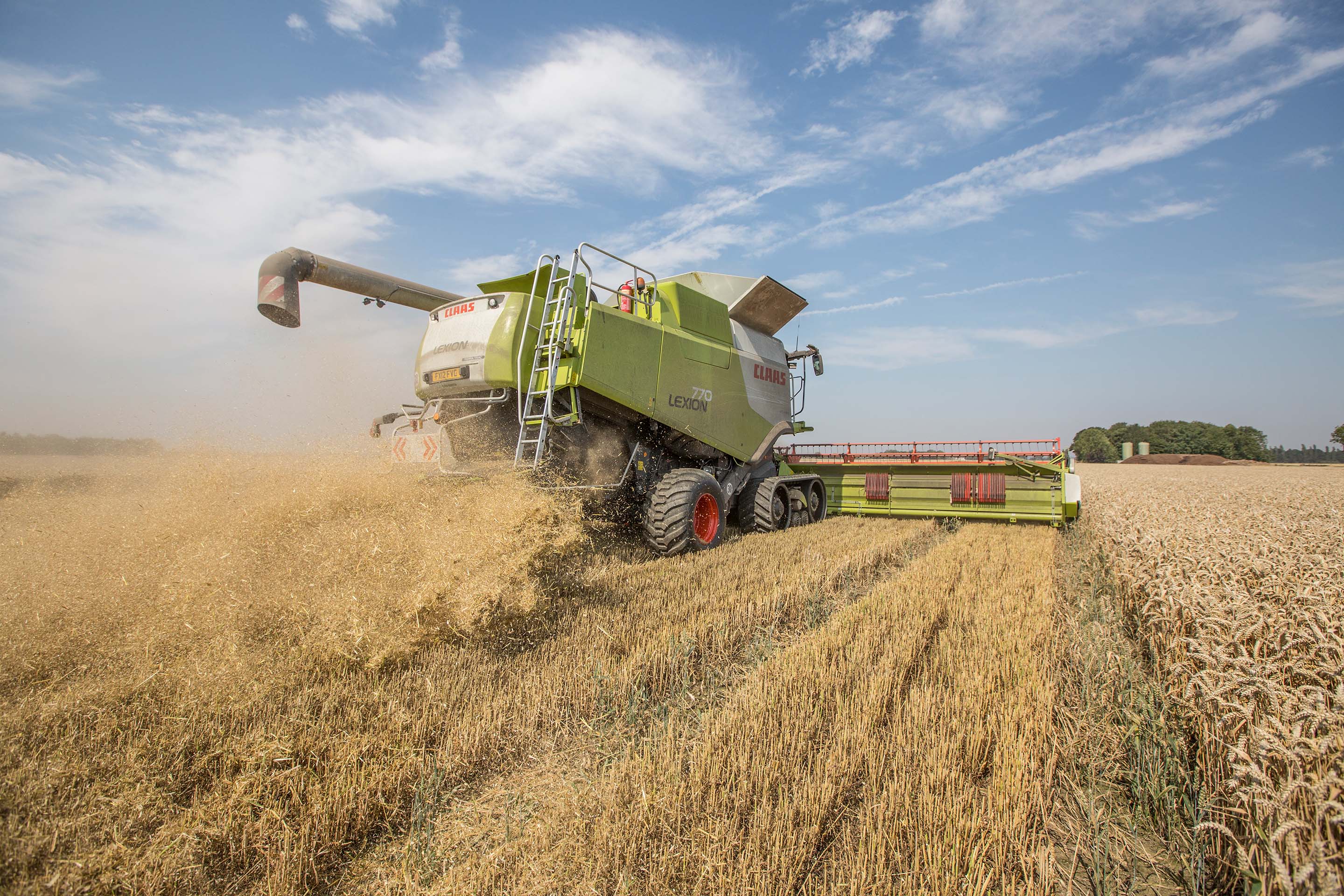 Harvesting Cereals in Lincolnshire:
Prior to mechanisation, the cereals harvest was a back-breaking, labour-intensive task. From using a scythe to cut the stalks, to beating the cut stalks (i.e.: threshing) and separating the grains from the chaff, to cleaning the debris, it was a gruelling process. Scotland's Patrick Bell created a 'reaping machine' in 1828 which used a revolving reel and rows of shears to cut the crop. But it wasn't until the 1850s that a couple of American firms created refined versions. Eventually the two companies merged together in 1926 to form Caterpillar, now known for its earthmoving equipment.
Steam engine and threshing machine maker Clayton & Shuttleworth, based at Stamp End Works in Lincoln, created the first European-built combine in 1931 with a three-metre wide 'header,' which bagged the threshed crop into grain sacks. Claas developed its first combine in 1937 and today its green, white and red combines are still used by many Lincolnshire cereals farmers, albeit with automatic adjustments, GPS guidance and automatic steering, on-the-fly crop quality analysis, engines of up to 790hp, grain tanks up to 18,000 litres and headers (the bit at the front) measuring up to 40ft in width.
In the 1850s, harvesting grain from an acre of land necessitated about 23 hours. 50 years later that had dropped to eight hours. Today, you'd expect to combine an acre of land in about half an hour. It's not just the speed of the harvest that has increased either, but the quality of crop.
Based in the Lincolnshire Wolds, near Louth, Tim Lamyman is the world's best cereals farmer… as least if you take yields as the criteria. In January 2023 it was confirmed by Farmers Weekly that following harvest 2022, Tim broke his own previous world records for crop yields by achieving 17.96t/ha of yields from his wheat crop and 16.21t/ha of winter barley. About 8t/ha is an average wheat yield. This has implications for the financial viability of cereals farming in Lincolnshire, for the self-sufficiency of England in terms of its cereals output, and for food security, especially as we've seen – with the disturbance of grain supplies from Ukraine in 2023, a country responsible for 10% of the world's wheat – what can happen when international supplies of cereals are disrupted.
• Unless you're in the farming industry – and specifically the cereals sector within arable farming – you've probably never heard of Openfield. But as a national cooperative, representing 4,000 British farmers, it's a terrifically important company! It's impossible to overstate the importance of Openfield to Lincolnshire's cereals farmers. Owned by 4,000 British farmers, the company is based at Colsterworth in Grantham but has offices in Yorkshire, East Anglia, Hampshire, Somerset and the Cotswolds too. It's responsible for selling about 17% of the UK's marketed grain and works with its farmers to provide harmony between supply and demand for arable crops, smoothing out the financial undulations of farming.
The company specialises in combinable crops and can convey to farmers what demand there might be for different grades and varieties of milling wheat, wheat destined for animal feed, malting or animal feed barley, oilseed rape destined for crushing (to create cooking oils and spreads) or energy production, beans and peas. In conjunction with agronomists' insights, this helps with planning crop rotations and the purchase of the most appropriate seed varieties and fertilisers. Farmers can also sell all – or some – of their crops in advance of the following year's harvest based on their predicted value, i.e.: futures.
Openfield can also provide access to export markets when production exceeds market expectations, or meet shortfalls in a particular product by securing the best prices for grain imports. The company negotiates with anything from the UK's biggest flour mills – supplying industrial bakeries – to malthouses supplying breweries, or directly to manufacturers of products such as well-known breakfast cereals and biscuits. In short, Openfield is unique as it's a national cooperative representing British farmers' interests, helping them to do business better, and to endure financial changes such as the recent destruction of grain stores in Ukraine, which will cause turbulence in international markets.
www.openfield.co.uk or @OpenfieldTM on Twitter, Instagram and Threads. 
Vegetable Production in Lincolnshire:
'The Fens' is often used as a term to refer to areas of Lincolnshire, Cambridgeshire and Norfolk; about 1,500 square miles of land in total. But in reality, the area's characteristics, such as its peat, silt and calcareous soils, for example, can differ significantly from area to area. The Fens covers 4% of England's farmed area but produces over 7% of England's total agricultural production, worth £1.23bn and employing 80,000 people (Source: Fens for the Future). It produces 20% of England's fresh vegetables, 20% of England's potatoes and about the same quantity of England's sugar beet, as well as cereals, oilseed rape and protein crops.
90% of the Fens' farmland is Grade I or Grade II quality, especially the area along the A52 from Boston to Skegness which were drained from the 1630s into the 1700s leaving behind dark alluvial soils which are ideal for growing potatoes and brassicas. Today they're home to two of Lincolnshire's larger vegetable producers (T H Clements and Staples) as well as a number of other agricultural operations.
Chris Gedney is Managing Director of T H Clements, based at Benington along the A52. The company farms 11,000 acres in Lincolnshire and a further 1,200 acres in Cornwall, with its 28-acre Lincolnshire site employing between 400-600 people. The company grows cauliflowers, broccoli, cabbages, leeks, vining peas plus potatoes and wheat as a rotation crop, but is well-known too for its Brussels sprouts. In the run-up to Christmas the company will run up to 16 harvesters, working 24/7, to provide Britain with 192,000,000 sprouts! It's a forward-thinking company too, committed to achieving carbon-neutral status by 2040 and investing in modern farming techniques which work with nature.
Other vegetable farming operations include Wrangle's Staples which has been family-owned for over 60 years and produces broccoli, kale, cauliflowers, cabbage, courgettes, brussels, baby veg, potatoes and organic veg too, across 10,000 acres.
Meanwhile, Lincolnshire Field Products farms 6,500ha (16,000 acres), with a mix of owned, rented and contract-farmed land around Boston, Spalding, Wisbech and as far inland as Sleaford. The company is one of the top three producers of brassicas in the UK, growing cauliflowers, broccoli, cabbage, kale and sprouts as well as pumpkins and sweetcorn plus organic vegetables too.
And finally, Fen Peas Ltd grows over 5,500 acres, with Stephen Francis and his team harvesting peas on 82 growers' farms across Lincolnshire, producing garden peas, mini-garden peas and a few economy peas too for the retail and food service sectors, growing over 12 different varieties to cover their customers' requirements.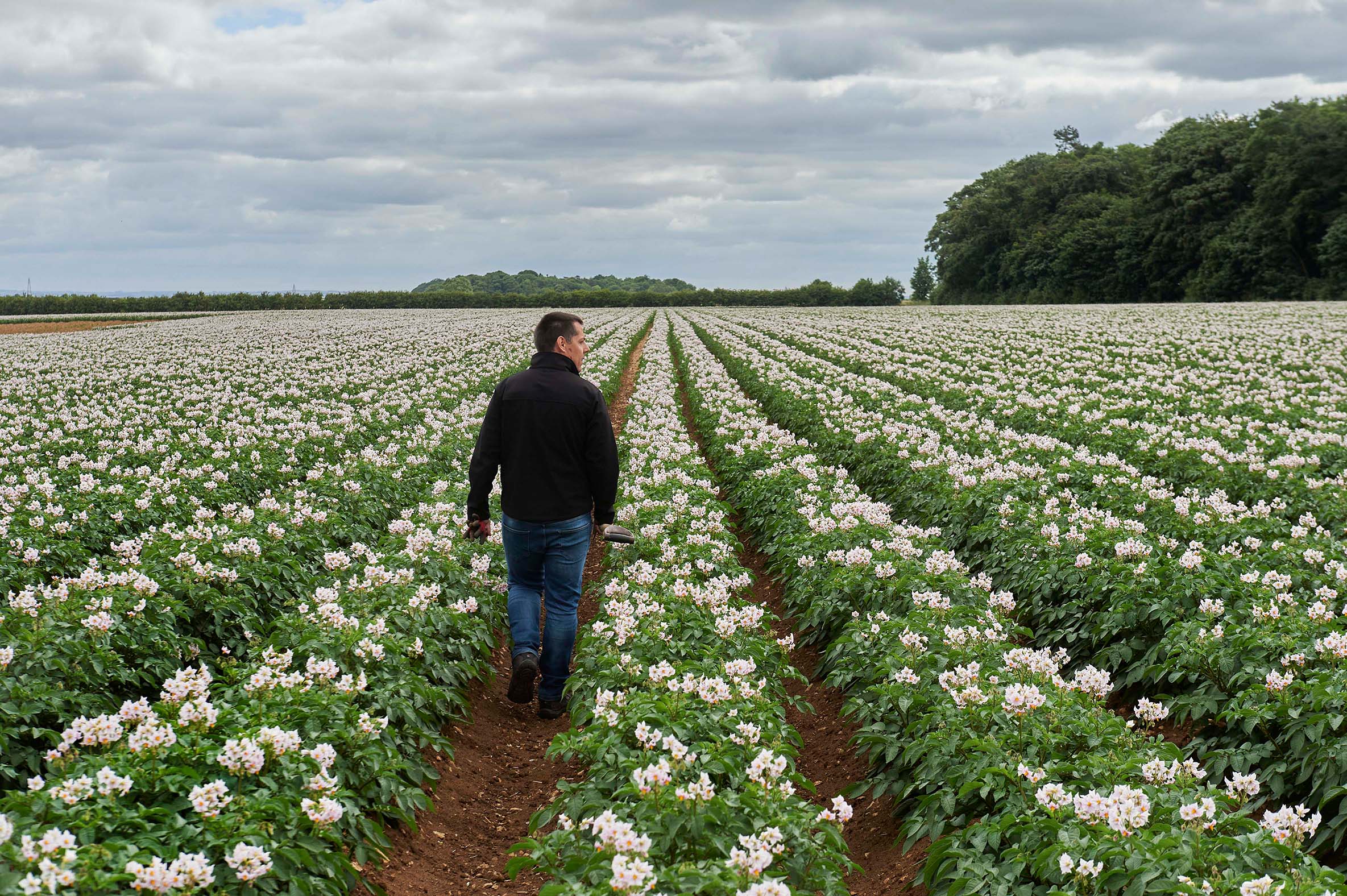 The Potato Harvest with Branston:
Tesco is incredibly important when it comes to feeding Britain. With over 4,149 stores in the UK and Ireland, with just under 30% of the UK's total grocery market share and with revenues of £61bn, the retailer has significant hegemony. It's also impossible to underestimate the importance of potatoes to the British diet or to farming in Lincolnshire. Over 80% of UK shoppers regularly consume potatoes, and they account for 12% of the UK population's total fibre intake.
Virtually all of Tesco's fresh and prepared potatoes are supplied by Branston Ltd, supporting British farmers and operating from three sites including its Branston headquarters. The company is supplied by over 100 growers in producer groups based around each site. In total Branston handles over 350,000 tonnes of potatoes a year. Figures are a bit complicated given all the different sizes of potatoes in a crop, but we reckon that each tonne in weight contains between six and eight thousand tubers, and so around 20 trillion individual potatoes are handled by Branston each year.
The company endeavours to find the best home for each one, and not waste a single potato. Some of those that are too large or small for retail packs go into their prepared lines, such as ready to roast; while cosmetically challenged spuds are peeled in their ingredients factory to be supplied to ready meal manufacturers. The firm will soon have even more options, with a state-of-the-art potato protein extraction facility due to open at the site soon, followed by a mash plant next year.
For retail in the UK, potatoes tend to categorised into crop groups – whites (the large ones of which are packed as bakers), reds, and 'specials' including Maris Piper and King Edward. Maris Piper is still one of the most popular named varieties around, recognised as a good, floury all-rounder. Potatoes destined for the Lincoln site tend to come from Lincolnshire, Yorkshire and the Eastern Counties. Seed potatoes are planted in spring, once the ground temperature warms up and they are grown through the summer months, ready to be harvested in autumn.
See www.branston.com for more details.
• The UK's 2021 potato harvest was around 5.31m metric tonnes (so 14,337,000,000 potatoes in total) and assuming a yield of 20 tonnes per acre, we calculate a total of 265,500 acres in the UK or 108,000 hectares. With Lincolnshire's UK share of production being somewhere in the region of 13%, that amounts to around 35,000 acres or 14,000 hectares of local land given over to growing potatoes in fields every six or seven years throughout a crop rotation.
Livestock in Lincolnshire…
Whilst Lincolnshire is a predominantly arable county, there are still some livestock operations around the countryside helping to keep consumers connected with their food and ensuring the survival of heritage breeds. One of the farming operations in Lincolnshire keeping the traditional Lincoln Red alive and well is the South Ormsby Estate, home to the Massingberd-Mundy family for over 400 years. The estate's grass-fed, high-welfare beef and farm-reared poultry is available at www.southormsbyestate.co.uk.
Staying with cows for just a second, Home Farm Dairy at Spital on the Street, north of Lincoln, is a 1,700 acre  mixed farming operation run by Adam Duguid. Just a few hundred years ago the county had around 400 dairy farms, but now that number has dwindled to just 30 or 40. With 400 cows, Adam's herd is about twice the average herd size, with each of his 'girls' producing about 22 litres of milk a day, which can be purchased direct from the dairy's vending machine. The farm also serves dairy cooperative Arla.
Lavinton Lamb is Sophie Arlott's delicious traditional-breed lamb previously named the 'Best Meat in Britain' at the Great British Food Awards 2019. It's favoured by Michelin-starred chefs and has previously been sold in Harrods' food hall and at Fortnum & Mason. It's also available from www.lavinton.com
Grasmere Farm is based in Deeping St James and since 1969 its founder Stuart Stables has been keeping his Hampshire-cross pigs in open straw yards with plenty of room to stretch their trotters. The company has a dedicated butchery and a production kitchen on the farm producing their own sausages – 14 different varieties – plus Lincolnshire delicacies such as haslet and stuffed chine. Grasmere Farm has butcher's shops in Stamford, Market Deeping, at Vine House Farm in the Deepings, and it also sells to consumers via its website at www.grasmere-farm.co.uk.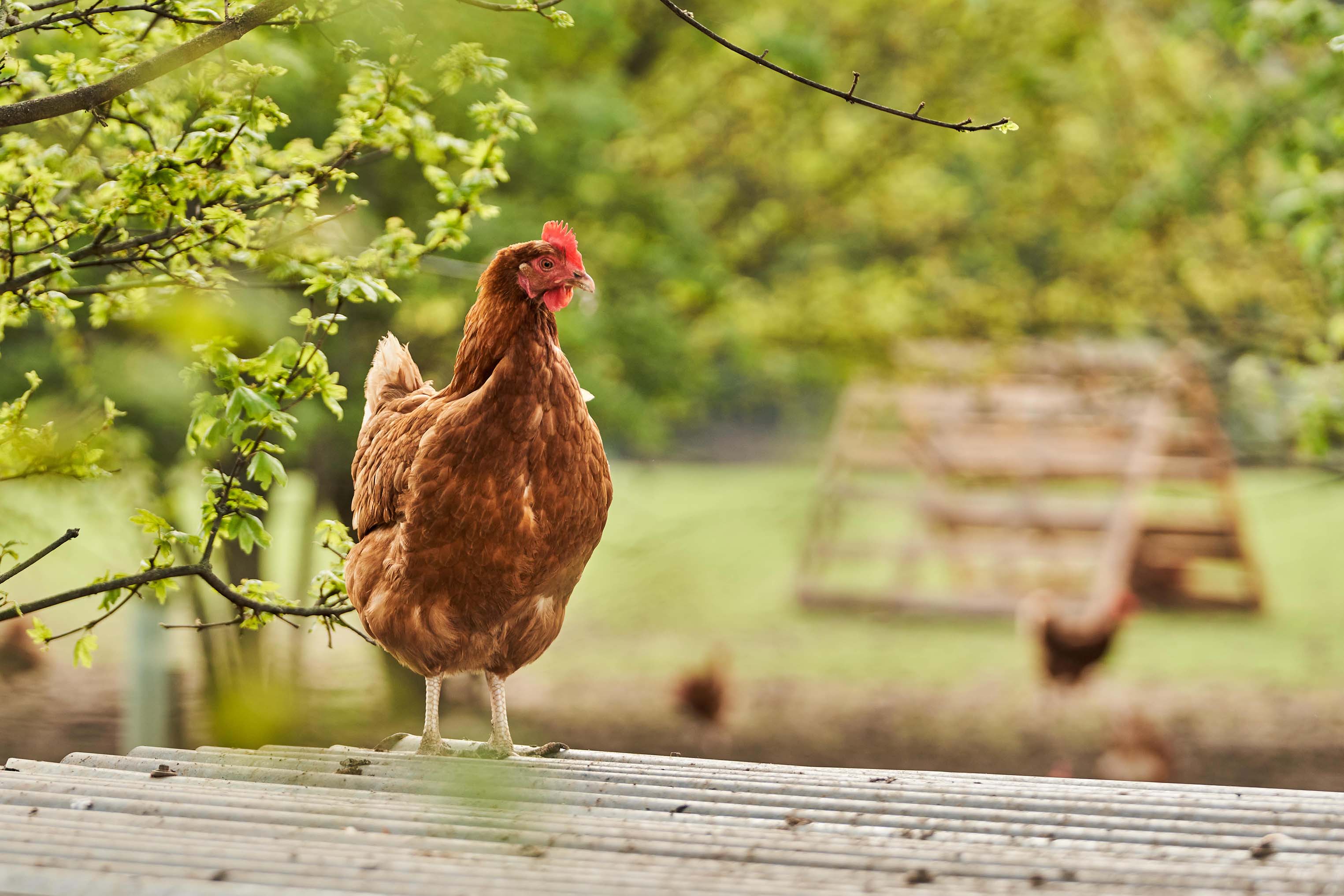 Egg Production with Noble Foods…
There are about 39m commercial laying hens in the UK, and on average 11bn eggs are laid by hens in the UK each year, making the UK 86% self-sufficient in egg production. The UK egg industry is worth £1bn and employs 13,000 people.  Each of us eat around 200 eggs each year, with 60% of those purchased from mainstream supermarkets and 25% from discount supermarkets.
The most popular egg brand in the UK is The Happy Egg Co., produced by Noble Foods and on sale in Tesco, Sainsbury's & Asda. Noble Foods works with 250 farms across the country, grading and packing 32m eggs a week at its North Scale premises between Lincoln and Newark. The average size of a laying flock is about 16,000 birds, purchased as chicks at about 16 weeks old.
Birds have a productive life of anywhere between 56 and 70 weeks, although that has been extended to 100 weeks by some producers amid Avian Influenza to reduce the movement of poultry. Hens lay between two and four eggs a day, so about 32,000 per flock daily, and after their productive life, the birds are exported as meat or used for premium pet food. Noble Foods also owns five large feed mills across the country, producing feed for its own hens and other livestock from wheat and other grains, soya, and pea proteins.
The Happy Egg Co., branded eggs are seen as free range 'plus' which means the birds enjoy additional enrichment, even more space and higher quality feed. Battery egg production was banned in 2012 and now free range eggs account for 70% of the UK egg market.
For more information see www.noblefoods.co.uk.
Farming in England: National Figures…
In 2021 the total value of the UK's agricultural production in the UK was £27.2bn. Livestock was worth £16.3bn, or 60% or the agriculture, whilst the arable sector was worth £10.9bn or 40%.  The average UK farm size in 2021 was 81 hectares. However, almost half of all farms were less than 20 hectares in size.
In the livestock sector dairy accounted for £4.8bn (18%) of output, beef for £3.3bn (12%), poultry for £2.9bn (11%), sheep for £1.5bn (6%), pigs for £1.4bn (5%), eggs for £0.8bn (3%). £1.4bn (5%) 'other.'
In the arable sector cereals accounted for £4bn (15%) of output. Vegetables/flowers accounted for £3.2bn (12%). Potatoes accounted for £0.7bn (3% of output), followed by fruit £0.9bn (3%) and industrial crops £1bn (4%). £1bn (4%) 'other.'
In terms of land use, there are 105,200 farm holdings in the UK and a total of 9m hectares of land. There are 32,000 lowland grazing farms, 20,300 general cropping farms, 16,500 cereals farms, 7,200 mixed operations, 5,600 dairy farms. Of the UK's total farming area, 32% (2.9m ha) is used for farming cereals, 17% (1.5m ha) for general cropping, 15% (1.4m ha) for lowland livestock grazing, 9% (790k ha) for dairy, 2% (190k ha) for horticulture, 1% (85k ha) for poultry and the same again for pigs.