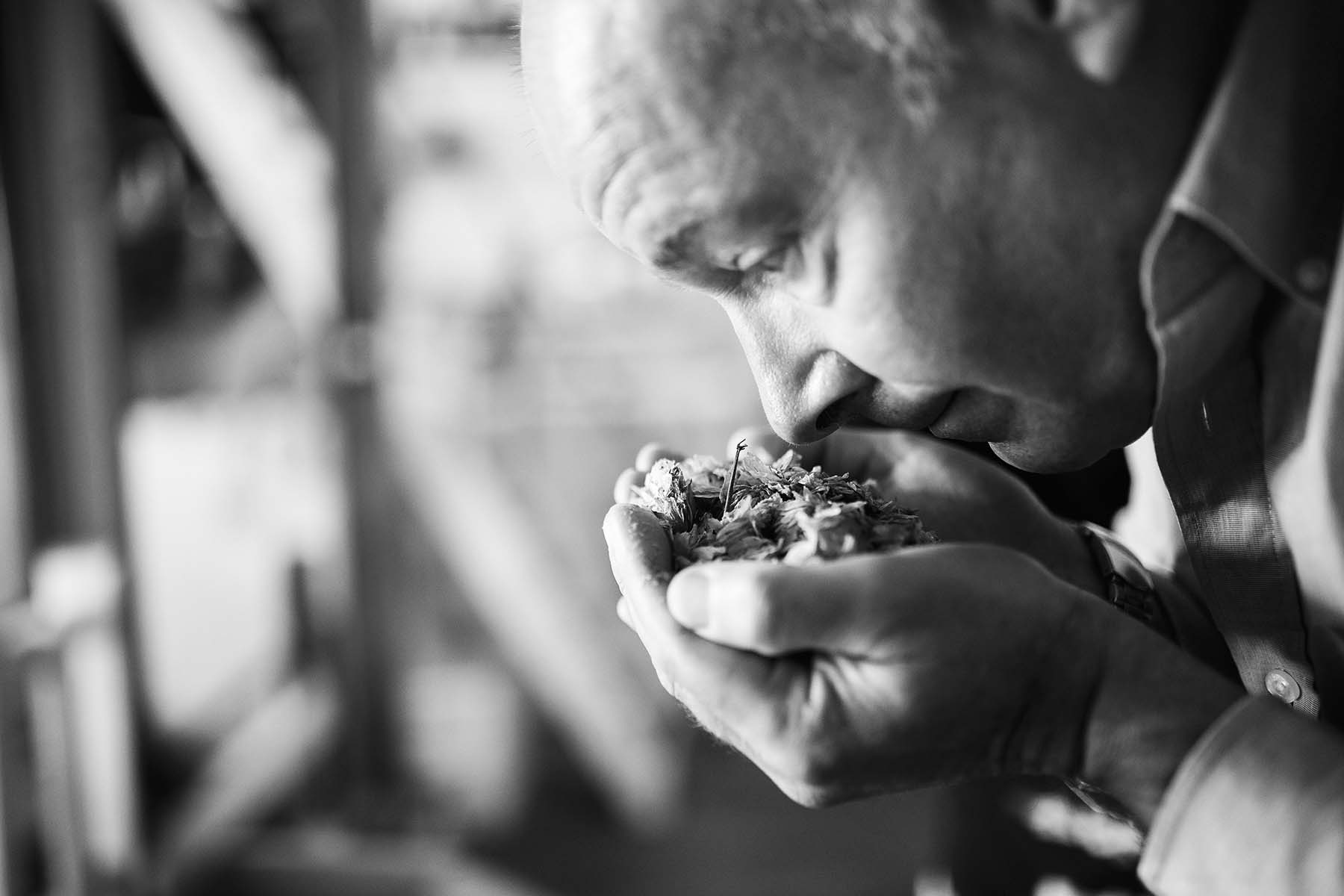 This month we've an exclusive interview with fourth generation brewer Stuart Bateman, as Batemans Brewery celebrates 100 years as the oldest wine and spirit merchant in Lincolnshire and 40 years since XXXB was first produced…
One word; Beer. That was Stuart Bateman's answer when I asked what he was most passionate about and what he enjoyed the most about being a fourth generation brewer and the owner of one of the biggest and most well known businesses in Lincolnshire.
If you live in Lincolnshire, there is no doubt that you would have heard of Batemans. Your local may well be a Batemans pub; there are over 30 just across Lincolnshire.
But the pubs are just a small side of this enormous business. From  beer production to wine and spirits and free trade to even the wedding industry, Stuart has diversified the company immensely. This empire started with his great grandfather George Bateman in 1874, and I spoke to Stuart to discover more about the history of the beer we Yellow Bellies all know and love…
So your great grandfather George Bateman founded the business in 1874?
Yes, that's correct. My great grandfather was a farmer. Back in his time in the 19th century, the landworkers were paid in three parts; firstly a wage, then some of the produce harvested and also beer. George Bateman knew the farming market, and knew the demand for beer for the landworkers, so decided to finish farming altogether and start a brewery in Wainfleet, Lincolnshire.
And it was a success?
It was a tremendous success. The landworkers loved the beer and the local farmers did too. My great grandfather continued to run the business until he handed it down to my grandfather Harry Bateman in the 20th century. His part was largely turning the brewery into more of a commercial operation and diversifying the business from simply producing beer.
How did he diversify the business, what was his legacy?  
That is what we're celebrating this year. Harry wanted to offer wine and spirits too and so began JE Ridlington & Son. This part of our business is still operating today, making it the oldest specialist wine and spirit company in Lincolnshire.
He didn't have it all smooth sailing though. Harry owned the company during the World Wars, and all of Britain had to be focused on the war effort. Beer in particular was heavily rationed unless it was contributing to the war effort.
Like many businesses during this time, he wanted to maintain his profitable business but also wanted to support the country. He managed to do both. The steelworkers in Scunthorpe were working on tanks and machinery for our soldiers, so Harry managed to secure a licence to sell extra beer to the steelworkers; beer was considered a recreational activity to boost morale for the workers.
He's also responsible for starting the publican side of our business, opening a few pubs in Lincolnshire – this was at a time where there were four or five pubs in every village.
Was it your father who expanded the pub trade for Batemans?  
Yes, after Harry handed down the business to my father George in the 1950s, he immediately began buying a great deal more pubs across the county.
However, pub licences were an enormous problem for him in the 1950s. Pubs carried 'perpendicular licences,' which was a law at the time meaning you couldn't drink standing up (perpendicular). You had to sit down in the 1950s to drink a pint of beer or you were breaking the law.
That sounds ridiculous!         
It was a very silly law, and meant that people couldn't enjoy a drink by the bar. There were many other restricting laws. For example, wines and spirits weren't allowed to be served alongside beer in pubs. This meant that many women weren't going into pubs, so the publican trade was missing out on half the population.
Because of all the laws, my father made a conscious effort to change the law and learnt more about licences. He spent a lot of time and money changing them, and national companies soon backed him.
After changing the laws and starting conversations with national breweries, my father changed the way Batemans worked. He agreed to sell specified volumes of their beer in our pubs and our beer in their pubs, meaning we could offer so much more variety to customers and people could enjoy Batemans in more pubs.
When did you get involved with the business?       
I always knew I wanted to take over the business and carry on our family's heritage, but I wanted to do something entirely independent first of all. I studied business and sports management, as it would still help for my future in the family business, and I was really  passionate about sports.
I was a sports teacher for a couple of years before I decided to start at Batemans. I trained at Mansfield Brewery, working in the brewhouse, learning the brewing process, bottling process, sales, pub management, off trade and exporting before moving back to Wainfleet in 1987.
I became the Assistant Managing Director and worked alongside my sister Jackie who is also a Director in the business.
What was it like, how was the business coping when you joined?
Unfortunately, there were some massive debts that we had incurred in helping to retain the independence of the company. That meant we had to really develop the sales side of the business to raise funds. It also unfortunately meant we had to sell a few pubs and had to renegotiate trade agreements.
The sales side of the business took off and was extremely successful. In the 1990s Carlsberg approached us with a bid to purchase this side of the company. The amount they paid for it was exactly the same amount of money we had to borrow from the banks to retain our independence, so we had to do this.
Without sales, how did you take Batemans Brewery forward?     
Well, we couldn't develop a sales team for another six years, so we focused on our own pubs, and on sending beer outside of the county. We looked at the supermarket trade too and generally improved the rest of the business.
When the six year contract expired, we developed the sales side again to be bigger than what we sold it to Carlsberg before. We had retained our independence and managed to improve all the other areas of the business so it was a bold move but a good one.
What an achievement! What has been your proudest moment?  
We won at the Publican Awards for two years in a row, which was absolutely phenomenal considering we were the smallest company in the group up against the likes of Marstons and Fullers.
Our XXXB won best beer at the Great British Beer Festival and has won premium beer of the year four times. We've won the CAMRA beer of Britain awards and many others.
I'm also proud of how much we have been able to diversify the business. We opened the visitors' centre in 2002 – the brewery itself with the paddocks outside and the river running nearby is just beautiful so it made sense to make the most of that – opened a small bar in the bottom of the windmill, we host events, have a caravan park on site, opened a bistro, shop and training facilities, provide brewery tours and we have a licence to hold weddings.
You mentioned XXXB. It's had 40 years of success then?   
Yes, it has been 40 years since we first made our premium beer. We first created it at 4.8% ABV, but because the alcohol industry is one of the most heavily taxed, and it's calculated by ABV, we reduced it to 4.5% and passed this saving onto our customers.
Because it's the anniversary of the beer this year, we reintroduced the original recipe, so it's back to 4.8% ABV, and sales are up 26% so it looks like it's here to stay!
You've achieved a lot but what do you enjoy the most about your job?  
One word; beer. Well actually three. Beer, pubs and people. I love all of those things! It's a dream job and it doesn't feel like work at all. I love creating new recipes, I love being able to talk to people all day and I don't mind sampling beer! We're constantly changing the business with the constantly changing market; the days of asking for your usual in your local are gone. 'Promiscuous drinkers' seem to have taken over, so you need to offer a wide variety nowadays.
And what is the variety at Batemans?         
We have our four classic beers – our bitter XB, our blonde American style IPA Yella Belly, our premium beer XXXB and our dark beer Salem Porter. Our Skull & Spanners is also a permanent beer created by Lincolnshire's Guy Martin and served in his sister's pub the Marrowbone & Cleaver. We have a different beer launched each month through the Salem Brew Co brand, and these are infused with fresh fruit. Our legends change regularly and these are speciality one-off beers we have done in the past that were a success. We do a lot of special beers like Last Post in November and our popular Rosey Nosey bitter at Christmas. By the end of the year, we will have produced 21 different kinds of beer.
You're passionate about beer. What else do you enjoy?   
I love sport. My claim to fame is that I scored the last goal at Wembley before it was knocked down in a charity match for Carlsberg! I scored the last penalty of the game.
I support the local football and rugby teams and held the Skegness Grammar School's sprint record for 32 years! I support Grimsby Town and I also play guitar in my spare time. My three children also keep me busy away from work.
Are they planning on following you into the family business?      
Well Harrison, who's 23, is studying business and marketing at university and has just completed a work placement at Marstons, and my other son Edward, 20, is also studying business and marketing at Leeds currently and is hoping to get a work placement too.
My youngest, Eliza, 16, currently wants to become a professional surfer and I'm encouraging her to follow her dream! All of them work at the brewery during the holidays though; Harrison as a tour guide, Edward as a drayman and Eliza as a waitress.
I've been with my wife Rachael for 24 years and we met at work; she started as sales manager for the business in 1992 and we married in 1994. She often refers to me as a workaholic but I disagree.
I don't regard work as 'work,' and I truly enjoy every part of what I do. I feel privileged to have been a part of the history of Batemans Brewery.  I'm excited for its future, and for the imminent fifth generation soon to join the team.
• Stuart is the Managing Director of Batemans Brewery; www.bateman.co.uk.