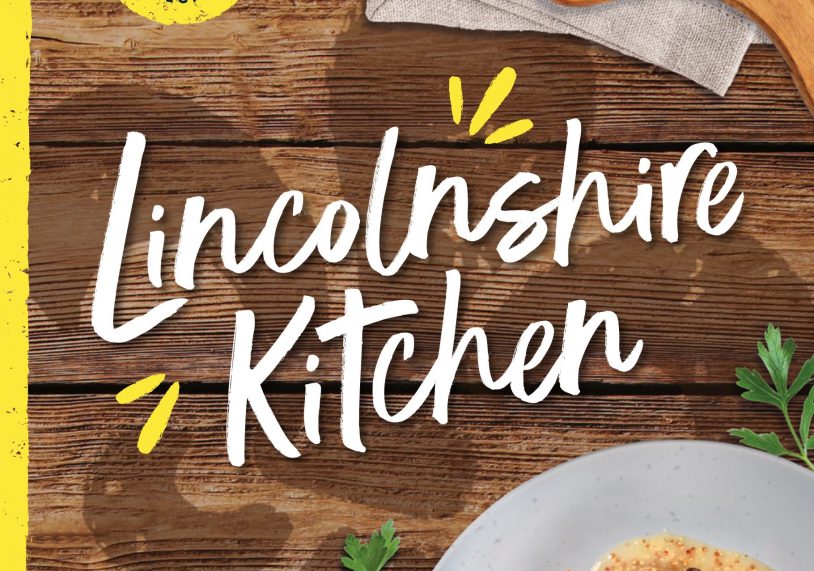 LIVES First Responders are used to providing rapid help and peace of mind for Lincolnshire communities. Now the charity can help you create something delicious with equal expedience. The charity has cooked up an amazing new book packed with local recipes, enlisting chef Darren Rogan, photographer David Harrison and Epix media to work on their project…
Patience, they reckon, is a virtue. Sadly it's not a virtue with which magazine editors are blessed. Always on deadline, we want everything yesterday and we're eternally over-eager. Chefs, by contrast, recognise that their best dishes are those in which time has been invested; ones that have been cooked slowly, gently, with labour lovingly expended in their preparation.
It's the same with bread. By chance my socially distanced phone call is well-timed. Darren Rogan is baking a batch of his signature charcoal bread, which he serves with Poacher cheese-flavoured butter. "I've got time to talk – all the time in the world – the bread's proving, so the longer I leave it the better… it's time well-invested" he points out.
Being a chef patience comes naturally, but even the Hykeham pan-rattler has his limits, and with fewer people to cook for during lockdown, Darren needed a creative outlet.
Unusually, the chef doesn't have his own restaurant. Instead, he's cleverly created a niche, cooking in his clients' own homes. He had two or three clients a week prior to lockdown, whereupon the 'rule of six' put a temporary culinary kibosh on households mixing.
Keen to cook but with no outlet for his culinary talent, Darren decided to put his pans to good use and has, instead, worked with the Lincolnshire first responder charity LIVES to create a cookbook to raise money for the service. It's out now and features not only some of the chef's greatest recipes, but local suppliers too… a good meal, for a good cause, using good ingredients? What's not to love?
Darren began his career in Lincoln, the son of an RAF officer. He attended North Kesteven Academy and enjoyed gainful employment in his youth as a potwash at The Wig & Mitre on Steep Hill before working as an apprentice chef and later becoming Sous Chef. Later his career saw him working as Sous Chef at seafood and Champagne restaurant Épernay and a number of other local restaurants before he joined The Tower Hotel as a Sous Chef, before being promoted Head Chef in 2010 and earning the restaurant a rosette in 2012.
Later working as a consultant to restaurants and as a freelance chef, Darren initially wanted to own his own restaurant, but instead, gravitated towards his current interest, creating private dining experiences in his clients' own homes.
Darren's niche makes an enormous amount of sense, really. We all love inviting friends over for a dinner party, after all, but then we end up stuck in the kitchen preparing, cooking, plating and serving each course… to say nothing of the washing up that ensues the following morning once that nasty hangover is doing its worse.
There must, Darren reasoned, be a better way. How about having a chef create bespoke menus, then prepping each course in his kitchen before coming to your home and setting up your table, then finishing each dish, serving on his own crockery and taking away all of that washing up afterwards?
"It's a really great way to make a living from a love of cooking," says Darren. "I always know how many covers I'm working with, so there's that predictability and security."
"But also with a menu pre-agreed – bespoke and designed in conjunction with the client – I don't have to prepare several choices per course. Instead, I'm able to just concentrate on the one starter dish, the one fish course, the one main course and the one dessert and for a smaller number of diners than a restaurant environment."
"It gives me more time to concentrate on making those dishes absolutely spectacular. It also means I'm free to include treats and special flourishes like amuse bouches, or pre-desserts, whatever the client would like."
"I'm also free of the need to deal with staff (although a waiter is available if the client would like) or the upkeep of a building… all of the stuff that ordinarily takes a chef away from the kitchen."
"I'm able to complete much of the prep work in my own kitchen prior to my arrival at a client's house, so there's less fuss on site, dishes can be served in a timely fashion and I can chat to the guests and introduce them to each dish, if they'd like."
"It's pure, unadulterated cooking. And with many of my clients quite knowledgeable when it comes to wine, they can supply their own favourite wine to enjoy."
Roughly, Darren's prices range from around £125/head for two diners; £85/head for four diners; £65/head for six diners and he typically caters for an average of six to 12 diners right up to 28. That's a rough average, naturally, as each menu is bespoke, tailored to a client's requirements.
Over 150 diners each year certainly saw the benefit and business was brisk until the rule of six, so instead, Darren decided to wait out lockdown by doing something constructive.
"I've always considered LIVES a really important charity," he says. "It's not the first time I've worked with them, having been involved with their Sausage Supper campaign a year or two ago. The idea was to encourage people to host dinner parties online at home, with the good old Lincolnshire sausage featuring prominently on the menu."
"We hosted online recipe videos for the October campaign, which coincided with the Lincolnshire Sausage Festival, and we invited people to make donations to the charity."
"It was really popular and they're a great charity to work with, so when the idea was first put forward to create a cookery book I jumped at the chance, and it was a more convenient time for me given that bookings of dinner parties over six people had diminished."
The cookery book has 50 pages and features 30 recipes, including some of Darren's flagship dishes and those the chef has created in collaboration with some of the county's finest food and drink producers – Alfred Enderby Smokehouse, Lincolnshire Honey, Ulceby's Poacher Cheese, Hawken's Gingerbread, Boston Sausage, Uncle Henry's, Myers, Belvoir Fruit Farms and Stones to name just a few.
"Producing recipes for a book is quite an undertaking," says Darren. "Chefs tend to measure by eye and naturally know how to combine or prepare ingredients, so putting those into words and turning out readable, common-sense copy with exact measurements and timings is the first challenge."
"Then there's the photography. We were really lucky to work with David Harrison Photography, who gave his time and experience to the project free. But the photography is only one part of producing the images as each dish needed to be prepared and styled."
"We shot the book's imagery over two Mondays; one in October and one in November. I've some really good friends, Natalie and Tom, who run Ashlin Farm Barns, five really beautiful self-catering holiday cottages near Welton. They donated a cottage in which we could prepare and photograph the dishes. I did all of the prep work a day or two before and we worked from 8am to 6pm to photograph them."
"As I cooked and David photographed the dishes,  Epix Media were on hand to support as they worked on design.  The LIVES Fundraising Team project managed the book to ensure we could have the book ready for sale at Christmas."
"It was quite a challenge to create an entire book in such a short space of time but we're all so proud of the result. It's bright and beautiful, with the kind of recipes that really shout about what great food and drink we have in the county, and it enables everyone to enjoy cooking some really amazing dishes. There are some more technically challenging dishes but most of them are accessible, and all of them are incredibly rewarding."
"My favourite dish, personally, is a beef blade dish which was contributed by Doddington Hall and features ingredients from the estate. Even I was massively impressed with the taste, it's a huge dish in terms of its flavour, I really love it!"
Find Out More: Darren Rogan provides bespoke private dining events in your own home, for anywhere between two and 28 people. Menus and priced are bespoke, for a free, no obligation chat call 07792 659542 or see www.bydarrenrogan.co.uk. The chef has contributed to the LIVES charity cookery book, out now for £9.99 plus £2.50 P&P, via www.lives.org.uk
More about LIVES
LIVES is a vital Lincolnshire Emergency First Response charity, that attends 999 medical emergencies around the county. Their volunteer army of 700 First Responders and Medics are based within local Lincolnshire communities, meaning they are able to get to the scene of a 999 medical emergency in minutes, arriving before the ambulance 81% of the time.
As a charity, they need essential funding to keep volunteers on the road and ensure that they have the training and equipment to respond. LIVES Responders attend over 14,000 incidents a year, from road traffic collisions to cardiac arrests, and ensure your loved ones receive treatment when they desperately need it. They need over £1.4million a year to ensure they can keep this service running.
The charity's cookbook has been created to raise money for the lifesaving work of Lincolnshire Emergency Response charity, LIVES. All profits from the sale of this cookbook will support the vital work of LIVES. You can purchase the book from the charity's website where you'll also find information about the charity's 50 year history.
See www.lives.org.uk or call 01507 525 999.