As Pride goes to press, the BBC's Great British Menu chefs will be presenting their season finalé banquet, the culmination of a tireless search to find the greatest chef in the UK for 2021. Representing Lincolnshire in the North East heat of the competition was Gareth Bartram, whose day job sees him heading up the kitchen of Winteringham Fields in North Lincolnshire…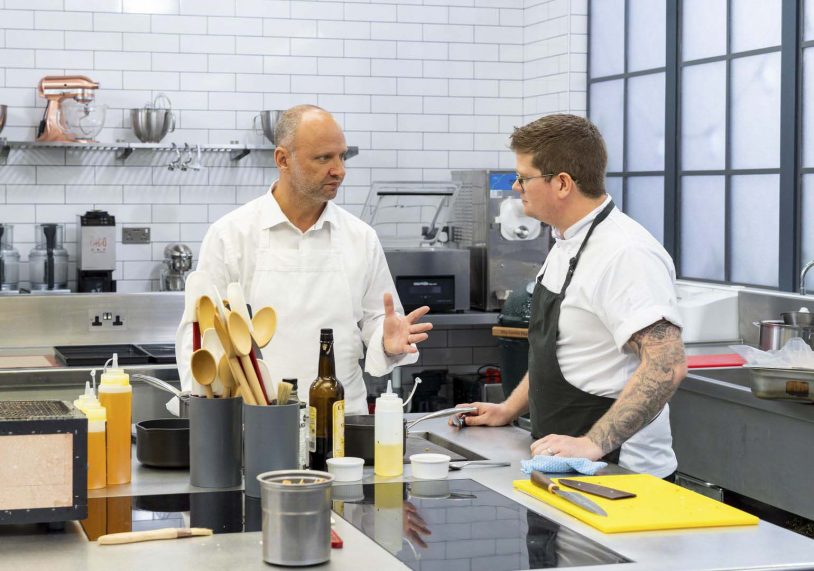 If you can't stand the heat, as the saying goes, stay out of the kitchen. If, on the other hand, you thrive on the buzz and the creative potential that producing cutting-edge dishes provides, the ideal kitchen to be in is that of the Great British Menu… just ask Gareth Bartram.
Millions of people recently tuned in to the Great British Menu to see the North Lincolnshire chef compete in the North East regional heats of the BBC show, which is in its 16th series and has screened over 540 episodes.
It's not the first time that the Rag Doll studios in Stratford-upon-Avon had seen a Lincolnshire chef walk through the doors either. Indeed, Gareth's employer Colin McGurran of Winteringham Fields has appeared on the show in 2012, 2013 and 2014, whilst Boston-born Jason Atherton has appeared as a judge in the series, too.
"I grew up in Cleethorpes and worked in a number of restaurants around the area before leaving to work in Gordon Ramsay's Boxwood Café in 2004. I returned to the area for a bit before working in the South West in Bath and Bristol, returning to see family and meeting my future wife Lucy in the gym."
"Family brought me back to the area, and back in Lincolnshire there was only really one place I wanted to work; Winteringham Fields. I realised that if I wanted to work in a fine dining kitchen, that was the time and this was the place."
"Before working at 'the Fields,' I went for a meal there and I was really impressed. I passed my CV to the owner, Colin, and went for a trial in the kitchen to meet the team."
"He said that he'd keep my details on file and true to form, as soon as a vacancy arose he called me. He's a really good employer and recognises the need to ensure that his staff are happy and that they aren't worked into the ground, which is a progressive approach for the hospitality industry."
"I usually have a Sunday off to spend time with Lucy and my two children Ivy and Frances. Colin recognises enthusiasm and talent, too, and nurtures that, so it's an environment which suits a chef who's keen to develop and to progress their skills."
"There are usually six of us in the kitchen but of course Covid has caused disruption across the industry."
"During lockdown I was able to watch the series just as a viewer would, instead of having to binge-watch it on a Sunday afternoon. I messaged the programme and received a call from the producer who set up a sort of screen test, via Skype."
There are four contestants in each episode, competing in seven different regions including the North East. Participants are asked to design a menu and filming for each region begins on a Monday morning with the task of creating an amuse bouche.
"The day serves as a sort of introduction to filming too, and it's when many of the in-between sequences are filmed so you're not disturbed during the rest of the week when you're trying to concentrate on the cooking."
"Tuesday is dedicated to preparing a starter course and a fish course; Wednesday is for preparing a main course, and a pre-dessert – which serves as a tie-breaker – then on Thursday you get to prepare a dessert."
"On each day, one of the chefs has to leave the competition, which is really sad because you build a really strong bond with the other people from your region."
"Even though you're competitors, the respect and the camaraderie is really strong, and the level at which you're cooking and presenting your dishes is so high, the slightest problem with timing or seasoning or with one element  of a dish can upset that precision."
"It's something you wouldn't wish on any of the people you're sharing the kitchen with, and all of the plates emerging from the pass are so strong that there's only ever the slimmest margin for being named 'best.'"
"A winning dish is one that hits the brief, takes risks and one in which tonnes of development work has been invested. It's also one that can be replicated 100 times because that's how many people will attend the banquet at the end of the series."
"I was very fortunate to be able to get through to Thursday which means I could cook my entire menu. That meant a lot to me. Filming took place in October and you're subject to a strict non-disclosure agreement, which means that none of the chefs in my kitchen knew how far I'd gone on the competition."
"So my work colleagues had to wait to find out what had happened, and even my participation in the programme wasn't released until a week before the programme aired so I couldn't even say publicly that I was a competitor!"
"I received lots of messages of warmth and support when the show aired, and I'm really glad to have taken part. Hopefully I've kept up Winteringham Fields' reputation on the show, as established by Colin!"
"I haven't had anyone asking for autographs yet, but I've had a few double takes whilst I've been out shopping!"
"2021 has been a difficult time for the hospitality industry, and I'm not used to having so much time on my hands, but it's meant that we've had plenty of time to prepare for the reopening of the restaurant and that's enabled us to push our menus really hard. We've some exciting dishes on the menu and though I've only put one of the dishes from the TV on the menus, our diners will recognise some of the techniques that they've seen on the series."
"We're reopening the restaurant with just two tasting menus, nice and simple. There are six courses during lunchtime service and eight courses during evening service. Like the rest of the menus at the restaurant they're also governed by the availability of seasonal ingredients, so the menus change all the time."
"Having more time during Covid has also meant that we can continue our efforts to make Winteringham Fields greener. We're using all of our green waste from the kitchen to create fertiliser for our kitchen garden and we're removing as much plastic from the restaurant and from our rooms as possible."
Gareth's magnum opus was his traditional meat and vegetable dish entitled 'The Linc to Yorkshire,' which comprised lamb loin, and belly skewers – depicting the Humber Bridge – with braised cabbage.
His follow-up dessert was Zeer, and was a combination of chocolate with buckthorn and rum chocolate mousse. The technical challenge of the dish though proved too demanding and though only a few minutes late to the pass, it was enough to cause judges to send Gareth home.
At the level each of the chefs were working, there's no shame in that. And if Gareth's Winteringham Fields dishes are even a fraction as inventive, delicious and successfully implemented at the ones we've seen him prepare on the Great British Menu, his diners are in for a real treat when the restaurant reopens at the time of writing.
"It was a really great experience," he says. "The whole team there were amazing. They made you feel so welcome and relaxed you really enjoyed your time there, so you could just concentrate on doing what you were there to do, and take pride in it."
See www.winteringhamfields.co.uk.