With such diversity, such popularity and such ubiquity in our diet, cheese is not so much food as a lifestyle, and one Lincolnshire business dedicated to dairy is Thorpe St Peter's Lymn Bank Farm. Now selling to Lincolnshire households via Yummy – the website which brings fresh local food right to your door – we catch up with Gemma Sisson and her team…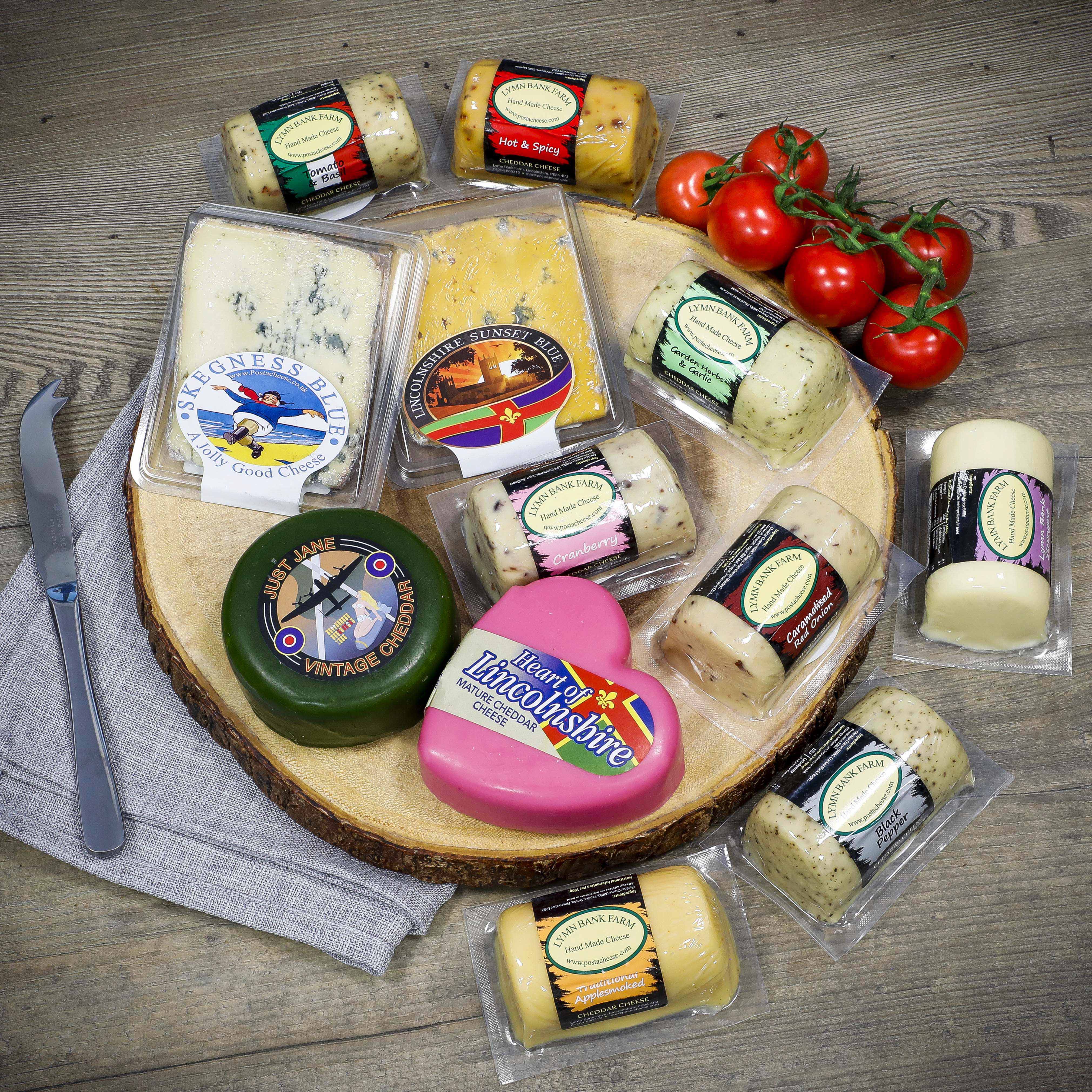 "Are You The Photographer or the engineer?" I'm asked. I'm running late having taken the wrong turn at the blue house and ended up at the roadworks at the B1195. Some terribly nice but awfully butch chaps fixing the road allow me to turn around and I eventually find Lymn Bank Farm's two-acre site at Thorpe St Peter, having made a phone call en route to apologise for my tardiness.
"I'm definitely the photographer." Look at these hands; neither the hands of an engineer or a road fixer, but we all have that one thing we're good at. The engineer turns up at the same time as me and quickly diagnoses the problem with the bit of machinery in production which is playing up. 'It's either going to be six bolts or six grand,' the team are warned. Thankfully, it isn't as bad as first feared. With a spare part and (probably) a spanner he's soon fixed the problem which means production can resume the next morning.
It's a relief for the dairy, which has a number of customers keen to ensure they get their delivery, especially as Christmas is coming up and a whopping 80% of your average cheesemaker's output is between the months of September and January.
Ask a Lincolnshire resident to name our local cheesemakers and two candidates in particular come to mind. Ulceby Cross's Poacher is perhaps the most well-known Lincolnshire cheese, produced near Alford by Simon & Tim Jones since 1992, along with Michael & Mary Davenport's Cote Hill products which originated circa 2005.
Just a mile or so from Wainfleet, Lymn Bank Farm has also been making cheese since 2004. But with half of the dairy's output being contract cheese – that is, produced for their customers and so wearing someone else's label – and with just 30% of Lymn Bank's produce being sold within the county, the dairy's own brand cheese hasn't always had the same profile here as others in the company's home county. Happily that's now changing and more people are becoming aware of Lymn Bank's Nibble Nose, Just Jane, and its flavoured cheese barrels.
"We're unusual in the industry in that we produce our own ranges but we also innovate for our other customers," says Gemma. "Perhaps other cheesemakers across the UK concentrate on one or two core products, but we're much more flexible in our approach, so necessarily we've had to become absolute experts in the technicalities of the cheesemaking process."
Gemma's father Steve Grinstead was an artisan back in the mid-noughties, albeit creating wood burning stoves and fireplaces. The family were keen foodies and enjoyed their cheese as consumers, but not as producers, although Steve did experiment with smoking bacon, meat and cheese… probably not over the stoves he was making and selling, but if you squint a little and tilt your head to one side, there's a (very) tenuous connection to fire.
One of Steve's more successful products was his smoked cheese, which the family began to sell at farmers' markets. Soon Steve fancied producing his own cheese to smoke and sourced milk from the now closed Rich Pastures dairy, utilising their raw (i.e.: neither homogenised nor pasteurised) milk to create his own cheese, experimentally at first then for commercial production from about 2007.
The family moved to Thorpe St Peter, four miles from nearby Wainfleet, and the rest is history. Today the operation has grown considerably. Whilst Steve is still involved in the business, daughter Gemma and son Matt are at the helm too.
Output is a distinctly healthy 175 tonnes of cheese a year, which equates to about 1.2m of their signature barrels, and the company employs around 25 people at its two-acre site.
Lymn Bank Farm's skill though is the company's nimbleness and its ability to innovate. Whilst other artisan dairies across the country concentrate on just a few core products, Lymn Bank's speciality is its ability to produce many different products and to innovate and experiment, especially in the respect of creating new flavours.
Product development, whether for its in house products or contract customers, usually takes place in the afternoon, subject to the presence of photographers and engineers.
Life at the dairy begins at about 7am each morning. Cleaning and sanitising takes an hour or two, and after that, until early afternoon, production takes place, after which the team splits in two, with half the team packing finished products and the other half cleaning and sanitising ready for the following day when the team once again cleans the already clean dairy, just to make sure hygiene is flawless.
Gemma, Matt and the team have ensured that production at the company is now an even split, 50/50 between their customers' products and their own ranges. The company's website and its farm shop and retail customers were historically a smaller part of the business, with much of the dairy's own products being sold at county shows and so on, nationwide.
With Covid knocking county shows on the head in 2020, the dairy has this year had more time to approach more retailers, and they've been greeted very warmly.
2020 also afforded Gemma the chance to create a new website enabling consumers to buy their cheese directly, and the firm has also come on board with Yummy, the county's newest online food service, enabling the delivery of local food right to your door.
Lymn Bank's Skegness Blue cheese was the firm's original product, followed by Sunset Blue. The former is akin to a blue brie and is an award winner. Success with these lines spurred the family on and they began to sell their Just Jane mature cheddar.
It's named in tribute to the East Kirkby Aviation Heritage Centre's restored AVRO Lancaster, and production of the cheese has been on the go for about eight years. The firm's Nibble Nose truckles are waxed, and include a number of flavours from red onion to chilli to orange and whisky.
But where things become really interesting is with in dairy's 18 different flavoured barrels. From caramelised red onion or cranberry to limoncello or a hot & spicy version, you'll find a treat to suit your palate, thanks to the cheesemaker's ability to produce in comparatively smaller batches than other dairies and hence offer such a broad range of flavours.
Lymn Bank Farm now also works alongside Huttoft-based Farmer Brown's Ice Cream, and uses Darren Brown's Friesian/Holstein flock's raw milk, completing pasteurisation on site. It's a partnership that works well since ice-cream producer Darren is busiest in the summer and Lymn Bank is busier in the cooler months.
We're not allowed to reveal too much about the production process as the success of Lymn Bank Farm's range is partly due to the time the family has invested in development of their cheese and in 'trial and error' attempts to perfect their processes during their early days.
What we can say, though, is that generally milk is pumped into the dairy, and heated up prior to one of a number of different starter cultures being added.
There's just a 0.5°c margin of error in the temperature of the milk, which means the process has to be as tightly controlled as the dairy's hygiene processes.
Vegetable rennet is used to coagulate the milk and split the curds (the solids) and the whey, which is eventually drained off and used as high protein animal feed.
Once the curds are lumpy they can be cut into strips, and once again the exact process for this is a bit of a secret because it's a key element in determining the texture of the finished cheese.
Hard cheese such as cheddar for example, has been cut more and consequently loses more moisture than cheese whose eventual texture is to be more like a moist squidgy brie.
The cheese is allowed to 'pitch' or settle prior to the whey being drained off, and thereafter production processes diverge according to whether you're making a blue cheese (in which case it's put into moulds and salted the following morning) or a cheddar (which is broken down and reformed using an extruder).
"It really is a complex business but it never fails to fascinate us – or people who come to visit us – that you can vary so dramatically what is fundamentally the same product."
"We've come to love product development, and dad is a sort of unofficial Cheese Professor… but the proof is in the pudding, or rather the truckle, because we've become really well respected in the industry."
"There's no pleasure like curling up with a glass of wine, some crusty bread and some cheese, especially in winter."
"And we hope that by incorporating our different flavours, and by being faithful to our ethos of always producing a really great product, we're able to give our customers a consistently good product no matter what flavour they choose!"
Find Out More: Lymn Bank Cheese is based at Thorpe St Peter PE24 4PJ, call 01754 880312, see www.postacheese.com or shop online via Yummy, for fresh local food delivered right to your door across Lincolnshire; www.yummy.co.uk.