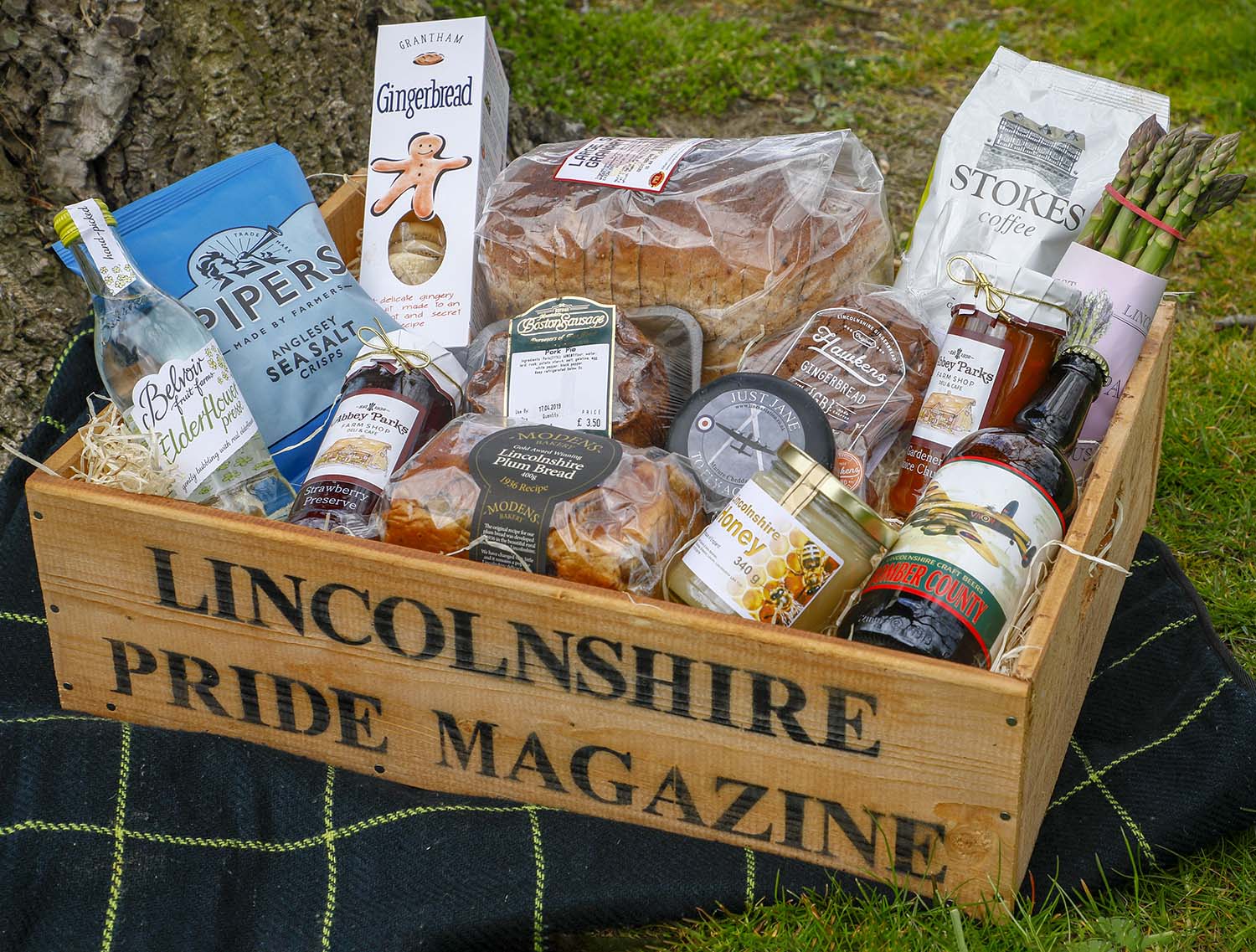 It's a cliché to state that ours is the county that feeds the country, but how much of that remains a hollow boast and how much truth is there in it? This month we investigate Lincolnshire's contribution to food and farming, creating our own hamper – a map of the county in food form…
There's no doubt about it. The future of farming is in crisis and local farmers and food producers need your support. Why? Because in the past 20 years, the cost of producing food has risen by 8.5%, whilst the retail cost of food has risen 22%, but revenues to farmers who grow our food – cereals, vegetables and so on – have actually fallen by 9%. The effects of that will be felt strongly across Lincolnshire, a county traditionally known as the county that feeds the country.
Across the UK, the food and farming sector is responsible for 3% of GVA (gross value added) income, but in Lincolnshire, the same sector is worth 13% of GVA, meaning Lincolnshire's economy is more susceptible than other counties to disturbances in the food and farming industry. Next year it's forecast that Lincolnshire will employ 21,000 people in food and farming; 11% of the working population in the county compared to a national average of 3%. South Holland is the region of Lincolnshire most invested in the sector – it accounts for 31% of Lincolnshire's overall contribution to farming – but North Kesteven, Boston, East Lindsey and South Kesteven all contribute 11-16% each to the sector too.
Lincolnshire has over 2,500,000 hectares of land committed to the farming sector, and grows 16% of the UK's sugar beet, 13% of its potatoes and 1,709 hectares of wheat – 11% of the UK's consumption.
Supporting Lincolnshire producers and farmers therefore means supporting the county's economy as a whole, but what's the best way to do so?
Farmers Market & Farm Shops
Incorrectly considered as more expensive than supermarkets, farmers markets and farm shops have much simpler supply chains, and can therefore remain competitive with larger grocery retailers. A trip out to a farmer's market or farm shop means you won't need to trail around several grocers or producers for your weekly shop.
Eat the Seasons
A blessing – and a curse – of the supermarket system is the ability to eat, for instance, strawberries in December. With this convenience comes a loss of seasonality, and an increasing reliance on international food chains – plus food miles and post-Brexit price increases – but also a loss of anticipation for when our favourite food comes into season. What's more satisfying than waiting for St George's day to enjoy fresh locally grown asparagus or late June for strawberries? Eating seasonally will help to put the joy and variety back into your diet.
Veg Box Schemes
It's also a misnomer that eating local produce is less convenient than supermarket shopping.  Veg box schemes deliver not only local veg and fruit to your door, but local bread, milk and so on. The milk round is also making a welcome return to modern shopping, with companies like Milk & More supporting Lincolnshire companies like Pipers and Belvoir Fruit Farms.
Open Farm & County Shows
Another way to show your support to local suppliers is to visit county shows and Open Farm Sunday on 9th June. It's a great opportunity to find out about modern farming practices and to educate a younger generation about where their food comes from.
Don't forget the basics…
Two of the most sinned against foods are our household staples, bread and milk. The former is packed with all sorts of preservatives and subject to all sort of industrial processes. Real bread from a real baker is a profound pleasure and with its slower production, remains better for those who believe they are gluten intolerant but are actually just intolerant of mass-bread production. Likewise, choose local milk from nearby farms and enjoy cream at the top of the bottle once more!
What's in our Hamper?
Local produce from across the whole of Lincolnshire…
Belvoir's elderflower pressé is created near Grantham in the Vale of Belvoir with elderflowers hand-harvested every June. The firm creates 1.3m bottles each year, along with other drinks like ginger, lime, raspberry and juniper cordials.
There are now 10 flavours of Pipers crisps, produced at Elsham near Brigg. From the minimalist unsalted variety to chorizo or jalapeño & dill.
Gingerbread was invented in Grantham and is still made in the town to the original 1740 recipe by Alastair and Kerry Hawken.
Abbey Parks sell their own jams and chutneys including this delicious strawberry preserve, wonderful as a weekend breakfast treat slathered on toast!
Give us this day our daily bread, especially if it's a large granary loaf from Pocklington's Bakery, nurtured by the Louth firm's head baker Tony.
We absolutely adore Boston Sausage, home not just of proper Lincolnshire sausages, but haslet, chine and other local delicacies.
Modens Plum Loaf is still made in Spilsby to the original 1936 recipe.
Lincoln-based Stokes offers a coffee tasting experience for those who want to know a little more about their morning pick-me-up, with an hour and a half of coffee tuition for £20. Their coffee selection box is £15.
Hawkens gingerbread person with warming spice and cloves.
Just Jane is a two-year old mature cheddar which also benefits the Lincolnshire Aviation Heritage Centre with every truckle purchased.
Our preferred Lincolnshire honey is from Bardney's Croft Apiaries.
We absolutely adore East Heckington's asparagus, as do many of the UK's top chefs. A short season from April to June, but definitely worth the wait!
Abbey Parks Gardeners' Chutney, with tomato and apples.
Tom Woods Bomber County ale; earthy and malty.