It's the teatime treat that every self-respecting Yellowbelly enjoys with a slice of Poacher Cheese or a generous smothering of butter…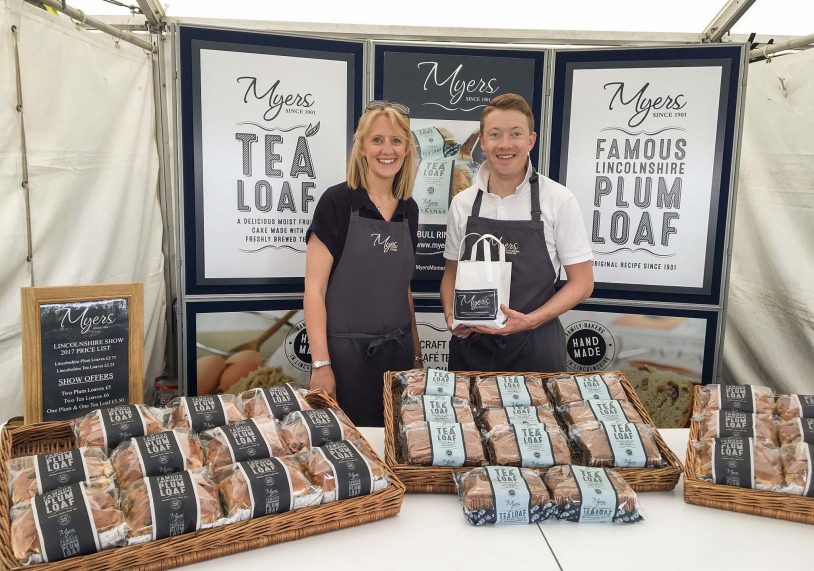 By the time the sun has risen and the morning dew has burned off the fields around Horncastle, Rob Myers arrives at his family bakery. The fifth generation of Lincolnshire's Plum Loaf dynasty, Rob and sister Marie are continuing to champion this much-beloved staple of a Yellowbelly's teatime. Rob's rude awakening, typically about six in the morning, is surpassed in its unruliness by the early start of the team of six bakers who had arrived that morning at 3am.
Myers bakes over 80 different lines, which is vast compared to the usual number of lines made in-house by a family baker. As well as the usual array of artisan breads, though, Myers is one of only a couple of bakers left in the county which specialises in producing one of Lincolnshire's best-loved treats, Plum Loaf.
The teatime favourite is also referred to as Plum Bread. That's not a misnomer because, says Rob, its base is a sweetened bread dough, rather than a cake one, i.e.: there's yeast in it. What is a misnomer, though, is the word plum, since the recipe depends on sultanas, and mixed peel – no plums are harmed during the making of this delicacy!
Based in Horncastle, Myers Bakery is believed to have made the earliest Plum Loaf, either inventing it or at least popularising it in the county. It was in 1901 that Charles Myers left Derbyshire and relocated to Alford purchasing one of four windmills in the town at the time, one with six sails, which soon came to be known as Myers Mill. It was eventually dismantled in 1973.
During his time in Alford, Charles baked his very first batch of Plum Loaves, with his sons Reg and Lewis. The family later moved to Mareham le Fen and finally to Horncastle in 1969 when the opportunity to purchase a shop and bakery arose. Derek (the son of Lewis, and so third generation of Myers) and his wife June, used their loaf and determined that the opportunity to set up shop in Horncastle was too good to pass up.
Fourth generation Richard Myers joined the business in 1976, his brother Michael followed in 1979 and as soon as they were old enough to knead a decent dough, fifth generation Rob and Marie joined the baking dynasty too. It was about 25 or 30 years ago that the Plum Loaf enjoyed a resurgence in popularity, with no particular reason that anybody can unequivocally attribute its comeback to. Perhaps that was the time people began to value local food again, perhaps there was coverage on the TV or in the press at the time, or maybe we just all just remembered how delicious it is.
In any case, its popularity continued and today the company makes in excess of 5,000 a week, mixing up batches of 80kg of wet dough at a time. The exact recipe remains a closely-guarded secret and we're sworn to confidentiality in the respect of a few trade secrets on pain of being clobbered by a bunch of angry bakers wielding rolling pins. What we can reveal, though, is that the recipe is basically faithful to its Edwardian origins, with just one or two tweaks to make it a little healthier. After mixing, the dough is left to ferment, allowed to rise for two to three hours and then baked for an hour before sent to one of 50 local retailers.
The company's tea loaf is a sort of sister product and as its name suggest, it's flavoured with tea – the particular brand of tea is important, hence it's another trade secret – but it's also made with a cake dough, and as a result, it's a little sweeter than a plum loaf.
"I've two boys, aged three and seven," says Rob. "These days Marie and I tend to deal with things like marketing and management, and rarely get into the bakery here, but at home I don't mind teaching the boys how to bake. We're not sure whether they'll follow us into the family business yet, but they'll certainly be customers in the future as they really enjoy a slice of Plum Loaf!"
There's another fan, too, in the form of The Queen. 2022 will represent Her Majesty's Platinum Jubilee, and perhaps Myers will once again gift The Queen a Plum Loaf, as Tattershall-with-Thorpe's Parish Council did back in 1977 when the monarch celebrated her silver jubilee. A letter on Myers' website indicates that The Queen asked for an 'encore,' although it's not clear quite what she made of the stuffed chine which was included in the hamper that was sent to her at Balmoral.
As for the Myers family, producing in excess of a quarter of a million Plum Loaves a year doesn't seem to have stymied their enjoyment of Lincolnshire's finest teatime treat. Robert says that he prefers his to be simply sliced and enjoyed with butter – proper butter, though, not margarine. Other members of the family serve theirs toasted, with cheese – Poacher is a good accompaniment – or with slices of apple.
However you enjoy it though, up to you. We're just grateful that Lincolnshire's very own teatime treat is still proving popular… loved by my own son, by Rob's two youngsters and doubtless many other families whose little ones will be keeping the Plum Loaf alive and toasty, to be enjoyed for generations to come.
Find Out More: Myers Bakery with its café and deli is based at Bull Ring, Horncastle, Lincolnshire, LN9 5HU. Call 01507 525871 or purchase a Plum Loaf online at www.myersbakery.co.uk, £2.95/400g.
Where to find Lincolnshire Plum Loaf…
We can recommend the following stockists of traditional Lincolnshire Plum Loaf
Myers Bakery in Horncastle: It's believed that Myers Bakery were the first to create the Lincolnshire Plum Loaf back in 1901. Today, the firm has a bakery, café and deli stocking Lincolnshire produce in Horncastle's Bull Ring, 01507 525871, www.myersbakery.co.uk.
Pocklingtons Bakery, Louth: The Pocklingtons Bakery Plum Bread recipe was created by Myra Pocklington in 1924. There's also a luxury version with added cherries and spices. The bakery is based in Louth's Market Place, 01507 600180, www.pocklingtons-bakery.co.uk.
Welbourne's Bakery, Navenby: Cornelius Welbourne started making plum bread over 100 years ago, and it's still sold from the company's bakery on Navenby's High Street. Call 01522 810239 or see www.welbournesbakery.com.