This month we revisited Highway 61, or at least the A17, to visit a Lincolnshire restauranteur providing phenomenal authentic barbecue products. Thanks to Yummy – which provides fresh local food, delivered right to your door – the scent of hickory-smoked deliciousness is blowin' in the wind…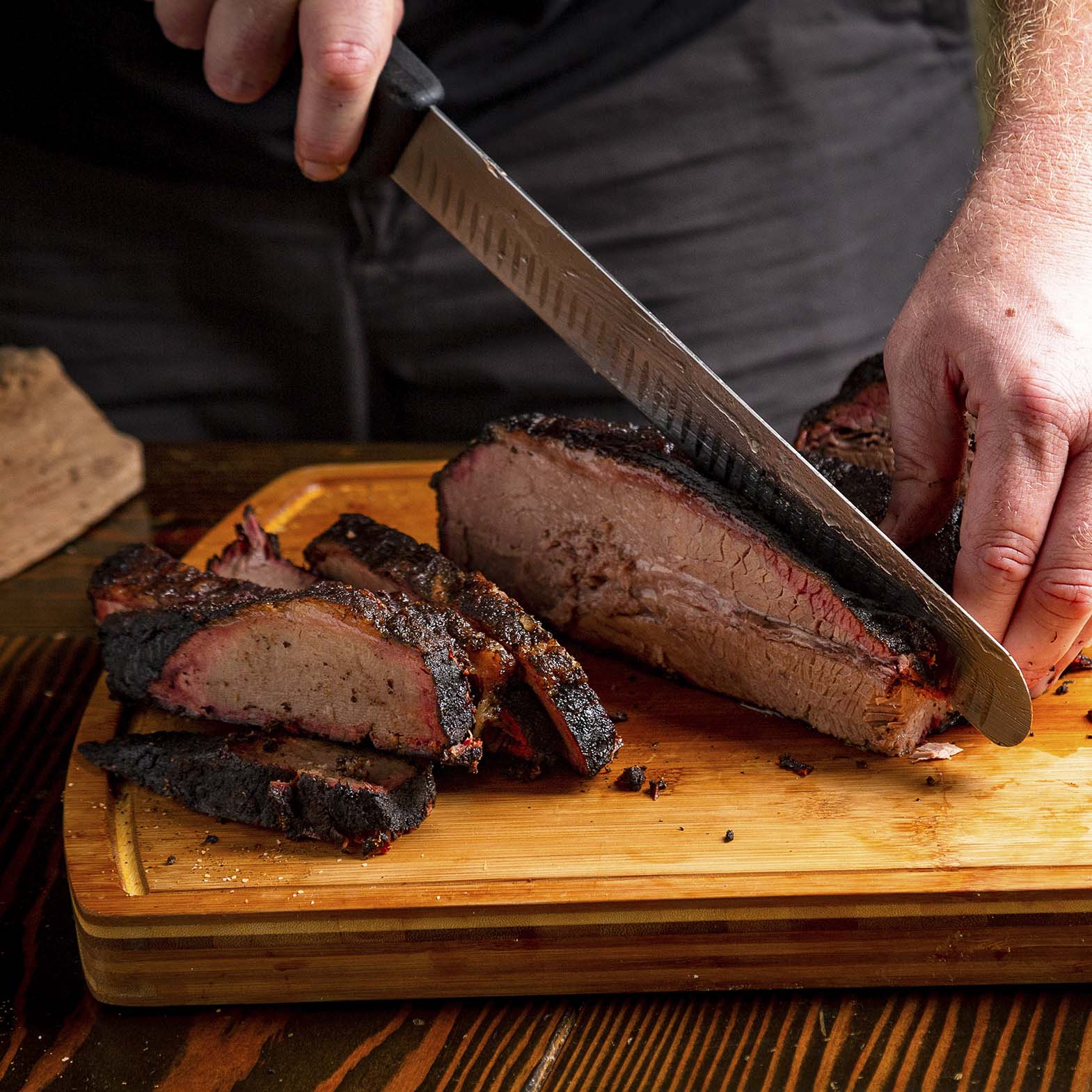 Freewheelin' David Beever is cooking up a treat, in his HQ in the beating heart of the Lincolnshire countryside. You'll know when you're there… if the scent of slow-cooked, hickory-infused meat, drifting across the misty fields doesn't give it away, the sound of Bob Dylan playing at full volume will.
So loud is the sound of folk rock that David doesn't hear me knock, knock, knocking on heaven's door – or at least the door of his development kitchen – so I decide to take a liberty and just walk in. The poor guy nearly jumped out of his skin in surprise. "Sorry, it's his new album…" David replied.
"I didn't know he had one out. What's it like?" I ask. "It's pretty good. Here, try this," he says and hands me a slice of the slow-cooked brisket that, along with Bob Dylan, was commanding his attention prior to my arrival. "What's it like?
"It's pretty good too," I reply. Actually, that was a thoroughly indecent understatement. It was one of the best things I've ever tasted, which is great news for the good folk of Lincolnshire who are now able to avail themselves of David's authentic, slow-cooked, barbecue-smoked brisket, ribs, pulled pork and chicken for themselves… all from the comfort of our homes. Alas, the term barbecue has, in the UK, been disgraced to express undercooked sausages with burned exteriors, or fatty mass-market burgers dripping with grease and tainted by the whiff of white spirit or some other nefarious accelerant.
The good old US-of-A, meanwhile, has a more devout adherence to barbecue conventions, as David himself knows, having embarked, in his youth, on a coast-to-coast road trip where he fell in love with barbecue food all the way from Texas to Tennessee, Memphis to Mississippi and from Oklahoma to Arcansas… 'yee-haw!'
"Barbecue meat is much maligned," he says. "Forget cloying sauces or overly sweet flavours. Our products adhere to proper barbecue practices. Namely the cooking of good-quality meat, slowly, over a long, low, consistent heat to break down the collagen and fats whilst infusing a sweet hickory smokiness."
A different 'rub' is applied to each product post-butchery; a process which happens on site, prior to smoking. Most products David prepares utilise salt, sugar, spices and paprika in their rub but the exact composition is, naturally, a trade secret. David's delicious smoked barbecue meats are slow-cooked, for up to 24-hours, in his 200-litre Oklahoma-made hot smoking vessel, which allows warm smoke-infused air to drift lazily through the cavity.
My visit coincides with the completion of a cycle, and David pauses our interview partly to remove seven racks of assorted barbecue meat from the smoker, and partly to whet my appetite. I should at this point declare an element of bias, for I am a devout carnivore.
Food is meat, and anything else on the plate is a mere fashion accessory. The brisket I tried earlier was delicious enough, with muscovado sugar and – believe it or not – a decent grade of instant coffee added to the basic rub. It couldn't get better than that… could it?
To test that assertion, David rips me up a juicy chunk of pulled pork. Ostensibly it's a favourite of mine, but frustratingly, even in decent restaurants it often disappoints. And as for what the supermarkets purport to be pulled pork… forget it. Happily, David's pulled pork is a world away and a league above the usual flaccid syrupy offering and stringy sinews. Instead, it has a tender, effortless texture and sweet, sugary notes.
And then of course, there are David's barbecue ribs. Oregano and a hint of chilli provide an excitement of flavour. But even before that hit, you'll notice that they're far more substantial than those served in restaurants, huge in fact. And there's a reason for that.
"Chefs, when writing restaurant menus, almost automatically – but sometimes incorrectly – use the description 'full rack of ribs," says David. "UK restaurant-goers expect their ribs to look like what those au fait with authentic barbecue cuisine know more correctly as babyback ribs."
"Our ribs meanwhile are known as St Louis Ribs, and they come from the belly side of the rib cage, below the section of back ribs and above the breast bone."
Sometimes restaurants can take a St Louis-cut of ribs and cut them down in length to obtain a couple of servings out of one rack. Not here, thankfully. These are rather more substantial, and are a more carefully considered version of what you think you've had before.
"They're flatter which makes them easier to brown and they have a higher amount of fat which also makes them more flavoursome. Because they're larger and more substantial, they're much more satisfying, more authentic and a real people-pleaser whenever you serve them up!"
"The way we produce them also ensures that they're given the time to absorb the rub,  time to develop the perfect flavour and time to adopt a texture which makes them a pleasure to savour."
David's other offerings are a lovely barbecue chicken – smoked, with garlic and pepper added to the rub – plus his own homemade, mac 'n' cheese and coleslaw.
For the ardent grazer, David also offers Burnt Ends – 'nuggets of BBQ gold,' produced from the brisket ends – and Rib Tips; meaty jelly bones, diced and served in his house barbecue sauce.
Think of these as being, to the authentic barbecue experience, what 'scraps' or batter bits are to takeaway fish 'n' chips; a sort of guilty pleasure too pleasurable to induce guilt.
David comes from Lincolnshire farming stock going back six generations, at least, in the countryside surrounding Heckington and Sleaford.
After completing his marketing degree, David bypassed agriculture and spent a decade working in the fashion industry in London before coming to the conclusion that fashion is for young folk in silly hats, and returning to the area in 2004 to set up his own restaurant in Peterborough.
That was 16 years ago and the place still trades today under David's management as Sundays and later traded as Barbecue Nights too; two restaurant concepts working from the same premises, inside Peterborough Cathedral's Precinct.
Throughout the year, David, his father Keith and the rest of the family also provided hog roasts for weddings and other functions. They also renovated and ran Bicker's Red Lion prior to the millennium, and so had collective good form when it came to decent food.
"Sundays began as a predominantly daytime operation," says David. "I was keen to find a night-time concept that would work well and always remembered with fondness the flavour and almost messianic culture of barbecue food from my time in the states."
"Sundays offers really good lunchtime roasts, with good quality meat, lots of fresh vegetables… and of course, there's that social element to the Sunday lunch ritual too.
The same applies to barbecue cuisine, but it's a less convenient type of cooking for a restaurant because you have to prepare and smoke in advance and if you're not sure how many covers you'll have in the restaurant the following day that's problematic."
"My solution was to offer ad hoc barbecue nights – as a sort of pop-up restaurant – which went down a storm. Later I began to offer lockdown barbecue boxes and would sell these in quantities of up to a hundred units each week, keeping the smoker – and our fans' tummies – full up."
"We're really well-known in Peterborough, but less so here in Lincolnshire. So, when I heard about Yummy, it seemed like the ideal place to offer barbecue food options.
Our Development Chef, Carl Blackstock, and I work brilliantly together. He's a great talent and together we're able to make sure that each item we're offering for sale is as authentic and as enjoyable as possible."
"Our Lincolnshire farmers and butchers can guarantee the provenance and quality of our meat, whilst we can ensure we're faithful to authentic American barbecue practices."
"We're offering all of our briskets, pork shoulders and rubs individually but we've also packaged them up into our small and large Lincolnshire Smokehouse selections which are intended to provide a single box dining experience that's akin to going out for a meal in terms of quality, but with a twist; you can enjoy them at home."
"We've been delighted with the feedback we've had so far, and we're delighted to be bringing our range to a county that respects and appreciates food with real provenance. It's a really exciting prospect!"
"We hope that many happy nights with family and friends will be had, featuring our food right at the centre of the experience!"
Like the development of Yummy itself, thought up because of lockdown, David's Lincolnshire Smokehouse range is a reflection of the fact that whereas in previous years we'd all be enjoying dining out at the weekend, we're instead likely to be more conservative about visiting restaurants at least in the early months of 2021, which is a shame for the county's restauranteurs, certainly, but hopefully a temporary adversity for the industry.
Like the man said; 'the times they are a-changin,' and David is one restaurateur who's changing his business accordingly… happily, with some quite spectacular results.
Find Out More: David Beever is the owner of The Lincolnshire Smokehouse, based between Sleaford and Heckington. Find out more and order for home delivery at www.yummy.co.uk or call 0800 122 39 39. David's restaurant, Sundays & BBQ Nights, is based on Becketts Chapel, Cathedral Precincts, Peterborough; www.sundaysroast.com.
Discover Yummy
Bringing fresh local food – including The Lincolnshire Smokehouse's products – right to your door…
The Lincolnshire Smokehouse is just one of a number of local suppliers you can buy from using Yummy. Yummy is a new food delivery service which delivers produce from local butchers, bakers, fruit & veg suppliers, fishmongers and other local food businesses, with shopping delivered straight to your door.
How does it work? Simply visit www.yummy.co.uk and browse through the different products available. Once you've chosen your products from each of our different Yummy partners, you complete one single secure checkout.
Next, we visit each of our partners in turn, collect each of the different products in your order, then pack them safely and delivery them using our fleet of our refrigerated vehicles.
We'll deliver your Yummy box to your doorstep which means you can enjoy local food, from local suppliers, delivered to your door for maximum convenience.
As well as local produce, Yummy has lots of practical groceries too such as milk, butter, honey, and sliced bread.
Discover Yummy now by visiting www.yummy.co.uk… you won't be disappointed!