Luxurious, authentic and truly unique… Woodhall Spa's Jenny Caswell has created six beautiful treehouses in a lakeside location to enjoy at any time of the year!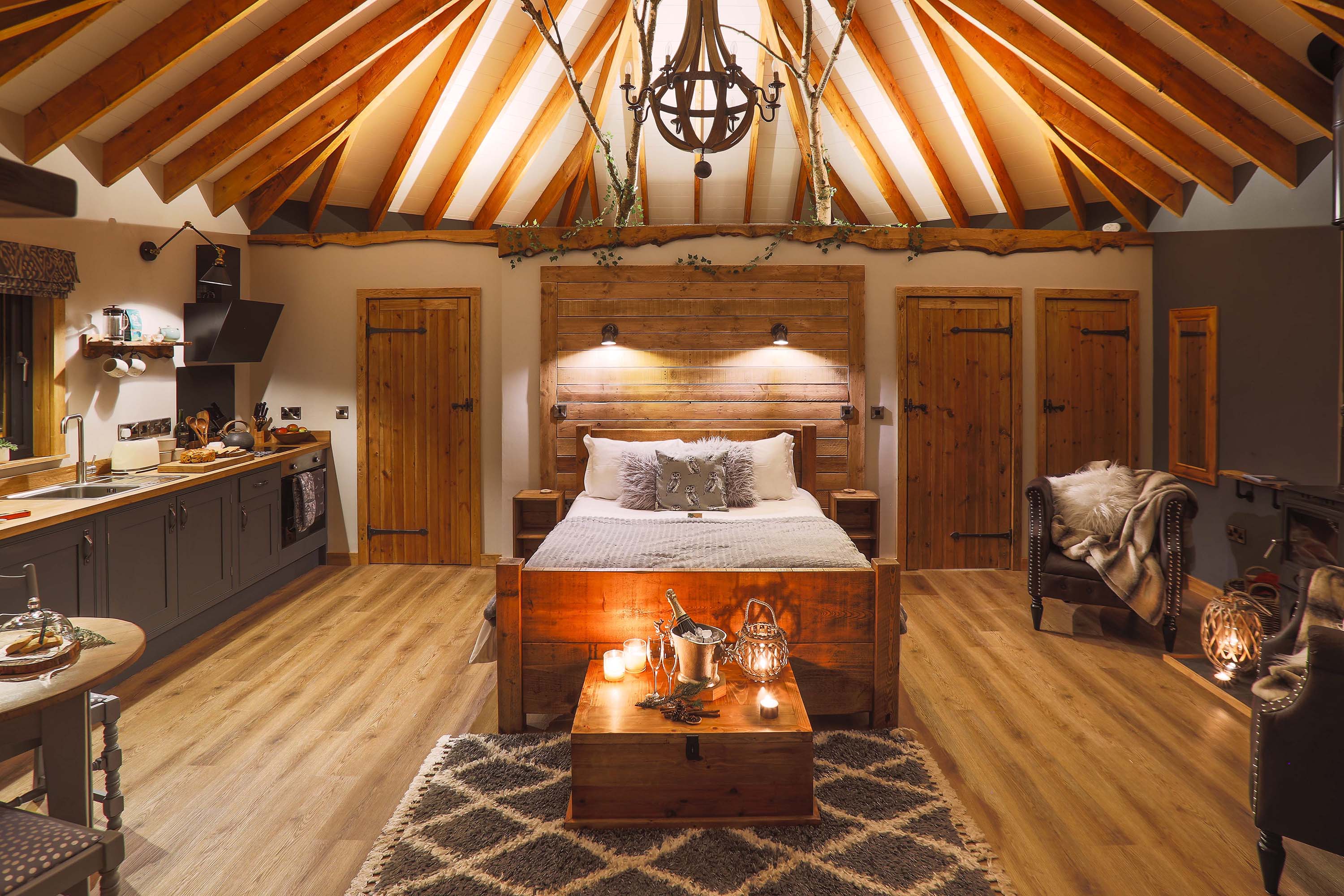 "Stop!" That's the invitation being extended to you and yours by Woodhall Spa's Jenny Caswell. Earlier this year, Jenny's five year journey to complete the construction of six treehouses in their beautiful woodland came to fruition. And they're absolutely phenomenal… but don't take our word for it; just ask her first guests.
The 17 acres of woodland, which was formerly the site of a sand and gravel pit, has been left untouched for the thick end of a hundred years and has since naturally rewilded.
Jenny is a former B&B owner and has also developed property, but for a number of years she's had the dream to create some really unique accommodation within the woodland for those who wanted to step back into nature and unwind.
Five years ago Jenny began to research how to create a successful treehouse site, and also oversaw the clearing of the woodland around the large lake on the site. In 2019, working alongside builder Christian Lomas, she began construction of her six bespoke treehouses.
Though her work stalled a little thanks to the omnipresent Covid, Jenny persevered, and work was completed on four of the site's treehouses in May 2021 with the final couple finished a month or two later. That was just in time for the first few guests and already people are clamouring to stay in the comfortable, cosy and absolutely delightful accommodation she's created.
"Some guests come to explore our quaint Woodhall Spa and the surrounding area and some guests just relax, unwind and enjoy the peace and tranquillity of their treehouse and location" says Jenny.
"Woodhall Spa village is steeped in history, with lots to explore. You can enjoy the many beautiful walks and cycle tracks in the area, the Dambusters history, the Kinema in the Woods and so very much more. I feel it's so important to take time to step away from the hectic pace of life and enjoy peace and quiet and just reconnect with nature again, whether it's watching the abundance of wildlife from your decking, gently rowing your boat on the lake, strolling around the woodland enjoying the beauty of nature, reading books in hammocks, or cooking marshmallows on the fire pit, and bathing under the stars from your outdoor bathtub.  It's time to pause and reset!"
One of the challenges in creating Jenny's Treetop Hideaways was achieving the fine balance between an authentic, natural experience whilst also ensuring luxury and comfort. And it's the successful judgement of this balance which has ensured the treehouses have been executed so well.
Comfort hasn't been compromised, nor has practicality. Self-contained, there's plenty of space, for a start, plus well-equipped kitchens and bathrooms.
In the kitchen, there's an oven, extractor, sink and fridge/freezer, plus a bistro table for dining. In the bathroom there are rainfall showers, twin stone vanity basins… and a fully flushing toilet! And of course, there's heating throughout the treehouse, too.
Meanwhile there are really comfortable king-sized beds with high quality linens and a log burner with a 'starter pack' of logs and eco-friendly firelighters, plus panoramic decking with views over the lake at each of the treehouses. Happily, each of the treehouses have been sited in such a way that none of them overlook one another, which makes enjoying a hot bubble bath outside, in your own bathtub on the veranda, an enjoyable, warm and private fresh air experience.
The idea of the place in general, says Jenny, was that guests would feel completely ensconced in woodland, and Jenny has definitely achieved that by making each treehouse completely private and ensuring each one nestles into its surroundings.
Speaking of enjoying the great outdoors, each treehouse comes with a firepit and grill for al fresco cooking, a hammock or two complete with faux fur blankets to snuggle under. Reading under the woodland canopy with just the rustle of nature in the background is, we feel, an ideal way to spend your time, at any time of the year.
"We accept bookings all year round and they they're proving popular in all seasons," says Jenny. "We do have some availability over Christmas and New Year, and in early 2022, and we're really pleased to see that guests are enjoying the treehouse experience in the autumn andwinter months too, because genuinely the treehouses are really cosy. The log burner can also be lit to give that extra glow of warmth, in addition to the heating which is there already. We saw the treehouses with a coating of snow, whilst we were in the building process and they looked magical!"
"We've really enjoyed welcoming some local visitors to stay, some from as near as Woodhall Spa itself! You don't have to spend a day of your precious holiday time travelling, but you can still feel like you have escaped the world."
"Judging by bookings and expressions of interest so far, our bookings are made up of three quarters of our guests from outside Lincolnshire, and a quarter, at least, are 'local. It's so lovely to meet guests from all over the UK, near and far."
"So, we're creating experiences with partners  that will appeal to guests. If you are looking to simply relax and unwind you can prebook some wellbeing treatments like massage, reflexology, Thai Yoga etc, in the privacy and comfort of your own treehouse, as we've partnered with a local therapist."
"We've also teaming up with a private chef, so if you would like to stay in but would prefer not to cook, you can have a meal cooked for you in your treehouse, or a freshly prepared meal delivered to you, ready for you to pop in the oven and cook at your leisure."
Jenny wanted to create somewhere unique, and that's why she's designed and constructed her treehouses to be completely bespoke.
It's a phenomenal site, comfortable, but also a really authentic experience. If you're after a silent night – whether at Christmas or any other time of the year – this is an experience you won't find anywhere else, given the ecology and naturality of its truly amazing setting.
Treetop Hideaways is a group of six bespoke treehouses for hire from £209/night, two nights minimum stay. Call 07771 867907 or see www.treetophideaways.co.uk. Availability over Christmas, New Year and spring/summer, gift vouchers also available.