Working hard in the centre of Lincoln is the Cathedral's Works Department, a diligent team of heritage craftspeople from joiners, stonemasons and glaziers, to the archaeologists, architects and other professionals committed to ensuring the Cathedral's fabric survives…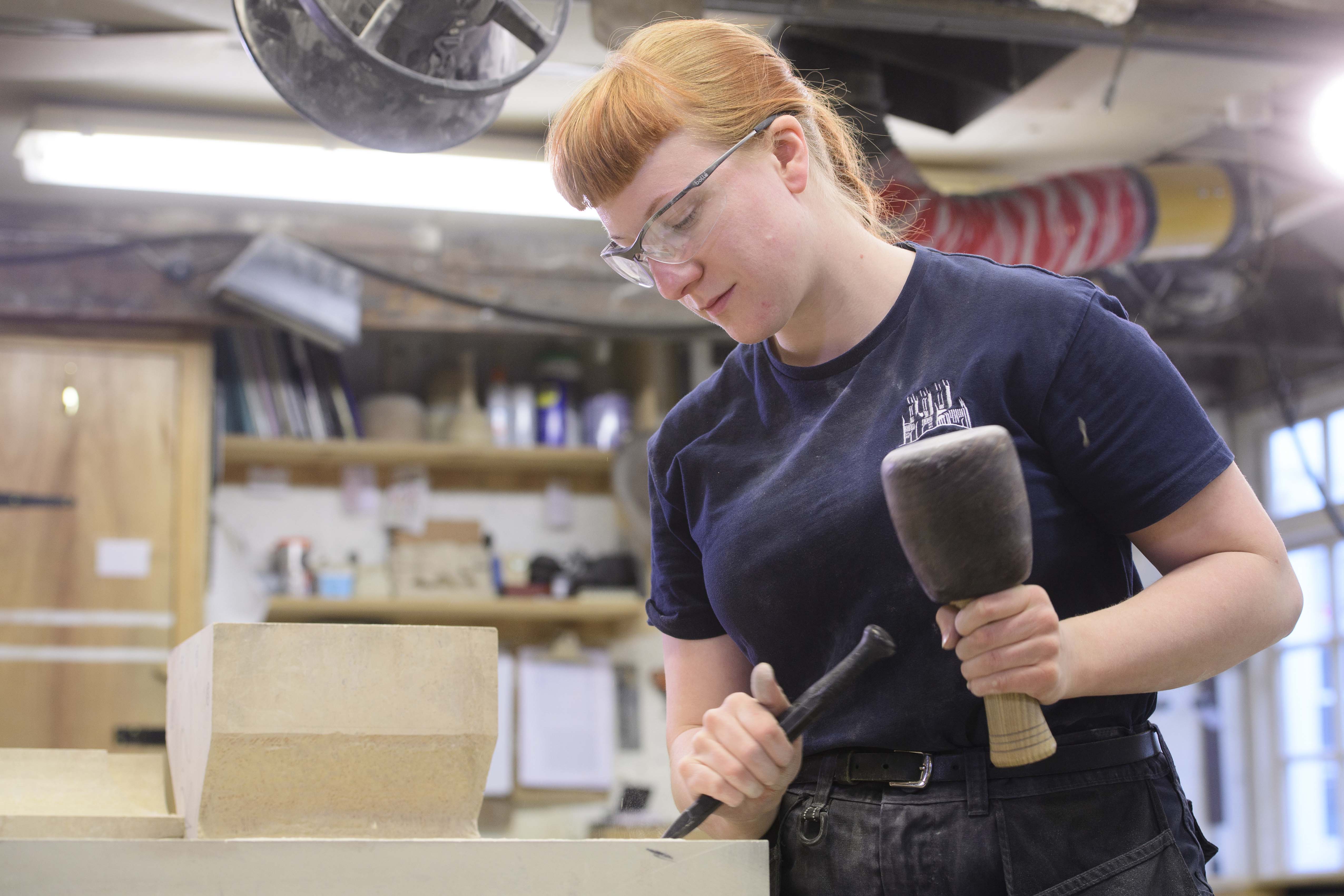 Lincoln's Michael Sheppard is a reasonable man… but even he has his limits. As Director of Works and Properties at Lincoln Cathedral, he heads up the team responsible for planning schedules of works and completing conservation and renovation works on the building's exterior, interior and on more than 60 other buildings on the estate besides the Cathedral.
"So what would happen," I asked, "If I turned up to work for you on Monday and just began jet washing the stonework of the building with the same Kärcher I use to clean my car at the weekend?
A palpable shudder and a visible squirm runs right through Michael, and the colour drains from his face. "I'd wrestle you to the ground!" he replies. "Apart from being damaging to the stonework, it would be illegal, too. Much of what we do involves planning and prioritising work, and once we've done so, even we have to go through a rigorous process of obtaining permission to complete the work we propose."
All of the Works Department's intended conservation and restoration tasks have to be signed off by the CFCE: the Cathedral's Fabric Commission for England. The commission is a national body within the Church of England overseeing the management of conservation and development works for the 42 cathedrals in Britain.
This year is the 950th anniversary of work beginning on the original Cathedral, which was consecrated 20 years later. It's Grade I listed, and on English Heritage's At Risk register. It's not only old and delicate, it's also vast: 147 metres long, 24 metres wide, and 83 metres tall. With a floor area in excess of 5,000m2 it's the fourth largest Cathedral in Britain, after Liverpool, London's St Paul's and York Minster.
Central to planning work schedules is Lincoln Cathedral's quinquennial inspection, a sort of super-survey which influences the agenda of works a few years ahead and is conducted with input from the Cathedral's in-house archaeologist and its consultant architect.
That's not to say, however, that those plans aren't continually evaluated and reassessed. After all, God laughs when men make plans… especially when those plans concern old buildings, bad weather, budgets, the availability of external contractors, working around visitors, Covid and so on.
Whilst most Cathedrals have some kind of Works Department, Lincoln Cathedral's team is among the largest and has a huge breadth of skills. There are 21 members of staff in the team, but Michael says that they could comfortably provide a long list of jobs for 40 members of staff or more.
Unfortunately, Covid led to a fall in the number of visitors to the Cathedral, and a significant loss of income as a direct consequence. One thing that hasn't stopped – and will never stop – is the natural deterioration of the building's fabric which occurs over time. Another nemesis of Michael (besides me and my pressure washer) is water ingress, and at least once a year, there's rainfall so bad it manages to find its way into the building.
Michael estimates that 90% of his work is on the external fabric of the Cathedral, and ensuring it remains watertight is a priority. This can mean anything from glamorous jobs like removing dead birds from guttering to repairing holes in the roof caused by bits of falling masonry. To use a medical analogy, though, Michael and the team have their attention on both the solving of acute problems which occur, as well as the long-term management of the building's fabric.
"Another problem that we're faced with in the 21st century is the legacy of previous  activities," says Michael. "Some work, for instance in the Victorian era, was completed with good intentions, but without the good scientific and technical understanding we have today."
"It's easy to wash stone away, and it's really permeable, so that's why the use of a high pressure washer would be unthinkable."
"We use high pressure steam at 100°c and about 20 bar to remove biological growths like guano. Particulates (like soot, smoke, carbonification and sulphation…) are all removed with a JOS dry system."
"Increasingly though, we're using Nd:YAG lasers – the same used in cosmetic skin procedures or tattoo removal – to break down particulates and safely remove dirt."
"Again, though, such techniques would be useless without our knowledge and understanding of the building's materials. Having been 'on the tools' myself I'm not just approaching my role from a financial and logistical perspective, but from a very practical hands-on position."
Water ingress was also a problem for the Cathedral's stained glass windows, so the Works Department's glazing team has introduced watertight secondary glazing systems to encapsulate and seal the building's stained glass windows. If they need to be cleaned, each panel is carefully removed and cleaned on the bench with very carefully chosen solvents.
As for the third material used extensively throughout the Cathedral, timber, one of the techniques used is to brush dust away very gently with a paintbrush or an eraser brush into the airflow of a low-powered heritage vacuum cleaner.
At this point it's pertinent to say that there's a difference between conservation – which involves as few interventions as possible plus the prevention of further damage to a material or object – and restoration, which is rather more conspicuous in nature. However, when materials can't be preserved or repaired, they'll be replaced. That means the stonemasons, for instance, can fabricate new like-for-like carvings or stone infills to replace damaged or missing materials.
Though the Cathedral's is receiving ongoing care, special attention recently has been given to the Romanesque Frieze on the Cathedral's West Front, which was partially removed or boxed in, in the late 1990s.
The West Front's Gallery of Kings has also been restored, and in early March, the scaffolding which has necessarily blighted the front of the Cathedral was finally removed – though not before a last minute delay thanks to the high winds and storms we experienced in February which delayed work around the building.
"I'm from Lincoln and I grew up looking up at the Cathedral in awe," says Michael. "Even without being romantic about it, the building is tangibly fantastic. 17 metres up, you can see carved details as small as your thumbnail and without its conservation and restoration, it simply won't be here in another 900 years."
"It's no exaggeration to say that Lincoln Cathedral features some of the best Medieval architecture in Europe, and having worked on the fabric of castles and cathedrals across the world, I'm still in absolute awe of Lincoln Cathedral, so to play a part in protecting it for the future and to work alongside people who are equally committed to preserving it for future generations, really is a privilege!"
Visiting Lincoln Cathedral
Lincoln Cathedral is visited by around 200,000 visitors each year, and with the opening of the Dean's Green garden and the Cathedral's new Visitor Centre, as well as the removal of scaffolding from the building, there's never been a better time to plan a return visit even if you consider yourself to be familiar with the landmark. A floor tour is included with your admission and roof, floor and graffiti tours are available to book as extra… so you're guaranteed to learn at least something new about the building!
Call 01522 561600 or see www.lincolncathedral.com.