The history, secrets and architecture of some of the county's most prominent bridges…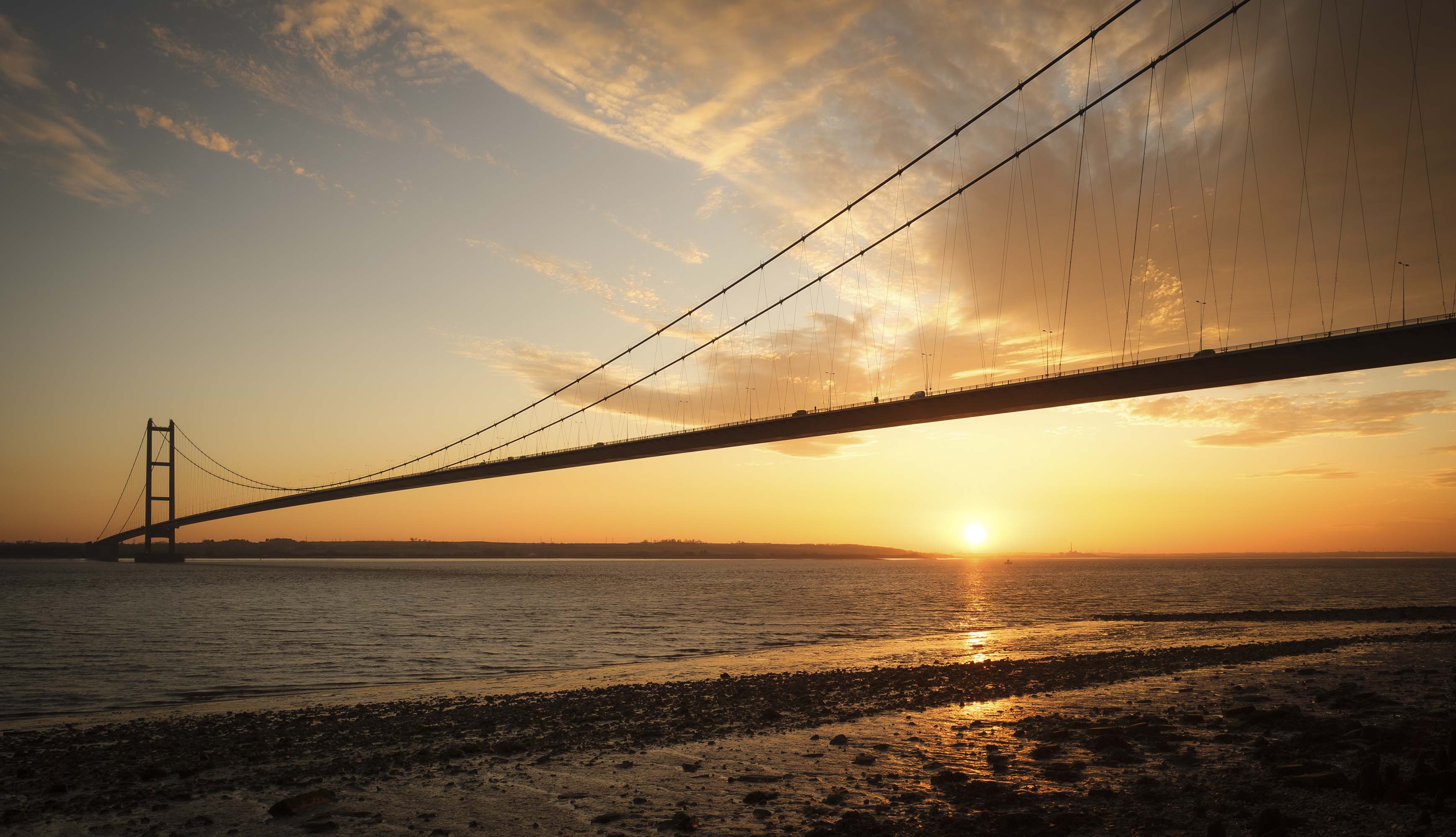 The Humber Bridge…
Where else could we begin a feature about Lincolnshire's most notable bridges than on the banks of The Humber? Last year the structure celebrated a rather understated 40th anniversary, and it's easy to consider the Humber Bridge a utilitarian structure, stretching over a muddy estuary and carrying myriad vans and lorries. But in fact, we think there's something really quite beautiful about a structure which is held up by just under 15,000 tiny little wires all working cooperatively and doing their bit to support the weight of 10,000,000 vehicles a year. The bridge's dimensions are pretty impressive, too. It's 2,200 metres (1.4 miles) long, the towers are 155m tall and they're 36mm apart from one another at the top to compensate for the Earth's curvature. The 14,948 wires from what seems like two single cables, each about seven metres in diameter, but when each cable plunges back down to Earth and disappears underground, they're all anchored into concrete 'shoes.' The whole structure uses enough wire to wrap around the moon six times. The road deck itself was created in 20 sections, and weighs 17,000 tonnes. Located 30 metres above the water, it's designed like an aeroplane wing, in order to encourage wind to flow over it aerodynamically. The estuary, incidentally, is typically around 6.5 metres deep, it covers over 75,000 acres and it's 14km at its widest point. Of course, engineering prowess isn't cheap; the cost of construction in 1981 was £98m but that rose to £151m (£592m today). Late in 2021 it was announced that manned toll booths were to be phased out in favour of automated payments.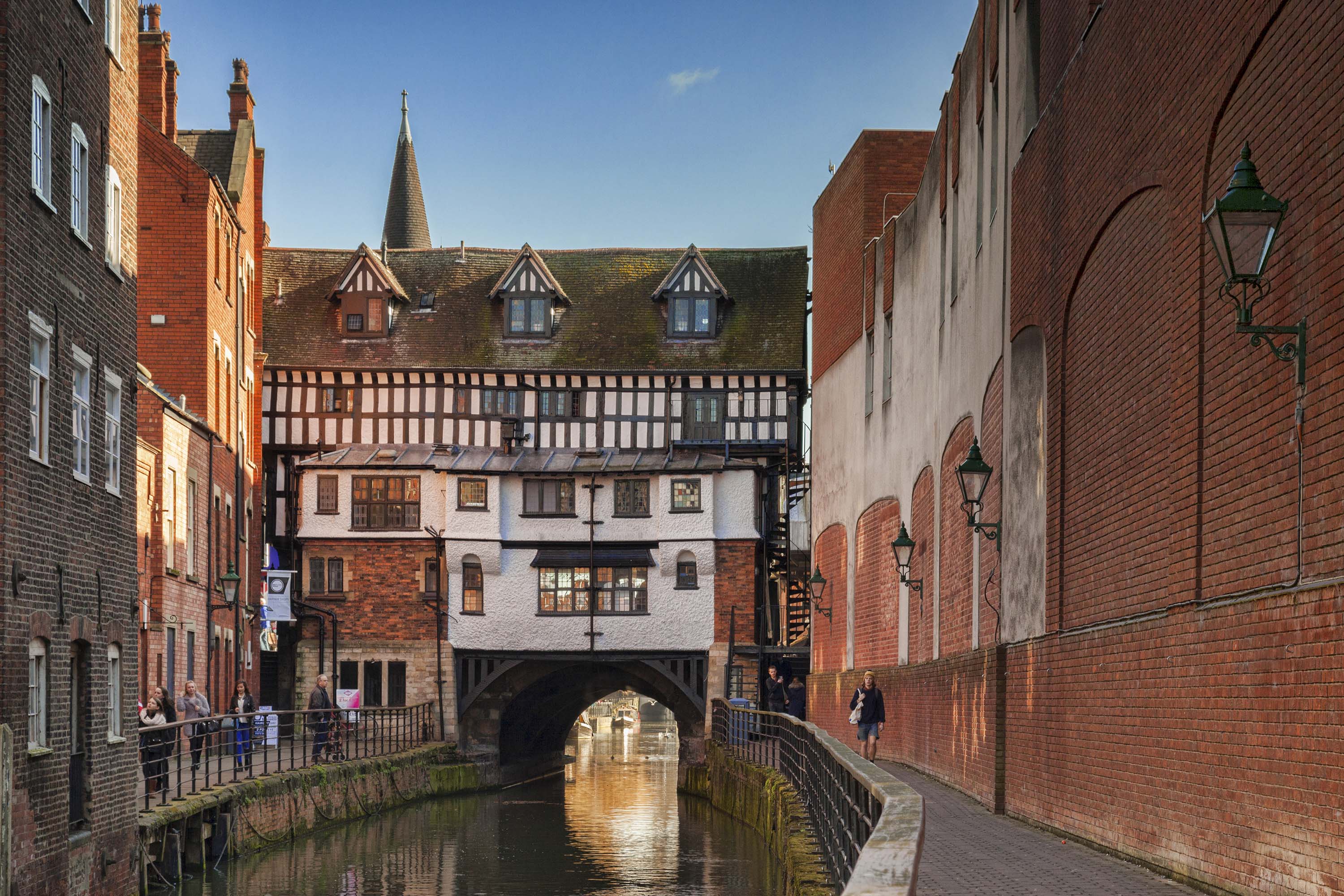 The High Bridge, Lincoln…
In the centre of Lincoln, the current High Bridge was constructed around 1160, probably replacing an existing timber bridge. It's believed that originally the building was a chapel dedicated to Thomas Becket, although it's long since enjoyed a reinvention as Stokes High Bridge Café. The bridge today remains mostly Norman in construction although some refurbishment works are evident, having taken place in the 19th century.
An Egyptian-style obelisk was also installed on the bridge to allow locals to retrieve drinkable water from the river, although just before the Second World War this was removed due to fears over its weight. A replica of it was installed in St Mark's Square in 1996. The channel of water underneath the bridge has long been known as the Glory Hole, but navigation of the waterway became increasingly trepidatious due to the silting up of the river which further compromised its already tight dimensions. There's another, rather grizzly, dimension to the bridge as it was nicknamed the Murder Hole in the middle ages due to its popularity as a spot for dumping bodies. High Bridge's architecture is a far cry from the city's newest bridge, located over the railway line adjacent to the University's Brayford campus. It has been nicknamed The Flytrap and opened in 2018, just a few hundred yards from the £12m foot bridge over High Street level crossing just a few years before. Only medieval or Tudor bridges in Bath and in Frome have buildings situated above them, making High Bridge rather unique, not to mention affording those enjoying a cup of Stokes coffee great views of the city's swans as they enjoy life on the Witham.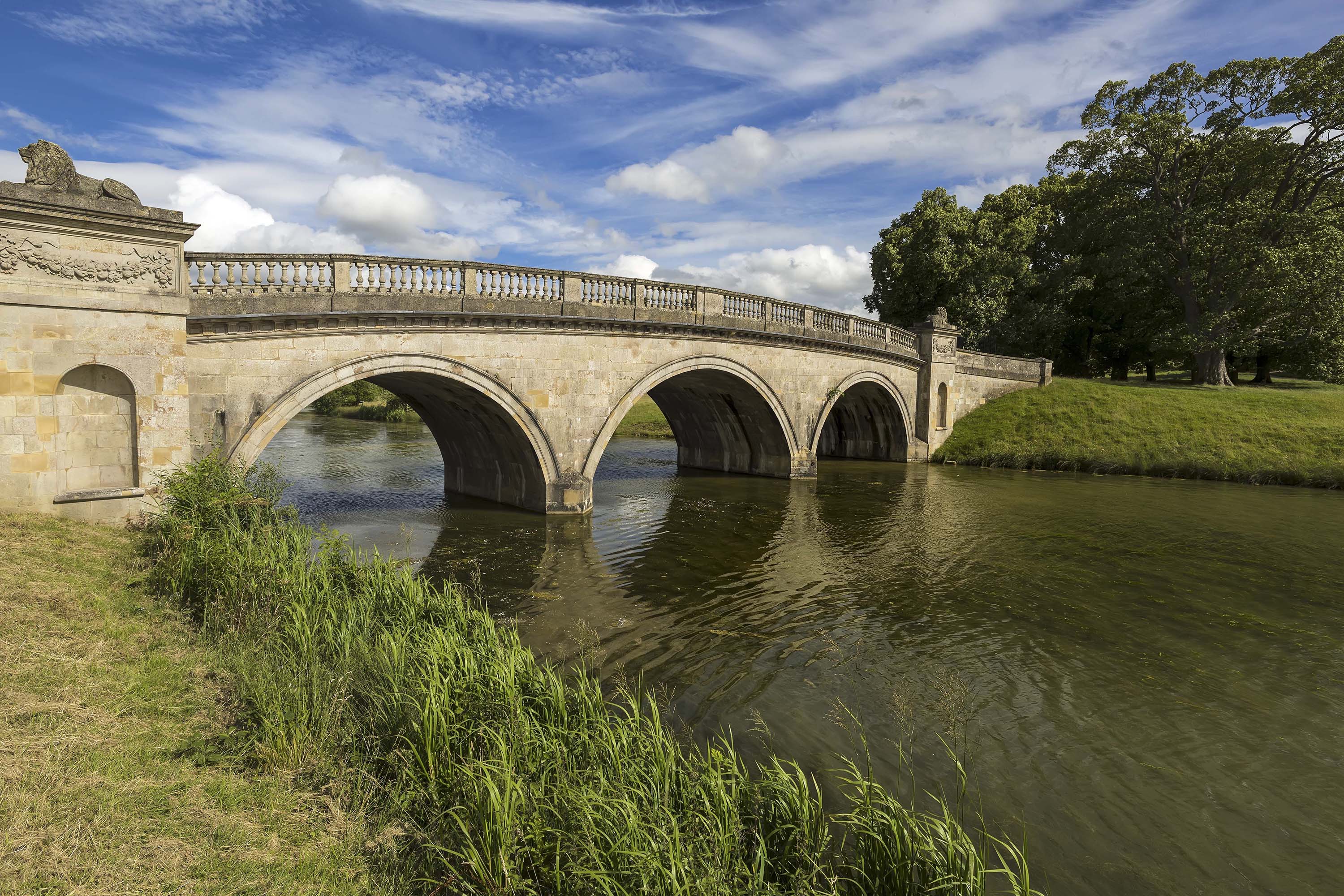 Lion Bridge, Burghley House…
If you don't instantly recognise this bridge, it's probably because  you're not used to seeing it without world-class event riders thundering through its water, past the odd flagship Range Rover strategically placed where it'll be in the background of as many photos as possible. Of the many iconic views of The Burghley Horse Trials' cross-country course this is the ultimate. That old landscaping genius Capability Brown was commissioned by the 9th Earl of Exeter to redesign the parkland of the estate between 1755-1779.  Brown designed the Lion Bridge at a cost of 1,000 guineas  in 1778. He was paid £23,000 in total for the park designs and his landscape has been conserved by future generations including the planting of 30,000 new trees between 2012 and 2016. Quite what Brown would have made of a Range Rover being plonked in the middle of his proud centrepiece – Burghley's nine acre lake – is anyone's guess!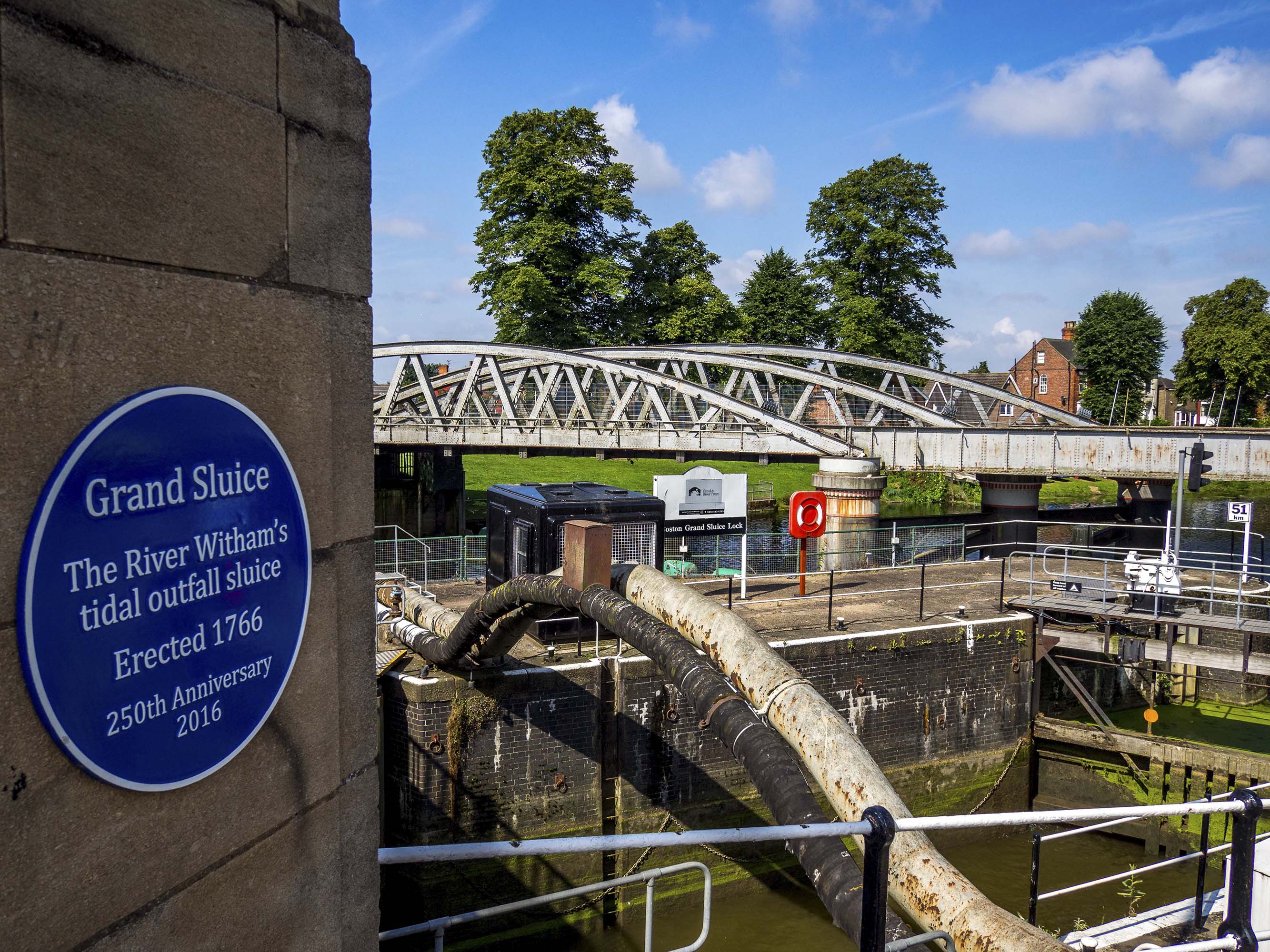 Boston's Sluice Bridge…
It's not the prettiest structure in the county, but since 1764 Boston's Sluice Bridge has been responsible for ensuring that Boston doesn't flood. Sluice Bridge was constructed by John Grundy and Langley Edwards from 1764-1766 to separate the tidal Haven from the non-tidal river sweeping down from Lincoln. Its presence allowed for the reclamation of 110,000 acres of land. It was redesigned and reopened in 1883 by John Williams and now has three outflow channels automatically controlled by a system that keeps the river at a depth of between 1.5 metres and 5.5 metres. The bridge is also on the border of the Witham Forth and Black Sluice IDBs, and has a navigable channel for boats.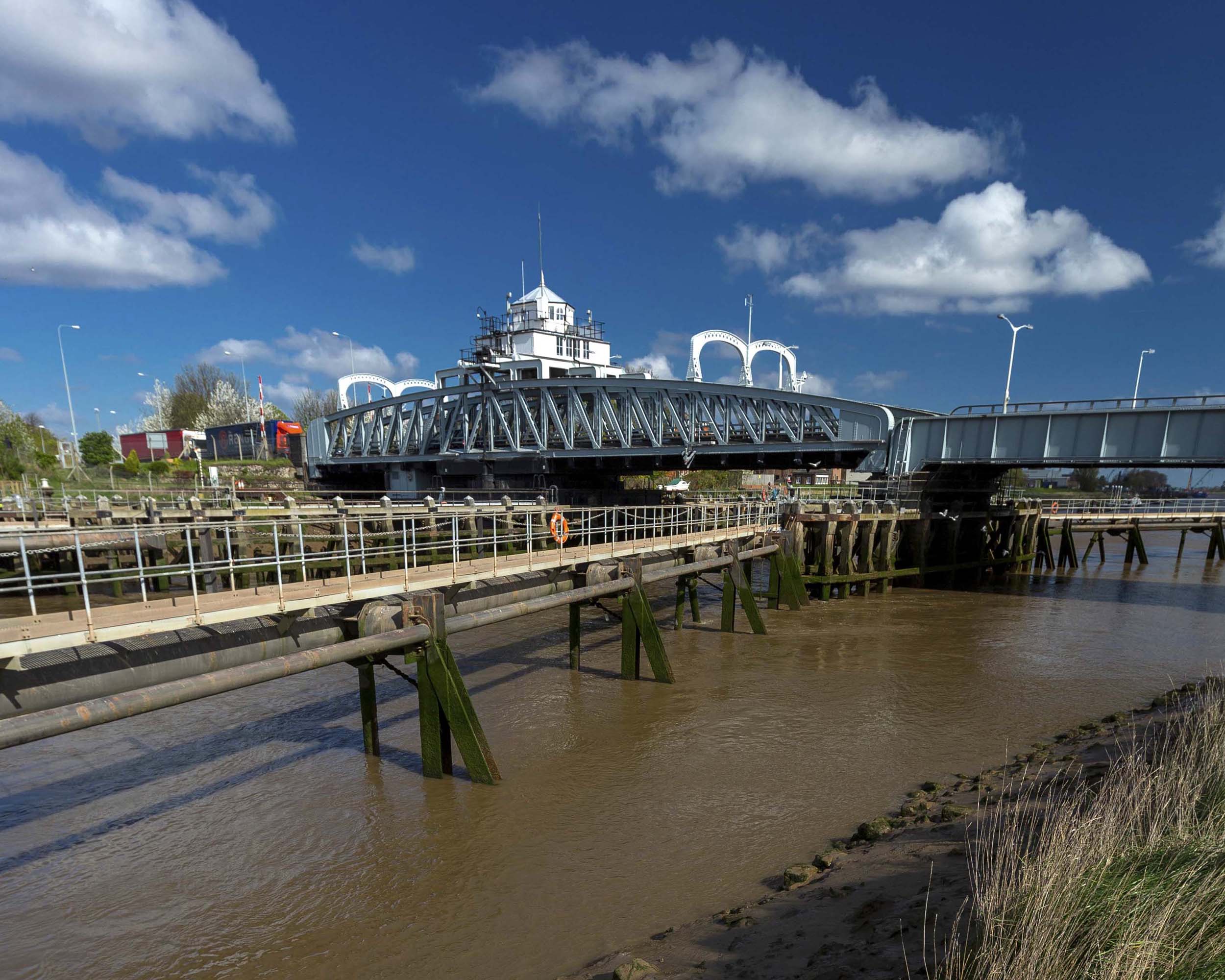 Crosskeys Bridge…
Sometimes it takes a few attempts to get something right, and that is certainly the case where Long Sutton's Cross Keys Bridge is concerned. The first bridge in roughly the same location was created in 1831 by John Rennie the Younger and Thomas Telford  as part of works to reunite Lincolnshire and Norfolk. It opened up much like London Bridge. A second bridge was created a little closer to the present day construction and was designed by Robert Stephenson; he of locomotive fame. It was designed only for road traffic, but when the Midland Railway required it to be used for rail traffic too, the current bridge was created in 1897 at a cost of £80,000 with hydraulic accumulators in a Grade II* building providing power to swing the structure round to accommodate boats. In 1830, the adjacent Sir Peter Scott Lighthouse was also created to aid navigation of the channel. Its previous resident, was the son of the explorer Scott of the Antarctic.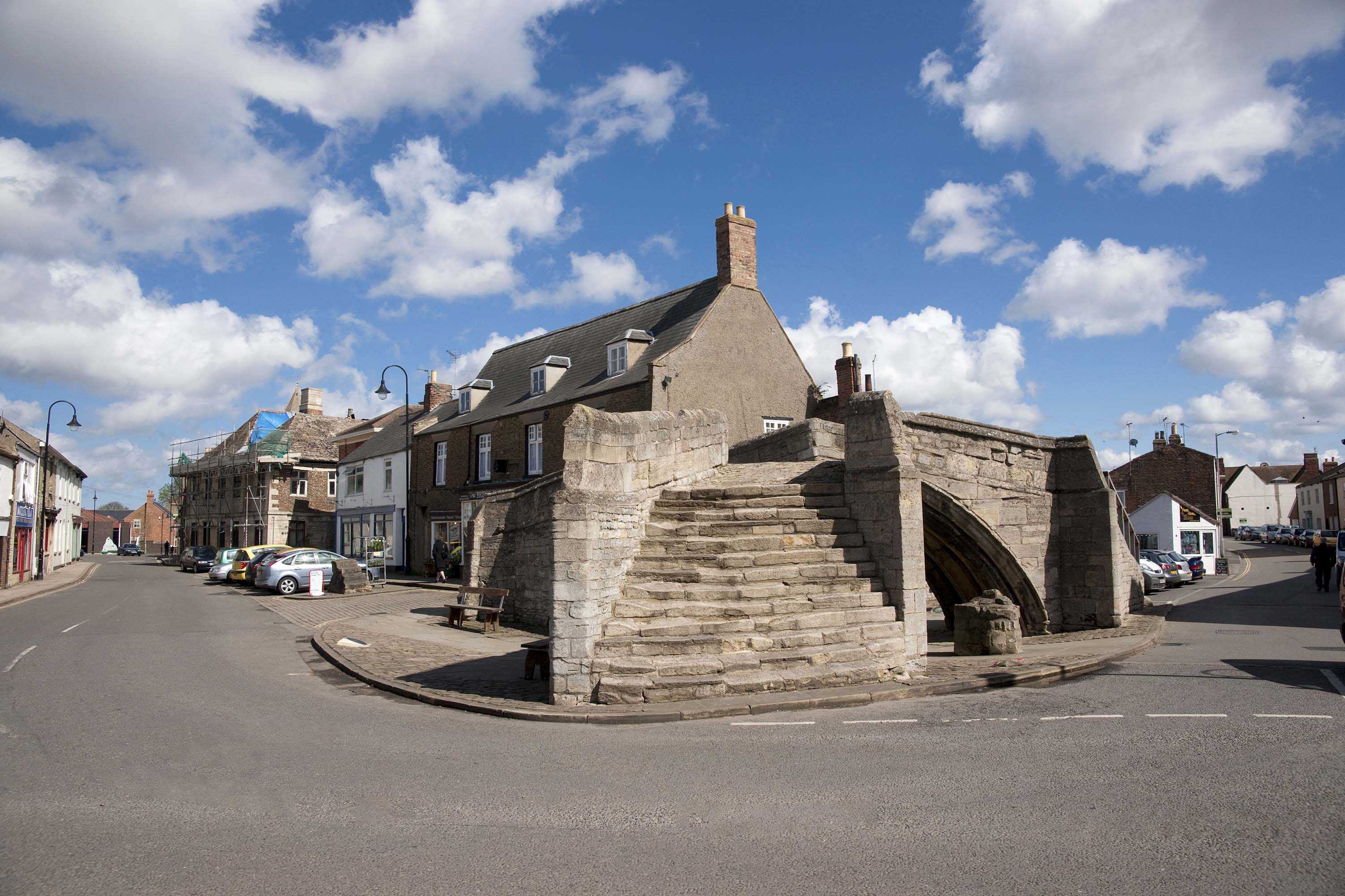 Trinity Bridge, Crowland…
Crowland's Trinity Bridge is unique in Britain. It was built in 1360-90 by the Benedictine brethren of Crowland Abbey. Constructed of Ancaster limestone, the bridge went over tributaries of the rivers Nene and Welland, when they ran through the town. The bridge now stands high and dry near the market place. It comprises three pointed half-arches in the form of a triangle, enabling one – instead of three separate bridges – to be constructed. On the south arm is a seated figure in stone. It may be the figure of Christ in Majesty or of King  Æthelbald who was the founder of Crowland Abbey. A wooden triangular bridge was known to have existed on this site in 943, the current example is Grade I listed.