Dr Emma Egging has been rewarded for her efforts to improve the lives of young people 10 years after funding the Jon Egging Trust in her husband's name. This month, we meet Emma to find out why she deserved to be recognised in The Queen's Birthday honours list…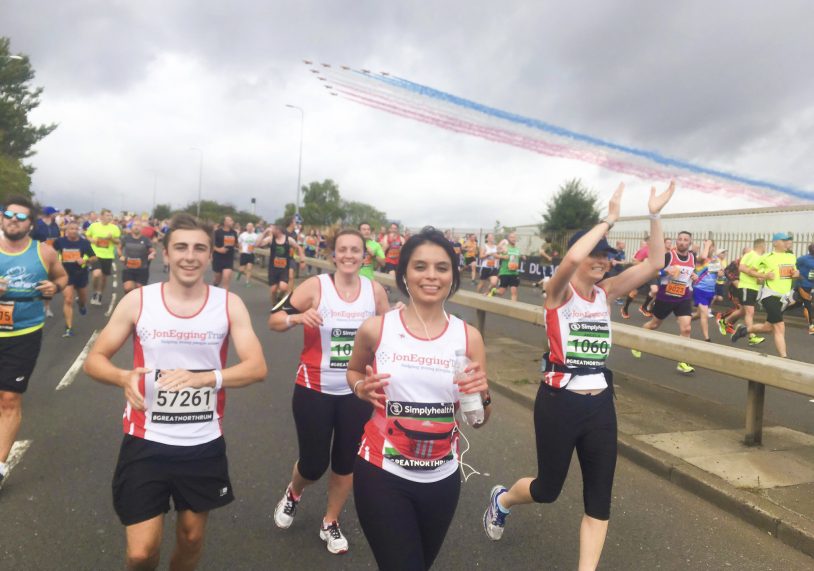 Typically, the few days of mid to high 20°c temperatures have given way to grey skies and rain. It's miserable outside and though I'm in the office, nestled in front an Apple Mac with a mug of builder's tea, I'm acutely aware that others don't have it quite so cushy today. An email to Dr Emma Egging following up on the previous day's interview has just bounced back with the less than conventional out of office message 'sorry, can't talk, I'm embarking on a 13 mile paddleboard.'
Emma is certainly practising what she preaches as part of the charity she founded in 2011, in memory of her husband, Red Arrows pilot Jon. The Jon Egging Trust (JET) encourages young people to be resilient, but even Emma's resilience must be tested by today's challenge. Or by the 33-mile Ultramarathon she ran along Grantham Canal in April. Or by the rest of the JET10 challenges she'll be embarking on this year, including – but not limited to – a triathlon, the Great North Run, virtual London marathon, wild camping challenge, 100-mile cycle run and potholing in Britain's most complex cave system.
This year marks the 10th anniversary of the charity, founded in 2011 and fittingly, Emma has been rewarded for the past decade's work with an appointment as OBE in the Queen's Birthday Honours. But with the JET10 challenge and the rest of the Trust's work, Emma is focusing on the next 10 years, not the last 10. Having worked with 30,000 children and young people over the past decade, the team is hoping to reach out to over a million in the next 10 years.
"We especially work with children and young people who are at risk of falling out of full-time education," says Emma. "Currently we work with the 11-16 age group, but one of the aims of the next decade is to extend that to begin working with people aged 16-24 too."
"The reason is that young people who are often starting out in the world of work need to develop the confidence and resilience to begin their careers, in the same way that secondary-school-age pupils need to develop those qualities as they grow older."
"Younger people from school-leaving age to their mid-20s are also more likely to be vulnerable to the loss of their jobs amid conditions like the pandemic, and we need to support their employment and to keep them in the area rather than seeing them leave to work elsewhere."
Emma was raised in the South East and met Jon whilst she was working towards a BA (Hons) degree in Archaeology at The University of Southampton. The two were members of the University's Air Squadron.
"I had always been fascinated with flying – a legacy from watching Tom Cruise in Top Gun I think – and during sixth form I really wanted to join the local Combined Cadet Force (CCF) organisation, which operates in around 400 schools. Unfortunately, the school had only just become co-educational in the sixth form, and at that time they didn't accept girls on their CCF unit and so I had to watch my brother join instead."
"At University, as part of the squadron, I took the chance to embark on activities like the Three Peaks Challenge and to fly the Bulldog, which back then was the element training aircraft."
"I remember flying over Stonehenge and being fascinated by it, paying more attention to the landmark than the flying itself, which led my instructor to suggest that flying was perhaps not for me."
"It was very much for Jon though. He excelled as a pilot and having been turned down for a role as a trainee pilot with British Airways, he was instead earmarked for a career in the RAF and found himself training at RAF Cranwell in 2001."
"From Cranwell he was posted to RAF Linton in Yorkshire and from there on to RAF Valley in North Wales and became an instructor on the Hawk jet."
"The Hawk is the same aircraft that the Reds use, but before joining the squadron, you have to have 1,000 hours of flying experience, and at the time, Jon had moved to RAF Wittering to fly the Harrier. Meanwhile I had moved from Southampton to Manchester to complete a PhD in Anthropology with a view to pursuing a career as a museum curator."
"My doctorate led me to work with The British Museum for five years as part of the Community Partnerships team. I worked with vulnerable young people and both Jon and I recognised that young people could and should be inspired, for example through exploring history – allowing them to witness the world's most iconic objects and artefacts – or by exposing them to the people and experiences behind fast jet pilots, not just the Red Arrows themselves, but the engineers and ground crew who support the squadron."
In August 2011, the Red Arrows had performed a characteristically demanding display at the Bournemouth Air Festival and were returning to land at Bournemouth Airport. Jon was in formation as Red Four, and the team was performing a manoeuvre to land at 350mph which involved banking at 85 degrees to 500m. The manoeuvre meant Jon was subjected to G-forces of 6.3, and this led that a loss of consciousness which caused him to black out. As they were coming in to land, and being so close to the ground, Jon didn't have time to recover before his aircraft hit the ground.
"Jon always wanted to be a pilot and I recognised right from his earliest training flights that there's an inherent danger in flying. But I'd seen him complete 10 years of training and he had flown in areas of conflict like Afghanistan."
"He was calm and methodical, warm and genuine, focused at all times but never more so than when he was in the air. He was always there to support his colleagues and recognised the importance of being calm under pressure not just for himself but for his colleagues too."
"Over the years I'd come to rationalise the potential danger because of how professional he and his colleagues are."
"Driving on the A1 you often see accidents and collisions, so we'd come to see risk in perspective."
"Jon had always spoken about the power of the Reds to inspire young people and he'd said that what the team were doing was the tip of the iceberg when it came to recognising its potential to support them in their education and their career."
"Even before a pilot sits in the cockpit, preparation, study and hours of practice – not to mention soft skills like confidence and resilience – are necessary. The tragedy of losing Jon provided the impetus to help young people in the way that he and I had always discussed. The conversation ceased to be a conversation and instead became something that I knew I had to do, in Jon's memory."
"We came up with the concept in 2011 and registered in 2012. I was still working for The British Museum part time, but my first meeting for the Trust was with John Wiles, the then deputy headteacher Lincoln's Priory Witham Academy and almost on the back of an envelope we set out what skills students needed and what support we could provide, particularly to pupils who were on the cusp of dropping out of school."
The Jon Egging Trust relies on partnerships –  21 of which are currently military partners and 23 of which are corporate partners – to deliver messages of inspiration, to promote teamwork and to encourage leadership among young people. Initially JET  worked with ten pupils, with a long-term investment of three years in each individual between the ages of 13-16.
The delivery became known as Blue Skies and included both workshop sessions delivered in school as well as days when pupils spend time on working airbases like RAF Coningsby, Waddington, and Cranwell. Here, the air traffic control team, for example, can show the importance of remaining calm under pressure and how important clear communication is. JET now runs its Blue Skies programmes in eight regions of the UK operating over three levels – teamwork, leadership and employability.
Blue Skies remains a huge success but relies on the longer term delivery of a syllabus, so JET  also created its Inspirational Outreach programmes which are bespoke impact days or shorter sessions which range from visits and motivational talks to activities delivered by Trust partners. JET also provides outdoor challenge events like 4 for Red 4, devised as a tribute to Emma and Jon's friend Frances Capps who died in 2013.
"Over the past decade we've been lucky to work with some really incredible partners," says Emma. "The Reds of course, but also agencies like the National Air Traffic Service (NATS), Northrop Grumman, British watch makers Bremont, the National Trust and Wessex Archaeology."
"We now operate in eight regions in the UK but there's great demand from other areas across the UK too. I've completed the Great North Run for example, so teachers in the North East have been keen to work with us in the City of Newcastle."
"During our last normal year of operation, 487 young people graduated from Blue Skies and Blue Skies Inspire packages, from 42 different schools. Meanwhile, 10,107 were reached through Inspirational Outreach, participating in 348 different sessions across the year."
"Our aim, now, is to work with over 1,000,000 young people over the next decade, and we can do that not only with the continued support of the public and our corporate partners, but by delivering our resources in new ways."
"Through our recently-launched JET Inspired hub for teachers, we've created a new range of deliverables for Key Stages 2, 3 and 4 with free to download videos, teaching resources and lesson plans. Each video was created in partnership with the Red Arrows, to focus on developing skills such as communication, meeting deadlines, teamwork and facing challenges with resilience. Each topic is linked not just to real world careers but also the National Curriculum PSHE syllabus taught in schools."
"Producing really good resources – making sure they're engaging and inspiring and making them available online – means we can reach young people nationally whilst still running our Blue Skies and Inspirational Outreach programmes in person, prioritising young people who are facing adversity and concentrating on areas where students need extra support – areas of population living below the poverty line, for example."
As this month's Pride reaches households, on July 10th and 11th, the charity is officially launching its goal to reach 1,000,000 young people by 2031 with its JET10 Virtual Relay, which will see teams of 10 participants across the country each covering10km, to try to raise £100,000 to deliver and expand the Trust's services.
Emma, meanwhile, will be competing in the Great North Run on 12th September and in the London Marathon on 3rd October. There will be a pause in Emma's hard schedule very soon though, as around 30 investitures are held in the ballroom of Buckingham Palace each year, usually with around 60 recipients. OBEs are awarded for outstanding service to the community. Changing the lives of over 30,000 young people so far certainly qualifies Emma for the award as far as we're concerned.
"I'm humbled," says Emma. "I've been on an incredible journey over the last ten years as the CEO of JET and I am proud to have poured my heart into empowering young people to achieve without limits, a cause that I am committed to."
"It's also recognition of the dedicated Jon Egging Trust team of staff, volunteers, trustees and patrons who I am privileged to work with. I'm looking forward to continuing to lead our incredible team, so a heartfelt thank you to everyone who makes JET's work possible."
Dr Emma Egging is the CEO of the Jon Egging Trust, which provides young people with opportunities to discover teamwork, leadership and inspiration for future employability. For more information or to contribute to the Trust's delivery of its services and mentor young people see www.joneggingtrust.org.uk.