It was right here in Lincolnshire that Boris Johnson sought to galvanise his position as First Lord of the Treasury with a not inconsiderable £21m windfall for Boston's Pilgrim Hospital. Rob Davis enjoyed an interview with the Prime Minister during his visit to ask him what he thinks is the best medicine for the NHS…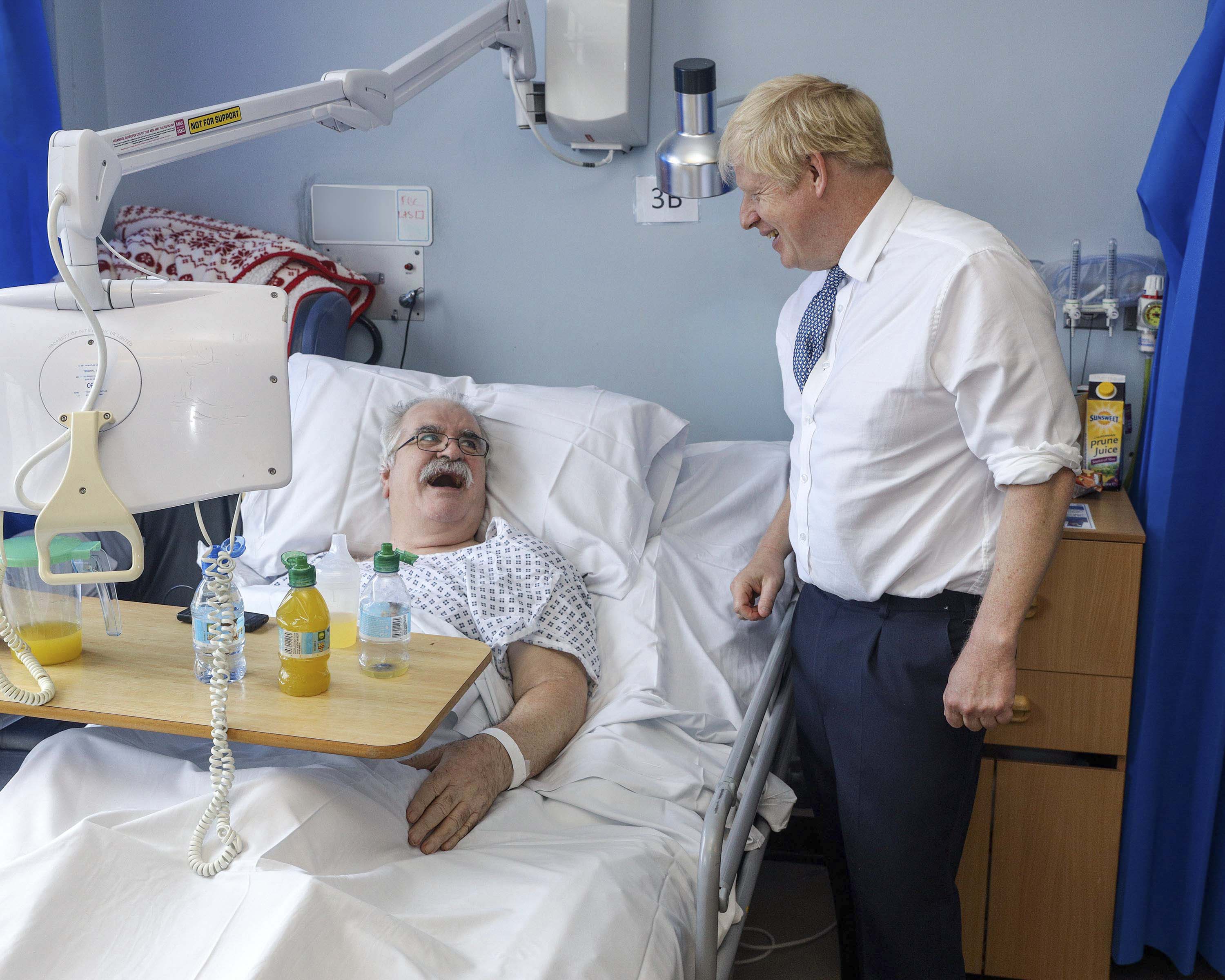 They say laughter is the best medicine. But whilst whimsy may have its merits, most of us who have the misfortune to fall ill or suffer an accident would probably prefer a well-resourced NHS with modern hospitals and up-to-date equipment, not to mention abundant beds and staffing levels.
That being the case, it's unfortunate that the service first created by Aneurin Bevan in 1948 has itself latterly fallen into ill-health under austerity, a condition which appeared to receive a miracle cure just two weeks into Boris Johnson's term as Prime Minister. He chose Boston's Pilgrim Hospital to unveil a series of hospital upgrades totalling a decidedly healthy £850m, on top of an extra £1bn of spending to maintain existing buildings and facilities across its estate and on top of the £34bn already promised to the NHS.
Why Boston's Pilgrim Hospital for the unveiling? "Why not!" the Prime Minister told just three journalists assembled on the day of his visit to Boston. Alongside Lincolnshire Pride's Executive Editor Rob Davis was the Echo's Paul Whitelam and a representative of the news agency Getty which supplies the national media with its news.
In a pretty grim canteen in the education building of Pilgrim Hospital, we were kept out of the way of the event's approved Getty photographer, watched over by a Downing Street press officer with strict instructions that our cameras were to remain in our bags, that we were allowed just two questions each, and that we were not allowed in the adjacent broadcast interview room with Getty TV cameramen and BBC reporters.
A belligerent streak compelled me to disregard all of the rules Downing Street prescribed – to the not inconsiderable ire of Number 10 press officer Bailey – but also afforded the most amount of time possible in the presence of the Prime Minister to hear first hand why Lincolnshire was to be the poster boy for the windfall and address the criticism that a one-off windfall isn't a panacea for an ailing health service.
"This announcement is on top of the £34bn we've announced already and there will be more to come," the PM told us. "It's a big investment in the NHS in which I believe passionately and profoundly. The NHS is the institution which knits our society together."
"It's beloved by everybody and we have to look after it, but it needs investment and that's what we're going to do."
"I stood on the steps of Downing Street just 10 days ago and said that we'd be doing 20 new hospital upgrades and that's exactly what we're doing, starting in Boston." But why Boston, we asked.
"Why come to Boston? Well why not? Boston came up with proposals for upgrading its A&E department, and this hospital reminds me very much of my own local hospital in the constituency I represent. It's of the same vintage and it's got many of the same problems, but you can fix some of these problems with a cash investment and that's what we're doing."
Our interview took place after the Prime Minister toured the hospital's A&E department, seeing where the investment would help with a move towards defined urgent and emergency 'care zones' in an attempt to improve patient waiting times and the flow of patients in and out of the department. Ultimately this will allow patients needing emergency treatment to be seen and treated quicker.
The investment was welcomed by United Lincolnshire Hospitals Trust, which employs over 7,700 people and serves 736,700 people across Lincolnshire via Pilgrim Hospital (3 beds), Lincoln County (362 beds) and Grantham & District Hospital (97 beds) as well as smaller facilities in Louth, Gainsborough, Spalding and Skegness.
The Trust records annual attendances of 489,000 outpatients appointments, 160,000 A&E attendances, 76,000 elective admissions and 61,000 non-elective admissions… it also delivers 5,000 babies a year!
For context ULHT's annual budget is around £437m but other hospitals around the UK have been promised much more than the £21.3m windfall to be enjoyed in Boston. Royal Cornwall Hospital will receive £99.9m to create a new women and children's hospital, University Hospitals Birmingham, will received a £97.1m windfall for a new outpatient, treatment and diagnostic centre, whilst £72.3m has been set aside for a new adult mental health inpatient facility in Manchester.
Pride's Rob Davis put to the Prime Minister that the problems facing the NHS were not just financial, but systemic, too.
"The investment will be partly in infrastructure, partly in staffing and what it will enable is greater patient flow and enabling staff to keep patient moving through the system, stopping blockages taking place and I think that'll be of great benefit to patients across the area, whether they present themselves following accidents on holiday, or whether they're one of the high proportion of elderly people here for example. They need to be seen fast."
"I think there's a big staffing issue which we're also facing. We need to be sure that we get staff trained up and that we continue to attract good numbers of high quality nursing and doctors. We're creating ways to encourage and incentivise that, but there's also an issue with capital and infrastructure."
"This place reminds me so much of the Hillingdon Hospital [350,000 catchment area; 3,300 staff; £222m budget – so about half the size of ULHT], which is a great institution but faces the same issues."
We continued to question the Prime Minister on staffing and where he'd recruit from – locally or internationally – given the likelihood that Brexit will make recruitment trickier.
"Both. It's really important that we do something about the debts incurred by student nurses and those in the medical profession, to make the profession more attractive."
"But we also need to remember that as a society and as an economy the future of the NHS does depend on attracting people from elsewhere in the world and that's why we're going to have an Australian-style points system, which Priti Patel and the Home Office are working on that right now but I can't give you an ETA on it just now."
ULHT's Chief Executive Andrew Morgan remained optimistic about the investment and says "We are delighted that Pilgrim  Hospital has been awarded this new funding. We are continuously working to improve our busy emergency departments and this investment will allow us to make changes we've not previously been able to, in turn relieving pressure across our hospital site."
"These improvements to the department mean we will be able to direct patients when they arrive, so they can receive the most appropriate care. We hope that this development will help us to see and treat patients more quickly and ensure that everyone is getting the right level of care that they require."
Outside the press conference around 50 people crowded the PM for a few 'selfies' before Boris Johnson was chauffeured away in a Jaguar with an escort from the security services. Ironically the public were granted easier access for photos than we were, indicating perhaps that jocular smiles and excited mobile phone snaps count more than unfettered access to the PM by media. Consequently the announcement of the funding was met with an excited buzz and cheers rather than the cautious optimism that befits the question of whether the announcement is the beginning of long term, sustainable funding for the NHS.
In 1948 Bevan could hardly be expected to anticipate the necessity of funding IT infrastructure, server rooms, MRI scanners and expensive drugs with their research & development overheads, all necessary to keep a 21st century NHS functioning.
The investment is doubtless welcome but with an increased population, an ageing population living longer with more long-term medical conditions like dementia and with the NHS now mandated to provide social care as well as healthcare, longer term treatment is required rather than a single shot in the arm.
All of which leaves the condition of the NHS best described using that cautiously non-committal phrase of medics up and down the UK: 'serious, but stable.'