The cheerful, speckled, beautiful artwork of Hannah Dale is instantly recognisable and you'll have seen it on cards, homeware and even bedding. But this month the Cambridge zoologist, turned stockbroker, turned artist is looking forward to putting her feet up over Christmas and spending time with family…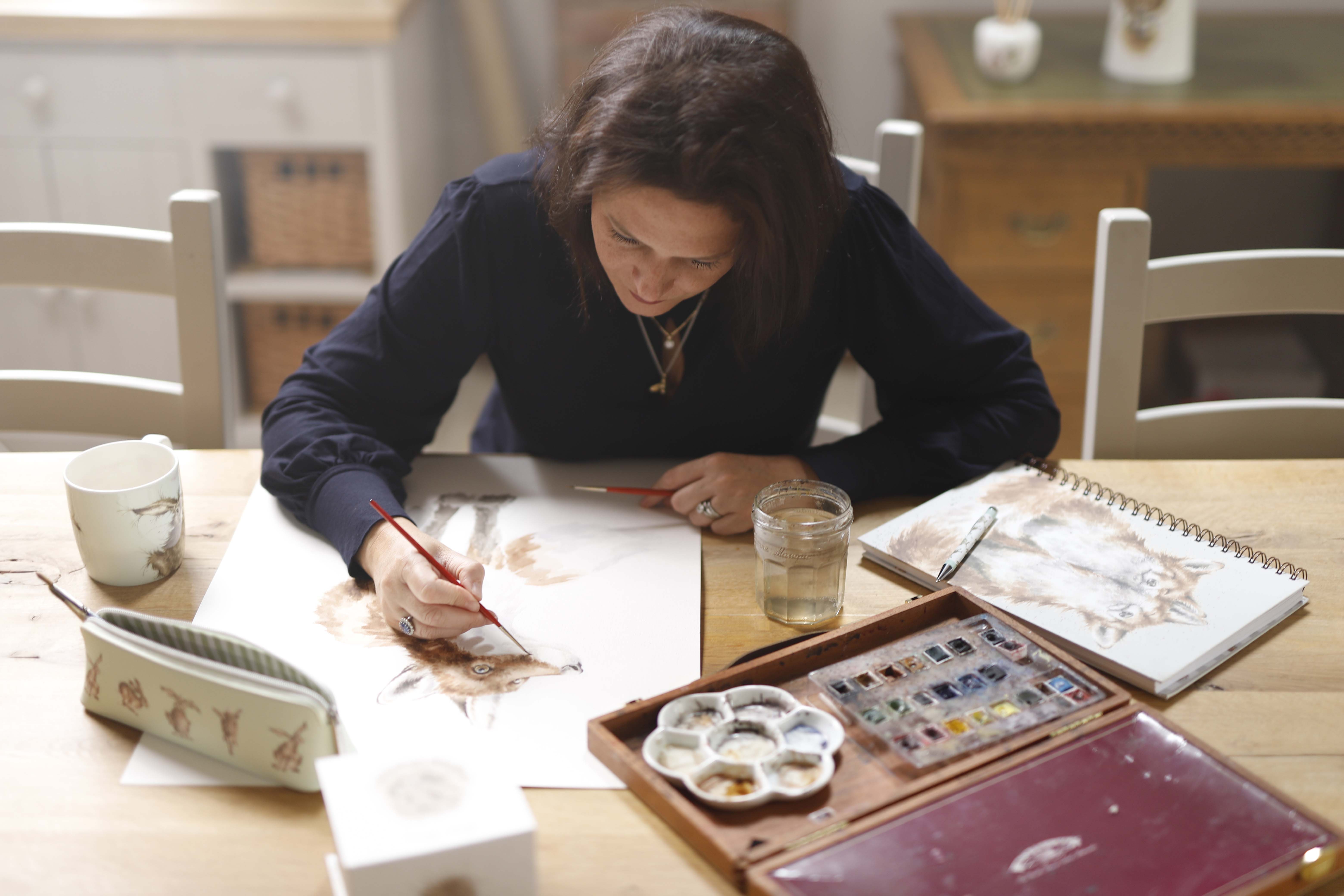 I remember speaking once with the former Bishop of Lincoln Dr John Saxbee during his time in the Diocese. It was prior to his retirement and his return to his native Bristol. I asked him what he had planned for the future. With his typical warmth and wisdom he remarked that 'God laughs when men make plans.'
And it's true. If 2020 has demonstrated anything it's that life often has other ideas to those we anticipate. Artist and designer Hannah Dale is a living testament to that. A polymath of academic, then financial, then artistic talent, Hannah was always going to be successful at whatever she turned her attention to… it seems it was just up to life to point her in the particular direction it wanted her to go.
Hannah's oeuvre as an artist is instantly recognisable and her artwork looks great on her cards, canvases, homewares and now on a new range of toys. With her signature splatters representing the playful and mucky side to the country, her work is warm and wonderful… and to think, she could still be stuck in London, commuting and working in finance.
What was life like, growing up in Lincolnshire?      
I always loved the outdoors and nature and I think that growing up in a village in rural Lincolnshire definitely helped to nurture that. My favourite day out would usually involve some kind of woodland nature walk, much to the disgust of my sister who would have preferred Alton Towers!
I went to Caistor Grammar school and left in 2000 after my A-levels to study Zoology at Cambridge University. I always loved art at school but never thought I'd be good enough to make a living from it and I was lucky to enjoy most subjects at school so I headed down an academic route, assuming that I'd always be able to continue with my art as a hobby.
Why zoology?
I really loved the natural world and zoology was an academic expression of that. Unlocking the mysteries of the natural world – why and how the environment affects a species' behaviour – is like understanding a magician's sleight of hand. At the same time you're an observer, having that relationship with that world but not interfering in it.
In a parallel universe, I would have pursued an academic career as a zoologist – I completely loved the subject, but at the end of my degree I still didn't really have a strong sense of what I wanted to be 'when I grew up'! Lots of my peers were applying for internships at investment banks and I think it was probably my competitive streak that made me apply and try my luck.
Much to my surprise I was offered an internship and then a full-time job offer followed. I hadn't even heard of an investment bank before University, but I definitely got swept up in the glamour and excitement of that world and worked as a stockbroker in London from 2003 to 2008.
Did you miss Lincolnshire?   
I think I always knew I was a Lincolnshire girl at heart, and my time in London was going to be short. I met my husband Jack – who by chance grew up just seven miles away from me – on a night out in Lincoln just before I moved to London. For five years, our relationship was a long-distance one and so I spent lots of time travelling home at weekends, which suited me well! We married in 2008 and with our first child, Amelia, on the way I relocated back to the county permanently.
For a poignant Christmas in 2008?   
My mum was diagnosed with pancreatic cancer on New Year's Eve 2008. It was just a week before Amelia was due to be born, so suddenly everything completely changed. My mum was my best friend the shock of discovering that I was going to lose her at the same time as becoming a mother myself was unbearable. It was a really mixed up time and I was so grateful to be back home in Lincolnshire and not still working in London.
Pursuing painting as therapy?          
The next few years were really difficult and full of massive highs and lows. I felt directionless and really struggled with having no career to focus on. There were no real opportunities for work related to my qualifications in the local area and so I decided to focus on my art and try to create some kind of a living from doing something I loved.
Painting the wildlife we were surrounded by was the natural first step and I began to approach local retailers to see if they would be interested in selling them. Over the next couple of years, this developed into a range of greeting cards and I've never looked back!
Did they sell well right from the beginning?
Approaching gift shops in the beginning is really hard – the owners are so busy and often overwhelmed by the choice of product out there, but I was persistent and, in most cases, when I managed to get the cards in front of a buyer, I made a sale.
Importantly, the re-orders then started to come in, which meant that the customers liked them too! It felt a little bit like a light switch going on – I was doing something I loved, and I was really excited about it. I just had a feeling that I had hit upon something with lots of potential and for the first time in ages, I felt challenged and optimistic.
What happened next?          
From first starting to sell greeting cards to shops in late 2011, things suddenly seemed to expand really quickly. Jack left his job on his family's farm to join Wrendale and we've run the business together since then.
In those early days, we could barely keep up with the card sales and I kept painting to expand the collection. The heart of Wrendale was, and still remains the wildlife around our Lincolnshire home, but I've painted all sorts of animals both wild and domestic – I always try to bring out a little bit of character in each one I paint.
We have been lucky enough to win various different industry awards which really helped to raise the profile of Wrendale, including 'Most Promising Young Designer' and 'Best Art Range' for our cards, as well as 'Gift of the Year' and we were also presented with a Queen's Award for International Trade which involved a reception at Buckingham Palace – that was definitely a 'pinch yourself' kind of moment!
And your zoology degree was useful?         
Definitely. I used to take a sketch book with me during hours of fieldwork and drawing from life in that setting is definitely a brilliant foundation. I think that studying animal behaviour definitely gives me a different perspective when it comes to painting wildlife.
That attention to detail was important?     
Attention to detail is so important to me, and it is one of the key principles of our product development process. I absolutely love greeting cards – sending and receiving a hand written card is a special experience, so much more personal, sincere and considered than an email or text and the choice of card itself says a lot about the sender, recipient and their relationship.
The type of board our cards are printed on was really important to me – it is sustainably sourced, is uncoated and textured, as I wanted it to reflect the watercolour paper that the original painting was done on, almost as if it was painted directly on the card. The feel and weight of the card is then very much part of the overall experience, not just the visual image on the front.
How did you create other products?
We quickly expanded from being a simple greeting card company into a giftware brand. Stationery was an obvious next step (who doesn't love a new notebook!) but we now have all sorts of apparel, gifts and homeware.
We were also approached by Portmeirion quite early on to collaborate on a collection of Royal Worcester mugs and they have also now developed this into a large range of ceramics and kitchenware. They are amazing to work with, it is a true collaboration and they have the same eye for detail and quality that we would expect for our brand.
What's the design process?  
I paint about 50 new designs a year which we release on greeting cards. Cards are a brilliant way to see how well a particular design is received and that helps us to choose which ones to use on other items.
We have two launches a year and we're always working on new product ranges a couple of years in advance. The diaries and calendars are always a particular challenge – we're currently working on 2022 which seems so far away!
I'm also just working on next year's Christmas cards, as many shops will have done all their Christmas buying for next year before the end of this one! signed off our Christmas 2021 designs and we've nearly finished our diaries and calendars for 2022.
Do you still paint at home?  
We have our offices based in Brigg, but usually prefer to paint at home as it is easier to escape from the dreaded emails and focus on the creative side. When we started Wrendale, the children were still toddlers, so I had to get used to painting in an environment of constant interruption and disquiet which is really difficult as it's such a meditative process but I seem to have adapted to this which is useful as a busy mum of three free range children!
Turning a hobby into a job can be tricky at times because the very thing that you used to enjoy as an escape from work becomes just that. There are times when I'm working to a deadline that this can be difficult, but most of the time I still manage to enjoy creating the artwork. Most of my pieces are still created from our kitchen table, by the Aga with a bottomless cup of coffee to hand!
What are your latest products?       
We recently launched a collection of soft toy characters which we are hoping will find their way into many Christmas stockings this year!  This was a huge deal for us as it was a totally new market and a big departure from what we usually do but they have been really well received and we are looking forward to developing lots of new characters for future launches.
It was a real challenge to ensure that they truly captured the character of the artwork and as usual, it is all in the detail with meticulously sourced fabrics and extra whiskery flourishes that helped to bring the artwork to life. We're just working on the January launch and we are particularly excited about a collection of socks made from sustainable bamboo. It was another challenge to interpret the artwork in this medium but we love the results and can't wait to launch them!
And there's another book on the way?       
Yes – I've been working on it for the past year, and it's an addition to the collection of 'coffee table' books full of illustrations and accompanying facts about the animals. This will be the fifth in this series and it's titled 'Born to be Wild'.  The theme is parents and children and it celebrates the huge diversity of parenting strategies in the wild. Some of these illustrations are my absolute favourites – I love trying to capture the joy that embodies the love between a parent and child.
Will you stop for a rest over Christmas?      
I certainly hope so. I'm usually flat out right until the children break up for school and so ready for a break, then it all starts again with the new launches in January. I'm expecting a quiet one this year with Jack and our three children, Amelia, Lara and Oliver… and Claude the dog of course!
Hannah Dale is based in Brigg and is the founder and designer behind Wrendale Designs, which produces greeting cards, as well as gifts, stationery and products for home and garden. See www.wrendaledesigns.co.uk for more information.