Beautiful silk scarves, designed in Lincolnshire and made right here in Britain. They're beautiful, certainly, but the story behind Clare Haggas' products is even more impressive and inspiring…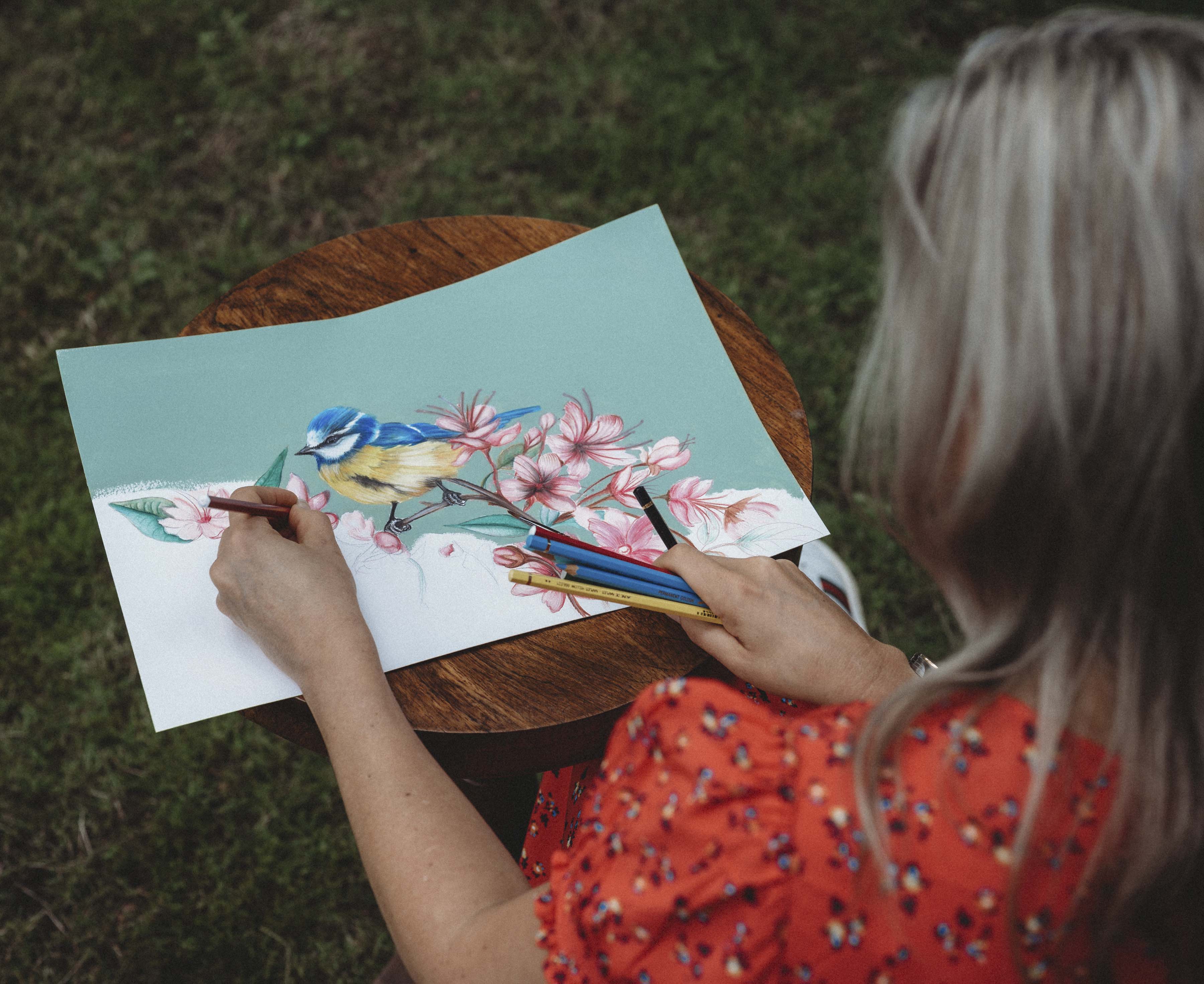 Clare Haggas will shortly celebrate two important milestones. The first we can't really talk about… it's a birthday, there's a zero involved, enough said. The second milestone, meanwhile, Clare is more than happy to speak more about. She's proud, and rightly so, since her story should inspire massive respect.
In under a decade, she's established her business, uniquely combining original art and accessories which are entirely British-made. The English countryside is a consistent theme, with pheasants and game birds common subjects, but equestrian and fly-fishing represented, too.
A new collection will incorporate Japanese influences, and all of the subjects of her work are given names, Clare says, to help them become animate. Clare's business is a success, but a success that's been well-earned and hard-fought… which brings us to the really important milestone.
"I've been sober for 10 years in December. That's a bigger thing to celebrate than a birthday," she says. "I think it's important to be open about it because becoming sober was when my life was transformed."
"There's a sort of classism about alcoholism, as though it's discriminatory, but that's not the case. It's indiscriminate and it is absolutely deadly."
"I went into a long-term rehab programme and as part of that, we were encouraged to engage in different therapies, including art therapy. I hadn't picked up a paintbrush since school, but it was an almost immediate epiphany."
Clare began channelling her time and effort into painting, inspired by a love of birds and specifically those species she had seen whilst in South Africa. In 2012 she achieved sobriety and a year later she met Will, a farmer from Lincolnshire.
"I made a pact with myself to stay sober for a year before I began dating again. When you're sober, your quality control does go up massively when it comes to men, but when I met Will I fell in love almost immediately. He's my absolute soul mate."
Having been raised in Cheltenham, Clare moved to the Lincolnshire Wolds to be with Will, and was struck not just by the landscape and the presence of wildlife around their farming community, but also by how friendly the locals were.
"My family's still in Gloucestershire, and it's pretty, but the Cotswolds has become a bit like a mini-London. That means people don't speak to you and people tend to be a bit more stand-offish."
"By contrast people in Lincolnshire are sociable and down to earth, friendly and willing to connect. Those are values which are important to me, and when I started the business, those were values I wanted to retain and reflect, even as it grew."
Clare began posting her artwork online, initially just for friends to enjoy, but was soon finding herself selling her work. At the same time, she was enjoying being part of Lincolnshire's rural community but found that it was really difficult to buy women's accessories that were pretty and well-made, never mind ones that were made here in Britain.
Coming from a sales and marketing background, she spotted a gap in the market and at around the same time, had a chance meeting with the owner of a British-based silk printing company. Mentioning that she wanted to see what her artwork looked like on silk, he provided a few initial prints. It's the same company that Clare still uses to produce her work today.
In 2015 Clare painted 'Turf War.' This image of two pheasants, tussling with one another, was 'genesis;' the painting which established her style and inspired her future work. All of her subsequent pieces still contain a visual reference to the painting, a print of which hangs in her office. The original, Clare says, will never be sold. As the painting that she says changed her life, it's priceless and will be left to her daughter in her will.
The painting worked beautifully on silk and in a moment of either recklessness or bold ambition – turned out to be the latter – she ordered 50 scarves and 50 pretty presentation boxes.
"I was immediately worried that I had ordered too many of them, overstretched myself. I needn't have worried though because they sold out from a single Facebook post in just three hours."
"I knew I was on to something and sought out a web developer who would create a website for me. Again, it's the same Lincolnshire developer based in Tealby I work with today. As the business has grown I feel ever more loyal to the people who have helped me to build the business."
As well as keeping the business local, though, and using her British silk printing firm and British supplier of her presentation boxes, Clare won't compromise on maintaining close contact with her customers.
"It's a paradox that we're more connected than ever but less willing to communicate with each other."
"I hate it when companies hide their phone numbers from their websites or just use a contact form on their website. It shows a lack of respect for their customers."
"Being an online company enables to you offer your products to people all around the world, but it means that you risk becoming anonymous."
"If there's a query from a customer I always prefer picking up the phone and speaking to someone, rather than sending an email."
"It's almost a novelty these days that someone will make the effort and take the time to talk to you, but I'm really happy to do so."
"I think it shows how much you appreciate your customers. They even ask how to style them or what colours will work with them."
"They value my opinion, which is really flattering, and in turn I'm always happy to maintain that personal contact."
At the time of our interview Clare had just returned from a day spent with one of her 45 retailers, Giles & Bella in Newark, meeting the retailer's customers.
It's an enjoyable way, she says, to keep in touch with her customer base, canvas ideas and opinions and just generally show her respect and appreciation for the people who enjoy her products.
Currently, Clare has just has just shy of 150 individual lines, with around three quarters of those being silk scarves in different designs, colourways and sizes. For gents, she offers ties and pocket squares, and she still sells prints of her artwork.
An increasing part of the business which she reckons she'll concentrate on next year though, is a range of homeware.
She offers a range of cushions with natural fillings, and has invested extra in their production to have them over-filled. Alongside companies which refuse to talk to their customers, another of Clare's pet hates is floppy and sad cushions… it's the perfectionist in her! The designer will also be offering fabric sold by the metre next year, too. Taken in isolation Clare's products are already pretty special. But knowing the artist's full story, and speaking to her about the principals and the integrity she wants to retain, even as the business grows, inspires even more respect as she works towards what we're sure will be a very busy season.
Find Out More: Clare Haggas is a wildlife artist and textile designer based near Louth. Her products are designed and made in England, printed on the finest quality 100% silk. To view her new autumn/winter 2022 collection, see www.clarehaggas.com or for enquiries, call 01507 481693.