Two super-siblings are putting the Great in Great Grimsby, demonstrating that with  determination – and strength of spirit – you can achieve anything you set your mind to…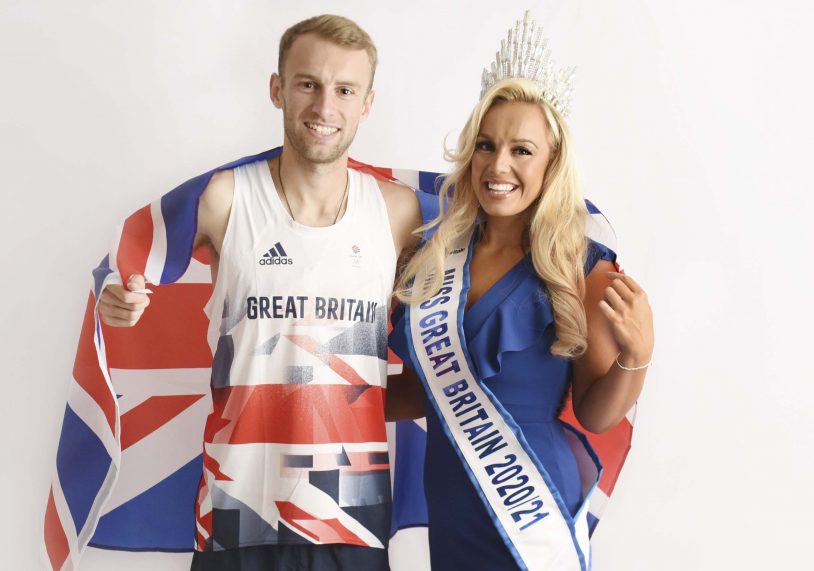 It's 31st July, just before half twelve. The Atkin family are watching the Olympics taking place in Japan from the comfort of their sofa, in the village of Laceby near Grimsby which, incidentally, is about 5,814 miles away from the Olympic village.
They're rather more invested than most viewers in proceedings, as it's their son or twin-brother Sam who is on the starting blocks, competing with Team GB in the same event in which Sir Mo Farah achieved gold in 2012 and 2016; the 10,000 metre.
As for Sam's twin sister Jen, she's also used to representing the country, having competed in Miss England on two occasions and having won Miss Great Britain, too.
As siblings go, the twins are quite the overachievers, but very lovely they both are, too!
"They're super proud of us both," says Jen of mum and dad Helen and Bob. "In fact they really don't get the credit they deserve. They've been so supportive and they've taken Sam to so many cross-country events and athletics meetings, cheering him on from the side of the track."
Jen, meanwhile, found her strength and regained her confidence in 2016 after breaking up with her first love and says the experience motivated her to take control of her life.
"I had always struggled with my weight but lacked to motivation to do anything about it," she says. "After my relationship ended though, I found a job I really liked and really pushed myself to exercise and make positive changes to my diet. I managed to lose eight stone in weight and soon realised that self-discipline and self-motivation are inextricably linked to self-confidence."
"My brother has always been amazing, and I did feel like I lived in his shadow a bit, but it's something we laugh about now. When I was making changes to my life, he was so incredibly proud, so supportive and so encouraging. He knew it was hard and he really helped me to stay focused."
"When I lost the weight, it didn't just change my body, it changed my perspective on life. It made me realise that with confidence and motivation you really can achieve anything you set your mind to. It sounds dramatic but it was like I'd been given fresh chance to take my life in the direction I wanted it to go, so I started to get out in the community taking up volunteer work and helping out local charities."
"I was scouted to represent my home-town in the Miss Great Grimsby competition in 2017 and achieved second place before reaching the finals of Miss England and winning its sporting round. The following year, I ranked third in the competition and represented the country in China as part of the Miss Global City pageant. Finally, in 2019, I competed to be Miss Great Britain for 2019 and was named winner in February 2020, so I've held the title for nearly 17 months now."
"There's an unfortunate preconception about pageants; that they're concerned only about looks and they're a bit dated in their representation of women, but actually they're very forward thinking and all about body positivity."
"There are different rounds including one which assesses your contribution to charity, which provided an opportunity to raise money for Alex's Wish – for which the pageant has raised £14,277 in funds and greater awareness of Duchenne Muscular Dystrophy – and for Cancer Research UK."
"Another round is concerned with how you can use the title to raise positive publicity for the place you live, and there are interviews and congeniality assessments. It's about being an ambassador for confidence, body positivity and empathy."
"Having been the subject of bullying because of my weight when I was younger, I'm very determined to encourage everyone – but especially younger girls – to know themselves and to accept that they deserve to feel confident and have good self-esteem."
"We're living in an age when remarks made on social media can be made very easily and publicly, and they can be very cruel and hurtful. To encourage people to be kind is important. I've stretch marks galore and I'm very keen to say to everyone – but especially to girls growing up, doubting themselves – that it's normal and beautiful to have them."
"Of course, the other responsibility of the role is to promote your home town and having grown up with so many lovely memories and with such a great family, I always feel proud to live in Grimsby. In one direction there's a beach, in the other there's some really beautiful countryside and there's a thriving town centre right in the heart of the area."
"I never feel ashamed of where I come from and I feel really lucky to have grown up in the town! Both my brother and I are proud of where we're from and we each hope that we can use our own experiences to inspire people and raise the profile of our home town!"