Recent stars of Grand Designs, Paul & Amy Wilkinson's home, near Boston, is the crowning achievement of a life of hard-work and good humour. This month we meet the couple and find out how gamekeeper turned businessman Paul has turned rats to riches, helped in no small way by the wife and partner he describes as his best friend and soul mate…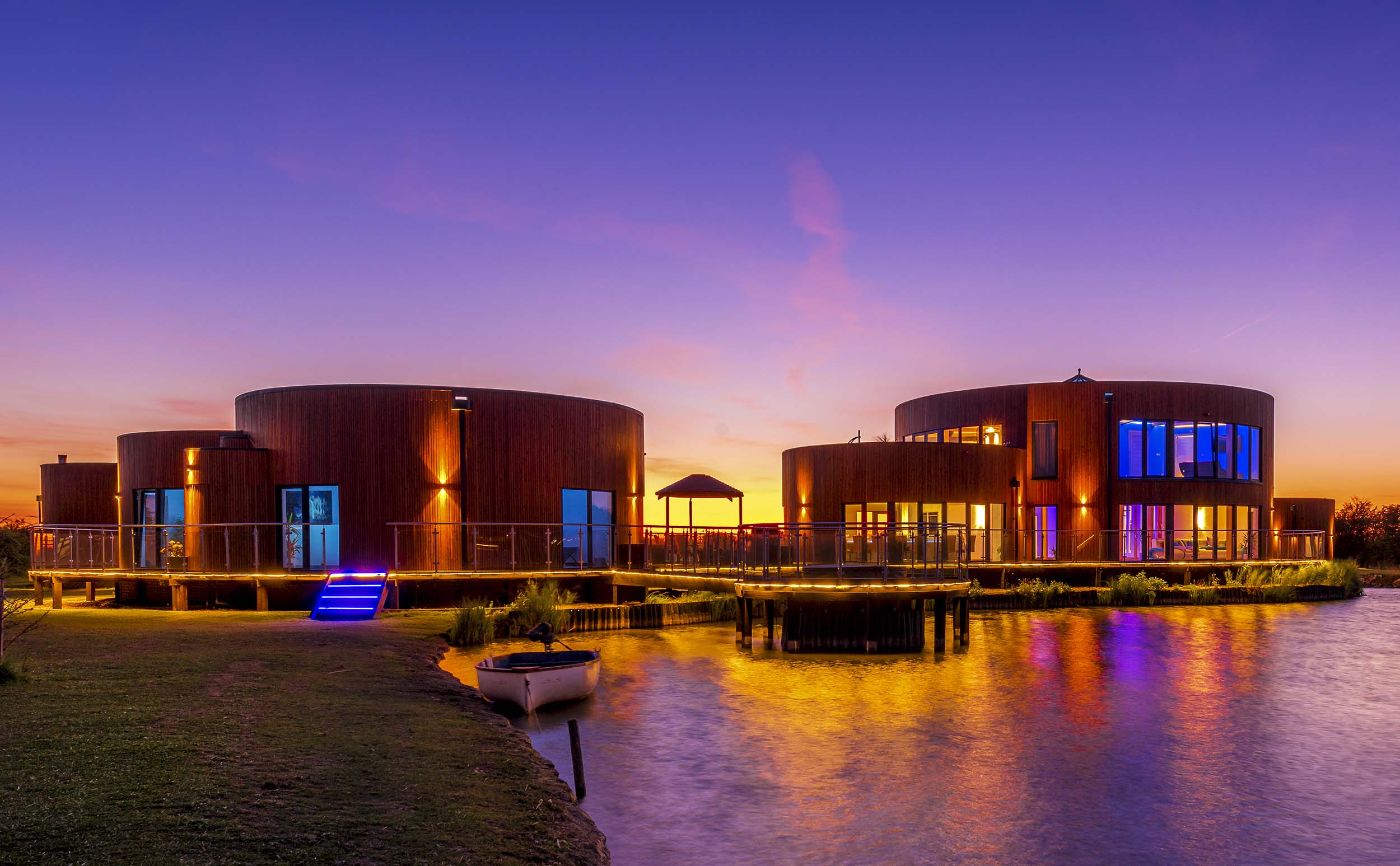 The Golden Hour. It's a term photographers use to describe a special time, typically half an hour fore and aft of sunlight or sunset. You can be in an everyday place but in that hour, the light becomes just that extra bit special, as if imbued with a little magic that makes it shine a bit softer, a bit warmer, giving it an almost ethereal glow. It's the photographic equivalent of that inchoate quality that turns a house into a home, turning a building into something far more personal.
On this particular day, at the 'golden hour' I'm watching the sun take its leave over the brand new home of an old school friend of mine, Amy Wilkinson, and husband Paul. We've bumped into one another once or twice in the quarter of a century since we've left school, but more recently I joined the four million people who watched the couple create their dream home on a 16 acre plot a few miles north of Boston, designing a thoroughly modern house comprising a series of interconnected circular buildings all clad in timber and built beside their lake.
On TV the place looked nice. Personally I favour older properties – and on point of fact so do Paul and Amy – so I didn't expect to love it quite as much. But honestly, the TV programme didn't do it justice. In person it's bigger, more beautiful, lighter and especially magical at night when the carefully considered architectural lighting brings the building to life… I was surprised just how much I fell in love with the place, but perhaps a bit of that is the fact that it's not just a house; it's Paul and Amy's home.
It's impossible not to fall in love with such a warm, funny, welcoming and thoroughly lovely couple, so perhaps their character, casting a halo over the house and turning it into their home is a partial explanation for the feel of the place.
And for the couple themselves, the house doesn't just represent somewhere to live, but a space to be a family and one in which Paul could retire (although I bet he won't!) and for the couple to celebrate a relatively short period of their life which has seen them rocket to success through sheer hard work, good humour and taking gambles – as Paul puts it, going 'all in, every time.'
What's even more impressive though is the way Paul used to live as he built his businesses. Born in Boston and raised in the South Holland Fens – Whaplode and Moulton – Paul left school at 15 to pursue a career as a gamekeeper, becoming such a keen shot that he has represented the UK in competitive fieldsports on no less than five occasions.
"My father shot too but he was just about the worst shot I've seen! I was nine when I gained my license and even took a shotgun into school for 'show and tell…' with permission from the headteacher, and with no cartridges, obviously. Needless to say it was a different time, you wouldn't be able to do that these days, but that's growing up in the country for you!"
"I left school to become a gamekeeper and after four years, moved to an adjacent estate near Spilsby, which is now a 15th century Grade II* listed country house hotel. Back then though it was a privately-owned country house with lots of woodland that needed managing."
"I had a lovely time there and an older colleague, Roger Hawkes, took me under his wing. I moved to another country estate and at 19, until it was sold to another owner, I ran my own private shoot, then a simulated game shoot too. Both were really successful."
Especially extraordinary is that during his early career Paul lived outdoors throughout the year, surviving on his knowledge of fieldcraft, which in turn proved a good asset to his career.
"One of the estates had a caravan but with no windows or doors so I didn't bother. I slept outside all year round. I was pretty hardy and it wasn't unusual to wake up with a dusting of snow over me in the winter months."
Living in the wild, catching and cooking his own food and being surrounded by woodland all year round, day and night, gave Paul an extraordinary insight into the natural world. As any devotee of the countryside living in Lincolnshire appreciates, management of the countryside, shooting, foraging and cooking are inextricably linked.
Paul's appreciation for – and his understanding of – the natural world became unsurpassed, enabling him to live in the wild. Living as such also meant his accuracy as a shot was unrivalled, and that his understanding of the various pests that would otherwise plague the estate and need controlling was uncanny.
So, in 1997 he set up as a pest controller, trading as Pestforce to work with householders, farms and businesses to reign in the rats and show Mickey Mouse who's boss.
For a number of years, he worked as a one man band, but given his not inconsiderable talent and vast knowledge he was soon in demand.
It was also around this time that he met Amy, and together they set about unpicking the problem of how to expand the business given that the company's success and apparent inability to expand were both predicated on the company's dependence on Paul's knowledge.
Paul is still today renowned for his sunrise walks – just a couple of gundogs, a sunrise and a flask of coffee. On one such occasion, he saw the dawn not just of a new day, but of a new way to pass on his skills, hitting upon the idea of franchising his knowledge with training to provide investors with 'a business in a box.'
Amy created the startup booklets and coordinated the two-week intense training courses, and initially the packages were sold on Ebay. The first eight sold so quickly that the couple realised they were seriously underselling themselves. Refining their offers and creating ringfenced areas for the burgeoning number of franchisees, Paul & Amy were soon working flat out, quickly coordinating 250 technicians across the UK and Ireland. They created several new offices to accommodate the business but didn't get a chance to move in to either of them before they outgrew their use. On at least two successive occasions had to begin building premises that were larger instead.
"Our operatives were handling 2,100 jobs a day, we were soon turning over £18m and I was up at half past two every morning seven days a week handling admin and answering emails," says Paul. "The business became a runaway success, consuming every waking hour.  Amy and I had no life for 15 years, certainly no family holidays. Amy was soon juggling children and work, it was a complete rollercoaster; exciting, scary, enjoyable, surreal."
Paul says that the mobile phone maker Blackberry had to create for him a custom phone which could handle call waiting for more than the 10 people to which the queue was otherwise limited. Growing a business is perhaps one of the most stressful and all-consuming activities, but when that business explodes so suddenly and when that expansion is so prolific and relentless, it takes quite considerable strength of character to adapt, not to mention a strong relationship when the business owners are a husband and wife team with a young family.
"From the moment Amy and I met, I was absolutely in awe of her. She was always funny, great company and I was absolutely in love right from the outset. We were soulmates and best mates. But meeting at this point in our lives meant our relationship quickly had this extra pressure. Happily she stepped up to this other role too. We were working relentlessly, making decisions as we went along. All the while the business's growth outpaced any decisions we made to try and keep up with its expansion."
"Amy was handling that growth year after year, supporting an exhausted husband, being a great mum to young children and never once complained that I was working 18 hour days, or that we had so little time together as a family, at a point in our lives when we should just be enjoying all of the little moments and milestones that having children brings. She was my rock. Her good humour and the banter we have with each other was an absolutely essential pressure valve given how busy we were. Amy understood that the franchisees were buying into me, and that I had to be available."
The business's growth continued relentlessly for eight years and soon Pestforce became one of the largest businesses in the industry anywhere in the UK, indeed, in Europe. Eventually it attracted attention from a would-be investor, and it took Paul just two weeks to agree the sale of the business… although he admits he wrestled with the decision, changing his mind on a number of occasions, even on the morning the transaction was due to complete.
"It was the most reluctant retirement attempt ever!" Paul admits. "Like leaving a disco with loud music then afterwards stepping out into silence, the change of pace overnight was surreal. We had our first holiday, but letting the business go and learning to relax was difficult."
From his early days setting up his own shoots Paul established himself as a serial entrepreneur and soon had the business equivalent of itchy feet. Ever since he's traded in farm machinery, building materials… anything. "I'm always excited by the transaction, by the deal. I love turning one into two, so I still trade for the thrill of it and even now I enjoy taking business risks – going 'all in."
At the time Paul was also representing the UK in the British All Round Championships, shooting professionally and taking part in the World Five Man Team shoot series – essentially making him one of the best guns in the world. At the same time, still craving being busy, he and Amy were renovating the first of around 10 properties, and eventually redeveloping and creating a new retail development in Boston's County Hall. Having lived in period properties, Paul then happened across an established 16-acre plot near Boston.
He first saw the plot at 2am and made the decision to purchase it at 6am, completing the transaction at 8am then breaking the news to Amy at about 8.15am, hopefully waking her up with a strong cup of coffee. The couple wanted to create a similar property to their existing home on his newly acquired site.
Planning permission for their preferred, more traditional style of home would, the planning officer stated, prove tricky. A development that would almost certainly achieve permission, they advised, was one of 'architectural uniqueness,' in other words, they had to ditch the dream of a period property and think a little differently.
Initially reluctant to embrace the contemporary, the couple worked with Swineshead architect Robert Lowe and designed one of the first round houses in the county, achieving planning permission in 2018 and setting themselves a build target of just over a year.
In the process they also attracted the attention of Grand Designs. Typically, the Channel Four programme provides schadenfreude for envious viewers who enjoy watching Mr and Mrs Malcolm and Cressida Islington from such trendy enclaves of the capital bite off more than they can chew and screw up a restoration, going over budget and over schedule. As a trendy London couple's marriage hangs by a thread and their home hangs by a single piece of lime render, Kevin McCloud typically takes great delight in pointing out the error of their ways whilst delivering his uniquely pretentious commentary on the property's context, vernacular, theme… etc etc…
The producers, then, must have been rubbing their hands with glee. An unusual house; circular – so infinitely trickier to build – a short build time, a team which had never attempted a round house before, a lakeside location and a couple of Lincolnshire carrot crunchers project managing. What's more, all of the contractors' work was completed on the strength of a handshake; no contracts, no paperwork.
Unfortunately for the production team, they'd reckoned without the competence and hard work of Paul & Amy and the determination of all of the people that worked on the house feeling honour-bound to do a really good job for two lovely people.
If Kevin and the team were poised to keep the cameras rolling as the complex build went horribly wrong, they'd have a long and eventually fruitless wait. Lincolnshire folk don't do 'problems.'
No. We do 'hard work' and we do 'getting the job done.' It's the respect that all of the people who worked on the house had for the couple that ensured they were so keenly invested in making the house as good as they possibly could for Paul & Amy.
With no significant setbacks, hiccups or foul-ups the build progressed smoothly, despite slight aggro from Paul's back, upon which a lifetime of shooting and an old injury from an impatient driver crashing into him had taken a toll.
Watching the programme back, there almost seemed a sense of relief from the programme's production crew that they could finally inject a sense of drama into an episode where everything else went frustratingly smoothly.
The programme returned to the house to film more than 15 times during its construction, spending two or three days at a time at the house and eventually shooting 540 hours of footage – producing each episode of Grand Designs costs in excess of £100,000, the producers told the couple.
Completed in spring 2019, the house represents not just a nice place for a nice family to live, but somewhere which celebrates the strength of Paul and Amy's relationship and their ability to cope with anything from a wildly successful business to a complex property build. Approach the house and you'll see the long driveway is lined with formative trees.
Right now the house is visible for miles but once they've matured, they'll hide the house until the big reveal. Elevated from the ground, the entrance hall is light and the lounge area provides a panoramic view of the lake. The kitchen is also semi-circular and the sun tracks round the curve of the room, with its large windows, giving it all-day light.
Seating arranged in a semi-circle in front of the huge run of curved work surface ensures Amy and Paul can cook and face guests at the same time… and of course, there's the illuminated 'lazy river' sink.
The spiral staircase leads to a glass balustraded balcony with doors to bedroom around the circumference and all of the bedrooms have views for miles and miles over open fenland. The whole house is pristine and bright, with natural light, shiny surfaces and loads of life.
Even if your preference is toward older homes, it's impossible not to fall in love with its vibrancy and the fact that huge open spaces are juxtaposed by smaller snugs and cosy spaces.
Paul and Amy's master suite also has a curvaceous bath overlooking open countryside and a large balcony with incredible views, ideal for those who want to wake up and drink in every refreshing dawn, then fall asleep with every sunset.
And then, of course, there's the lake, at the end of which are a number of holiday lodges and pods – Amy's business, successful partly though her hard work and partly because of her welcoming personality.
As the sun sets over the house it's impossible not to have masses of admiration for the house, for the couple themselves and for the life they've lived. Nice as it is, a building is just a building, until it's filled with personality and life. Paul & Amy's house is certainly full of that; a well-deserved, hard-earned, crowning achievement of a life of hard work, determination and good humour.