This month we're telling the story of an English Channel swim which isn't, in fact, a story about an English Channel swim at all. Sleaford's Harry Grantham has recently addressed the challenge presented by cold water and physical exhaustion, meeting the world's third most dangerous swim with courage and determination. Brave, certainly, but still not as brave as being honest…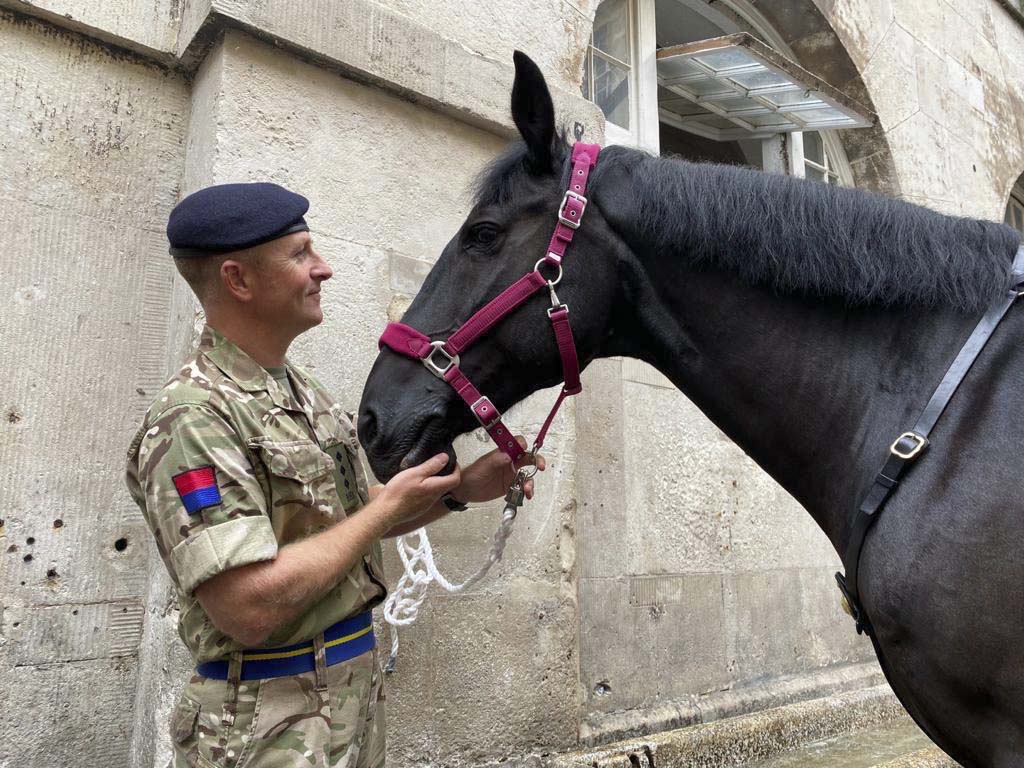 "I'm Not OK." If there were ever three words more under-utilised than those, we've yet to hear them. When Sleaford Army Captain Harry Grantham moved onto my street a year or so ago, he seemed like a nice guy, but not someone with whom I'd have anything in common. He's a man's man; athletic, strong-minded and assertive with an enviable military career spanning a quarter of a century. By contrast, if the meek are to inherit the earth I'm due a substantial windfall, the likes of which will make the banks' PPI payout look like loose change. And as for fitness, I'm far more likely to pass out than work out.
And yet, Harry and I did have something in common. At one point, neither of us were 'OK.' Stress, anxiety and depression are terms that have become too familiar. But the problem is, we're not lacking terms for naming problems pertaining to our mental health, but rather the inclination to admit them, either to ourselves or to our loved ones, before others notice them. You'd understand a mere mortal drowning in worry, but not a tough guy like Harry, surely?
After 25 years in the military, Harry reports directly to the British military establishment's two-star British Army Generals or Chief of Staff and is responsible for the welfare of the Household Cavalry Mounted Regiment and the King's Troop Royal Artillery.
400 personnel in total and over 390 horses depend on his diligence as SO3 Equine Assurance Officer. Harry has worked alongside members of the Royal Family and has represented Great Britain in competitive triathlons for over a decade.
And yet, for all the 'stiff upper lip' stoicism and steely determination you'd expect from an Army officer or from a world-class sportsman, not even Harry is immune from the erosion of the self that failing mental health can cause. And that was the point of Harry's English Channel swim; to raise funds for – and awareness of – mental health challenges, ostensibly in men or for those in the armed forces, but for everyone, generally. Harry's real challenge, therefore, wasn't swimming the world's third most dangerous body of water. It was, and still is, in encouraging others to recognise the need to say 'I'm not OK.'
Have you always enjoyed swimming?         
I've always been into fitness and have enjoyed swimming since being a child. I was born in Grimsby and represented the county in swimming competitions. I worked as a lifeguard at Cleethorpes Leisure Centre and upon joining the British Army in 1995 at the age of 20 I kept up my interest both for fitness and pleasure, but also to represent the county in triathlons. Three years ago, I swam the perimeter of the Scilly Isles – a distance of about five miles – and I was keen to follow up on that challenge at some point with something else.
Why swim the Channel though?      
In 2017, whilst in the Scilly Isles for my swim I met Beth French, an ocean swimmer and coach who swam the Channel five years earlier. Beth was ill as a teenager and by 17 was wheelchair bound with a diagnosis of ME. Through her sense of determination, she went from being unable to lift a hair-brush as a teenager to regaining her strength and completing the world's third hardest swim, across the English Channel. Just a year later my life was falling apart, and I was helped in no small way by a colleague, Nigel Mudd, who noticed the change in my behaviour and encouraged me to open up.
There were many people who helped me, Nigel; the Army Welfare Centre, but as part of my determination to feel like me again, I wanted a challenge that I could focus on. Swimming the Channel was that challenge. If Beth could do it, so could I… after all, it's 80% mental and 20% physical in nature. I realised that I could also use the opportunity to quash stigma surrounding anxiety and depression, to create awareness of the subject and to raise money for The Royal Artillery Charitable Fund to help others in the process, enabling something positive to come out my experiences.
What happened with your mental health?
In 2018 my marriage fell apart and I had to live apart from my two children, the youngest of whom was just a few months old at the time. It was heart-breaking and I experienced depression and anxiety. Traditionally women have been better at articulating their feelings whilst men are more likely to say "I'm fine." Slowly that's changing, but still too few people generally open up and talk about their mental health, and that's certainly true of men. I wasn't coping and the intervention of Nigel, pulling the thread, and refusing to accept "I'm fine," as an answer was the first act in a long process of becoming well again.
Are men more susceptible?  
Not more susceptible, no. But they're perhaps still less inclined to speak up or to seek help. Mental health problems, though, don't concern themselves with gender, age, wealth or anything else. If anything, being a man and being a soldier challenges a preconception that there's a link between mental health and 'toughness.' But military personnel, those with high-pressure careers, company bosses, those who are wealthy or seem otherwise happy and successful… everyone, absolutely everyone, will experience stress and anxiety at some point in their lives and everyone will have to fight to prevent a potentially short term feeling becoming a long term problem. Only with support can that reconciliation of your mental health be rapid and effective.
So it's crucial to support others…    
Certainly. You don't have to be a counsellor or a doctor to be of benefit to someone's wellbeing. You can probe deeper instead of just accepting "I'm fine." And even if you notice something small, your intervention can, at the very least contribute to someone's happiness or wellbeing, preventing someone from feeling that there's no hope. In the most severe context though it can also save someone's life.
Maintaining mental health can't be easy for men in the armed forces?   
I don't think maintaining good mental health is easy for anyone. That's the point. Traditionally the armed forces had a reputation for being rigid, and some thought that being in the military and admitting that you're struggling with mental health would lead you to be stigmatised, maybe even kicked out. Nothing could be further from the truth, especially today. Our Army Welfare team was brilliant for me, but the issue is seeking help from them in the first place. Admitting to yourself or letting someone else know you're struggling is the first step, but it's also the hardest.
Mention mental health in the context of the military and the predominant narrative is of PTSD or suicide. But between wellness, and the extreme of PTSD or taking your own life, is a large middle ground of people who are functioning, but not coping or who are walking around deeply unhappy. They're people who need help but don't realise it or just don't feel they have someone to talk to.
Why is our mental health suffering?
It's easy to cite anything from a societal tendency towards a poor work/life balance to social media – often blamed for poor mental health in the young – to money worries or the pressure of running a business as being a cause of poor mental health. The fact is stress or anxiety are subjective. Different people cope with different problems better or less effectively.
What's universal is that people are a bit like elastic bands; they have a natural level of tension and they can stretch beyond that temporarily, if they're able to return to their normal tensity after a short period of time. But if they're held at their maximum tension – stretched for too long to tolerate – they'll snap, just like the elastic band breaking. At some point everyone is stretched due to family, financial or work worries, health concerns or just exhaustion. The chance of escaping all of the above pressures throughout your life is remote. The causes of stress or anxiety are many, and for that reason, mental health concerns are prevalent.
How did the swim help?       
It's raised both awareness and over £7,000 for the charity. More to the point it has led to a few people contacting me to say that they've been encouraged to open up to someone about their own problems, to recognise that there's no bravery, no nobility in suffering in silence. From my own perspective, too, it enabled me to concentrate all of my strength into completing the challenge I set myself and regaining control over myself.
How do you undertake the Channel swim?
You first have to liaise with the Cross-Channel Swimming Association. You apply, register and you have to pass a medical first. The Association recommends you work with a coach. Mine was Tim Denyer, and he was great. He's a part of Red Top Swim and he completed the swim himself in 2005. I trained to improve my technique and built up my speed and distance from about June last year. Lockdown meant that pools were closed during summer so instead I completed open water swims in lakes and gradually built up to swimming 25 miles – just over 40km – in lakes both here in Lincolnshire and down in Dover.
When did the swim start?    
The swim was originally scheduled to take place on a Monday. The poor weather and rough seas delayed that until Reg & Ray Brickell of my pilot boat – a Catamaran called The Viking Princess II – deemed it safe.
We began on Thursday 10th September at 3am. The advice that the Association gives is to begin in darkness so you'll swim as much as possible and will finish in daylight. As the crow flies the distance is 21 miles but you actually have to swim 26 miles because you double back on yourself to prevent having to swim against the tide.
How gruelling was it?
The swim took 16 hours and 37 minutes. My average was 68 strokes per minute which equates to about 70,000 strokes in total. The water was about 17.5°c in temperature and the aim is to maintain a consistent pace, swimming for 30 minutes and completing a 'fast feed,' of warm liquid feed – about 300ml – in 10 seconds every half hour.
The idea of fast feeding is that you don't fall behind the boat. At the start of feeding you're at the front and by the time you've fed you're at the back. The feed consists of high concentrations of calories and carbohydrates, along with electrolytes and other nutrients. I'd put on two stone in weight but lost a stone of that during the swim.
How did it feel to reach the end?     
You begin at Shakespeare Beach in Dover and finish at Plage de Wissant, which is about half-way between Calais and Boulogne. It's surreal. There's a combination of elation and exhaustion in mind. You have to keep swimming solidly, so you don't seize up, but suddenly not treading water means you feel the trauma. Suddenly your digestive system rebels too and any liquid feed still in your stomach comes back up.
You have to cover yourself in Vaseline to give a layer of protection against chafing, but still my whole face was swollen where it had been bashed about in the water and I couldn't straighten my fingers. The last six hours were agony after my left shoulder gave way.
It took the brunt of the trauma and my rotator cuff was completely inflamed so it was a mental challenge, not just a physical one, towards the end. The salty water also destroys the top layer of your tongue which sheds a layer as a result, so from leaving the water and over the next two weeks, I was peeling off bits of tongue – which is every bit as awful as it sounds – and any food that's even slightly warm, salty or spicy is agony!
I couldn't sleep for 48 hours afterwards and I was in agonising pain for three days after the swim. I was still in physical trauma and had bruises over my arm and left shoulder for two weeks, but it gradually subsides.
What now?    
I'm planning to visit different regiments in all three branches of the Armed Forces to talk about the experience and to act as a sort of ambassador for the importance of mental health and supporting those around you who would benefit from your intervention.
There's a campaign in the British Army called Op Smart (and its RAF equivalent, SPEAR) which aims to provide stress management and resilience training. Being able to contribute to that is something I'm looking forward to. And of course I'm continuing my role of SO3 Equine Assurance Officer working alongside the King's Troop Royal Horse Artillery and The Household Cavalry Mounted Regiment.
What does the role involve day to day?      
One of the perks of being in the Household Division is being able to enjoy some of the most incredible horses in the country without the associated upkeep! I've represented the British Army as part of its show jumping and polo teams and I was an amateur hunt jockey in Sandown.
Day-to-day I'm responsible for both working alongside the leaders of both regiments to oversee everything from animal welfare to training, to equipment and ceremonial formats. It's a huge privilege, and one of the many pleasures has been working alongside members of the Royal Family like the Duke of Cambridge and Duke of Sussex.
Who have endured their own difficulties?  
Which goes to prove that nobody is exempt from experiencing anxiety or trauma or bad periods in life, irrespective of their status. Everybody needs support at some point. So perhaps, there are three words more under-utilised than "I'm not OK." Words that we should use more often than we do, such as "Talk to me."