Neil Woodmansey MBE and Colin aren't just best friends: they're close colleagues who have recently worked together on a humanitarian mission as part of Lincolnshire Fire & Rescue's ISAR service to find survivors of the Turkey/Syria earthquake…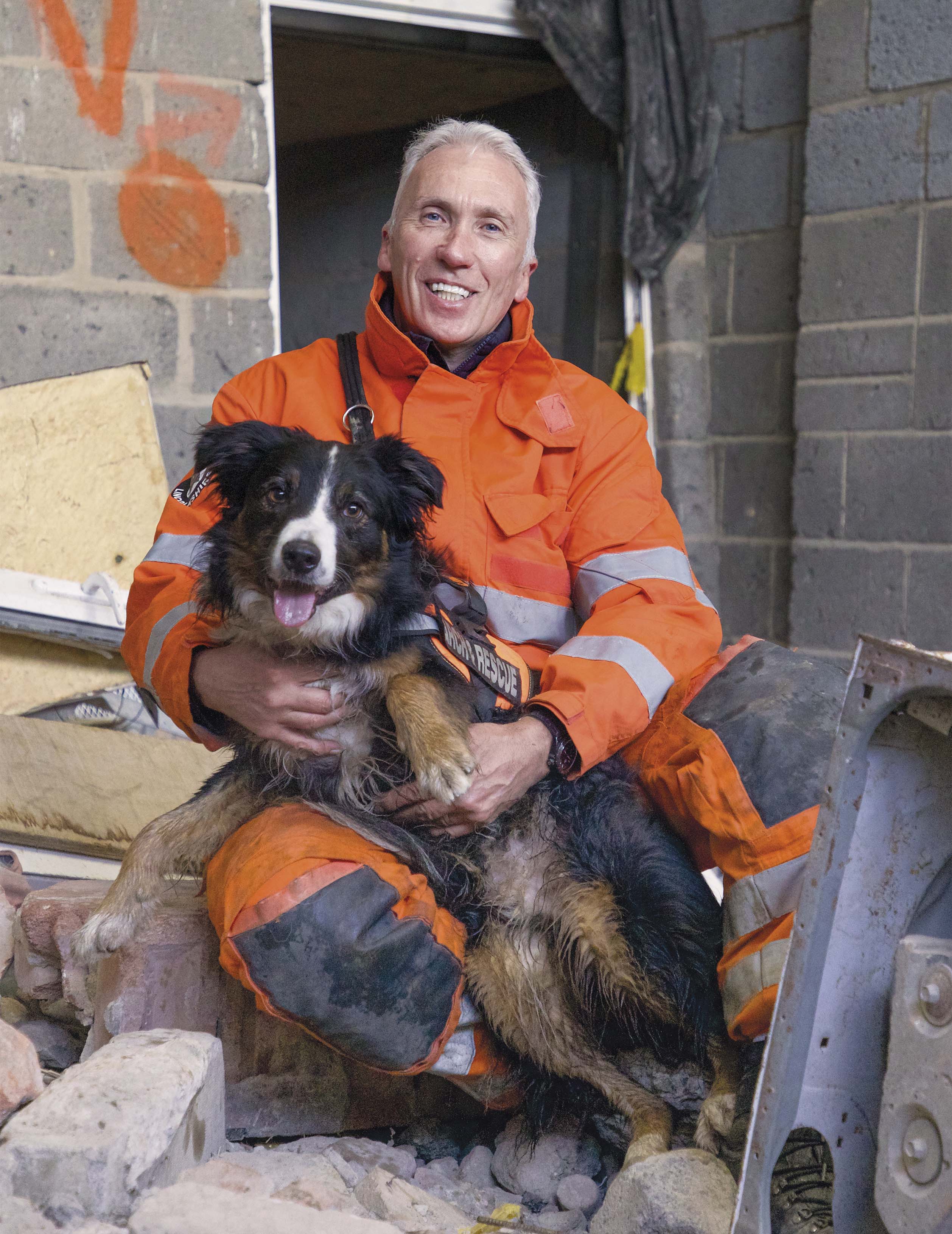 We're supposed to be interviewing Neil Woodmansey. But you wouldn't know it; someone else thinks they're the superstar here. You might think that between Neil and his five-year old Border Collie Colin, it would be Neil doing most of the talking… but Colin will barely let him get a word in edgeways with a series of whimpers and howls if he's not centre of attention… plus an insistence on constantly having his belly rubbed.
Cuddling up to me on his sofa in Sleaford (Colin that is, not Neil), he looks like any other soppy, pampered, very content family dog. But together, Colin and his handler (and personal assistant, PR officer and showbiz manager) Neil are a formidable pair, helping out with humanitarian rescue attempts efforts across the globe.
"He's an absolutely lovely lad. Everyone that comes across him is instantly won over by his charm, but he's also really smart, very intelligent, responsive to training and really good for the role he's just performed," says Neil.
He's referring to the fact that the two have recently returned from a 10-day deployment in earthquake-stricken Turkey where, together, Neil & Colin have helped to locate a number of survivors so they can be pulled from the rubble of the flattened region.
A few days before the disaster, Neil was due to enjoy a holiday in Miami; warm weather, nice beaches… that sort of thing. Unfortunately, a cancelled flight and a pretty horrible bout of flu led to Neil giving up his travel plans and instead returning to Sleaford. Whilst sitting on the sofa with a box of Kleenex and a Lemsip, Neil turned on the TV and watched the awful news break of the Turkey-Syria earthquake.
On 6th February at 4.30am, for 80 seconds, a powerful 7.8 magnitude earthquake struck Şehitkamil, Gaziantep, damaging an area of 140,000m2 and rendering about 1.4m people homeless.
Over the next week, 56,000 deaths would be confirmed and the financial cost would be estimated somewhere in the region of $100bn.
As for Neil, his recuperation was about to be curtailed by a text from the coordinators of the UK's International Search and Rescue Teams (ISAR), asking if he and Colin were available to join British rescuers in the stricken region.
Neil began his working life as a submariner in the Royal Navy before joining the fire service in 1985, settling in the county to serve with Lincolnshire's Fire & Rescue heroes, a decade later.
Just a couple of years before Neil arrived in Lincolnshire, the county became one of 15 UK fire and rescue services to contribute personnel and equipment to UK-ISAR which can be deployed via the Foreign & Commonwealth Office when requested by overseas agencies to assist following humanitarian accidents and disasters in the UK.
The success of ISAR also led to the creation of USAR (Urban Search & Rescue) in Lincolnshire as a response to  9/11, equipped with really specialist rescue equipment and personnel that can be deployed for especially complex rescue emergencies in the UK.
ISAR/USAR deployments are designated as light (on foot, with rucksacks and hand-tools), medium (operational capability for technical search and rescue operations in structural collapse incidents) and heavy (for difficult and complex technical search and rescue operations).
Different members bring different specialisms to their teams' operational capabilities specialising in, for instance, structural engineering, providing operators of machines designed to cut through concrete or tunnel into collapsed buildings, or in Neil and Colin's case, the deployment of a dog and handler as a specialist team to search for survivors.
Colin is one of just six dogs in the UK who can undertake such a specialised search and rescue deployment. And Neil has trained him personally.
"I really enjoyed being a firefighter and got on well with the practical elements of the job. As I gained more experience with the service I found myself working more and more in the office and being in front of a computer, which didn't appeal as much as being on the ground. At that time the service didn't have a search and rescue dog team, which I thought would be a useful asset."
I was offered the chance to train Holly, my first rescue dog, a black Labrador. It took about 18-months and she was wonderful. We were later deployed together with UK-ISAR in the Pakistan earthquake of 2005 and in Haiti five years later."
Holly retired after 10 years of service and after being named Sleafordian of the Year in the town awards, and being honoured at the 2011 Dogs Trust Award. Holly also appeared on a postage stamp, she and Neil were listed in a national newspaper's list of the Top 100 Things that Make British People Happy.
She also helped Neil to carry the 2012 Olympic torch through the town on its relay journey. Sadly she died in 2019, by which time Neil also had Holly's friend Maisie, who's now 15-years old herself.
It was Neil's son who first introduced him to Colin five years ago and today they share custodianship of him. Recognising that Colin needed vast amounts of stimulation – even by a Border Collie's standards – Neil began to train him, and so began a brilliant working relationship.
"He was born for it, and the Fire Service were really supportive of us both, enabling me to work with Colin, who picked up the training unbelievably well!"
Training Colin begins with his favourite toy, a squeaky ball, which is used as a positive reward. Colin is rewarded when he barks for his toy, initially at close quarters.
Next, the distance that Colin has to go in order to get hold of his ball is increased up to about 100ft, and then the game is made a little harder. Colin is told to stay whilst somebody hides behind one of the structures on Waddington's state-of-the-art Fire & Rescue training facility which Neil and his team designed and constructed. It's now used by teams both from the UK and overseas as probably the UK's best ISAR/USAR training facility. Soon, Colin learns to search for a person by their scent and is rewarded by his toy.
Eventually, he's able to seek out a person with a voice command, and Neil can command him to go left or right too. Colin barks to indicate the presence of a human being and is rewarded with the ball and lots of fuss.
In the aftermath of an earthquake, that means Colin (and Neil) can seek out casualties and indicate to other rescuers where to retrieve a survivor.
Back in Sleaford, Neil responded to the National Coordinators' text to indicate his availability. After the coordinators have selected the most suitable ISAR team members with their respective skills for a deployment in Turkey, a second text indicated that the two were on the team and detailed when and where their flight would depart from, just 10 hours later.
Sleaford Vets on the town's West Banks managed to squeeze Colin in for a quick physical, and with a clean bill of health, he and Neil made their way to Birmingham to take a private flight alongside 77 other UK-ISAR rescuers including doctors, paramedics and those specialising in the operation of the kind of heavy equipment commonly used in rescues.
In addition to all of the rescue kit, the team also needed tents, cooking equipment, showers, food and other gear to ensure they remain self-sufficient.
Colin is particularly charismatic and as the pilot of the aircraft was already a fan of Border Collies, he was quickly upgraded to First Class and Neil has a photo of him enjoying an in-flight meal on the four-hour flight.
The team landed a couple of hours from their deployment and were taken to a football stadium where they set up their base of operation (BOO).
"We were divided into four teams – Red One and Two, Blue One and Two, with about 10 people in each of the four teams – and then we were deployed within an area based on intel for about 15 hours a day."
"There were no showers for the first few days so we were quite glad when we finally got them rigged up. During the day it was warm, especially in rescue gear."
"At night though, it was freezing, down to about -7°c. There's only field rations to eat which aren't that appealing warm, but when there's only cold water to hydrate them, they're even worse!"
"You're given an area to search about the size of Sleaford's High Street, but everything – absolutely everything – is flattened, completely destroyed. Our priority on the ground is to act on information that cries for help have been heard and then deploy Colin to search for them."
"People will come up to you and tell you they've heard their loved ones under the rubble and sadly that's not always the case. Perhaps it's grief and wishful thinking, or the fact that some faith groups value their loved ones being buried as promptly as possible. Our priority, as a humanitarian resource, though, has to be those who can still be rescued alive."
When set to work, Colin suddenly goes from a lovable boy and a great family pet to a really focused, very serious part of the team. With his little booties protecting his paws from the glass and sharp metal, he scrambles into collapsed buildings and jumps into voids.
"He's enthusiastic, very brave but perhaps a bit too brave," says Neil. "His safety is always a priority, but he has a degree of independence when he's searching a particular area, and he's quite relentless. He wears a harness and lights, so we have to be careful he doesn't get snagged on hazards like rebar, the metal rods which reinforce concrete and are torn apart during an earthquake."
"He's very fit and is still lively after a day working, even eating on the job. Mid-way through the deployment, Colin sustained a cut to his leg, and we have a vet with us who could treat him. We needed to rest him for 24-hours but you could see he was keen to get out the next day. He would always sleep well when we returned to the base of operations, but I'm still left with the impression that it's impossible to tire out a Border Collie!"
"One rescue that stands out in particular is when we came across a collapsed apartment building," says Neil. "It had 'pancaked,' that is, its five floors had collapsed down onto one another. The people were trapped in a stairwell which has been compressed and all around it was just a mass of concrete and window glass."
"To extricate them, the teams had to tunnel through from the adjacent building, knowing that they were about two floors up and about 10ft away from the point of entry."
"It's unusual for me to stay on the scene as long as I did because Colin is usually in such demand to identify where survivors are located and time is always of the essence so there's pressure to move to the next location. The extraction took about 18 hours, and was incredibly hard work. It was mechanised as much as possible, but still very physical."
"I don't tend to have any interaction with the casualties for the same reason; we've usually moved on to the next location. It's the same in the fire service when I've had to extricate people from a car. You're compassionate, and you care, of course, but you also maintain a professional distance and I've always been quite good at putting my experiences into a locker in my brain and filing them away. I think it's important to acknowledge the role and the part you play in saving somebody's life, but it would be easy to become too involved and that would prevent you from getting up the next day and doing it all over again."
"I've spent 40 years in the Fire Service and I can honestly say I've loved every single day. It's often said in a sycophantic way but honestly the comradeship and the sense of vocation has been incredibly rewarding."
"I'm quite a fit person, and quite mentally resilient, but I'm also ten years beyond retirement age, and with a horrible head cold dragging on too, it was a challenging deployment. We'd been searching from about 7am, and returned to the tent at 2am full of cold and desperate for my bed. The zip on my tent was stuck and I couldn't get in… a silly thing but it nearly broke me!"
"We did have a mobile signal, but again I preferred not to call home and get emotional. I prefer to focus and get on with the job, and to rest when it's possible to do so. I sent text messages to let everyone at home know I was safe but you're there to make a difference."
"There's another side to life that you see, though, one that stays with you just as much if not more, and that's the inspiring way people pull together. Amid all the destruction and misery people were coming from all over to help each other. There was no sense of self-interest. Everyone was pulling together and the Turkish people themselves were so keen to look after each other."
"You can't really get the degree of destruction that surrounds you: it's an area the equivalent size of the whole of Lincoln being just flattened. But here were people pulling together, and arriving from all over the country and all over the world to help one another."
"Suddenly it puts all of the small things in life into perspective. When you return you almost feel a sense of survivor guilt. Back in Sleaford I've people around me who I love a great deal, we all have our health and our friends and family."
"We're also very comfortable. One of the things I've enjoyed since being back is being able to turn on a tap and having an unlimited and uninterrupted supply of clean water. And power too, without having to rely on generators."
"It does make you feel grateful for all of the positives in your life. Colin, I think must feel the same… he's always happy to be around people. I'm not sure whether he realises that he's a hero, or whether he appreciates the difference he makes to somebody's life, a person who has emerged alive from a disaster because of him, and they are now able to witness the rebuilding of their home."
At the age of five, Colin is as fit and active as Neil, but the two are currently training a new ISAR dog with another new handler to take over, so that both can retire… eventually.
"I love the fact that someone will continue the work and take on the mantle," says Neil. "Colin has worked really hard and despite his role he's also a beloved part of the family, so I think he'll have earned his retirement!"
How To Donate: Over 18m people have been affected by the Turkey/Syria earthquake, and 56,000 people have died with many more injured. The Disasters Emergency Committee is  accepting donations towards aid, via its website www.dec.org.uk.