Highlights
Joseph Banks: Lincolnshire's Pioneering Botanist
On the same day as this month's edition of Lincolnshire Pride appears in shops and lands on doormats across the county, the legacy of the county's most famous botanist enters a new era, with a brand new museum and visitor centre in Horncastle opening its doors. Here one of its curators, Paul Scott, explains why Banks' legacy is still relevant and how the centre will provide a place to celebrate his life for visitors to the town, scientists and scholars of natural history…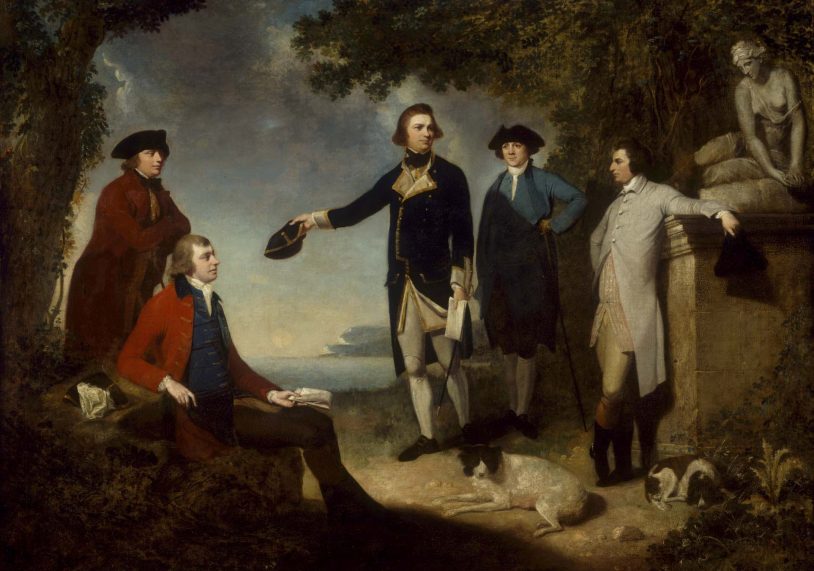 It's a new chapter in the life of one of Lincolnshire's most famous sons. As Pride goes to press, the trustees of the Joseph Banks Society will reopen the doors of the eponymous naturalist's place in Horncastle.
"We've closed the shop – which previously occupied the premises – and have instead created a new Natural Sciences Centre," says Paul Scott of the Society. "Joseph Banks isn't just an historical figure. His relevance is – if anything – greater today than ever before, in terms of his contribution to our understanding of contemporary global issues like biodiversity, ecology and climate change. Joseph Banks' life and work affords us all insight into each of these issues."
"Our aim was to create a truly unique natural history and science centre in Lincolnshire, something that does not presently exist in the county," says Paul. "As well as our existing botanical collections we will seek to display objects from across the world representing the travels and work of Banks."
"Our collections strategy and plans may take many years to come to fruition, but our intention is to try and have examples of all of the amazing natural history collections held by Joseph Banks at his London home, 32 Soho Square."
"We will then use those collections to inform people not just about the past but also the present and in some cases the future."
"An example of how we will link Joseph Banks to the issues of today and indeed tomorrow is global warming and rising sea levels."
"Livelihoods across the Pacific Islands are highly dependent on subsistence agriculture and fishing, which provide the main source of food and income for the majority of rural communities."
"Climate variability and erratic weather patterns, or particularly extreme weather events affect the ability of households to maintain their livelihoods, if your land and houses are being submerged you can only retreat or leave your island. People in Lincolnshire and other parts of the UK are not immune to the effects of rising sea levels, and I think many would be shocked to see maps of the county in 50-100 years time with much of its land lost to the sea."
Thanks to money raised by National Lottery players, the Society has also been able to create Love Lincolnshire Plants, the centre's new Lincolnshire Herbarium. This three-year project has created a partnership with the Natural History Museum in London, The Sir Joseph Banks Society, Lincolnshire Naturalists' Union and the University of Lincoln to inspire a new generation of botanists; helping to safeguard our understanding of plants and the environment for the future.
"The project will help to teach a new generation of botanists, conserving a historic herbarium and creating a new collection of Lincolnshire plants. This new collection is based within the Joseph Banks Centre and the Joseph Banks Society's role is to recruit and develop volunteers, equipping them with the skills required to identify, data log, mount and curate herbarium specimens."
"In the longer term we will be using DNA and genetic research to compare new and historic plant specimens. Many plants can be climate change indicators and provide useful data for the future."
"The Society's collection will also host the Seaward Herbarium, which alone has over 1,000 plants collected from around the world;  the Lane-Claypon collection of botanical illustrations; the Dennis Hill Collection of natural history photographs and slides, plus the Alan and Annette Binding Collection which comprises 5,000 insect specimens, mainly collected in Lincolnshire and Nottinghamshire."
The new Natural Sciences Centre will be housed in the society's building on Bridge Street in Horncastle, which dates to back to the late 17th Century and is Grade II listed, it too has enjoyed a full restoration carried out by Heritage Lincolnshire, which was part funded by the Heritage Lottery fund.
The Society will enjoy the support of its internationally acclaimed patron Sir David Attenborough, together with his colleagues Lord Waldegrave the Provost of Eton College, its president is Professor Libby John, Pro-Vice Chancellor and Head of The College of Sciences at Lincoln University. Sir David Attenborough alone praises Banks, describing him as "That Great Panjandrum of British Science!"
"Joseph Banks' significance lies in his far-reaching influence, rather than through any single personal contribution to science. He published little, but he inspired, encouraged and supported others," says Paul.
"His background and early years were not promising," says Paul. "Although he studied at Harrow, Eton and Oxford he did not excel in his studies. By the age of 21, he had property and was wealthy."
"The 10,000-acre Lincolnshire estates  he owned assured him of an income that made him one of the wealthiest men in England. This patrimony may have resulted in an indolent young man. Still, he was destined for greater wealth and fame as someone who would become one of the greatest figures in Georgian England."
"He was one of the greatest figures in Georgian England – a colossus. As well as being made a baronet, High Sheriff of Lincolnshire, Knight of the Order of the Bath and President of the Royal Society (1778), he was a confidant of King George III and Queen Charlotte, adviser to cabinet ministers, and patron of the sciences at an international level. While he lived, though, he was certainly the most imposing figure of English science in Georgian England."
"Banks was an extraordinary figure, and all of our exhibitions will tell stories about the past, the present and in many cases, the future. We hope that when we open the museum, Lincolnshire residents – as well as those from further afield – will visit to learn more about him and perhaps to share their stories with us."
Horncastle's Joseph Banks Tribute Garden
The tribute garden was developed by the Society as a tranquil oasis and a tribute…
"The influence of Sir Joseph Banks, one of Lincolnshire's most famous sons and one of the greatest figures in Georgian England is to be found not only in Horncastle, but also worldwide."
"To reflect his botanical achievements we developed our garden, which is now a tranquil oasis dedicated to Sir Joseph Banks."
"It didn't start well; when we were considering the garden and the plant lists one Kew expert expressed doubt regarding some plants surviving in the frozen wastes of Lincolnshire. These words were prophetic and coincided with two of the worst winters we had seen in Lincolnshire for many years, and we did lose some plants, which was an expensive lesson."
"However, we have persevered, and thanks to our volunteers the garden has developed and grown into a real jewel in the centre of Horncastle and has also become a symbol of the legacy of Joseph Banks in Lincolnshire and the wider world."
Words: Lady Sally Bruce-Gardyne.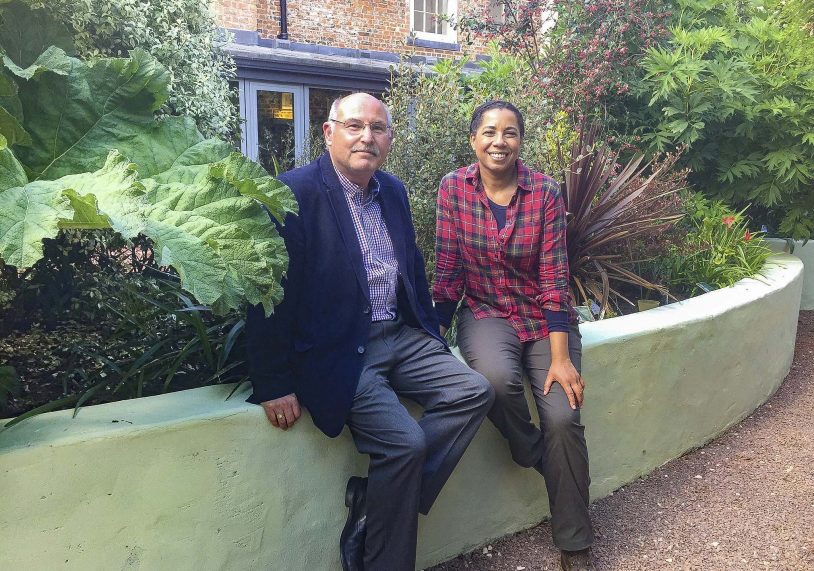 Building on the past, looking to the future…
The Sir Joseph Banks Society aims to inform and educate providing interesting and accessible scientific collections, archives and resources.
The Society has its base in a recently restored Grade II listed building in Horncastle, appropriately named The Sir Joseph Banks Centre.
The building houses numerous society curated collections including a Reference Library, Herbarium and Tribute Garden. The Society is extremely proud to have Sir David Attenborough and Lord Waldegrave as Patrons of the Society and as Society President, Professor Libby John.
2006: Initial meeting of interested Lincolnshire people.
2008: The society was officially awarded Registered Charity status.
2010: Opening of the Sir Joseph Banks Tribute Garden.
2014: Partnered with British Library to Present 'Joseph Banks: A Great Endeavour' at The Collection exhibition space in Lincoln.
2016: Society begins its association with Melanesian Mission to donate funds to Vanuatu.
2017: Society partners with Lincoln University, Natural History Museum, Lincolnshire Wildlife Trust and others to create Love Lincs Plants, a 21st Century Lincolnshire Herbarium.
2018: Completion of the Digitisation of the E.M. Lane-Claypon (Cheales) collection.
2019: Completed electronic catalogue of Reference Library and made available online.
14th May 2021:
The Sir Joseph Banks Society reopens the Horncastle-based premises as a natural history museum, recurating its collections to facilitate viewing by the public and by scientific and educational communities.
Find Out More: The Sir Joseph Banks Society will open its new Natural Sciences Centre – a museum focusing on Banks and on Horncastle too – as Pride goes to press. The museum will be based on Bridge Street, Horncastle. See www.joseph-banks.org.uk for more information.