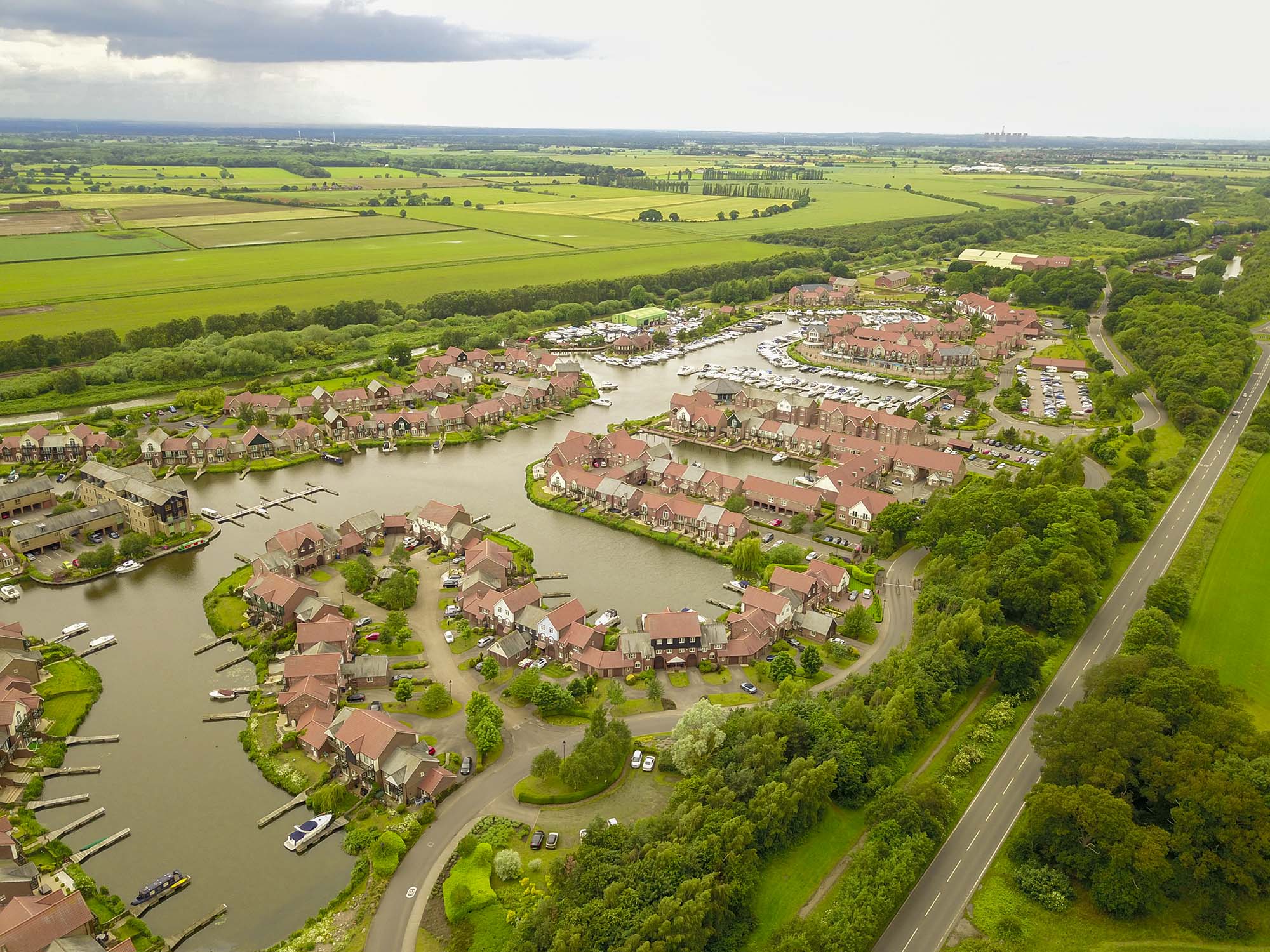 It's Tempting to see rivers as a mere topographical feature. After all, these days we're not reliant on them to move goods like wool and grain around on canals. But still today Lincolnshire's waterways are used as hubs in global supply chains, they're essential for land drainage and, of course, they're an invaluable habitat for wildlife, as well as a source of great amusement for those who enjoy messing about on the river. All of the above started us thinking… how are our waterways used today?
Power to the People…
We'll start with one of the newer and more controversial ways bodies of water serve us. Wind turbines like those offshore from the Lincolnshire Coast will play a big part in generating power. On November 28th 2018, a record 32.3% of the UK's power was generated by wind turbines – more than any other single source. The Lincs Wind Farm is located eight km offshore, cost £1bn and comprises 75 turbines. Each one spins from 11mph and reaches peak power with 34mph wind. At 177m tall, they generate 270MW, which is enough to power a quarter of a million homes per year with zero emissions. By 2022, Siemens will finish laying a 40 mile underground cable from the offshore wind farm to Bicker Fen, which will ensure 800,000 homes can be powered by the farm.with the Offshore Wind Sector Deal, further investment and land has been set aside to make Grimsby and South Humberside a centre for the maintenance and repair of off-shore turbines.
Supporting £150bn Trade…
Speaking of South Humberside, Immingham and Grimsby ports are just two of the 21 ports in the UK owned by Associated British Ports. Collectively, all of the ports in the UK support 120,000 jobs, £150bn worth of trade and bring 85,000,000 tonnes of cargo into the UK each year.
Portsmouth is the largest port for cargo and ferry transport, but South Humberside – Grimsby and Immingham taken together, is the UK's largest dedicated port for cargo. Immingham alone sees 46 tonnes of cargo each year arriving at the shores of the Humber, with 240 rail freight movements each week and 130,000 vessels docking at the port each year. The site covers 1,230 acres, and is essential for the transport of aggregate, 16m tonnes of coal in 2018, plus timber and other materials from Northern Europe and via DFDS. Grimsby's port covers a more modest 550 acres, and it's essential to the UK's motor trade, importing and storing in particular over 500,000 new vehicles each year awaiting delivery to customers, as well as serving Scunthorpe's steel industry with its raw materials too.
"The South Humber ports handle steel, timber, cars, animal feed, fertilisers, food products, building aggregates and many other cargoes," says Simon Bird, ABP Humber ports director. "The Humber ports support around 35,000 jobs, they also contribute £2.5 billion to the economy, much of which is retained in the region."
Further down the coast, Boston Docks, owned by Victoria Group is visited by 400 ships each year, exporting grain like barley and wheat, RDF – rubbish derived fuel – and scrap, whilst importing steel, timber and paper.
Draining the Fens…
One of the most historically valuable uses for Lincolnshire's waterways, prior to a globalised transport network, is the use of the silty fen land, reclaimed from the sea and used for farming.
Especially in the farmland surrounding Boston and South Holland,  brassicas, cereals and oilseed rape grow well… but there's a catch, according to Julian Boden of the Welland and Deepings Internal Drainage Board. "The majority of Lincolnshire is five metres below sea level and rivers like The Welland and the River Glen sit higher than the land. So, water has to constantly be moved in order to keep the delicate balance and prevent flooding."
Fen drainage dates back to the Roman era, when the Carr Dyke and Foss were used to connect the Witham and Nene. With the departure of the Romans, the Commission of Sewers was created in 1531 to upkeep embankments and manage water levels.
Those living in Monasteries also aided land drainage as part of their agricultural activities, but with the dissolution of the monasteries, the religious folk's management of the land also disappeared. 12 religious houses existed between Lincoln and Sleaford, for example, so through the 16th and 17th centuries, only a few improvements were made to the waterway network, such as the creation of Boston's Maud Foster drain, before any coherent programme aimed at large scale drainage of the fens was attempted in 1631.
New drains were cut and subsequently maintained as part of the broader agricultural revolution. Drainage proved too successful, and it soon became necessary to ensure water could be kept in the land, as well as pumped off it. By 1763, over 50 windmills in the Deepings alone kept water levels in check. Eventually, steam engines and electric or diesel engines were introduced, with new drainage boards established. Today there are 112 Internal Drainage Boards nationally, covering 1.2m hectares – 9.7% of England's land mass. About 10 cover Lincolnshire, mostly operating independently but able to help each other out when necessary – the Welland & Internal Drainage Board, for example, manages land drainage from south of Boston down to the Welland, with seven members of staff in the office, 19 staff in the field. The board manages 14 pumping station, monitoring water levels by computer telemetry, as well as inspections, and using computers to adjust water levels accordingly. Recently as Wainfleet flooded, the board and a couple of others were able to take water from adjacent drainage boards regions, working to clear the excess water of the River Steeping.
They're the unsung heroes of the county; without our hard-working but sadly rather anonymous IDBs, Lincolnshire would simply… disappear under water, or be subject to constant flooding similar to that which occurred in 2013 in Boston. Currently the Black Sluice Internal Drainage Board is working with Boston Borough Council to install a £100m flood barrier to protect over 14,300 properties around the Wash.
Enjoying the Water…
It's not all business and conservation on the water, though. As Pride goes to press Burton Waters Boat Sales on the site's marina, created in 2003, will be hosting their Gin Tasting Evening. Created 30 years ago when Malcolm Cox moved his chandlery from Brayford to Burton, there are now 360 properties and 200 berths on the development.
"Typically boats here are up to 40ft in length, and we've used boats from £5,000 as well as brand new boats for up to £500,000," says Burton Waters' Diane Beck. "We've an Ipswich based chandlery too for larger craft like our Prestige motoryachts around £5m in value."
The business serves as a base that enables anyone to wants to discover boating for themselves to buy their first one, to upgrade to something a little larger or newer, to take part in talks and workshops, and to take advantage of their Festival of Boating which took place in mid-June with live music, and lots of other fun.
"There's plenty of community spirit here, it's a really friendly and inclusive community. It often surprises people that you don't need to be a millionaire to enjoy a family activity that quickly becomes a passion for the whole family, one that yields a great opportunity to explore the local waterways and the rest of the country too."
Burton Waters is not the only marina in the  area. The Humber Cruising Association, based on the old Fish Dock Number One in Grimsby has standing for 30 boats, whilst Newark Marina is the largest inland marina in the UK, based on the non-tidal section of the Trent and home to Broom Boats.
Conserving Lincolnshire's Waterways…
Lincolnshire's waterways are also a haven for wildlife, from adders and slow worms to frogs, newts and the odd common lizard on the beach. The Lincolnshire Wildlife Trust works alongside other agencies like the county's drainage boards and Environment Agency to manage water courses in the county, as well as managing a number of lakes and ponds on its nature reserves, and areas of special interest such as the chalk streams that run through Snipe Dales.
These habitats are some 10,000 years old and are home to some of the most rare and threatened plants and animals, such as the water crowfoot, water vole, otter, European eel and Brown trout.
Ensuring Plenty to Drink…
And of course, of the many uses we have for water, our own existence as a developed nation is predicated on an unceasing supply of clean water. Fortunately, the processing of around 927,000,000 litres of year is handled with aplomb by Anglian Water.
Stating how much of that volume is used by Lincolnshire as a county uses is tricky, since Anglian Water covers Norfolk, Suffolk and Cambridgeshire plus part of Northamptonshire too. In fact, Anglian Water is the largest water authority geographically, covering 20% of the country's land area.
The authority employs 4,000 people and has 143 treatment plants, collecting 927m litres of waste water a day and supplying a billion litres a day to 2.5m households and 110,000 businesses.
The area's population has increased by a third in the last 30 years, and yet we're still using slightly less water than back in 1989, delivered to our homes by 50,000 miles of pipeline!