Highlights
My Occupation: Michelle Collins, PCSO and RNLI Volunteer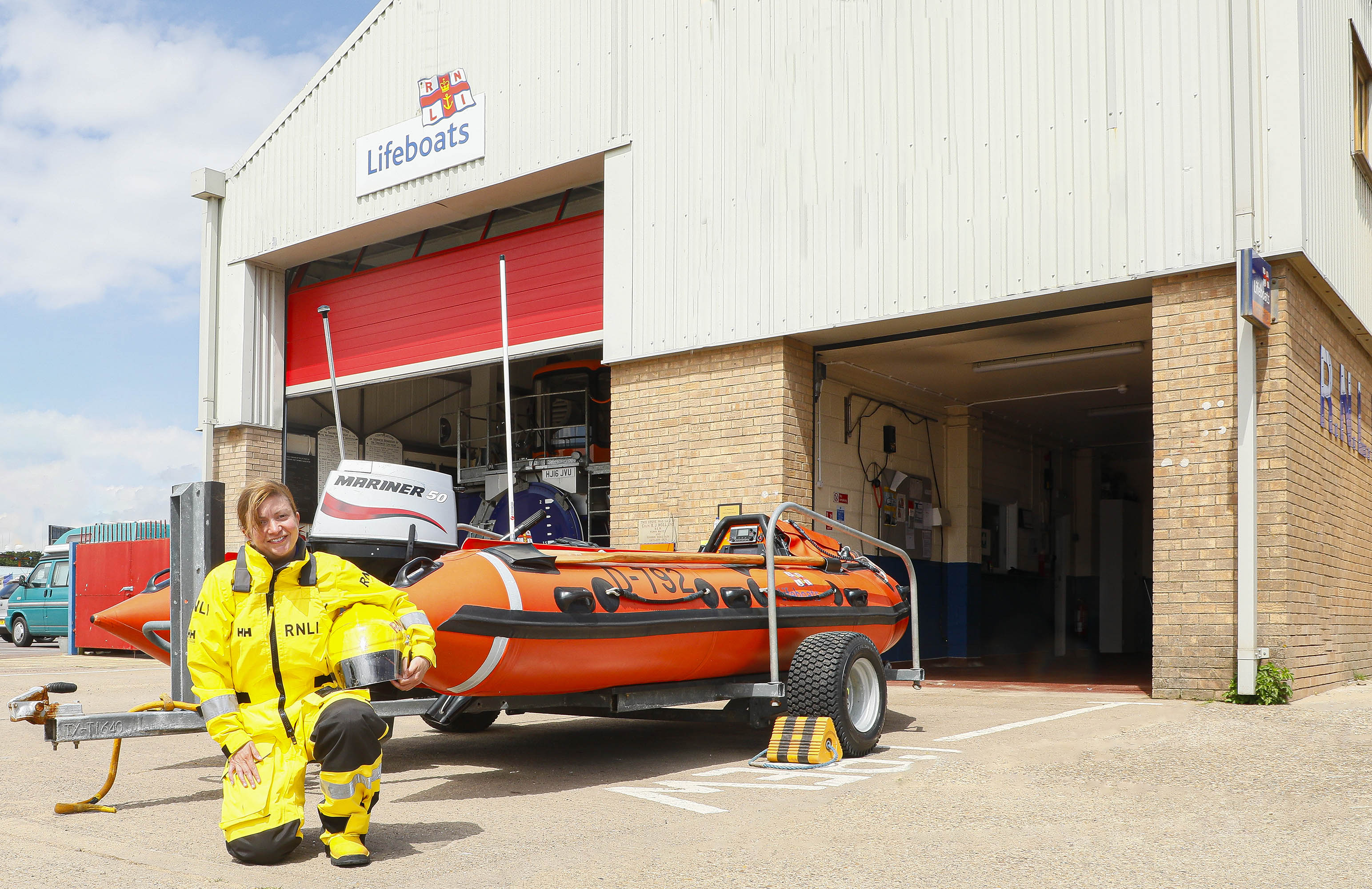 Funny, isn't it? Some folk – like Michelle Collins – have a habit of being in the wrong place at the right time. For context, the wrong place is somewhere in Skegness when someone finds themselves in an unfortunate situation. The right time is when she can provide assistance to that local, that holidaymaker or that family. Some might suggest, being both a PCSO and a volunteer with the RNLI, that Michelle is a sucker for succour… we just think she's amazing.
Not that she'd agree. Michelle remains stoic in the belief that she's a professional, not a hero. She's part of a team; she's just doing her job; she just allows her training to kick in… and all of the other clichés those in the emergency services typically use to downplay their wonderful work. So again, in bold type, we just think she's amazing.
You'd think that with more than her fair share of drama in her life, and occasionally seeing people behaving in an iffy way, Michelle would be downbeat or at least ever so slightly cynical… but no. Quite the opposite. She insists that her job – both her jobs – provide her with a unique window on the world, peering through which affords an ability to see people at their best and not at their worst as one might expect.
Doubtless the people of Wainfleet would agree with our assessment of Michelle as a hero, for she was on duty back in June when the place flooded and 600 families had to be removed or rescued or just reassured. Whilst emotional, soggy, exhausted, Michelle says that she'll always remember the way the community pulled together, rallied round and helped each other. That, she says, was really moving.
"Farmers who had lost all of their crops weren't thinking of themselves. They were in tractors delivering sandbags to the village or helping move stranded cars. People were filling sandbags, or reassuring strangers or helping to make teas and coffees in the community centre."
"Of course it was a terrible time, much worse than anyone watching the weather forecast thought it would be, but out of that terrible time came tremendous community spirit. I won't forget that and I doubt anyone in the village will. It was people at their best, at a time that was the worst."
Michelle also loves Skegness and insists that whilst it's fast-paced, and brash both by day and night, it's actually a really well-behaved town given the fact that its population swells significantly from its native population of 20,000 out of season when summer arrives.
According to East Lindsey's STEAM report, visitor numbers have increased consecutively year on year in the town, and now peak at 4.59 million. They spend £600m a year in the town. Good old Skeggy is more successful than ever, with those visitors' smiles predicated on good times and good old family fun of the sort you might have thought was the preserve of nostalgia.
Fundamental to the town's success is ensuring visitors remain safe whilst they're enjoying some seaside fun. Michelle is one of the most recognisable faces in the town which, she says, is a barometer of whether she's doing a good job. If I use the term brave she'll wince, and cite professionalism rather than gallantry, but with two roles in the town, as a volunteer with the RNLI and a role as PCSO, she's a cool head in a crisis and a hero in her own right, even if she claims otherwise. She's also a great person to provide an accurate assessment of what Skegness is like as a thriving seaside town.
Michelle was born in Ramsgate, raised in Belgium then moved back to Kent to work on Eurotunnel – speaking five languages came in handy – then worked at Hoverspeed on its English Channel hovercraft service before moving to Skegness in 2009 and taking a job as a travel consultant with Thomas Cook.
A fortuitous encounter with someone in the Police service's PCSO recruitment team put into Michelle's mind the idea of working as a Police Community Support Officer in 2010. Approaching her 10th anniversary in the service, Michelle then joined the RNLI in February 2016 and serves as Shore Crew. She's part of a team which is responsible for ensuring the larger of the service's two craft, – its 13 metre, 18 tonne Shannon Class All Weather lifeboat – is launched safely, so that it remains ready for use 24 hours a day, seven days a week, 365 days a year and that the boat and its equipment remain safe both for its crew and the folk it rescues.
The service's current Shannon Class boat is named the Joel & April Grunnill, after two dedicated volunteer fundraisers. It replaced the Lincolnshire Poacher in 2017, and has a tough act to follow given that in its 27 years the previous craft launched 352 times and saved no fewer than 40 lives.
"One of the best things about Skegness is its Blue Flag beach," says Michelle. "It's one of the best and one of the safest beaches in the UK, but it's a complex area too, with everything from shallow sand banks in the Wash to water that's about eight metres deep nearer to the shoreline, and up to 40 metres deep in the cargo shipping channels further out."
"Skegness's coastline is perhaps 90% leisure based, and though our workload varies enormously, incidents include missing persons, inflatables and jet-skis, kite surfers in trouble, pleasurecraft vessels with engine trouble or those taking on water and occasional medical evacuations due to illness; seasickness, for example!"
"The Wash's tides are tricky, and come in at an angle. Onshore or offshore winds can change direction and there are hazards like the old pier footings, the remains of which are still (just) below the surface of the water."
Happily people seem now to have taken on board the message about the danger of inflatables. Most people sensibly consider their safety in and around the water but it only takes a slight change of circumstances or distraction or an unforeseen event for something to go potentially very wrong. Michelle recounts how one inflatable which was appropriately tethered and carried a well-supervised three year old child and their eight year old sibling came loose despite the vigilance of the parents. Michelle recalls how one of her colleagues rescued the children and how their distraught parents nearly shook the RNLI team's hand off and wouldn't stop hugging them.
"The water itself can vary from -5°c to 15°c  in temperature, with variations in someone's age, physical fitness, swimming strength, fear, and even the wind chill factor all presenting different variables for how long someone will survive in the water."
It can't be overstated that the RNLI is volunteer led, with just two salaried mechanics in a team of 30. The service receives no central or local government funding A shout comes in via the 999 service and the coastguard engages with the RNLI's Humber based operation to deploy the best (and then closest) available asset.
That means the Skegness crew – especially its Shannon lifeboat – may be called towards the Humber, or down the coast as far as Wells. All shore and boat crew have pagers and have less than 10 minutes to reach the station. Of course the service is also completely dependent on additional fundraisers, charity shop staff and other volunteers.
The smaller Inshore Lifeboat (ILB) is named Marie Theresa Bertha Barrass and is a five metre D-Class lifeboat capable of 25 knots. The £31,000 craft came into service in 2016 and has been deployed 151 times – it has been launched 14 times this year already and is ideal for the speedy recovery of swimmers in difficulty or inflatables, for example. Both boats in the RNLI's service carry oxygen and first aid equipment with the larger ALB craft also carrying more substantial gear like a bilge pump for rescuing craft taking on water.
"The smaller boat has a range of about three hours, but it's really choppy and uncomfortable for crew – you know when you've had a trip in it the day after because you ache all over. The larger ALB has two 650hp Scania engines giving it a longer range; 250 miles."
"We've great banter in the boathouse, but when there's a shout everything goes quiet. We stiffen up, become a bit more automatic in our responses. That's when training kicks in. Adrenaline prevents you from feeling fear at the time and even when you rescue someone in trouble you don't feel it properly until afterwards."
"Automatic is perhaps the wrong word. The team is constantly assessing a situation and its risk and adapting accordingly. But certainly you know your colleagues so well and you've trained and worked regularly with those colleagues so often that you can usually    anticipate what they are going to do next."
"It's only afterwards that you reflect on a rescue. That person gets to have another birthday. Another Christmas. If they're a youngster they'll get to grow up, get married, have their own children and so on, if a rescue has a good outcome. And thankfully more often than not, they do."
"I visited a school recently as a PCSO, and in the audience a child put their hand up and said 'you performed CPR on my dad and saved his life… he's only alive because of you.' There's no reward like knowing you've made a difference. It makes the job."
And on the beach or in the sea isn't the only place Michelle makes a difference. As a PCSO, she's keen to act both as an ambassador for Lincolnshire Police, but also for the town itself.
"Think 'police' and you think crime," says Michelle. "Which is a shame because actually in our community there's a lot more good stuff than bad stuff… it's just that the bad stuff shouts louder. Many more people these days are willing to engage with the Police and with PCSOs, and much of our time is spent helping the public with queries like where the nearest toilets are, or what time KFC is open until! I'm asked everything from how far away the wind  turbines are, which chippy I recommend!"
"Happily the younger generation are much more accepting of police these days, and I know I'm doing the job well when I can be visible in the town and when I can be approached by people – when the public sees us as a source of help and assistance."
"Everyone in the town – not just those who live here but those who come here on holiday too – want to live the kind of life that's free from worry and hassle."
"And in fairness the majority of people who visit Skegness are families with young children so whilst the town can be lively on a Saturday evening, the majority of the time everyone wants to make the town a safe and pleasant place to be."
Lincolnshire Police is divided up into three policing area commands (East, West & Crime) and 58 neighbourhood policing areas, and collectively these cover 751,200 (ONS Mid-year 2017) people and an area of 2,292 sq miles – North East and North Lincolnshire fall under the jurisdiction of Humberside Police. The county's police service employs 1,060 warranted officers and about 97 PCSOs. The Skegness service covers from Gibraltar point to the Butlin's resort where it reaches the Ingoldmells & Chapel area. Skegness shares a Chief Inspector with nine other areas, an Inspector with four other areas and a Sergeant, Detective Constable and a PC with  & Burgh le Marsh. Michelle is one of four PCSOs  providing a consistent police presence within the community.
"Every day is different," says Michelle. "Some days we have diary events like engagement sessions with schools or community groups.  There might be a note in the diary to continue with an ongoing report, but otherwise we're the eyes and ears of the service and a visual presence who can be out and about."
"Sometimes people report incidents when they see us around town, saying that they thought something was too trivial to phone in. That's useful, but at the same time we can make sure we're visible in the town and we remain available to liaise with local shops and pubs about any antisocial behaviour taking place in the town. It's also useful to be in the town to look after missing children, those who have wandered off momentarily or become lost on the beach."
"You'd think it's a job in which you see the worst of people but actually, it's quite the opposite. As is the case with the flooding,  you're constantly reassured by how everyone in the town is largely working towards the same goal; creating a safe, happy town with a sense of community, one that we can all enjoy."
"People have seen the pictures on the news and have asked me if it was as bad as it seemed. The answer is yes. You don't expect to see a community in chaos or to see that sheer number of people in turmoil simultaneously and for so long – it took a week for the waters to subside. But you see the best of people and such things do happen amid that which suddenly reinforce why you're there. Suddenly life and all its little problems can be put into perspective as just that – trivial – and the things that matter; people; community, are brought into sharp focus."
It's at those points, Michelle says, that you see what people can achieve by working together, both generally as a community determined to look after one another and as agencies. When the emergency services pull together in the event of flooding, or a person in the water, you realise that there's a whole range of committed professionals ready to help at a time when a stranger or a family they've never met may be scared or on the cusp of life or in danger.
"Skegness isn't just a remarkable place; it's our remarkable place, and to be a part of two incredible teams that both contribute to making the town a happier, safer place for everyone who lives here or for those who enjoy a holiday here is something really special!"
For more information on the RNLI, see www.rnliskegness.org.uk, and find out more about the role of PCSOs at www.police.uk/lincolnshire.