With fewer than 500 Bomber Command veterans left, it's more important than ever that we preserve their stories of heroism. Happily, Nicky van der Drift has dedicated the last 11 years to providing a centre which will achieve just that… but Canwick's International Bomber Command Centre needs your support more than ever in a month that's also especially relevant to the subject…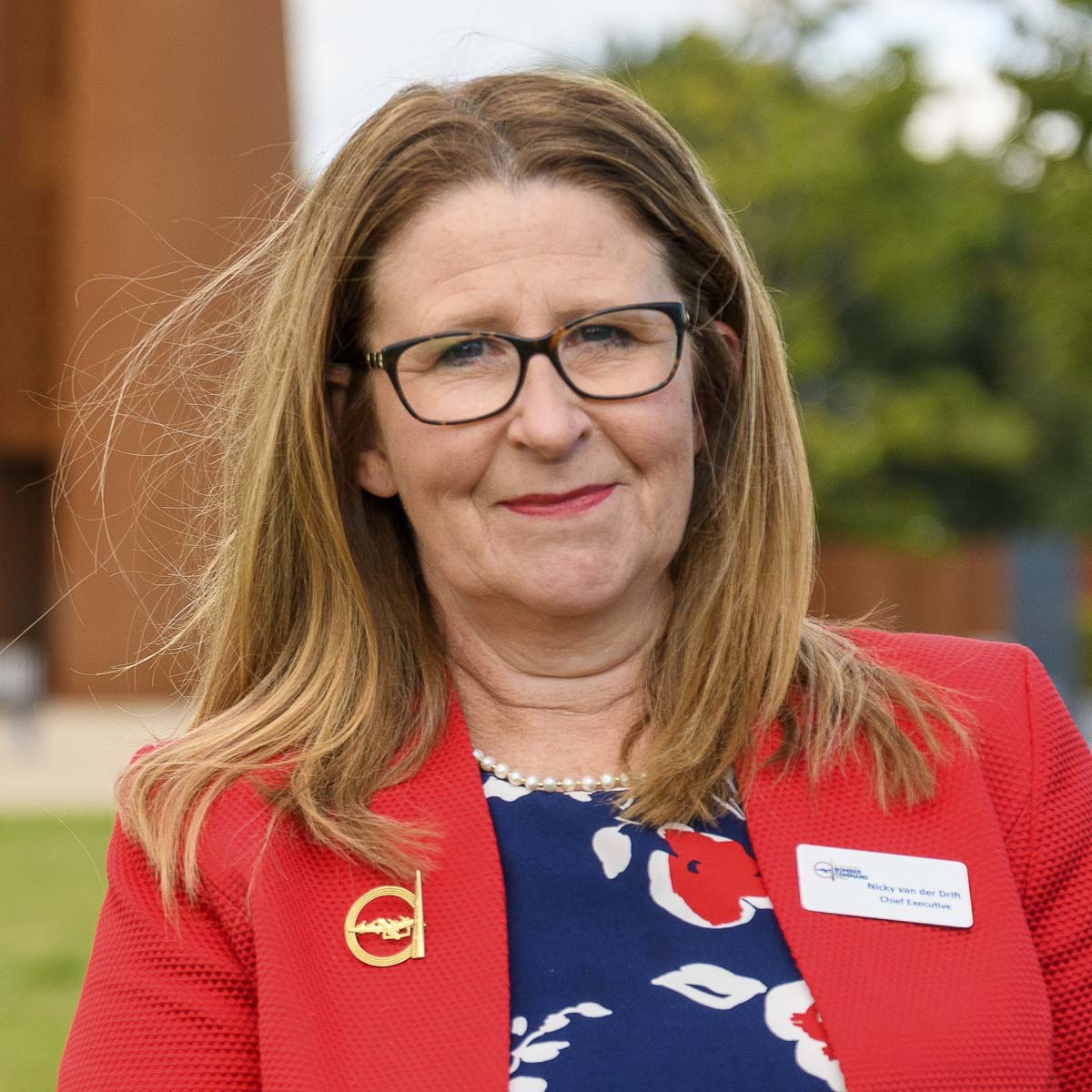 It's Hard To Believe, but it's over 11 years ago that the idea was first put forward that a permanent site should be created in the county to commemorate the 125,000 aircrew and one million support staff who made up Bomber Command. Championing the project was the late Tony Worth, then Lord Lieutenant of Lincolnshire, who never got to see his vision come to fruition, losing his battle with cancer in 2017.
Sadly, the same can be said of the veterans themselves. When the creation of a centre to recognise the efforts of Bomber Command was first suggested, there were around 8,500 veterans alive to tell the tale of their heroism and reflect on their losses. Today, fewer than 500 remain, the youngest of whom is 94.
The journey to create the centre was a long one. The project was conceived in 2009, a trust formed in 2011, and fundraising began in 2013. It took until April 2018 to open the site to the public, not just because of the need to raise funds but because the project's original remit was steadily expanded, leading to the centre being renamed the International Bomber Command Centre in 2014 to reflect the five continents of servicemen and women who were involved in protecting our nation during WWII.
November represents a month in which we're compelled to remember the sacrifices made by all veterans, but a visit to the centre this month is especially important given that it needs – and deserves – locals' support following a drop in its summer visitor numbers due to Covid. More optimistically though, the centre has just won not one but two top tourism awards, much to the delight of the centre's Nicky van der Drift.
"The impact of Covid on the centre is really concerning. The virus has robbed us of our summer season completely. At a time when we should be attracting around 100,000 people a year our visitor numbers will be down dramatically."
"The centre's final piece of funding was achieved by way of a loan of £1.5m which was due to be repaid by 2027 – a bill of £23,000 a month. Group bookings, which account for about two thirds of our business, have also been hit hard, with cancellations right up until Christmas.  This includes coach trips, hospitality and schools.
"When we reopened in July we did so at 60% capacity to enable social distancing, and we're continuing to feel the effects of that reduction. It has also meant we have to rethink how we commemorate Armistice Day this month."
In 2019, the centre held two special remembrance services. The first service was for primary schools and was attended by 750 children from 12 schools. Each class created their own wreath to lay at the memorial and the children also contributed to a poetry competition. Children at the ceremony were presented with a biography and photograph of an individual serviceperson to ensure they could get to know an unique person working within Bomber Command at a personal level, exploring their role in the conflict.
A second ceremony on Sunday included performances from the IBCC orchestra and choir, plus poetry and readings. The ceremony also included a role of honour of those veterans who had died in the previous 12 months.
At the time of writing Nicky is still awaiting guidance from the government as to how  social distancing restrictions will affect the way remembrance can be commemorated this year. A grant has been awarded to the centre, enabling Nicky and the team to purchase broadcast quality camera equipment which it's hoped will enable the live broadcast of the centre's ceremony, enabling more people than ever to engage with commemorations, hopefully in addition to those who are able to attend in person.
"It's still subject to change but we're very active on our social media channels and we're open to visitors all year round, so we're trying as hard as possible to ensure as many people can recognise the contribution Bomber Command made to protecting the nation," says Nicky.
"It's been a challenging year, certainly. But we've also had good news too. In September we were awarded the Visit England award for Best International Tourism Business, a gold award, no less. It's the first time that a Lincolnshire venue has ever reached the final – let alone won – and we were up against some very well-known names like Blenheim Palace and the Roman Baths, so we're all extremely proud."
"Just a week or so later we were also awarded a Trip Advisor Travellers' Choice award which puts us in the top ten percent of attractions not just in this country but worldwide. The award was based on our Trip Advisor reviews, so we're especially thankful to all of the visitors who have left us such warm reviews."
The centre calculates that it contributes £5.1m a year to the local economy with visitors spending money in Lincolnshire's restaurants, hotels and shops during their visit, which means the centre contributes to the county not just culturally, but financially.
It's hard to believe but still some Lincolnshire folk are yet to visit the centre despite it being right on their doorstep.
When they do – perhaps this month – they'll enjoy a 10-acre site comprising the Lincolnshire Peace Gardens which has 27 trees planted in a geolocated position to represent the placement of each Bomber Command site in Lincolnshire when viewed from the air. An International Peace Garden to the front of the centre also includes planting from five continents from which Bomber Command crew originated.
Inside the Chadwick Centre are three exhibition galleries documenting and commemorating the operational life of Bomber Command, as well as life on the home front and specific operations such as Manna, the first airborne humanitarian mission, which helped deliver aid to the people of the Netherlands, and Exodus, which repatriated 72,000 POWs.
At the centre of the site, though, is the 102ft memorial spire, its dimensions modelled on a Lancaster wing. Surrounding the spire are 23 steel walls, laser-cut with the names of the 58,000 men and women who lost their lives. It's a poignant reminder that of the 125,000 aircrew who served in Bomber Command, 72% were killed, seriously injured or taken Prisoner of War.
Being able to recognise the efforts and sacrifices of all those who served is essential if we're to continue to value the freedoms that we enjoy today as a result. It's a fact that makes a visit more important than ever this month.