Exciting things are happening in the area of Grimsby known as Down Dock, more colloquially referred to as 'The Kasbah.'  This month we're exploring the regeneration of a region which will have a transformative effect for the whole town, headed up by landowner Associated British Ports alongside North East Lincolnshire Council and The Great Grimsby Ice Factory Trust…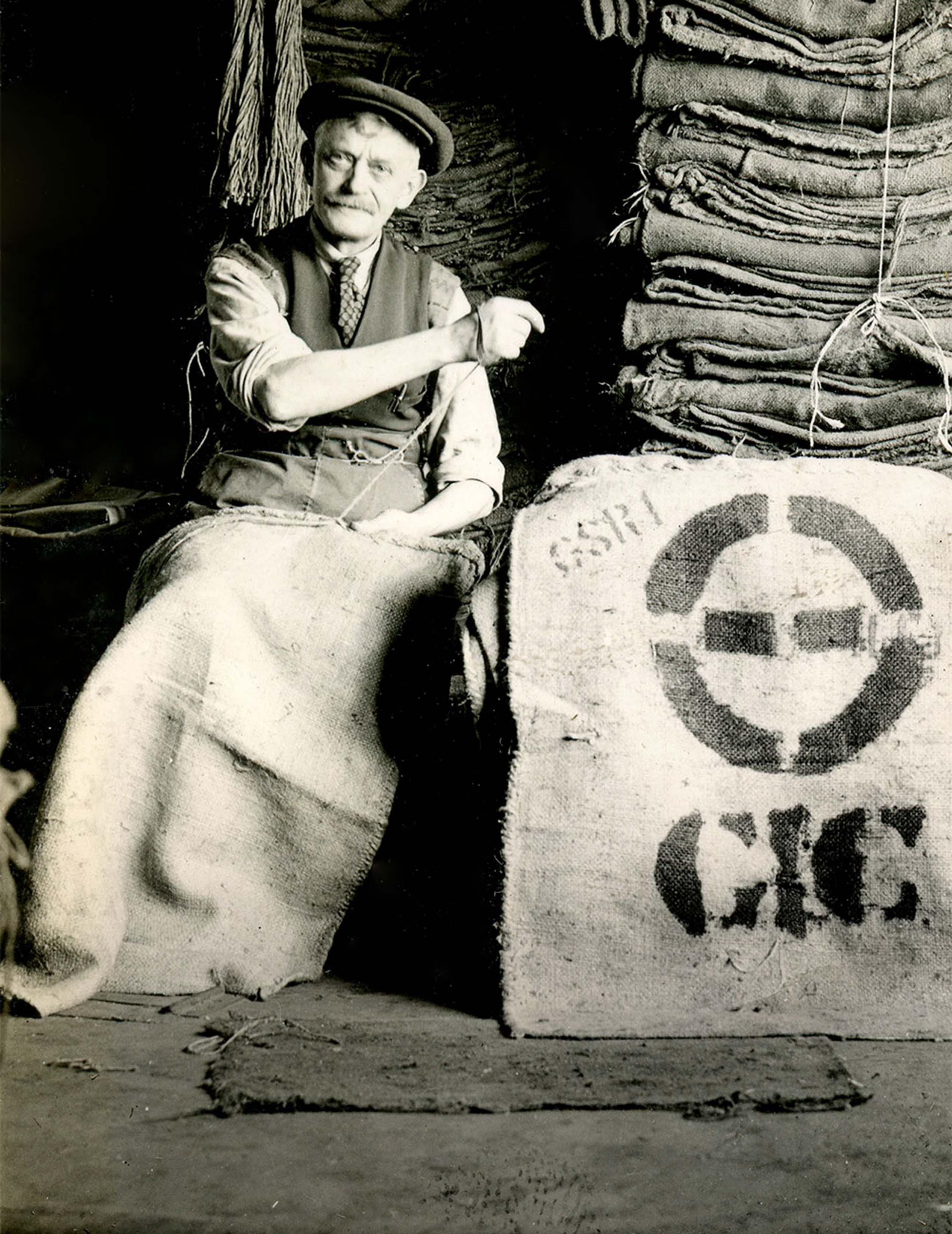 Exactly 100 Years Ago, 1923, a Tuesday morning and Henderson Street is very busy indeed. Alf Clayton is a fish and oyster merchant and his shop is surrounded by Fred Lutkin's accountancy firm, Mr Cutting the boxmaker, plus a number of other professions, all supporting Grimsby's principal industry of fishing.
Grocers, smokehouses, ropemakers, tar houses, sailmakers, braiders, coopers, an ice factory, and warehouses all contribute to the industry, creating a town within a town where everybody knows one other and everyone is proud of Grimsby's role as the one of the busiest fishing ports in Britain.
It's located in what was colloquially known as Down Dock by townspeople and as The Kasbah by business owners thanks to its resemblance to Arabic market communities with their bazaars and back streets.
The area is located on a peninsular of the south banks of the Humber, enclosed by Fish Dock Road, Wharncliffe Road, Hutton Road and Auckland Road, intersected by Cross Street, Brown Street, Sidebottom Street, Smith Street, Surtees Street, Lingard Monk Street and Maclure Street.
Within the area was a number of buildings of which 90 remain in 2023, albeit some in slightly ruinous state. The land and its buildings have had the same owners since the 1840s, with the original railway company that owned it amalgamating and evolving to become Associated British Ports (ABP).
The near-demise of the fishing industry in Britain by the 1970s decimated the fortunes of the town's trawlermen, although Grimsby still thrives today in the respect of its food processing industries, and as a port.
ABP's Port of Grimsby is one of 21 sites that the company operates in the UK and it remains one of the country's leading logistical sites for the automotive and offshore wind industries, working alongside ABP's other Humber sites like Immingham, Hull and Goole.
Together, the area's ports support nearly 35,000 jobs across the UK and handle over 1.1m tonnes of cargo worth £75bn each year. Grimsby alone still produces over 70% of the UK's seafood, a legacy of the fishing industry of which The Kasbah was once the heart.
But despite their scale and commercial importance, ABP is also really mindful that the Down Dock area, The Kasbah, is also a tremendously important historical site reflecting our fishing industry and the social history of the town of Grimsby itself.
Formed in 2010, The Great Grimsby Ice Factory Trust (GGIFT) also recognised the value of regenerating the area's Ice Factory and The Kasbah more generally.
Since then they have been joined by landowner ABP which has strong a vision for the area's regeneration and is working with partners like Heritage England, and North East Lincolnshire Council, now collectively spearheading the area's regeneration via The Kasbah Steering Group.
ABP is also curating an archive and is keen to see the area utilised as an area for film and television productions. The epic WWII  film Atonement was filmed on the site in 2007.
An original goal of GGIFT was the preservation of the Grade II* listed Ice Factory but last year the businessman Tom Shutes purchased the former Ice Factory and is intending to regenerate the building as part of a £40m investment which will see it become a world-leading research and development hub for the green energy sector, specifically the offshore wind industry with which Grimsby has now become synonymous.
Tom's aspirations for the Ice Factory leaves ABP, NELC and GGIFT free to concentrate on the rest of the Kasbah, all cooperating towards a common aim of making the most of the area commercially whilst also reinstating its architecture and preserving its heritage.
As a registered charity, GGIFT is able to attract funding from the National Lottery Heritage Fund and the Architectural Heritage Fund, whose support has allowed the trust to take on ever-more challenging buildings. GGIFT is now undertaking two restoration projects on the docks which will enable a new operator to run the Grade II listed Peterson's Smokehouse, and other businesses to move into offices in the former home of 'Fred's Fish.'
Meanwhile North East Lincolnshire Council and Historic England have allocated up to £1m of funding to facilitate structural repairs and reinstate lost features to the fabric of several buildings in the area.
The Alfred Enderby Ltd Smokehouse building has already had its exterior rendering replaced and ABP's Artist in Residence Dale Mackie, alongside other artists, are reinstating the Victorian-style signwriting on the side of the building. The green shoots of a successful regeneration are already visible as The Kasbah has now become home to several new tenants.
These include artists like Dale plus, Annabel McCourt, Simon Card Jewellery plus the Turntable Gallery and creative sector support organisations such as Creative Start and Grimbarians.
The Fishermen's Mission has also returned to the port and now sits alongside many fish processing forms and smokehouses. Creative community workspace The Great Escape, events and project agency The Culture House have also set up in The Kasbah.
In total there are eight listed buildings within The Kasbah, including some smokehouses producing Grimsby Smoked Fish which has Protected Geographical Indication (PGI) status. There's also great opportunities for making ABP's archive on The Kasbah, with its information about the adjacent Ice Factory, Grimsby Dock Tower and the area's fishing heritage to be made more accessible. The site's potential has already been identified by ABP, which is keen to work alongside GGIFT, NELC and other stakeholders such as Tom Shute and Steve Ridlington; the latter is the owner of heritage building specialists WE1 Heritage.
Together, there's great hope that The Kasbah, the Ice Factory and perhaps the Dock Tower could collectively form an area of Grimsby that everyone can be proud of… an area where heritage is protected, enshrined in architecture, where the future of green energy can be pioneered, and where businesses – old and new – can thrive. That'll be when the area's potential will truly form the next chapter in The Kasbah's history.
For information on ABP see www.abports.co.uk. For GGIFT and The Kasbah, see www.ggift.co.uk and www.thekasbah.co.uk.
The Timeline… Grimsby's Heritage
C7th: Grim the fisherman arrived in peace to the shores of what we now know as Grimsby, bringing with him the Danish Prince Havelock, whom he had saved from being murdered by his father's regent. The suffix of 'by' refers to a village, hence 'Grim's by.' Norse invaders would also arrive in the town 200 years later.
1086: Grimsby is mentioned in the Domesday Book (with a population of 200). The town gains a charter from King John in 1201 and has its first Mayor in 1218. It is already known as a fishing and trading port.
C15th: The silting up of the Haven lead to decline until…
C18th: A major dredging project clears The Haven, facilitating Grimsby's new era of prosperity. The town grew rapidly in the early C19th.
May 1796: The Great Grimsby Haven Company was formed by Act of Parliament, for the purpose of 'widening, deepening, enlarging, altering and improving the Haven of the Town and Port of Great Grimsby.' The town trades in iron, timber, wheat, and of course fish!
1798-1800: Grimsby's first dock, known as The Haven, was constructed from a natural inlet, engineered by John Rennie.
1837: Grimsby gains a police force, then a year later, gas lighting for the streets. In 1854 a water company would provide piped water for (wealthier) residents, and in 1850s sewers were dug under the town.
July 1845: Grimsby Docks Act passed, allowing new docks to be constructed. Around 100 years later in 1946 The Grimsby Haven Company was re-incorporated as the Grimsby Dock Company.
February 1848: The arrival of the railway in Grimsby plus the opening of Grimsby Town Railway Station improves transport links, and is especially useful for the export of coal from Yorkshire.
1851: The Dock Tower was completed. Around this time Grimsby's population is about 9,000 and extensive building works expand the number of houses in the town and its amenities.
1852: The Royal Dock was completed.
1854: Queen Victoria arrives in Grimsby, visiting the town by train to see the docks.
1855-1857: No1 Fish Dock was completed.
1871: Grimsby gains its first newspaper and its first hospital, Grimsby & District Hospital, in 1877.
1877: No2 Fish Dock was completed.
1879: Completion/expansion of Alexander Dock and Union Dock, filled with water in 1879 and completed in July 1880.
1883: People's Park opens, with the Duke of York Gardens completed in 1894.
1885: Dock Offices constructed, originally featuring a statue of Albert, Prince Consort, created in 1879; this was later relocated.
1900: The population of Grimsby is now around 75,000. Grimsby gains its first public library, and electric street lighting. Horse drawn trams are replaced by electric ones, and then buses in 1938.
1900-1910: The Great Grimsby Ice Company and Grimsby Co-Operative Ice Company amalgamates and begin construction of The Grimsby Ice Factory, which at its peak produces 1,200 tonnes of ice daily to support what became in the 1950s the busiest fishing port in the world.
1904: Creation of the Fisherman's Chapel.
1928: Corporation Bridge opened.
1930: Modernisation of the Ice Factory.
1934: No3 Fish Dock was completed.
1948: Nationalisation creates the British Transport Commission, from which the British Transport Docks Board splits in 1962.
1950s: New Metropolitan Vickers refrigeration equipment installed in the Ice Factory. Seventh tank room created.
1958-1961: First Cod Wars. Further tension would ensue in 1972/3, and 1975/6. Fishing activity is limited to just 24 trawlers and 30,000 tonnes/annum.
1981: Privatisation sees Ports of Grimsby, Immingham and Goole become Associated British Ports (ABP).
1990: Ice factory closes. ABP markets the building as being for sale, and in September 1990 architect Rex Critchlow gets the building listed with a Grade II status, later upgraded to Grade II*. It's declared 'at risk' in 1992.
2010: NELC and ABP jointly commission a structural appraisal. In July 2010 the Great Grimsby Ice Factory Trust (GGIFT) was formed with the purpose of finding a sustainable new use for the Ice Factory.
2017: An area of the historic fish docks is designated as the Kasbah Conservation Area, and the Kasbah Steering Group is formed by ABP, GGIFT, NELC and HE. A joint vision is agreed, as well as funding bids and pilot projects. 2018 sees Heritage Action Zone Status awarded to Grimsby, with the Kasbah Conservation Area highlighted as a key priority.
2019: Launch of repair grant scheme, jointly funded by NELC and HE, with support from ABP, to help current and future tenants to repair and conserve their buildings.
May 2021: Local businessman Tom Shutes acquires the Ice Factory, keen to see a £40m redevelopment of the site.
So many different professions, trades and skills supported Grimsby's role as a fishing town.  Here, we'll dive into a few of those businesses which Associated British Ports is preserving in its archives, each of which helped to keep the region's fishing trade afloat…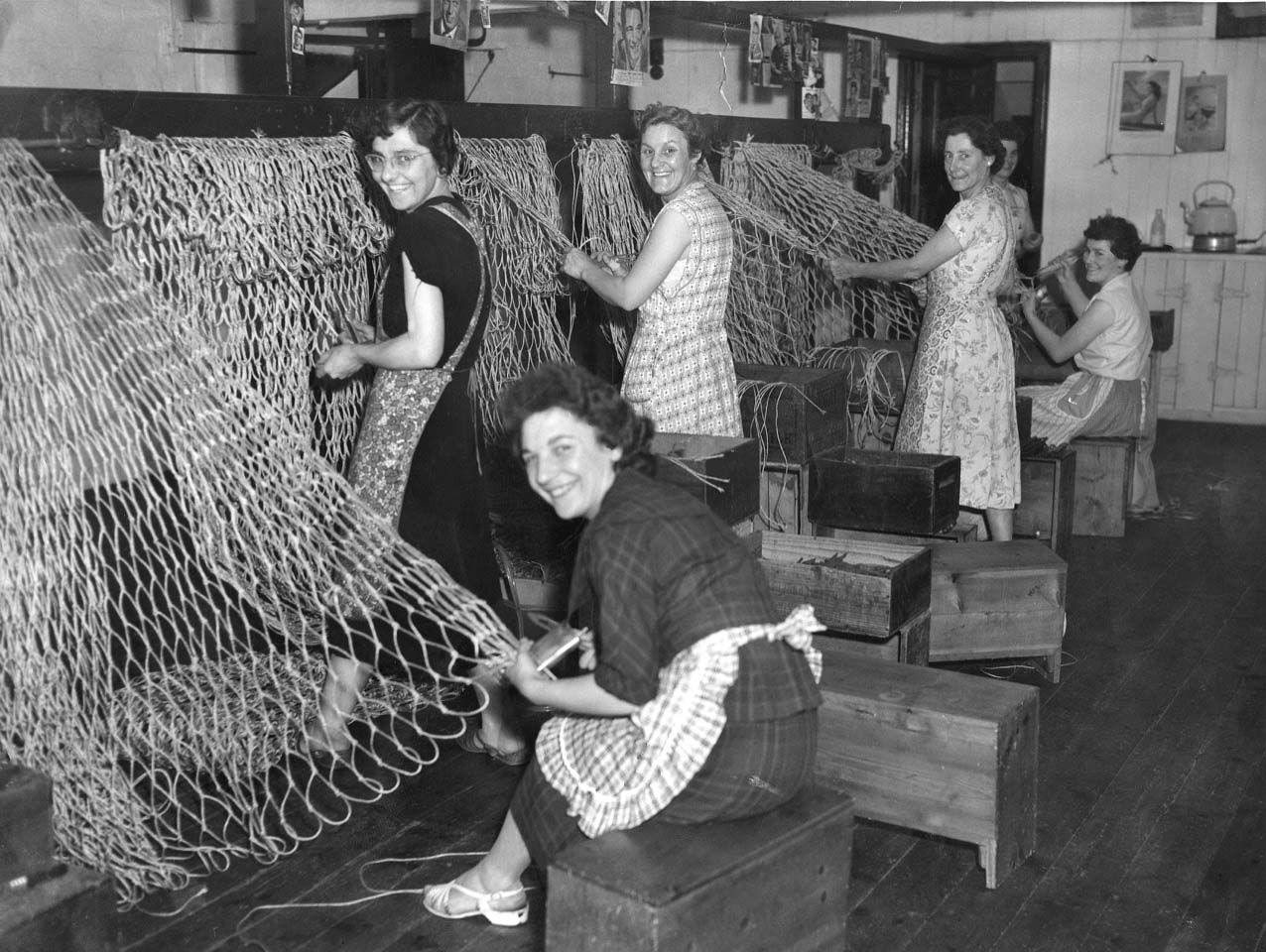 Mast & Block Makers…         
George Smith, William Braithwaite and Cross & Arrow were just some of the names of people and firms who worked on and around The Kasbah as Mast & Block Makers. Their job was to make blocks for the commercial sailing ships. These were the sets of pulleys and/or sheaves mounted on a single frame, used for the ropes to run through to help hoist the sails. Every ship needed hundreds of blocks of different sizes and shapes. The types of ships that used blocks were the large commercial ships. The masts were tall spars, made from one single piece of wood though some vessels had many masts. They worked alongside other crafts including blacksmiths, carvers, coopers, joiners, riggers, ropemakers, sailmakers, shipwrights, glaziers, etc.
Net Braiders…
Nets were used extensively in the fishing industry and so net braiding was an established profession conducted by both men and women. Women were able to do this piecemeal at home while raising the family. Early nets were made from natural materials like hemp, linen or cotton (these were lighter) though later nets were made from nylon. After a boat, nets were the next most expensive item for fishermen to purchase. Their maintenance took extreme skill and so much routine repair work and maintenance was completed, with most of the mending on land carried out by teams of women. Nets came in different sizes and were put on a wooden frame, with braiding needles of different sizes used and young girls typically filling the needles with twine.
Shipwrights & Boat Builders…
The history of boat building is recorded on the website Humber Packet Boats (www.humberpacketboats.co.uk) which has a list of 31 boat builders/shipwrights plus a huge number of vessels with builders unknown. Making sailing smacks, ketches (two-masted boats) and barques (with three masts), production began in timber but then moved to iron more engineering firms being founded as a result. Thomas Charlton & Son produced 17 vessels from 1964 – 1916; Smith, Stephenson & Vere produced 25 vessels from 1864 – 1893; Hagerup, Doughty & Schofield produced 42 vessels from 1899 – 1902. Other names included Bell & Grange, John Bell, Hadfield & Bell, and Thomas Campbell.
Sailmaking…
As its name suggests this is the art of making sails for the smacks and sailing ships. Places like CoSalt had large sail lofts, as did some of the smaller buildings. Lofting was a technique where strings and battens were laid out to create broadseams and edge curves.
Tarhouses…
Tar was once vital to the fishing industry and so tarmakers were prevalent on the port, servicing their ship-building peers. Planks of wood were covered in resin and tar to make the vessels and their sails resistant to the salty water. To create it, pitch pine was put into kilns which produced tar and charcoal. Boiling the tar produced the pitch which was spread on to the hulls of the ships and boats to seal them. The increasing use of iron to make vessels, rather than timber, soon caused the profession to become redundant.
Twinemakers…
There were many rope and twine makers in the town and on the port. Joseph Smethurst was one example. His father William was a twine-spinner and in 1861 employed six men and eight boys. Joseph later took on the business and the twine was used to make fishing nets for the net braiding process. Twine is a strong thread composed of two or more thinner strands twisted over and over.  Natural fibres were used for making twine; hemp, sisal, jute, etc. Developed by hand and then with spindles, looms and spinning wheels soon emerged and the same techniques were used to make rope.
Boxmakers…
Firms like The Box & Fish Carrying Company Ltd, and Great Grimsby Box and Fish Carrying Company Ltd had premises on Hutton Road. They made the boxes to carry fish, initially from wood that could support the weight of fish packed with ice. They became plastic before moving to more sustainable materials.