Colin McFarlane is the Lincoln actor with an impressive CV and an even more impressive voice. He also has plenty to say, especially on the subject of how Lincolnshire needs to pull together now more than ever…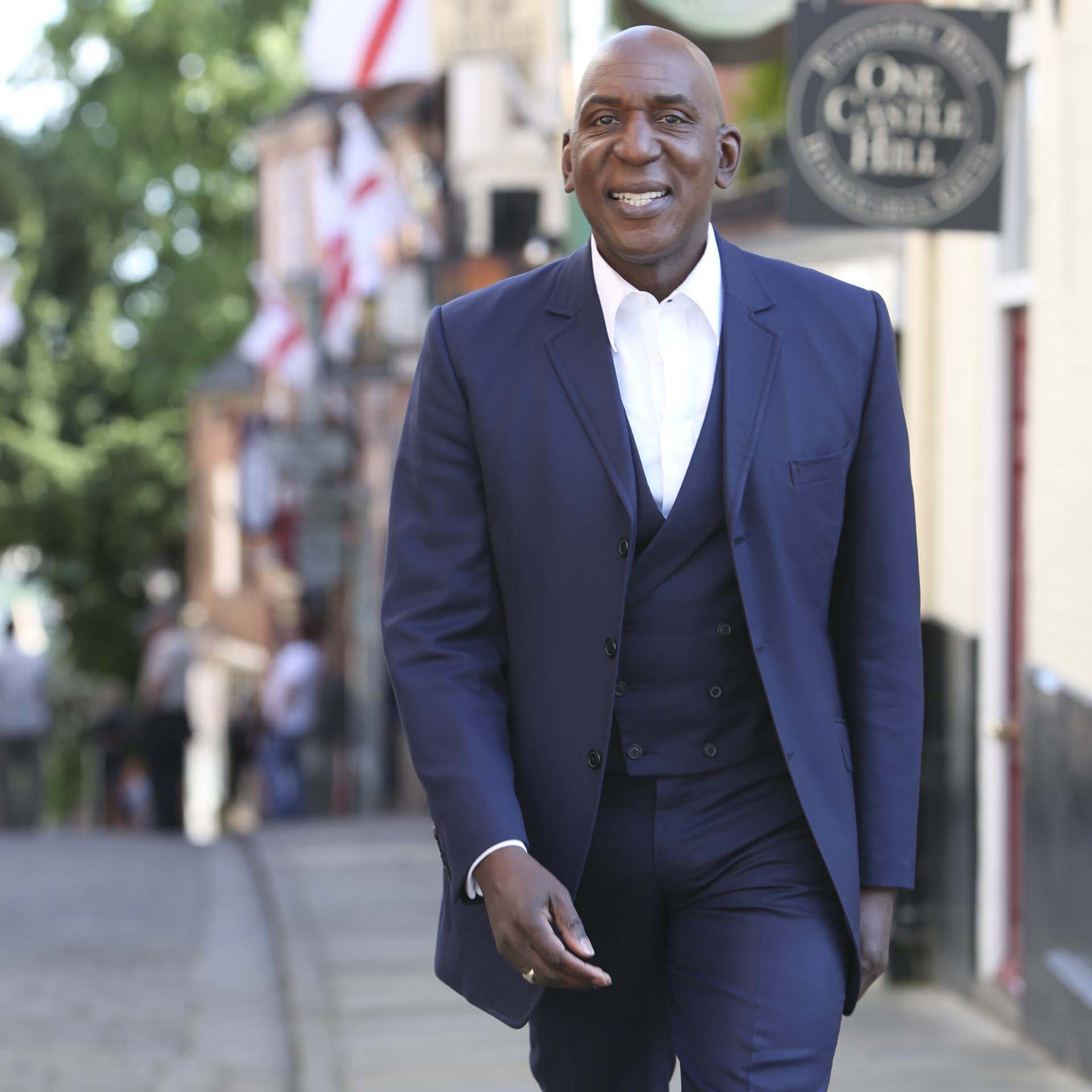 Colin McFarlane really inspires a sense of déjà vu, and it's little wonder. You'll perhaps know him from EastEnders as the copper investigating the death of Lucy Beale. Or from Holby City and its sister show Casualty. Or Judge John Deed, Jonathan Creek or Death in Paradise. Or perhaps from comedy skits with Lenny Henry or with Paul Whitehouse in The Fast Show.
If you're a sci-fi fan you'll recognise Colin from Torchwood and Dr Who… Batman, even, or if history is more your thing, as the character Ulysses in the historical TV drama Outlander.
And if by some chance you don't recognise the face, you'll sure know the voice… Colin is both the enigmatic timbre delivering instructions to contestants on The Cube, and the voice of hunky cleaning guru Mr Muscle! Closer to home, though, you'll know the actor and voice talent as an avid follower of Lincoln City FC, and as someone who loves Lincoln, promoting the city at every opportunity.
Were you born and raised in Lincoln?         
No. I was born in Hackney, London where I now live. I lived in Lincoln when I was four (RAF Cranwell) and moved there permanently at 18.  My father is from Jamaica and worked in the personnel department for a British Engineering company Reginald Aitken Limited. In 1955, as British citizens from the colonies, they were invited to the UK to help rebuild it. My father's company were agents for several UK companies, so he had a reference for the British Oxygen company.
At the interview he was told that, despite his excellent reference, there were no 'white collar' vacancies, as management weren't certain how their peers would react to a black man working in their offices… but there were vacancies on the factory floor.
The explicit prejudice surprised my father as he had always worshipped Britain, which was affectionately known to West Indians as the 'Mother Country.'
You've spoken about the experience recently?      
Yes. Windrush is a word some people now associate with betrayal. So to rectify that, on June 22nd, Windrush Day recognised the anniversary of 500 British colonials from the Caribbean Commonwealth arriving on the ship of the same name at Tilbury Docks in June 1948.
Closer to home David Lambert at Cultural Solutions, established Windrush Lincoln, is one of 49 organisations across the UK highlighting the contributions to society of the Windrush Generation and their children.
My father and I were interviewed as part of the project for October's Black History Month. I found out fascinating new facts about his early experiences in the UK (see www.windrushlincoln.today).
Your father then joined the RAF?    
Yes, as a British citizen, my father had to do National Service. It was a shock… they weren't told about that before leaving Jamaica!
Ironically, despite their Britishness being questioned later, the Windrush generation were still conscripted under the 1948 National Service Act. He served 30 years in the RAF and received an MBE.
We lived in North Hykeham during part of my father's service and since his retirement. When I was young he often had trouble returning to the UK with the RAF, even with his military ID (aka his '1250').
I was born here, but as a small child I travelled on my parents' Jamaican passport. However, so as not to have myself and my two brothers encounter the same issues, my parents took out British passports in addition to their Jamaican ones. Sadly this issue of passports and the lack of knowledge about the history and rights of British colonials is at the heart of the Windrush scandal.
You weren't schooled in Lincoln though?    
Briefly, when we were stationed at RAF Cranwell, but because you have to move a lot with the  RAF my father decided to board all three of us at the Perse School in Cambridge. It was there that I toyed with the idea of being a lawyer, when surprisingly my Latin teacher (not my English teacher who taught drama), suggested acting instead; after seeing me in a tiny role in the school play, 'Caesar and Cleopatra.' It was like a lightbulb moment and it inspired me to follow my dream!
What happened next?          
I started to research the possibility of studying drama and applied to several universities, eventually choosing Loughborough (1980-1983). I never realised my voice would go on to play such a prominent role in my life and career.  I remember back at boarding school that I used to often get in to trouble for talking after 'lights out' in the dormitory.
I always thought I was being picked on, because I had no idea at the time that it was my deep voice giving me away!
Your early roles were in theatre?    
Initially, I spent a number of years performing Shakespeare and went on to work with people like Ian McDiarmid , (Star Wars' evil Emperor Palpatine), Steven Berkoff, Harold Pinter, Michael Sheen and Tom Hardy.
My first TV job was a film called 'Dutch Girls,' with Colin Firth early in his career (1985). Theatre was my first love and as it turned out, it's a great way to get spotted by casting directors too.
And you remained in Lincoln?          
I love the city, family and friends are still here and I enjoy watching Lincoln FC. I've been fortunate to be able to divide my time between Lincoln and London. Advances in technology allowed me to work from my 'Harry Potter' studio, under the stairs in Lincoln! I installed some sound-deadening padding, an industry standard Neumann microphone and an ISDN connection. Magically, I could then voice with studios in London, Los Angeles and elsewhere!
You've also raised your family here?           
My son Josh attended Lincoln Minster School (and later Skegness Grammar) as did my two other children Jonny and Em who moved in with us from the age of 16 after the death of their mother from cancer. They have been part of the family for 10 years now. I've been so pleased and proud with the way they've all grown up and I think the fact that they've been raised in the oasis of Lincoln, is a big part of that.
Jonny and Em are white and Scottish, so it's been fascinating discussing the Black Lives Matter movement with them. Em told me how anti-racism books are flying off the shelves among her generation as they seek to learn more and challenge injustice.
Is that reflective of their generation?          
Possibly so, information is more accessible with the internet. Nelson Mandela said 'Education is the most powerful weapon which you can use to change the world;' I agree!
I remember US teacher/educator Jane Elliott, created an exercise in which pupils were favoured or otherwise on the basis of their blue or brown eyes. She was able to 'engineer' a prejudice where none existed before and so demonstrated that discrimination is learned and is therefore a behaviour that can be unlearned and then challenged. Education is so important in that regard.
Hence 'Making History?'       
Yes. It's been on hold while I have been filming Outlander. but the idea is that school pupils are encouraged to find something in their family and cultural history, that inspires them to follow their dreams and make a short film about it and share that with all of us. (www.makinghistory.org)
What other projects are you working on?   
I'm working on a project with a school mate from the Perse, Simon Wells, the great grandson of H G Wells no less… though he never told me that when we were at school!
He is based in LA and directed the movie 'Prince Of Egypt.' We're in the process of creating a TV series for both UK and US audiences on the emergence of jazz and civil rights in the 1920/30s. Our musical hero will encounter people like Jelly Roll Morton, Jack Johnson, Marcus Garvey, your readers will have to google them!
Screenwriting is new territory for me, but really exciting! Thank goodness, the voice work continues to roll in as it's tough for film and theatre right now because of the pandemic.
You're still supporting Lincoln in the process?        
Yes, I often get asked to support various things in Lincoln. Recently an inquiry to voice a video came via a What's App business group set up by Liam Scully (CEO Lincoln City FC). I was told that Charlotte Goy at Visit Lincoln was trying to get hold of me to help voice a message that people should 'stay home, stay safe' and that people were welcome in the city 'but not yet.'
I thought it was an important message so I did it for free to help out. The video was brilliant. It showcased Lincolnshire's beauty but also advised caution. I've been isolating during lockdown as I have asthma and am 'high risk' so it was a message that I thought it was essential to deliver.
You've also supported the IBCC?     
Yes. My father is on the board of trustees for Canwick's International Bomber Command Centre and is rightly proud that four out of five of the West Indian aircrew in 1940 were based at Bomber Command in the county… a little known fact.
Funnily enough, just after I'd made a video to support them with their current crowd funding, it was announced that they'd won two prestigious awards: Visit England's Gold Award for International Tourism and Trip Advisor's Travellers' Choice Award; a timely boost for the centre.
In just two years it has already attracted a quarter of a million visitors, but lockdown has prevented people visiting. So it's more important than ever that we support them now, particularly the people of Lincolnshire itself, the vast majority of whom have still yet to visit this jewel in our crown.
We are so fortunate to have it in our own backyard, as it were. It's also Battle of Britain day, this month, and that's one of the special stories told at IBCC. IBCC is just one of the many brilliant attractions and aspects of life in Lincolnshire, of which we should all be very proud!
Colin McFarlane is a film and TV actor, voiceover artist and writer. Find out more about his upcoming projects and his film and TV career at imdb.com or on twitter: @colinmcfarlane