Representing the circle of eternal life, hanging a wreath on your door traditionally symbolises nature and the promise of spring. This month we've partnered with Lincolnshire florist Claire Sutton to find out more about her wreath making courses and why she advocates native varieties in her work…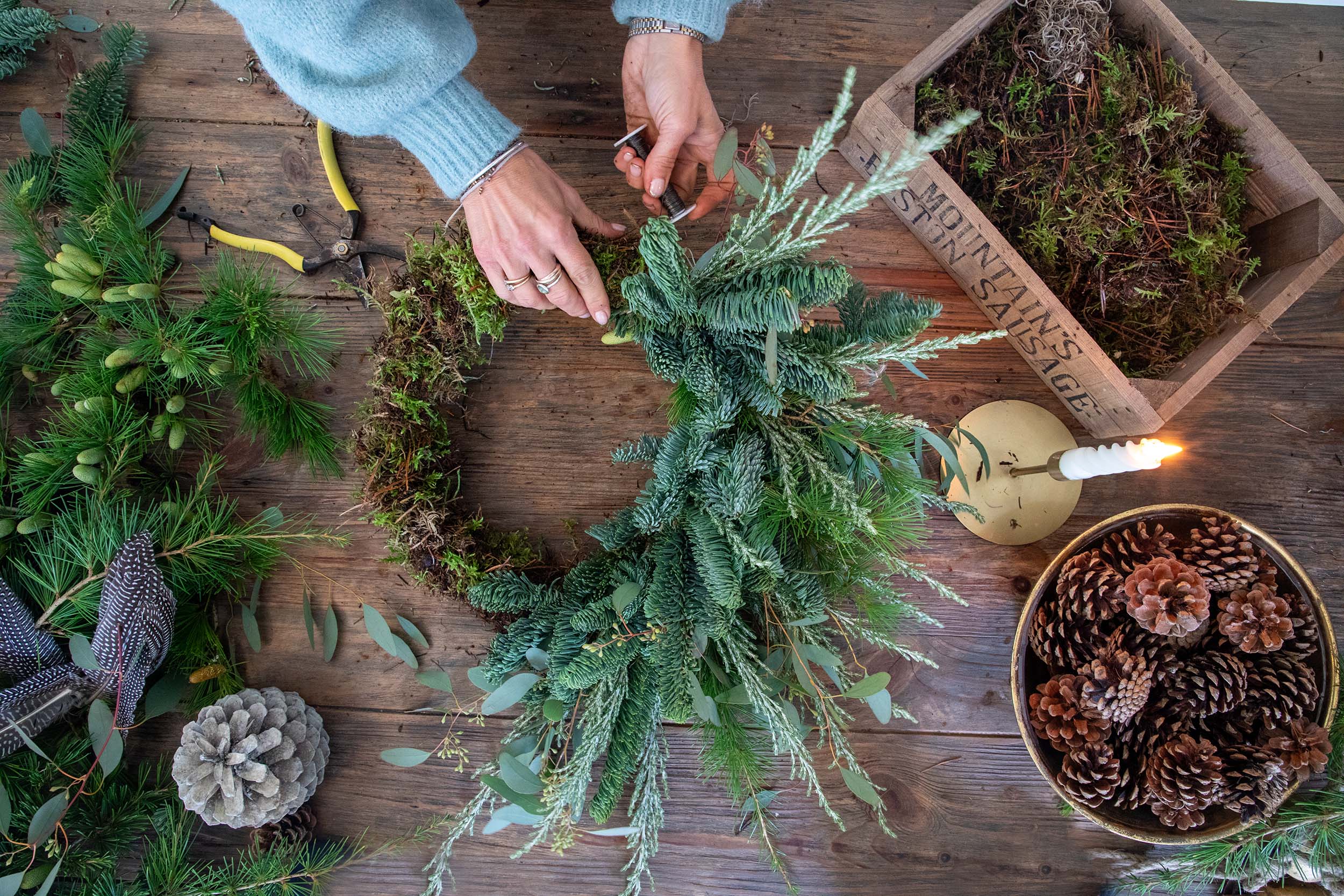 A bushy, pretty wreath on the door is one of the joys of the festive season, and with an abundance of natural greenery in your garden, there's no need to look very much further… in fact, Louth Florist and founder of Fig & Fern Claire Sutton is a keen advocate of both seasonality and sustainability in her work.
Raised in Lincolnshire and previously working in HR, Claire pursued a career in floristry full time around the millennium, joining the British Flower Movement and choosing to bypass the mainstream commercial floristry world.
"It does requires more thought, but once you become an advocate of British seasonal floristry you don't tend to go back," she says.
"Much of my work as what I suppose you'd term an artisanal florist is for weddings and other events. My work has a look that's markedly different from mainstream floristry but that's because rather than sourcing imported flowers from wholesalers, including those who use imported blooms, I prefer to work with the seasons and express them in my designs."
"There are a few local suppliers I use regularly such as Sandilands' Owl Garden Flowers, but in addition, my own garden is a great resource, allowing me to work a year in advance and 'grow to use,' as well as ensuring there is plenty of material to use for things like these festive wreaths."
We joined Claire at Wootten Hall in North Lincolnshire for some advice on how to create a homemade wreath for your door this month with both sustainability and seasonality in mind.
Claire is hosting at least two wreath making courses at the venue in December as well as half-day courses from her own studio near Louth. What follows are just a few of the many  hints and tips Claire can impart during a course… and attendees will also a glass of fizz and patisserie treats from a professional chef during her workshops!
For starters, Claire advocates the use of wreath bases made from vine, rather than those metal. Available from good florists, these are a little bulkier than metal, they're made of a natural material and because they're a bit bulkier, they require less material to be bound to them.
Floristry wire is good for tying in materials like pine cones, but Claire prefers natural twine for tying in sphagnum moss, which provides body for the wreath and allows it to retain moisture.
"Moss is something that should really be sustainably sourced in large quantities," says Claire. "It's not something you have to be too fussy about if you're gathering it to use in a domestic setting, but as a florist I'm always mindful to use a supplier who can source it responsibly."
"The same goes for the foliage that you'd like to use. I tend to forage what I need from my garden and secure it to my wreaths, working clockwise around the whole of the circumference and having all of the material facing the same way."
"Here I've incorporated native fir, larch and spruce to ensure a good mix in the overall look, giving it a fuller, more 'luxe' appearance."
"My starting point is usually a preferred colour scheme and I do like to see where a wreath will be hung before I start working which is a good way of informing about colours and different decoration."
"Black doors are fairly easy to work with as they'll take most colours, but a deep red is my favourite. I'd choose sage for a grey door and for a sage green, lilac, purple or soft pink and so on."
"When it comes to decoration, it really is just a case of using your imagination and carrying through a colours scheme that you really love. In this example I've used some vintage velvet ribbon which I can reuse in the future, and I've used some red pepper berries too."
"I've also incorporated pine cones and I've retained a couple of bells which also have a couple of wooden clappers in, giving a cheery little clang when visitors come round over the season. It's a little bit of festive joy that raises a smile, but the real satisfaction is knowing that you've created something and had a great time doing so!"
Find Out More: Claire Sutton is the founder of British seasonal floristry studio Fig & Fern. Claire will host wreath making courses on Saturday 2nd December at Wootton Hall and for individuals, couples or small groups by arrangement in her own studio. Call 07976 974568 or see www.figandfern.co.uk.
Wootton Hall, Wootton, North Lincolnshire
A wonderful venue for weddings… and wreath making courses!
Our gratitude to Stephen Gamet and Kate Lawley of Wootton Hall Wootten, near Ulceby, who allowed us to use their beautiful home for our photoshoot. Built in 1796 and commanding a Grade II* listing, the couple restored the property over the past three years and now offer it for use as an exclusive venue for weddings and events.
See www.woottonhall.com or email enquiries@woottonhall.com for detail.