If overpriced candles get on your wick, worry not…! You can still enjoy the warm glow of a flickering flame and some wonderful fragrances this winter, all for a thoroughly reasonable price thanks to Victoria Boardman. Her artisan candle brand – named after her Edwardian country home, Dorrington Hall – is really glowing strong despite being a flicker over a year old…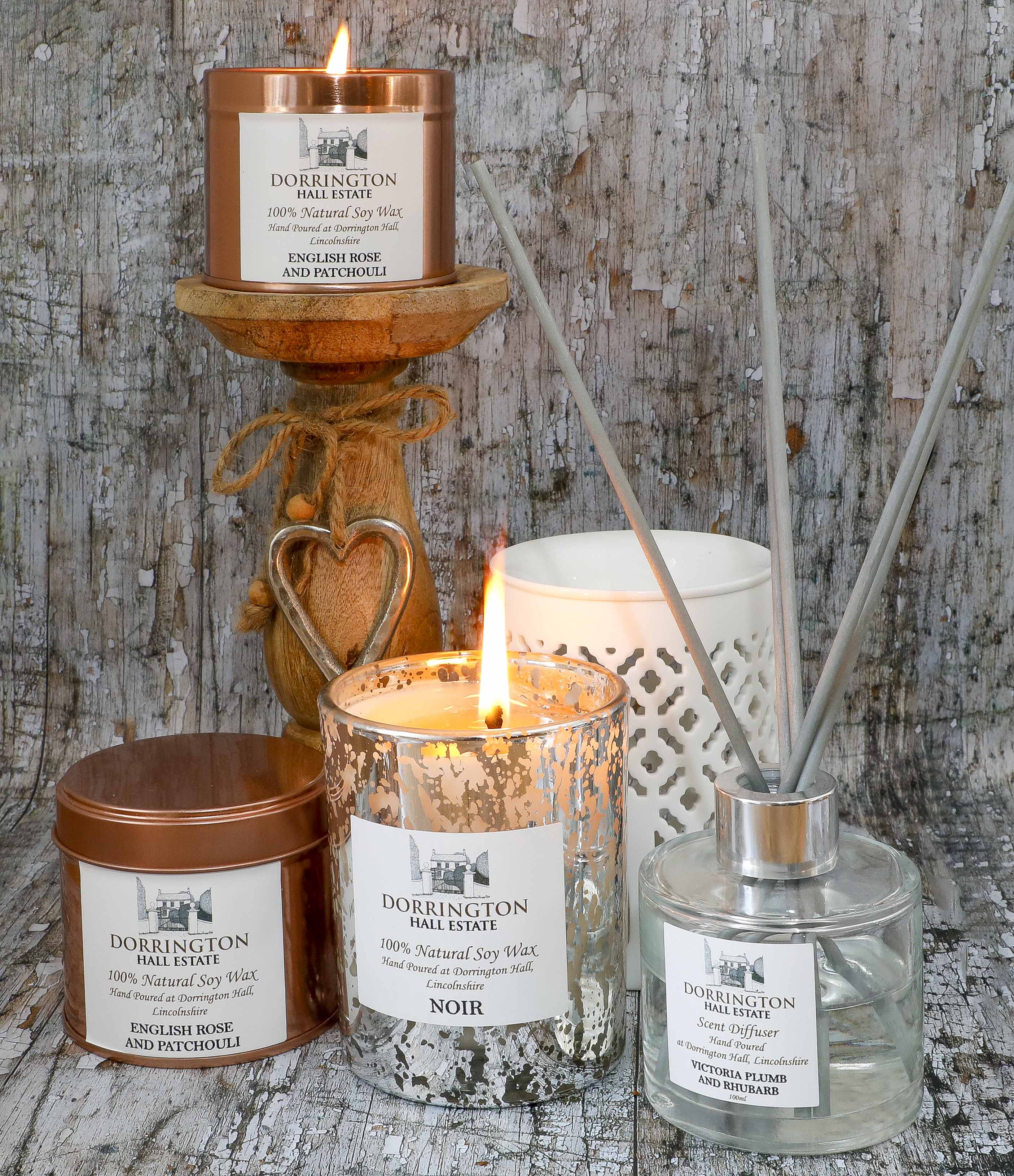 The burning question is: 'why are some scented candles so expensive?' Of course it's always a sound proposition to pay for quality, but even the most ordinary of mass-produced candles command £20 and some upmarket brands sell for up to £50. Paying for a name could get right on your wick. It certainly did for Victoria Boardman; that's why the Sleaford artisan decided to create her own range of Natural Sustainable fragranced candles, diffusers, room mists and melts.
Nobody can hold a candle to Victoria's products in terms of their quality or the fair price at which she's selling them (£16.50/50hr burn; £10/25hr burn; £10/12melts). And her most successful range of melts is especially innovative, because their letterbox-friendly packaging enables you to send something thoughtful and beautifully scented right through the letterbox of your friend or relative.
It's been a busy couple of years for Victoria, with 2018 seeing the birth of her daughter Beatrice, plus a move into the family's Edwardian country home – Dorrington Hall, which she and husband Mark are in the process of renovating. Victoria is project managing the conversion of their Coach House into a stunning holiday retreat, and then, of course, there's the creation of her new business. Life is a bit busy, to say the least, for Victoria who is also a hobby breeder of labradoodles and ragdoll cats. She also has sons Edward, aged nine and Brian, aged eight to look after, as well as Beatrice. Happily though, she's still found the time to innovate with her scent-sational ranges.
"I've always loved being creative, and having tried the usual crafts, I found myself giving candlemaking a try in 2018, whilst I was on maternity leave," says Victoria. "It was absolutely fascinating; something that seemed so simple, initially, actually turned out to be a real skill."
"I persisted with each attempt I made and completed loads of research, eventually discovering some of the secrets of the craft. Christmas was coming up and I made a few gifts for family and friends. They absolutely loved them and convinced me others would love them too, I took a leap of faith and did my first Christmas market last year and started to develop a following online. I was then approached to wholesale in some of the counties finest shops. The belief people have shown in my products and myself who I haven't even met online really helped me so much, and it made me believe I should turn a hobby into a business.
Victoria didn't initially realise just how good her products were – let alone why – but as her experience of the craft has grown, she's come to realise that not all candles are created equally and that, as with so many things in life, you really do get what you pay for when it comes to a candle, albeit when you pay for quality, not for a brand.
"Pretty early on I realised that there were two approaches to candle making; the cheap mass produced way or the quality way," says Victoria. "Cheaper candles use paraffin wax, but it's better to pay a little more for soy wax-based ones, which produce less soot – the reason cheap candles leave black marks on your walls. Nasty paraffin wax is also regarded as carcinogenic and can also irritate conditions like asthma. Soy wax originates from around 10 countries and Victoria's candles are based on sustainably sourced soya bean-derived wax from Uruguay the Ukraine and Canada."
And then there's the scent itself. The source of the nice smell in a product like a candle is derived from a combination of essential oils – extracted and steam distilled from the botanical or flower itself – plus fragrance agents which are artificially created chemical compounds.
There are about 4,000 'stock' fragrances which have been made by olfactory scientists, and it's either impossible, impractical or just financially less viable to create a scent from essential oils alone. Fragrances, whilst synthetic, are more stable and more practical. Not all essential oils burn as well; some for instance can clog wicks. Speaking of which, did you know there are hundreds of different permutations of wicks, either cotton, paper, plastic or zinc with baffling designations from like HTP136 or CDN28?
Victoria's candles utilise cotton wicks which burn better (softer) with soy wax. They can self-trim but Victoria always recommends trimming your wick to ensure an even burn.
The quantity of scent used also varies from product to product. Two of Victoria's similarly-sized candles, for instance, can vary dramatically in the quantity of essential oil or fragrance used, according to their scent.
Victoria reckons that in the process of inventing a new product she has to make around 12 candles until she perfects the 'recipe' and the process for each individual scent. Each oil or fragrance has to be fine-tuned because each has a slightly different burn profile – known as the heat throw – and produces a different sized 'burn pool.'
"I usually have around 16 different fragrances but this varies from season to season," says Victoria. "Victoria Plum & Rhubarb, Noir and Fig & Berry are popular right now, and the wax melts have proved especially popular during lockdown as they come in boxes or six or 12, comprising of a single scent or a mixed selection. I've created a sharer box of 40 melts too, one or two of which have been sent to hospital wards to be shared among the staff following a patient's stay in hospital."
"Melts have been publicised quite heavily by the cleaning expert Mrs Hinch and my eco friendly packaging ensures they can be sent through a recipient's letterbox. Each one burns for about 20 hours, so they're quite economical, and they can be used with any wax burner."
As well as her melts, Victoria also produces candles that burn for around 50 hours, plus reed diffusers and room mists, hand soaps and lotions. Creating around 1,500 wax melts and 100 candles a week takes considerable time and quite a bit of space too. Although it is Victoria's business it's also a family affair, with the children and Victoria's 83 year old mum all helping out.
As soy wax is a natural product, every batch that is delivered is different and has to be thoroughly tested on its own, making candles and melts from each new batch.
A bit like chocolate, wax must be melted gently and carefully. It turns to liquid at around 85° but must be cooled to the right temperature before essential oils and fragrances are added – sorry, but we're not allowed to be too specific on the details as it's quite the trade secret!
There's also a secret to adding the wick in such a way as to ensure it's central in the vessel, too, which isn't simply a matter of aesthetics for the finished product, but also determines how evenly the burn pool melts the wax and how many hours use you're able to derive from the candle.
Adjusting and tightening the wick is a crucial if rarely-considered (at least by the consumer) part of getting a candle to look and burn correctly. This requires intervention from Victoria as each batch of candles cure. Initial setting occurs within three hours but Victoria intervenes within that time to ensure no air bubbles are present.
To complicate matters further Victoria likes to incorporate home-grown botanicals and foliage, from Pyracantha to Hydrangea, Roses or Lavender from her garden depending on the time of year.
Needles from the pine trees in her garden even end up in her Christmas melts, with her botanicals all harvested by hand and dried by the old boiler in the property's outbuildings before being added at just the right time… another trade secret, I'm afraid.
"All of my products are created using sustainable ingredients and all are pet friendly, cruelty-free and vegan," Victoria says. "I'm selling them online and I've been approached by a local farm shops and gift retailers across the whole of Lincolnshire. I've also created a bespoke branded line for one of our retailers. I'm also looking forward to starting a subscription box facility in 2021."
"The wax melts are selling exceptionally well with customers at the minute. Being letterbox-friendly, customers are ordering them and having them delivered to friends and family this year instead of Christmas cards with handwritten personal messages."
"There's something nice about being a part of someone's Christmas," she adds. "Winter is seen by some as being a bit gloomy but actually the flicker of a candle or a tealight in a burner creates a really nice atmosphere and with a gentle scent. It can be a real source of comfort, which I think we all deserve after 2020!"
Victoria Boardman is the creator of Dorrington Hall Estate home fragrances with Soy wax candles, wax melts, reed diffusers and room mists, plus luxury hand soap and hand lotions which can be purchased for yourself or sent to a loved one. See www.dorringtonhallestate.co.uk.