As the trend for having floral displays in the home is becoming increasingly popular, we recruited Shirley from S&A Floral Design to show us how it's done. Her floral courses ensure you have the skills to create them too…
Grand bouquets and displays of fresh flowers and foliage is often associated with grand hotels or stately homes. It was certainly a thing of the past in times when a house was serviced by maids and butlers.
However, it's coming to the forefront of floristry once more, with more affluent homes receiving fresh flowers from their local florists weekly or fortnightly.
Shirley Dee from S&A Floral Design near Lincoln confirmed our suspicions when we paid a visit to her home, workshop and a local Georgian vicarage where one of her recent installations of weekly floristry is displayed.
Shirley started her business in 2011 supplying locals with beautiful floral displays, but she has been arranging flowers for the past 35 years, starting as a hobby.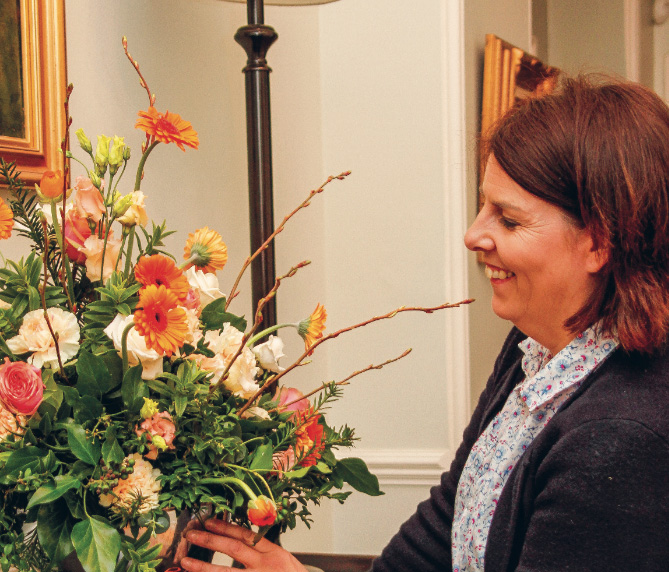 "I used to be a sports therapist," says Shirley, "but after suffering a shoulder injury, I realised I couldn't carry on doing that job anymore."
"I had my own cutting garden and I was often asked by friends and family to arrange flowers for events or weddings."
"After my injury, I decided to carry on my hobby as a career and just haven't been able to put the secateurs down since! I've been so busy and I absolutely love what I do now."
Shirley works from her flower styling studio in Timberland a village not far from Wood- hall Spa. She work alongside her husband and small team of florists.
"I organise the designing and styling of flowers for your special event or bespoke flower class and will personally ensure that you have the most gorgeous flowers and styling to ensure that you have the most amazing day. I am passionate about the details and the 'bigger picture.'
"I have always loved anything to do with the garden and nature, and you can find me in the cutting garden where I love to spend my time, when I am not working on flower classes and events."