Lincolnshire's National Trust properties reopen to visitors this month after closure for over-winter conservation…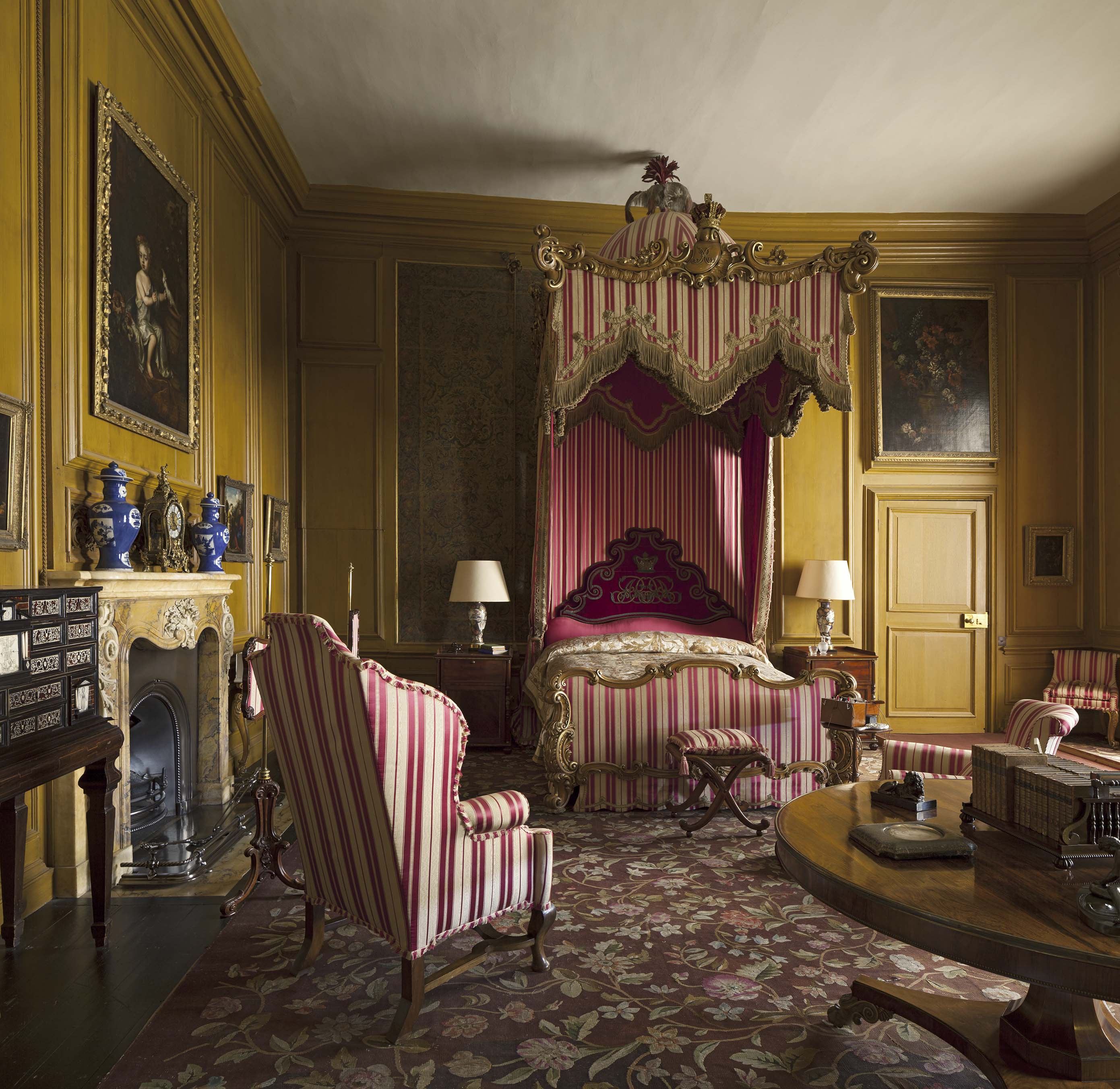 Belton House, Grantham…
The Brownlow Family is regarded as being synonymous with Grantham, and with the eponymous country house in their manor. But in fact, the manor was under the custodianship of the Pakenham family until the early 1700s.
Little is known about the family, although the earliest records in the area go back to the 13th century and there are references to a noble family of the same name in church records nearby… though local history of that era is quite understandably a bit sketchy.
What is known, though, is that King James VI stayed with Sir Henry Packenham in a property near the current estate in 1617, just a couple of years before the family sold the manor of Belton to Sir John Brownlow in 1619. Richard Brownlow (1553-1638) was granted arms in 1593 and his son 'Old' Sir John Brownlow (1590-1679) was the first Baronet of Belton in England. 'Young' Sir John Brownlow (1659-1697) built the family seat Belton House. The Brownlow family were lawyers by profession and held a baronetcy before it was rendered extinct.
Family History…        
'Young' John Brownlow married his cousin Alice Sherary in 1676, and at the age of just 16. When the two were 19, they inherited the estate with an income of £9,000/annum, (equivalent to £1.4m today) and a lump sum of £20,000, which in today's money would be about £3m enabling them to move into a town house in fashionable Bloomsbury. They decided to create, as their country seat, a brand new property in Belton.
Work began on the construction of Belton House in 1685 and the architect is believed to be William Winde, although Christopher Wren is frequently attributed as being involved in creating the property.
Belton's Architecture…          
The Carolean style of architecture of Belton took its inspiration from the continental fashion for a piano nobile floor of a palazzo. Balustrades and cupolas such as those seen in the architecture of Belton House were also typical of the era.
The Grounds of Belton House…        
Around 1690, Sir John Brownlow was also given permission to create an area of parkland amounting to about 1,000 acres. Brownlow retained some of the areas of the parkland which date back to the 16th century, but also created the Eastern Avenue and planted no fewer than 21,400 ash trees, 9,500 ash trees and 614 fruit trees.
Subsequently, John Cust 1st Earl Brownlow commissioned Anthony Salvin to create the estate's boathouse and Jeffry Wyatville, between 1810-1820 created Belton House's Italian garden and orangery.
Belton's at War…       
The third Earl Brownlow offered Belton House's parkland to the government for war service and from August 1914 it was the training ground for 11th (Northern) division and the Machine Gun Corps. During WWII, from 1942, part of the Royal Air Force Regiment was housed in Nissen huts at the park in a facility named RAF Belton Park.
Peregrine Cust, 6th Baron Brownlow, passed through Eton and Sandhurst to take up a commission in the grenadier Guards and served in the army until 1926.
Belton and the Monarchy…   
The third Earl Brownlow, Peregrine Cust, served in the army until 1926, rising to the rank of lieutenant. Having also served as Mayor of Grantham and Lord Lieutenant of Lincolnshire, Peregrine was also equerry to the Prince of Wales, King Edward VIII leading up to the abdication crisis. It's believed that King Edward stayed at Belton House – with Wallis – where he sought Peregrine's counsel as he agonised between love and duty.
Brownlow personally accompanied Wallis on her flight to France to encourage her to renounce the idea of marriage to the King. Following the abdication, Lord Brownlow attempted to extricate himself from the former King's circle, refusing to attend the Duke of Windsor's marriage ceremony in 1937. For this Edward and his wife, now the Duke and Duchess of Windsor, regarded Brownlow as disloyal. Today, Edward Cust, 7th Baron Brownlow lives elsewhere, but retains a grace and favour apartment on the first floor of Belton House as part of his agreement to donate the house and its parkland to the National Trust in 1984.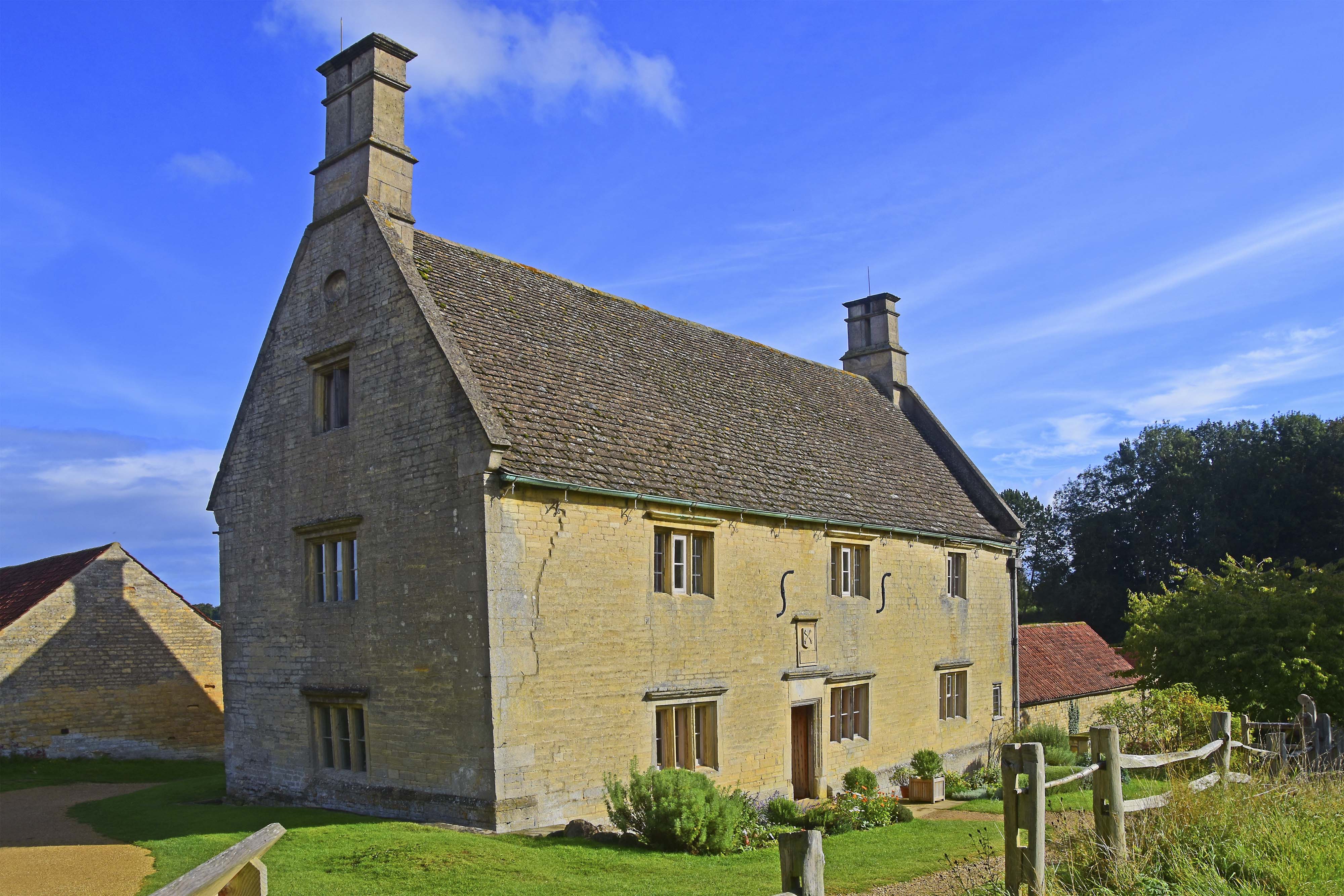 Woolsthorpe Manor, Grantham…
Sir Isaac Newton was born at Woolsthorpe Manor on 25th December 1642. It was a farmhouse, concerned with rearing sheep. Newton graduated from the King's School and Trinity College Cambridge but returned to Woolsthorpe by Belvoir to escape the Great Plague in 1665. The apple tree from which fruit fell – apparently causing Newton to concern himself with gravity – is still there, although the story is probably more legend than fact. Nonetheless pips from the tree were taken into space on the Principia mission and were subsequently planted in the grounds in May 2017. Woolsthorpe Manor will reopen in March 2022 and its Scientific Discovery Centre allows visitors to explore interactive scientific displays relating to Newton's scientific interests in gravity, motion, optics and light.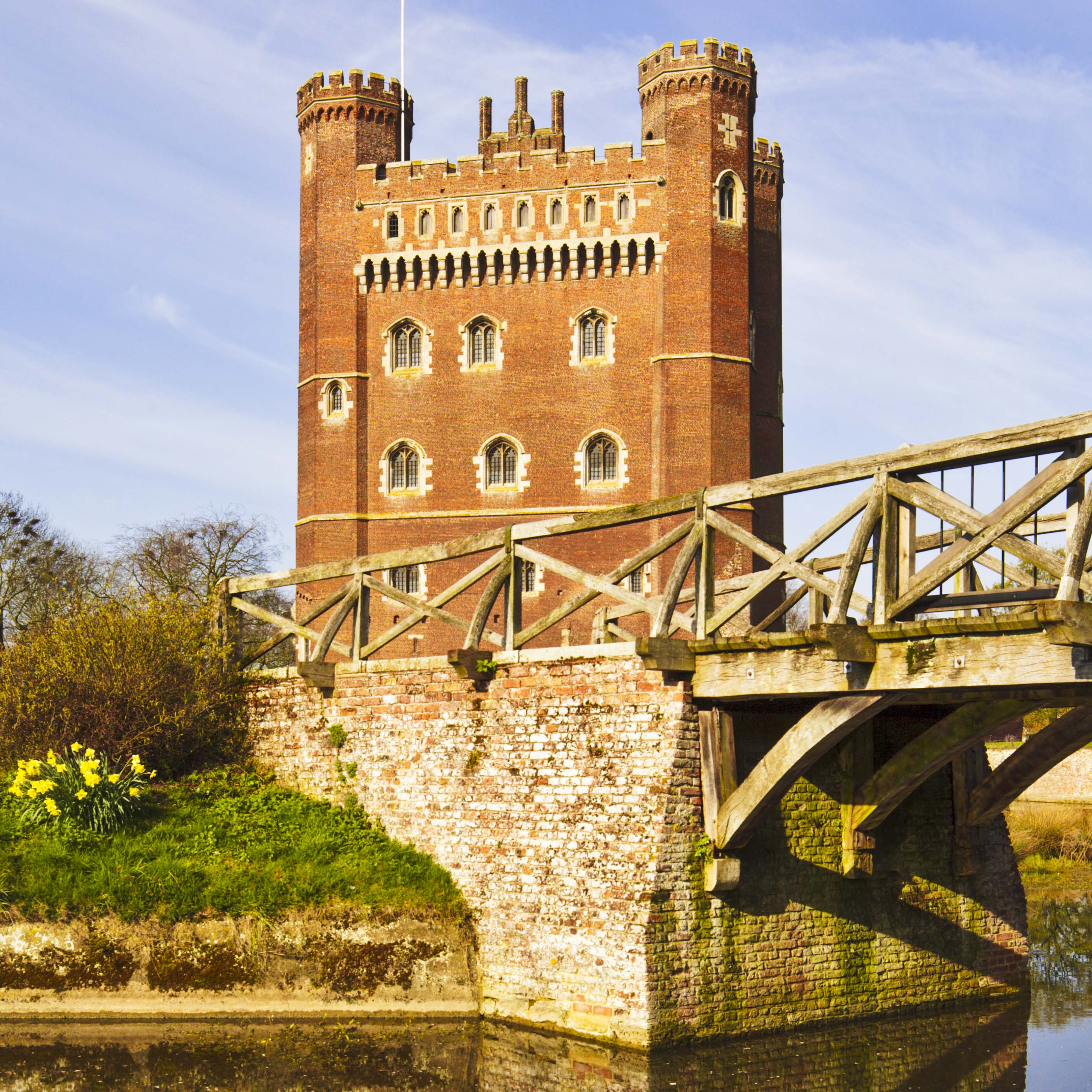 Tattershall Castle…
Hip Hip Hooray for George Nathaniel Curzon who rescued Lincolnshire's four-storey, 15th century Tattershall Castle from destruction between 1911 and 1914. The building remains one of the three most important brick castles alongside Herstmonceux and Hertford. Tattershall Castle was constructed on the site of a stone structure, most likely a fortified manor house, built by Robert de Tattershall in 1231. It was Ralph, 3rd Lord Cromwell and Henry VI's Treasurer who created the current structure between 1430 and 1450. Inside are fine contemporary chimneypieces with devices and heraldic decoration as well as heraldic stained-glass windows. Though the castle fell into dereliction in the C18th, Curzon restored the tower and left it to the National Trust in 1925. Latterly, PhD student James Wright has been studying the medieval graffiti scrawled into stonework of the castle, an exhibition of which is expected to take place later this year.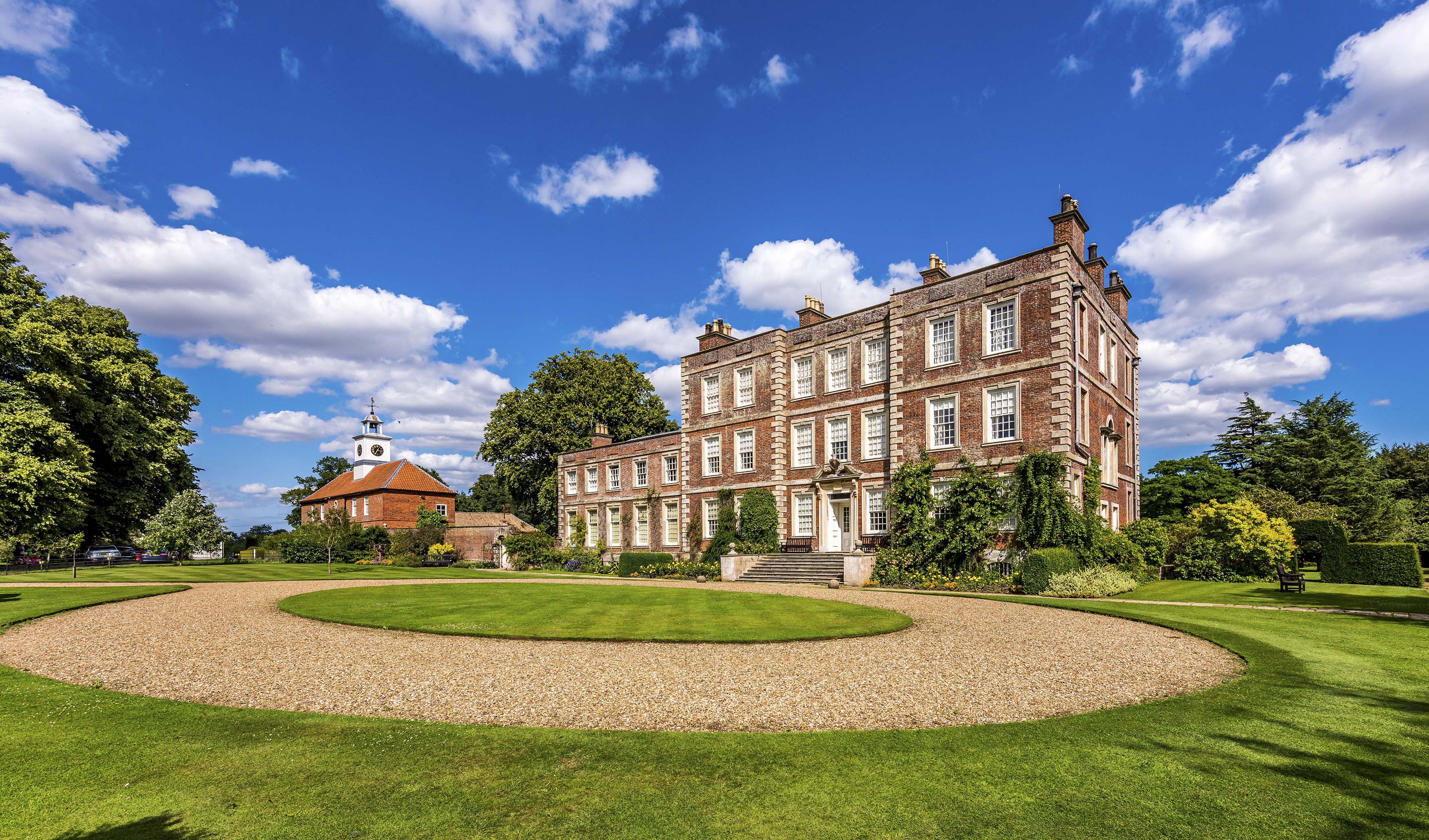 Gunby Hall, Spilsby…
Alfred, Lord Tennyson visited Gunby Hall  in the early 1800s and was responsible for associating the stately home with the description 'a haunt of ancient peace.' In fact, Gunby Hall was created in 1700 for Sir William Massingberd, 2nd Baronet – the title later passed to the third and final baronet, the title becoming extinct in 1732. Upon the third baronet's death the estate passed to William Meux who added a stableyard to the property and improved the interiors.
Thereafter, the area's Langton Montgomery-Massingberd family took on the house, eventually passing to trustees Lady Montgomery-Massingberd, Major Norman Leith-Hay-Clarke and Field Marshal Sir Archibald Montgomery-Massingberd, who gifted the house to the National Trust in 1944.
At the estate's heart is the 42-room Grade I listed Gunby Hall, its Grade II* listed clocktower and its Grade II listed stableblock and carriage house.
Surrounding the estate is 100-acres of parkland including eight acres of Victorian walled gardens, plus a further 1,000 acres of farmland. As beautiful as the property is, Gunby Hall's gardens are especially spectacular with an ancient pond, kitchen garden and over 50 varieties of apple tree. Meanwhile, in the spring and summer, Gunby Hall's beautifully manicured formal borders are a real treat.
Composer Ralph Vaughan Williams was a frequent visitor to the house, too, to visit cousin Diana Montgomery-Massingberd. So if you do visit the house, look out for larks ascending… or, just enjoying a bit of ancient peace.
Find Out More…
Belton House: High Road, Belton, Grantham NG32 2LW. Tel: 01476 566116.
Woolsthorpe Manor: Woolsthorpe by Colsterworth NG33 5PD. Tel: 01476 860338.
Gunby Hall: Gunby, Spilsby PE23 5SS. Tel: 01754 890102.
Tattershall Castle: Sleaford Rd, Tattershall, Lincoln LN4 4LR. Tel: 01526 342543.
Lincolnshire's National Trust properties will open this March, see website for property, garden and estate opening times for each venue, www.nationaltrust.org.uk.