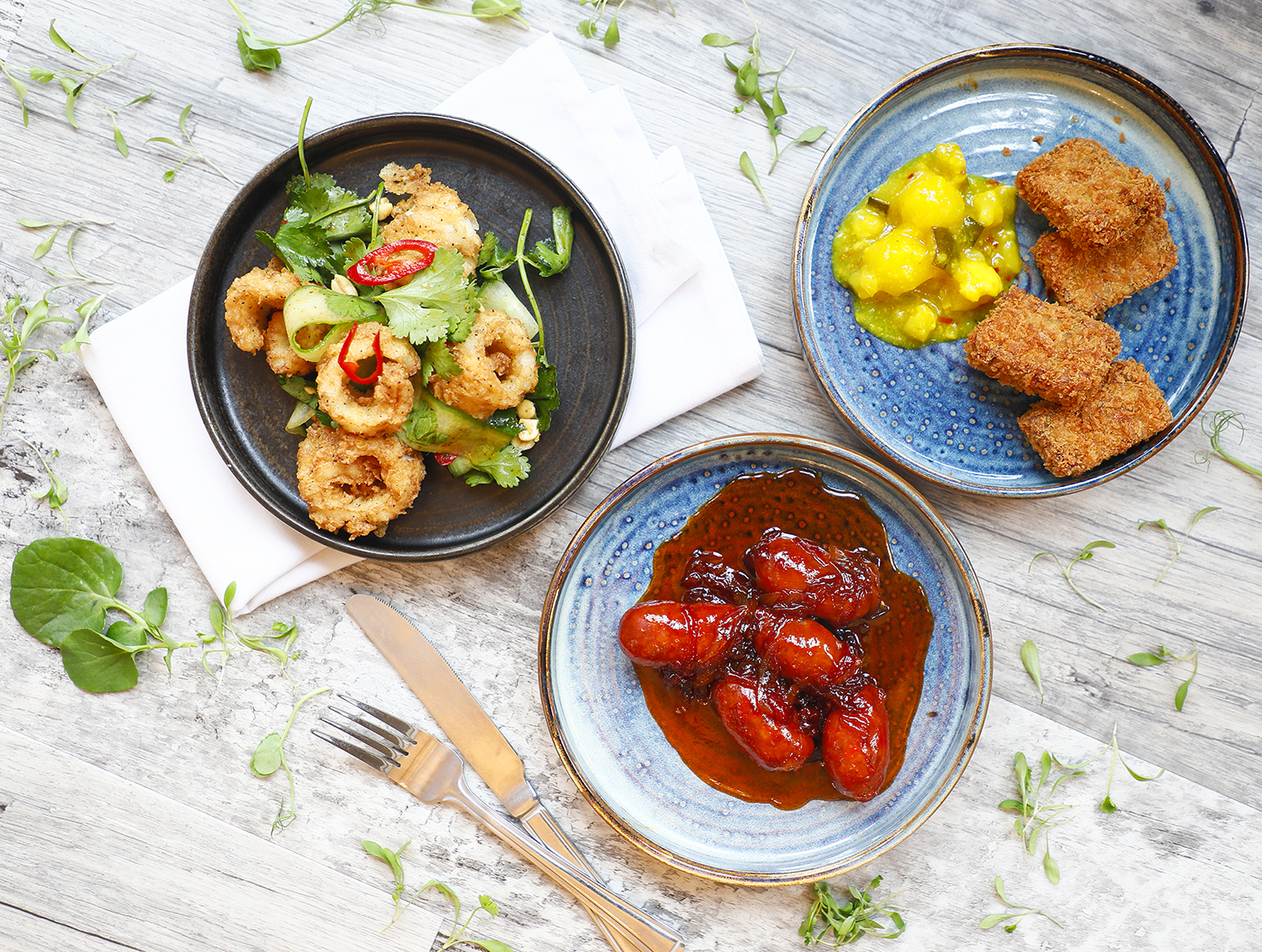 Dining is shipshape and Bristol fashion at one of Oakham's most recommendable and renowned quality pub restaurants. The busy, bustling Admiral Hornblower in Oakham is sublime. Just keep the present Mrs Davis away from its generous promotions…
Some people just won't be told. I did point out the ill-advised nature of a bottomless Prosecco promotion with the present Mrs Davis lurking ominously behind every Champagne flute, but Charlotte Crawford and the ever-generous team at Oakham's Admiral Hornblower just didn't listen.
Our visit caught the tail end of one of the pub restaurant's bottomless Prosecco glass deals, offered on occasions throughout the summer, which my dear wife regarded less as a promotion and rather more of a challenge.
Whilst a cold shiver runs down the spine of a thousand Trieste winemakers at the thought of la donna del diavolo del vino ingleseravaging their labours, it's characteristically benevolent of the Crawford family and warms the hearts of their diners.
Heeding the bottom line for their pub restaurants is just a means of allowing them to continue their fine work in the hospitality trade, knowing that prioritising their customers' satisfaction and satiation (counting smiles, not pennies) is the secret to running a great pub or restaurant.
The family came into the hospitality industry rather by accident and with no previous  experience, took on their first pub in 1987 having experienced the trade only as customers, not as publicans or restauranteurs.
Colin & Celia Crawford purchased the Peacock pub in Redmile near Melton back in the late 1980s. They did so to convert it into private accommodation, but fancying themselves as evanescent publicans, the couple though they'd have a giggle and run the place for one last night before its permanent closure. Little did they realise that evening would be a tremendous runaway success and would take them in a rather different direction, accidentally falling in love with hospitality and keeping the place to run as a pub.
This has given them a diner and drinker-led perspective on the industry. Because they look after their customers – like with their Prosecco promotion – customers return time and again. So, the profitability of Oakham's Admiral Hornblower (which celebrates its third anniversary as Pride goes to press) and its sister pub restaurant, Hambleton's Finches Arms (which the family has owned since 1997) are a  fait accompli; their success is a natural consequence.
The restaurant is offering a new way to dine for late spring and summer; 'Small Plates.' It's a sort of anniversary gift to the diners of Rutland, we suppose. The Admiral Hornblower's Small Plates will be added to the set menu (£15.95/two courses; £19.95/three courses) and à la carte menu. They're designed to be an 'easy dining' option that can be enjoyed as grazing snacks when you're sipping a glass of wine, or taken as a 'mix and match' starter option. Larger than tapas; smaller than snacks, the philosophy is large amounts of flavour and even larger amounts of satisfaction.
As with all of the restaurant's other dishes, the Small Plates options can be enjoyed anywhere in the Grade II listed stone pub; the restaurant; 'kitchen table room;' the library – which is also available for private dining for up to 20 people; in the study, another potential private dining room for up to 12 people, or in the bar area.
In the summer, there's a large courtyard garden showing live sports: Wimbledon and golf tournaments – occasionally football too – so expect a few tennis hooligans and golf ruffians, but don't worry; it's still a civilised atmosphere – and the pub also hosts the odd gourmet barbecue in the summer.
Inside, there's an à la carte menu for lunchtime and evening service, a set lunch menu and a set evening menu, plus brunch options a dedicated menu for Sunday lunch.
Desserts, bread, ice creams and sorbets and the biscotti served with morning coffee is all home made and the coffee culture is assured by quality freshly ground fairtrade coffee and homemade cakes.
Charlotte describes The Admiral Hornblower as the 'fun little sister' of Hambleton's Finches. Whilst the latter has a laid-back reservoir-side location and peaceful terraces, the former has a bit more 'busy and bustle' by virtue of its in-town location.
But that's not to say it doesn't deliver when it comes to quality dining. Our lamb dish was perfectly executed, whilst the Small Plates were little flavour bombs; breaded ham hock with homemade piccalilli? Oh yes, sir! Meanwhile our panna cotta, whilst squidgy and loaded with fine vanilla flavour will also be served with Manton strawberries as Pride goes to press.
The Crawford family's entry into the pub restaurant trade came just prior to the gastropub revolution. At that time, the family just wanted to make their customers happy and go the extra mile for them, especially in the respect of providing better food than most other pubs were doing at back then.
Without realising it, they pre-empted the revolution in quality pub restaurant food, and gained a well-deserved foothold in the local pub restaurant scene with a philosophy of just looking after diners and doing a good job, producing interesting, well-executed food. Three years on from opening The Admiral Hornblower, the place is one of the best pub restaurants in the area. It's easily one of the most recommendable places for satisfying summer dining in the heart of Oakham.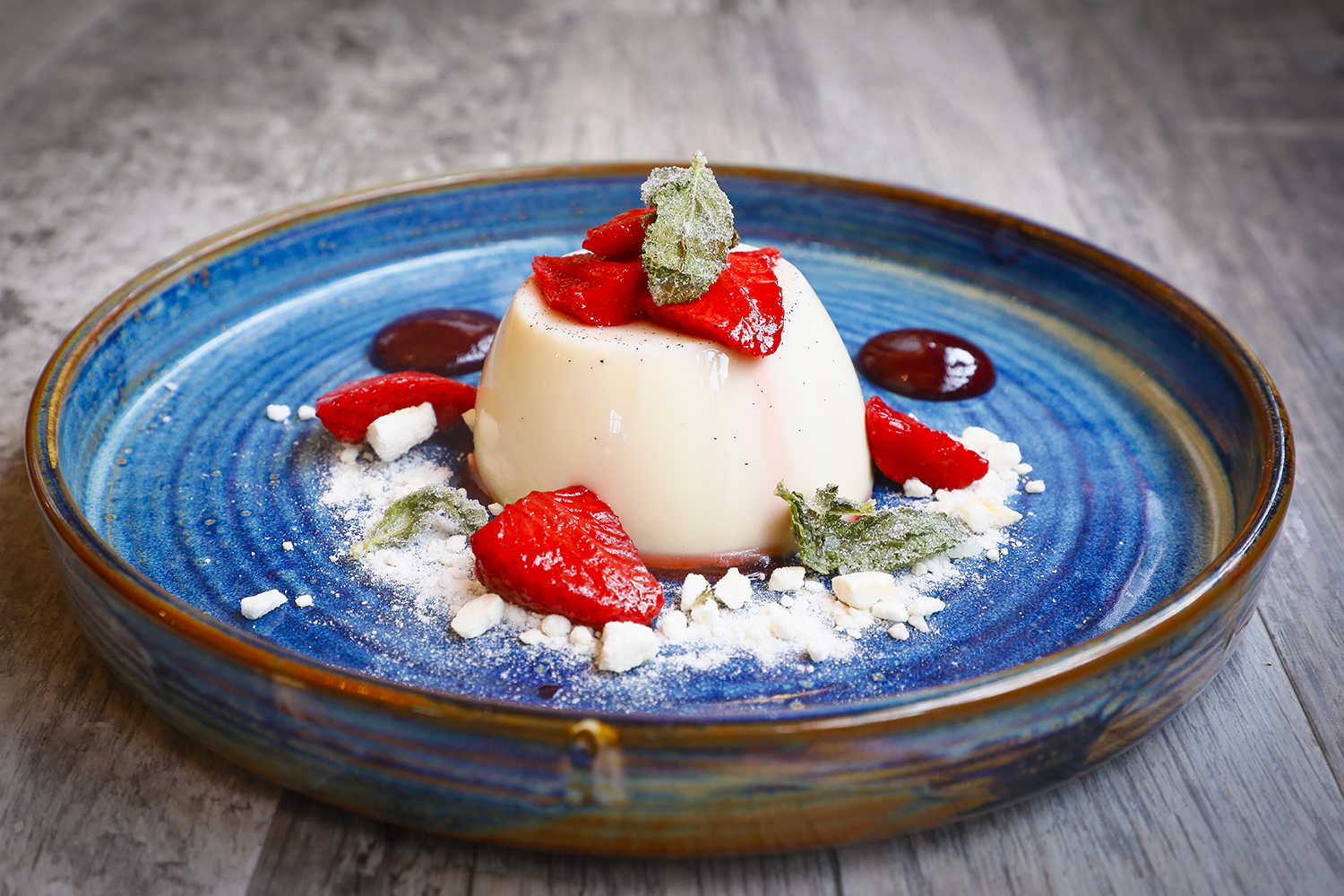 On the Menu…
Small Plates
Small Plates Battered squid rings with chilli salad.
Thai Duck Salad with Asian Slaw & Coriander Dressing.
Breaded ham hock parcels with homemade piccalilli.
3 dishes for £15
Starters
Roast chicken, sun-dried tomato & basil terrine, tomato chutney focaccia £7.00.
Crispy king prawns, cucumber, coriander & peanut salad, sweet chilli dressing £7.95.
Main Courses
8oz rump of lamb, new potato terrine, green beans, celeriac remoulade, lamb sauce £18.50.
Potato Gnocchi with Courgettes, Tomato & Basil, Gremolata Dressing (V) £13.95.
Desserts
Strawberry panna cotta with crushed meringue £6.50.
Chocolate brownie with white chocolate ice cream £6.50.
NB: Featured dishes are subject to change.
Opening Times:
Lunchtime Service Monday – Saturday 12 noon – 2.30pm.
Evening Service Monday – Saturday 18.30pm – 9:30pm.
Sunday Lunch 12 noon – 8pm.
The Admiral Hornblower is based on High Street, Oakham LE15 6AS. Call 01572 723004 or see www.hornblowerhotel.co.uk.