According to Shakespeare, uneasy is the head that wear the crown… maybe not uneasy, but Laura Totten is certainly busy and has had one of the most frustrating starts to her new business venture, The Crown in Uppingham, which opened just as the pandemic took hold. Good news though; the place is now open for business and it's very much worth a visit!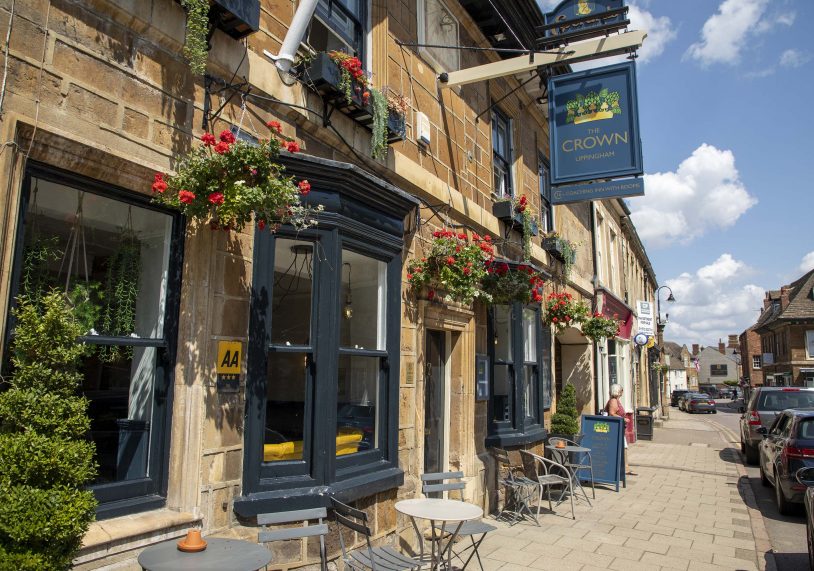 You've heard of being in the wrong place at the wrong time, right? Well, Laura Totten was in the perfect place… but she was there very much at the most frustrating time.
Laura fell into – and fell in love with – the hospitality industry whilst working in pubs during her university study. She joined Everards and had an enjoyable career before becoming licensee of the pretty pub she'd coveted in Uppingham, The Crown, backed by the brewery.
Renovating The Crown in May 2020, and reopening it in July of that year Laura had a breadth of knowledge, expertise, a great team and a flair for the design of her revamped interiors and fresh new menus.
Having opened for just 12 weeks in the last 12 months, locals have scarcely had the chance to enjoy the warm welcome, good food and great environment that The Crown  provides, before the start of lockdown and restrictions.
Bad timing must be catching because our first visit to The Crown saw us singing its praises just before lockdown two. Our return visit, though, was on July 19th – Freedom Day – and touching wood, that means that whilst the virus is still kicking around, pubs, restaurants and other businesses will be open without restrictions for customers to enjoy once again. So, if you're venturing out into a brave new world, post-pandemic, we reckon that The Crown should be the first place you visit, not least because of Laura's hospitality philosophy.
"Uppingham had fish 'n' chips and fine dining, but nothing in between," she says. "It needed a place that offered great food, well-kept real ale and smart rooms."
"It also needed to be family friendly so parents could pick up their children from Uppingham School or the area's other schools and take them out for a meal."
A fresh reopening at The Crown also brought with it a new chef, and a revamped menu offering homemade menus with flatbreads, pizzas and tapas.
The Crown is a typically Uppingham-esque ironstone building, built in the 1570s and carrying a Grade II listing. During our visit, temperatures soared and sunlight streamed through the windows of the pub restaurant. It was a rubbish day to decorate, but nevertheless Laura was in the middle of refurbishing three rooms on the first floor, having already completed the refurbishment of the three rooms on the second floor with their exposed beams, luxurious linens and floral or chinoiserie-themed wallpapers.
As Pride is published though, we'll be moving into the autumn months and for The Crown's customers, that means a brand new menu and the chance to dine either in the comfortable bar with its wood burning stove, or in the dedicated 20-seat dining room at the rear of The Crown, which Laura says will remain socially distanced for diners who prefer to remain a little more cautious when it comes to post-Covid dining.
"One of the nice things about our menu is that it gives us the chance to use lots of local ingredients," says Laura. "We're lucky to have Uppingham Fine Foods just across the road from us and the weekly market on a Friday is a lovely place to purchase fruit and veg."
"We're already looking at partnering with local artisan farms to source our meat and developing other relationships with local suppliers. Good food doesn't need to be fussy, but when good ingredients are at the heart of a dish, it's usually easy to create something that customers will enjoy, and if those ingredients are local, it helps to support other companies in the area too."
"We've been running a slightly simpler menu for the past year but there's a huge sense of optimism among the team for when the full menu re-commences. Our future plans include creating a really good Sunday lunch menu and also hosting 'pop-up' kitchen takeovers with guest chefs. We're also planning to host Sunday Sessions – to be announced with our other news on our Facebook page and on our website – with nice mellow acoustic music performed live so families with kids can enjoy it too. My own kids are 13 and 15, so it's really important to me that the whole family can spend quality time together without having to compromise on the quality of the food. A children's menu with junk food on it is never something we'd create."
For now, The Crown feels like Uppingham's best kept secret, but now the country is open, we feel it's quickly gain popularity. Great quality food, inclusivity and a smart setting means it'll very soon be one of the best places in the town to enjoy a meal.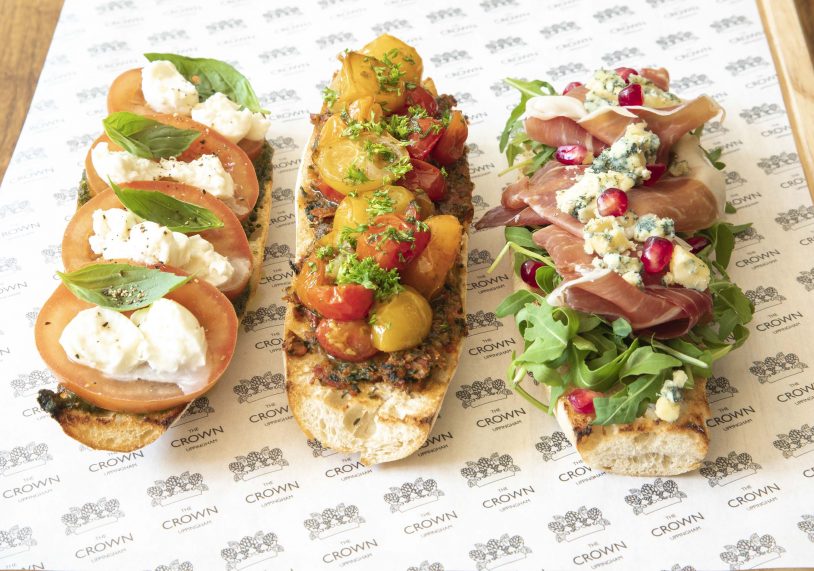 On The Menu:
Crown Specials
Buratta salad with heritage tomatoes, croutons and basil oil dressing £7.25.
Lamb and mint kofta flatbread on a bed of baby leaves with garlic and herb mayo and red chillies £10.75.
Albondigas; Spanish beef and pork meatballs served in a smoky, spicy tomato sauce £6.95.
Tapas
Gambas al Ajillo, king prawn in a chilli and garlic sauce £6.95.
Calamari coated in panko with harissa spiced yoghurt dip £6.95.
Side dishes; mixed olives, harissa hummus, tzatziki and garlic alioli, £1/each.
Pizzas
Margherita, with fior di latte mozzarella and fresh basil £8.95.
Rutland Red, manchego and Long Clawson Blue £9.95.
Siciliano, with pepperoni and serrano ham £11.95.
Diavolo, with nduja sausage, chorizo, roquito peppers and green chillis £11.95.
The Crown, High St East, Uppingham, LE15 9PY. Call 01572 822302 or see www.crownuppingham.co.uk