Proverbially too many cooks spoil the broth, but for local man Simon Spooner, a taste of fame on TV's Masterchef whetted his appetite for a career in food. This month we find out what happened when the cameras stopped rolling…
How did this all begin, what was the moment where you thought, hang on, I can cook!
I've been cooking since I was 18 months old, my mum and gran are really good cooks. They'd always have me in the kitchen with them helping. They started me off making pastry, bread and biscuits, 'easy stuff' really and I moved on from there. I've always loved food, and loved cooking. I'm fortunate that my wife loves food and cooking as well; our house is full of cook books! We love going out for dinner as much as we love cooking at home. It's only the last few years where cooking has become my real passion. I've had quite a corporate life until now, working in recruitment straight out of University. I did four years of it in London, then moved to Sydney for six years, one year back in London when we lived in Wimbledon. Then we moved to Ketton and I continued to commute but I was just never around.
So it was a work/life balance issue?
Well, my wife has a really successful HR consultancy and in that instance where you think 'something's got to give.' I decided to do the stay at home dad thing while helping out in the back office, with the accounts. Then, in July 2017 our eldest, Bella, was about to go to school in Stamford, Freddie was off to nursery and suddenly I had this pocket of time. I thought, what am I going to do? I really wanted to do something with food and I was still getting offers to go back into recruitment but I didn't just want to repeat what I'd already done. We'd always talked about Masterchef but more as a running joke. I was finally in a position where I had no work, the kids were in the right place, I had no excuses so I decided to apply… and the rest is history!
Let's talk about Masterchef then, what was it like? Best moment, worst moment, scariest moment, fire away!
It's not as hot in the kitchen as you might think, there's a lot of down time so you do get to know the other contestants really well. For example, half an hour of edited TV takes a whole day. There's lots of waiting around, chatting, sharing tips and we were all staying in the same hotel too. It's also a common experience, you've got to be quite secretive until broadcast so the whole thing becomes a bubble because that's the only place you can talk about it! Everyone was really friendly, there was definitely no rivalry, everyone just wants everyone else to do well. The first time I went into the kitchen it was really nerve wracking, you walk through the door, they don't show you how anything works, it's really real, you just have to go for it.
There was a lot of pressure on that first day and I scraped through that round. After that I decided, look you're just cooking, have fun! I definitely learnt stuff from other people, we were all sharing ideas, everyone has different techniques which is really interesting. We actually still have a WhatsApp group where we get in touch if we need someone else's opinion, say I was cooking Indian food I might see what they think about certain flavours.
As for the two main men, I have to say Greg is a really nice guy, he supports Wasps as well which was a bonus! He's not quite as loud as he is on TV but always has a perfectly times dad joke for when you're feeling a bit nervous. John has an unbelievable amount of knowledge, he doesn't help you, just plants a seed in your head. John knows every cuisine, he's so well prepared, he's heard of every combination and knows what works from all over the world.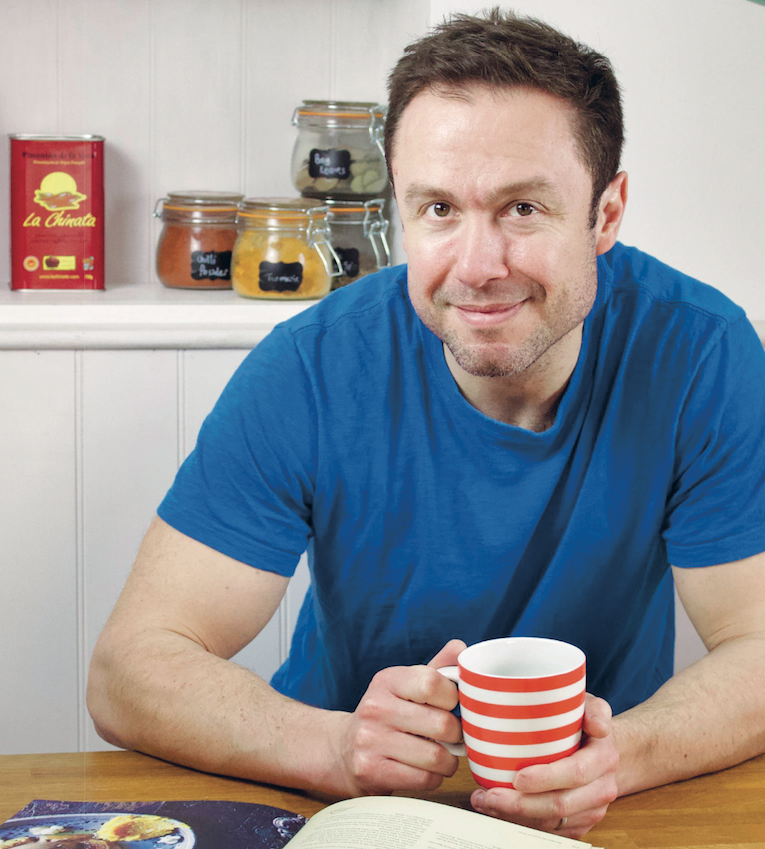 What's in the future, it's all gone a bit mad hasn't it?
The long term goal is to have my own place ideally in Stamford. I want something that's the right size and I'd like it to be at the higher end of things, going to take some time. I just want to get more people eating my food, and eating unusual food! We're trying out a pop-up restaurant at The Olive Branch at The Barn there, the first event we've organised sold out straight away!
So we organised another and that's sold out too, it's mad. There will be 20 people in each one who will sit down to five courses and matched with my own wine selections. Hopefully if they go well, we will do more in Stamford and elsewhere. I think in Stamford there are people that have moved here from the city like me and a new generation and they want really interesting food. The pop-up restaurants should build a hype for when I eventually open my own place. It's important to me that it's really accessible, as far from elitist as possible and really good value.
So talk to me about the wine pairings…
I actually almost went down the wine route when we were in Australia because it's just so accessible. You can go into any vineyard and they'll just pop open £250 bottles of wine to let you try them. We went to one vineyard where they'd run out so he let us try his private collection even though we couldn't buy any of it. There's a company called Heathcote, who make the best shiraz in the world, in my opinion. He was the first person to plant shiraz grapes out there. I love food and wine matching, it's a massive passion of mine. All the wines at The Olive Branch are going to be from Australia, there's a Sparkling Wine from Tazmania, Viognier from Orange, Grenache from Maclaren Vale – my retirement option – and a Dessert Wine from New South Wales. I thought it was best to stick to Australia as I can showcase some history, and my experience. All of the wines are going to be supplied by ABS wines from Stamford – they import from Australia and South Africa it's nice to work with a local business.
When we think of chefs, most people think of the Gordon Ramseys, Jamie Olivers and Delia's of the world, do you look up to any of these famous chefs?
I'm a fan of John Duffin and his Mount Sorrell restaurant. He grew up on a farm then went to London to train and has just come back to the farm. It's got a Michelin Star and it's really good value as well. Then there's Sat Bains, over in Nottingham, the food there is absolutely unreal. Finally, Native in Covent Garden, over in Neal's Yard. It's run by a couple; she's from near Corby, and her dad used to work at the former cement works! It's really seasonal food, they only do 20 or 30 covers and it's exceptional value. Favourite place to travel for food? Bali, love Bali, the food is amazing. Thailand, Singapore, Hong Kong, Cape Town and Seville. Dim Sum in Hong Kong is just awesome, then there's amazing chilli crab steamed buns, just phenomenal. Anything that involves peking duck.