Ladies
A Fabulous Country Wedding featuring a Horse!
The stunning wedding of Kelly Davies and Fergus Hetherington featured the couple's terrier Mildred, the bride's horse Darby, plus an entire funfair with fast rides and dodgem cars… this was most definitely a country wedding to remember!
If ever there was a more relaxed bride it was Kelly Davies. "As long as I had my horse there, I didn't really mind what else we did," doesn't really do justice what looks and sounds like one heck of a wedding.
Kelly is from Stamford; you probably already know her because everyone knows Kelly, she's usually spotted looking effortlessly stylish with her pooch Mildred in tow or maybe in her family's shop Dawson of Stamford, perhaps in riding gear in Waitrose or more often than not, having a right laugh with a great group of friends in one of Stamford's many beer gardens.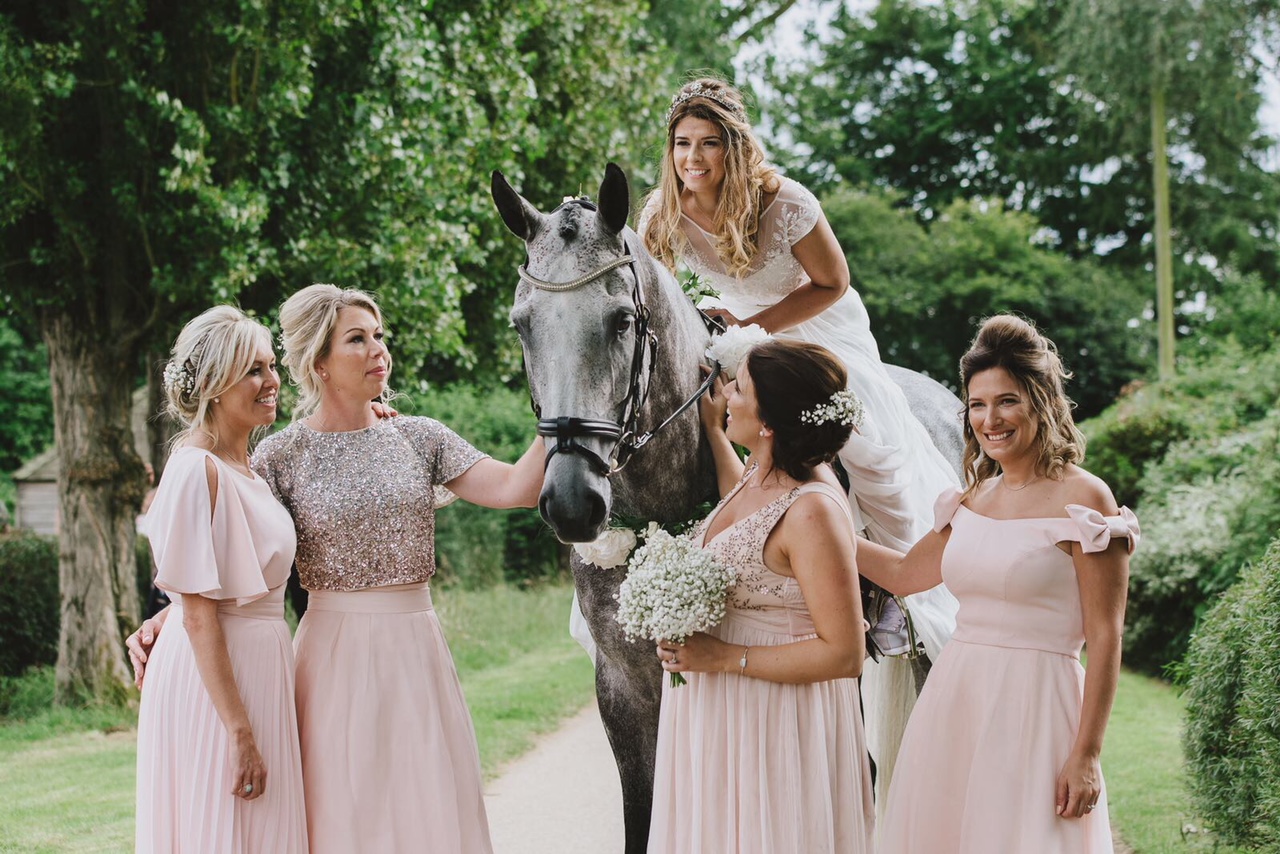 Kelly met husband Fergus in Mama Liz's. "I gatecrashed his 30th birthday party and we got chatting," she says, reminiscing on memories from 2012 when the couple first met. They didn't know each other before, but things just sort of clicked into place.
After many years of fun, holidays, partying and going to lots of their mutual friends' weddings, Fergus popped the question.
"We were on holiday in Spain in June 2016, just heading down to the beach bar like we normally do when Fergus wanted to walk a different way," says Kelly. "I didn't really catch on so in the end he pretended to have something stuck in his foot and got down on one knee," Kelly still not quite convinced he was being serious.
"It took a few minutes for me to realise; 'he's actually asking me to marry him!'" Kelly said yes and with friends joining them a couple of days later, they celebrated in sunny Spain.
When it came to wedding planning Kelly decided she wanted to try and throw a party rather than stick to the conventional wedding day that she'd experienced so many times before. "I originally wanted to have the wedding at our home in Spain," she says, but technically it was going to be a little difficult to get everyone over there so they thought they'd stick to Stamford with the help of Jack from Pretty Quirky Hire.
Kelly and Fergus got married at All Saint's Church in Red Lion Square before heading to her aunty's farm, Langham Lodge, for the celebrations. "It was so generous of Caroline and Andre to have us at their farm, part of the food we served was their very own Langham Lamb which people can actually buy for themselves now."
They made the most of all the space and got the barns dressed up as well as hiring a marquee from a local supplier. "We wanted to have plenty of cover in case the British weather didn't pull through for us on the day," says Kelly. "Fergus and my mum were great throughout the wedding planning!"
Fortunately, the weather forecast was accurate and they were lucky to have plenty of sunshine on the day. "We ended up booking a few extra fair rides as the sun was shining," the amazing fun rides actually came from Taylor's Fun Fairs and they had everything from ferris wheels to dodgems for weddings guests to play on.
"We wanted it to be a party, eat what you want, drink what you want," says Kelly, and so they provided pizza from the Rustic Crust, Paella by Antonio, Crêpes from The Old Manor House Bakery and Alex's from The Wine Bar sorted everything from Pimm's in jugs to a fully functioning bar. Kelly was wearing a dress from Martin Charles, a bridal gallery in Oundle, "Martin was really good with me throughout, I had a bit of a panic two weeks before the wedding!"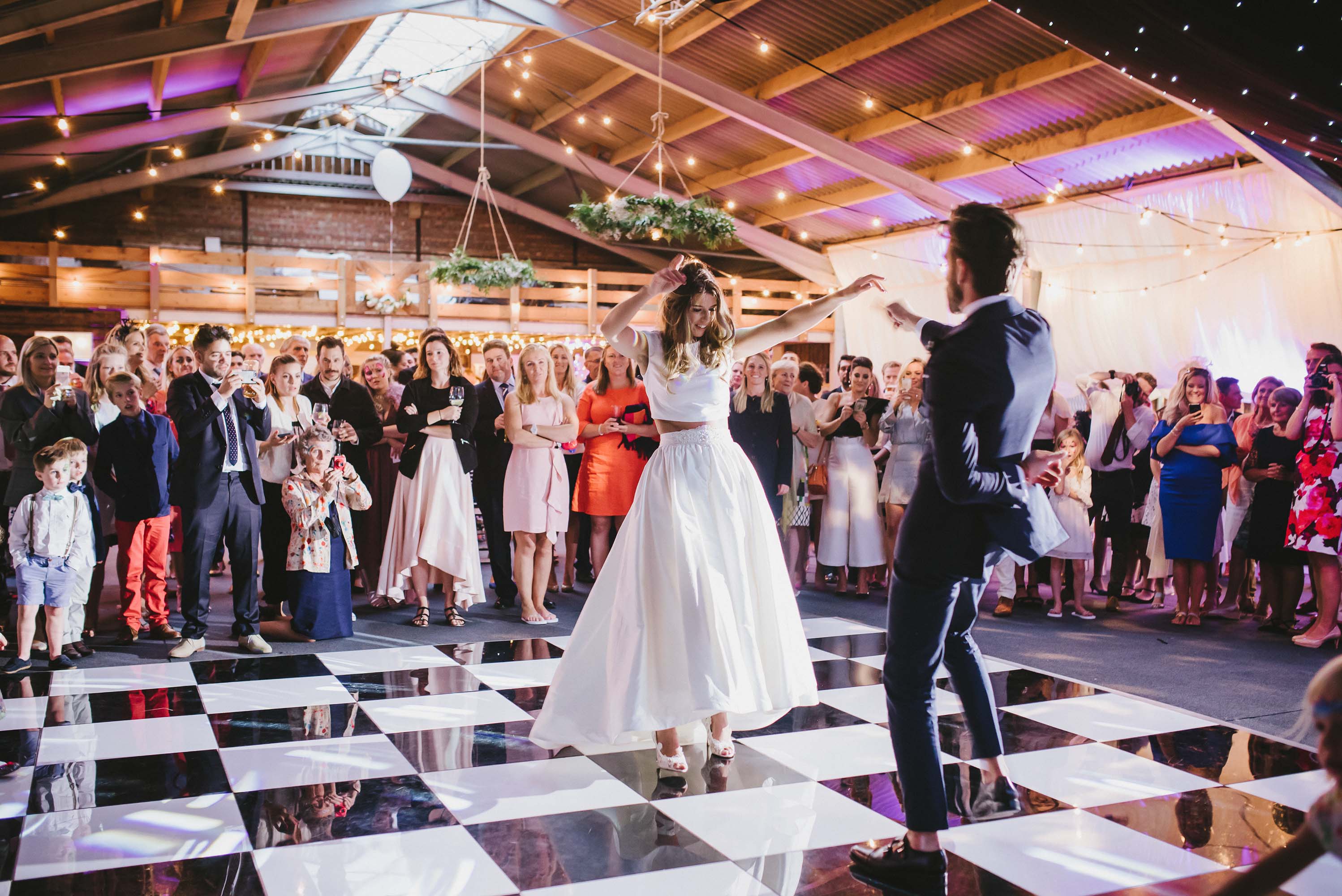 This panic led to Kelly choosing three separate dresses, there was the initial wedding dress, a design by Karen Willis-Holmes that she wore with a skirt attachment for the ceremony.
Then she deconstructed slightly to ride her horse Darby at Langham Lodge to get the party started and she ended up in a gorgeous two piece that Martin Charles made himself.
The look was completed with make up by the talented Kiss & Makeup and of course, the stunning jewellery was all from Dawson of Stamford, including the tiara and the couple's wedding rings.
The horse photos, shot beautifully by Georgi Mabee capture possibly Kelly's favourite part of the day. Thanks to local event rider Richard Jones, Darby himself had been very well-prepared for the event and his flower garland was created by Lisa Wiles from Keepers of Yaxley. "I'd never dreamed of a big white wedding when I was a little girl, but I had always wanted to ride my horse in a dress on the day." See, dreams can come true.
The first dance was to a Drake song that had been remixed slightly so that Kings Cliffe's celebrity rock stars, Fenech Soler, could do the song justice.
They played for the start of the evening and then local band The Salvation took over.
"It goes so quickly," says Kelly. "If I could offer anyone advice it would be to take in every minute, from the very start to the end because it just goes by in a blur."
For their honeymoon, Kelly and Fergus went to relax in Santorini via a stop off at the very quirky Crazy Bear Restaurant and Hotel in High Wycombe.