Food fit for a king… or rather, a queen. In fact, food fit for Queen Elizabeth I's Chancellor, the namesake of this month's dining out recommendation. Stamford's William Cecil has a brigade in the kitchen whose new dishes will tempt diners, with an ethos of quirky luxury…
It's a truly benevolent chef that willingly and happily donates his talent for the benefit of others on Valentine's Day. Being one of the busiest evenings of the year for dining, chefs like The William Cecil's Craig McCready will be rattling their pots and pans on 14th February to enable the rest of us to enjoy a romantic evening with our significant others.
Take the present Mrs Davis and I. God willing, babysitter permitting and on the assumption I can say 'hmm, definitely that one' with sufficient fake conviction to convince her I've an opinion when she asks 'this dress or this one?' – we plan to spend the evening out. We'll play footsie under the table, raise a glass to each other and enjoy a rare night out. I'd hate to have to work on Valentine's Day, but surprisingly, Craig loves it.
Food, he believes, is integral to a romantic evening for his guests, so he's created a sumptuous menu designed to ensure that food plays its part in a special evening out for loved-up couples. Craig has been at The William Cecil for about a year and a half. In that time, he's worked with his brigade of seven chefs to ensure the hotel is one of the finest places in the town to dine.
The hotel itself dates back to 1771 and carries a Grade II listing. It remains part of the Burghley Estate and has a sister venue, a more casual pub, The Bull & Swan, just down the road.
There are 27 bedrooms, and the place has a wedding trade that's brisk to say the least – with the thick end of 70 weddings planned for 2019 – as well as the usual business meeting and conference trade. It's the dining we're interested in here, though, and in that respect, you can trust in Craig and the team to provide a compelling choice of dishes.
A single menu is available during both lunchtime and evening service. There's a choice of six starters, six main courses and six desserts. In addition, there are three salads, four gastropub-inspired classics and a choice of six sandwiches during lunchtime service. Those meeting friends for a glass of wine can also avail themselves of a few nibbles like Hambleton Bread served with balsamic oil and so on.
The main restaurant seats around 28 diners, but one of the benefits of The William Cecil's makeover a few years ago is the creation of its Exeter Suite which can function as a private dining room adjacent to the main restaurant, as well as the bar and orangery, which offer a rather more relaxed dining environment too. The hotel's terrace is a real sun trap in the warmer months, and well-behaved dogs are also welcome in the bar or conservatory.
Menus change quarterly and reflect the vast array of seasonal ingredients available to Craig and the team. Local butchers include Stamford's Nelsons and Peterborough's Stilton. Vegetables are sourced locally and rather than labouring to try and beat the best, the team acquiesce to Hambleton Bakery to provide diners with artisan bread. Just about the only concession to national sourcing Craig makes is the use of London-based Marrfish, whom chef believes are the best in the business.
Our whistlestop tour of the hotel's winter menus began with a smoked pumpkin dish, beautifully presented and bursting with colour, with sweet onion, sprout leaves and a walnut salad. We also tried a blowtorched mackerel with radish and mooli crisp, again bursting with colour.  Our main courses, meanwhile, were a braised ox cheek dish with creamed potatoes and confit shallots. It was quite possibly the richest, meatiest dish we've enjoyed for a long time with an unctuous stocky sauce. An alternative option is the baked cod fillet shown opposite with black garlic pesto linguine. And so to dessert. Craig reckons the way to a lady's heart is through a really good chocolate-based pudding. Happily, his bitter coffee cremeux feuilletine is the best in the business; rich, exceedingly more-ish and cleanly presented.
Our hunch is The William Cecil is so established as one of the area's most popular hotels that locals forget it's also available to non-residents. That would be a shame given Craig and the brigade's formidable talent. It's a great looking hotel, but also a great standalone restaurant for non-residents. Food is neatly presented, well-executed and bursting with flavour too.
On the Menu…
Starters
Blowtorched mackerel, sour leaf, fresh radish, mooli crisp, glazed soy gel £8.50.
Beef consommé, suet dumpling, rainbow carrot, carrot gel, watercress £8.
Roast breast of pheasant, parsnip purée, blackberry, hazelnut crumb, red wine jus £8.50.
Main Course
Pan-seared venison, salt baked celeriac puree, braised raddichio, buttered celeriac, chestnut jus £19.
Baked cod fillet, black garlic pesto linguini, pistachio, onion & coriander vinegar dressing £16.50.
Braised ox cheek, vanilla creamed potato, confit shallot, mushroom ketchup, red wine jus £15.50.
Nelson's 8oz 28-day dry aged rib-eye steak, twice cooked chips, cherry vine tomatoes, onion rings £22.
Dessert
Bitter coffee cremeux feuilletine, milk foam, coffee gel, burnt butter ice cream £7.50.
NB: Featured dishes are subject to change.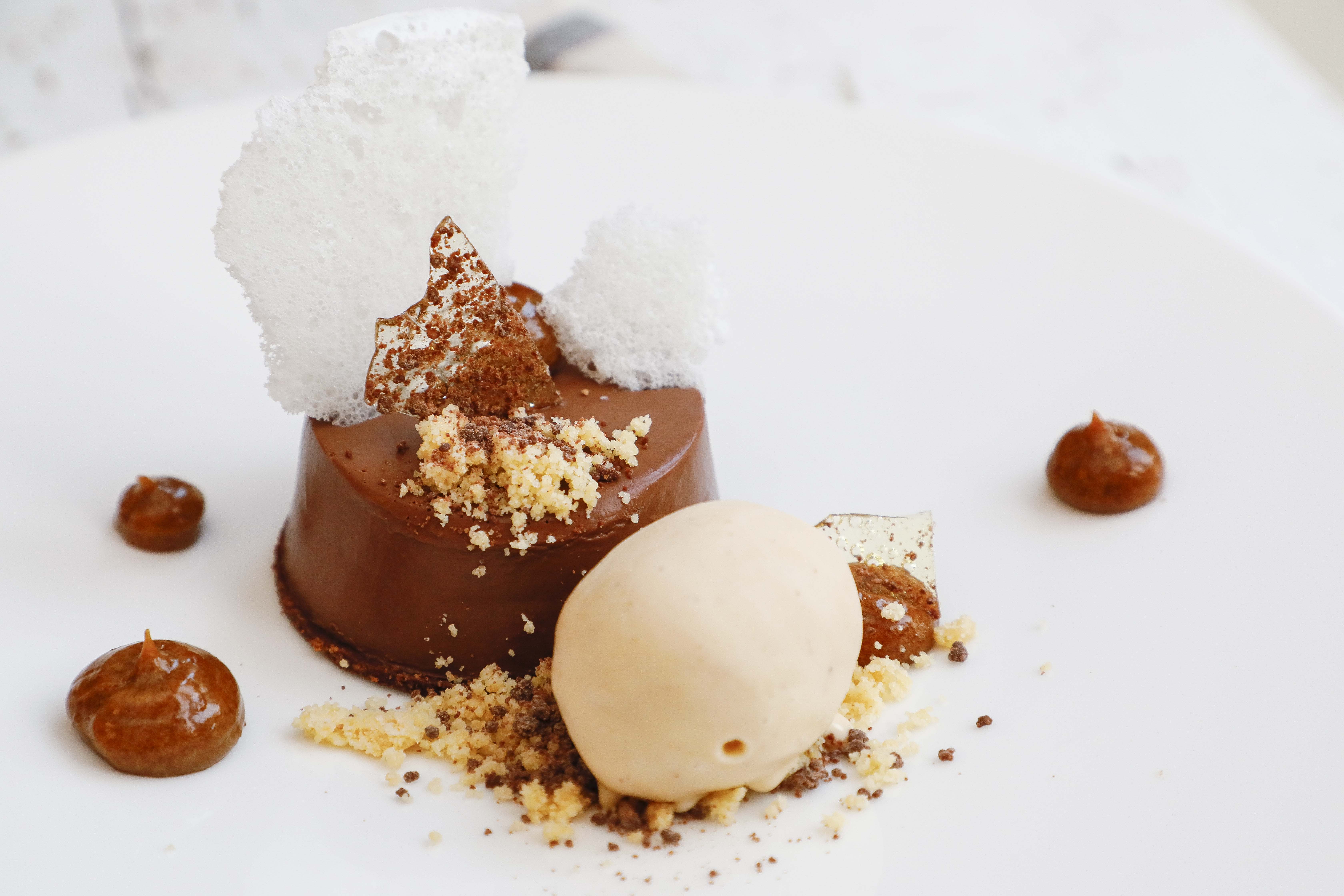 Open For Business…
Monday to Saturday: 12 noon – 2.30pm; 6.30pm – 9.30pm.
Sunday: 12 noon – 3.00pm; 6.30pm – 9.00pm.
The William Cecil, St Martins, Stamford PE9 2LJ. For bookings call 01780 750070 or visit www.thewilliamcecil.co.uk.