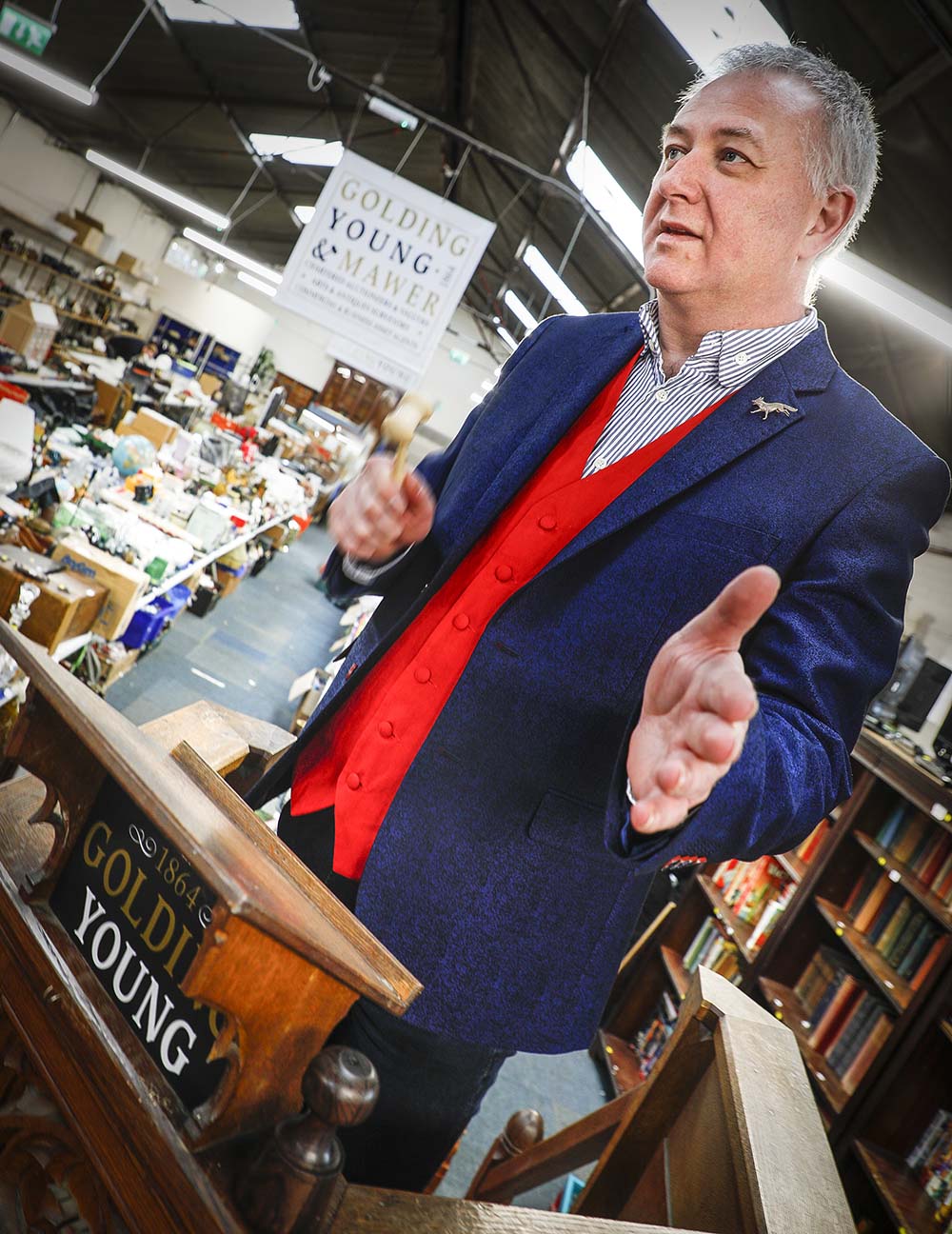 In 2019 auctioneer Colin Young celebrates 30 years bringing the Golding Gavel down on pots of lots, putting art in the frame and discovering antiques aplenty. This month he shares the secrets of his success and reveals why the area's auction houses are enjoying – not just enduring – the internet era…
"Excuse the amount of items in the place," says Colin Young as we walk past lot of lots towards the auctioneer's office. We visited Golding Young's Bourne sale room shortly before their monthly sale. As such, all of the lots that would feature in both the collective and Arts & Antiques sales were stacking up.
Hard to believe, but in a day or two, after the auction, the whole place would be empty. There was really no need for an apology. My eyes darted everywhere, over such a variety of furniture, antiques, art, household effects, vintage cameras, motorcycles and antique clocks. If it's not in the room, you probably don't want it!
Does the company find it difficult to find stock in the internet era? Oh no. In fact internet auction sites as they're known have created a whole new market for real auctioneers for products that previously failed to sell. Having sales like those hosted by Golding Young means a wider range of quality of stock, not only those you feast on glamorous results cherry-picked by experts like Colin, who also presents BBC programmes like Bargain Hunt, and won Young Auctioneer of the Year in 1996, but at the lower levels too.
"You can pay a commission to online sites, and do all the work yourself," says Colin. "Or you can pay us to do all the work; collect the item, photograph it, catalogue it, process the sale, publicise it and collect the funds with the security of RICS regulation."
As well as improving auction rooms' quality of stock, the internet has increased the audience of sale rooms well beyond buyers' willingness to travel a particular distance, and made it possible for them to be in two sales at once.
"Previously we used a platform to sort of 'piggyback' on other auction technologies," says Colin. "But just recently we've invested in our own platform – technology that was previously the preserve of the World's top few auction houses."
The company has sale rooms in Bourne, Grantham and Lincoln, and hosts monthly Collective sales as well as Arts & Antiques sales and sales through the year for automobilia, ceramics, Asian art and so on. Each sale features about 1,500 lots, and they're typically attended by an audience of about 200 people in person. But now, there's a hidden audience of thousands online making bids too.
That means as a seller, you're likely to get a better price, as a buyer, you've easy access to better lots than ever and as an industry, the likes of Golding Young are really prospering.
But where on earth does the auction room's stock come from? "Oh that's the easy bit!" says Colin. "Private individuals, liquidations of businesses, estate clearances… it's a real misconception that you have to send off a huge amount to the auction room."
"In fact, many of our lots are single items, and we're always happy to visit those who are downsizing from large properties or redesigning their homes and want to have a single item or just a couple of bits valued for sale; we're always happy to advise."
Selling around 70,000 lots annually, Colin's successes include a Cello which sold to a Canadian collector for £11,000, a sideboard which sold for a cool £135,000 and a James Campbell painting which was sold to the Tate Modern Gallery for £15,000. The firm's antiques and fine art department has valued about £40,000,000 over the past five years or so. But what's the secret of auctioneering?
"It's necessary to be technically brilliant," Colin admits. "After all, you've live bids, phone bids and internet-bids all coming in simultaneously, so you have to be aware of what's going on and count forward."
"But honestly, the secret is that I'm an auctioneer first and a businessman second. It's important to engage with the audience, make them feel the atmosphere and the excitement of the sale room. It's a unique and fun place to be, and the more of a buzz there is, the more of an exciting atmosphere, the better the reflection on the business. After that, achieving good prices for the seller will take care of itself and buyers will enjoy the experience."
"Some people are still intimidated by the auction room, by the myth that you'll scratch your nose and buy a Rembrandt, but the reality is we're here for both seller and buyer, and it's in our interest to make the experience fun and lively and likable. The banter you can have, bringing people in, reading their body language and the humour are all part of the sale experience."
Another part of the fun for Colin is that you never know what lots are going to come through the door. Colin is a fan of vintage motorcycles and was delighted to see a vintage Triumph through the door; it's now parked next to a convertible Mercedes which will also feature in the next automobilia sale.
Valuation is tricky, but again, that's part of the skill. All items have a sort of Schrödinger's valuation; with all items' value dependent of age, provenance, and the ebb and flow of trends and fashions.
"There's a thin line between auctioneer and anarchist!" jokes Colin. "But after 30 years I really wouldn't do anything else!"
Colin Young has 30 years experience as an auctioneer based at Golding Young, established in 1864. The company has sale rooms in Bourne, Grantham and Lincoln, and offices in Stamford and Louth. For no-obligation advice, valuations and to view catalogues of future sales online, see www.goldingyoung.com or call 01778 422686.