Food & Drink
Local Food, Drink and Restaurants in Stamford: The White Hart, Ufford…
With a chill in the air and leaves turning from green to gold, now's the time to seek out a country pub restaurant which offers stunning quality dining and a wonderfully rustic environment. Our recommendation is Ufford's White Hart…
Words: Rob Davis. Images: Pride's Chief Photographer Dean Fisher.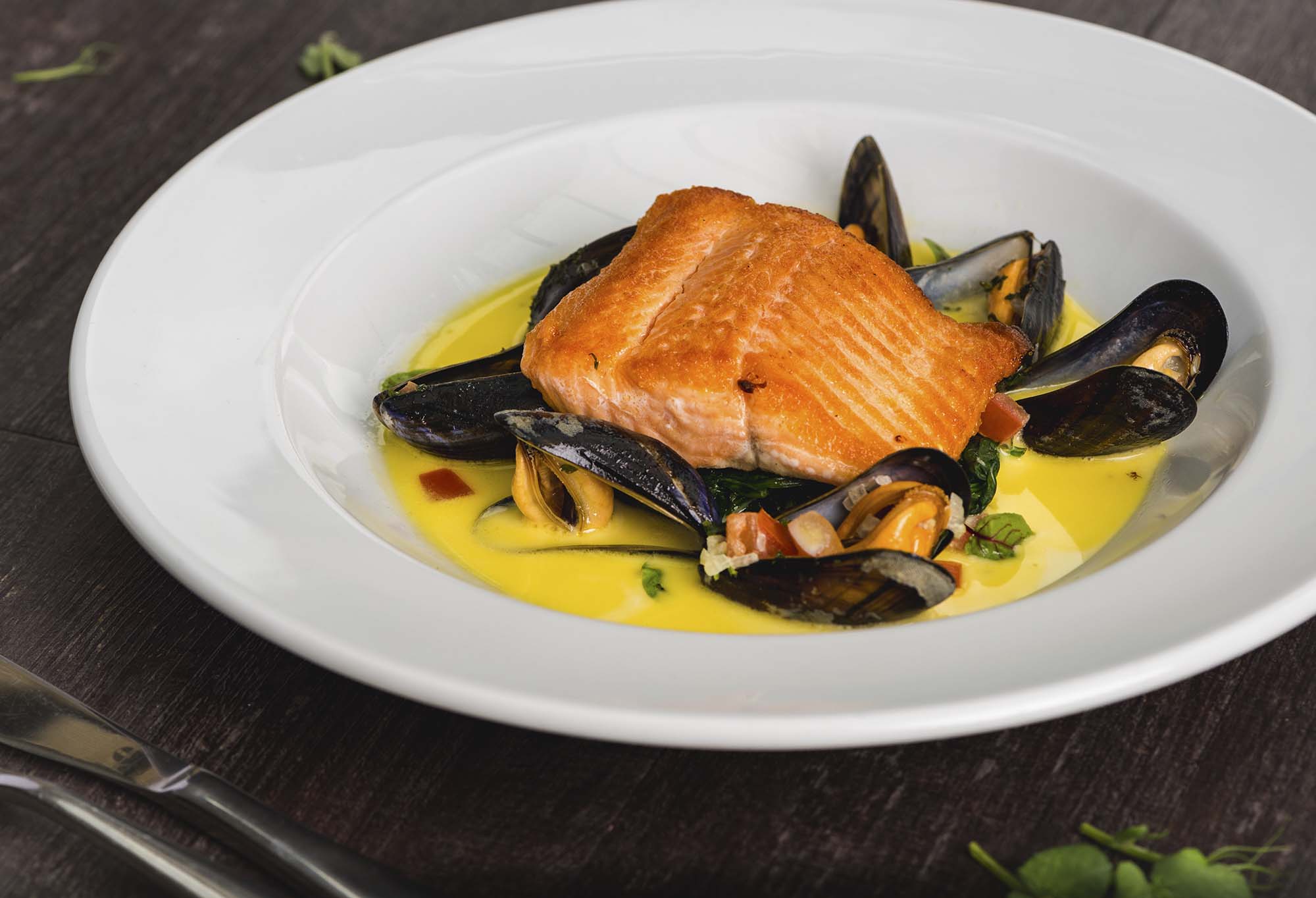 Four seasons in one day. Autumn brings with it a palette of rich colours, a roulette wheel of climatic uncertainty and of course those rich, meaty dishes that are as satisfying as dining in front of an open fire.
This month we wanted to recommend a pub restaurant for those hedging their bets against the weather… so where better than Ufford's White Hart, with a pretty restaurant and bar area with open fire, flagstones, beams and chunky furniture.
A pleasant environment in which to dine is only half the White Hart's appeal, though, because a new chef in the form of Chris Huggett is taking an already great dining room to the next level in terms of quality.
The White Hart has been a village inn since the 17th century and now carries a Grade II listing. The restaurant and inn has been in the hands of the Olver family since 2014, now managed by Paul Burke. The aim has always been to run a welcoming village pub that is able to offer good food and comfortable accommodation in one of the most picturesque villages in the area.
Since Chris, who's a great believer in using seasonal produce, came on board he has changed and simplified the menu to reflect the seasonality of the restaurant's local produce.
Tasty homemade meals are created using meat sourced from nearby farm – Willowbrook Farm – as well as mushrooms, apples, blackberries and damsons and sloes which are collected by expert local foragers, while the restaurant's own five beehives produce its supply of honey.
"Creating delicious food has always been a passion of mine but one that was confined to entertaining family and friends until the age of 44," says Chris. "I decided to find out once and for all if a 'foodie' could make it in a professional kitchen. I managed to persuade Adam Charity, then manager at The Talbot in Oundle, to give a complete novice the chance to work in a professional kitchen. And there it all began."
"I quickly moved on to the well-established Olive Branch at Clipsham, and an initiation into the world of high-end cooking."
"Then came the chance to join a brand new restaurant The Chubby, at Castor, near Peterborough, opened by Gordon Ramsay protégée Ade Adesina."
"At the same time I began to host a monthly pop-up restaurant in Oundle, featuring fine-dining six-course taster menus. I have also worked in various gastropubs around the area, while keeping my eye out for a head chef's role, and I am absolutely delighted to be now be here at The White Hart."
The pub restaurant has a single menu, which provides à la carte dining during both daytime and evening service, with a separate Sunday lunch menu. There's a choice of around seven starters, nine main courses and six pudding options.
All of the elements of your meal are created in house by Chris and his team, and Sunday lunches are satisfyingly authentic, with 28-day matured sirloin of beef, cooked medium rare, with roasties cooked in dripping and thick, unctuous pan gravy.
Diners can choose from five areas in which to enjoy the mouthwatering dishes prepared by the chefs. The bar has a wide range of tables available for couples or larger parties and provides a relaxed, pub atmosphere.
Meanwhile, old kitchen-style dining tables and chairs in an array of styles lend the restaurant a more country, shabby-chic feel, in a slightly more formal setting.
An Orangery was added to The White Hart to link the original two main parts of the building together. It offers a wonderful light area for dining all year round – even in the greyest of winters.
Since its purchase, six more bedrooms have been created in a lovely stone outbuilding, bringing the total to 12. The White Hart, which is licensed for civil wedding ceremonies and also features a private function room, provides top notch facilities for larger events in a beautiful, picturesque setting.
The White Hart is as authentic as country pub as you're likely to find, with masses of character, great service and perhaps most importantly, consistently great quality dining.
"For a true chef, their work is not simply a job, but a passion!" says Chris. And that's exactly the impression we get from a pub restaurant that's authentic, determined to provide quality and comes with masses of character!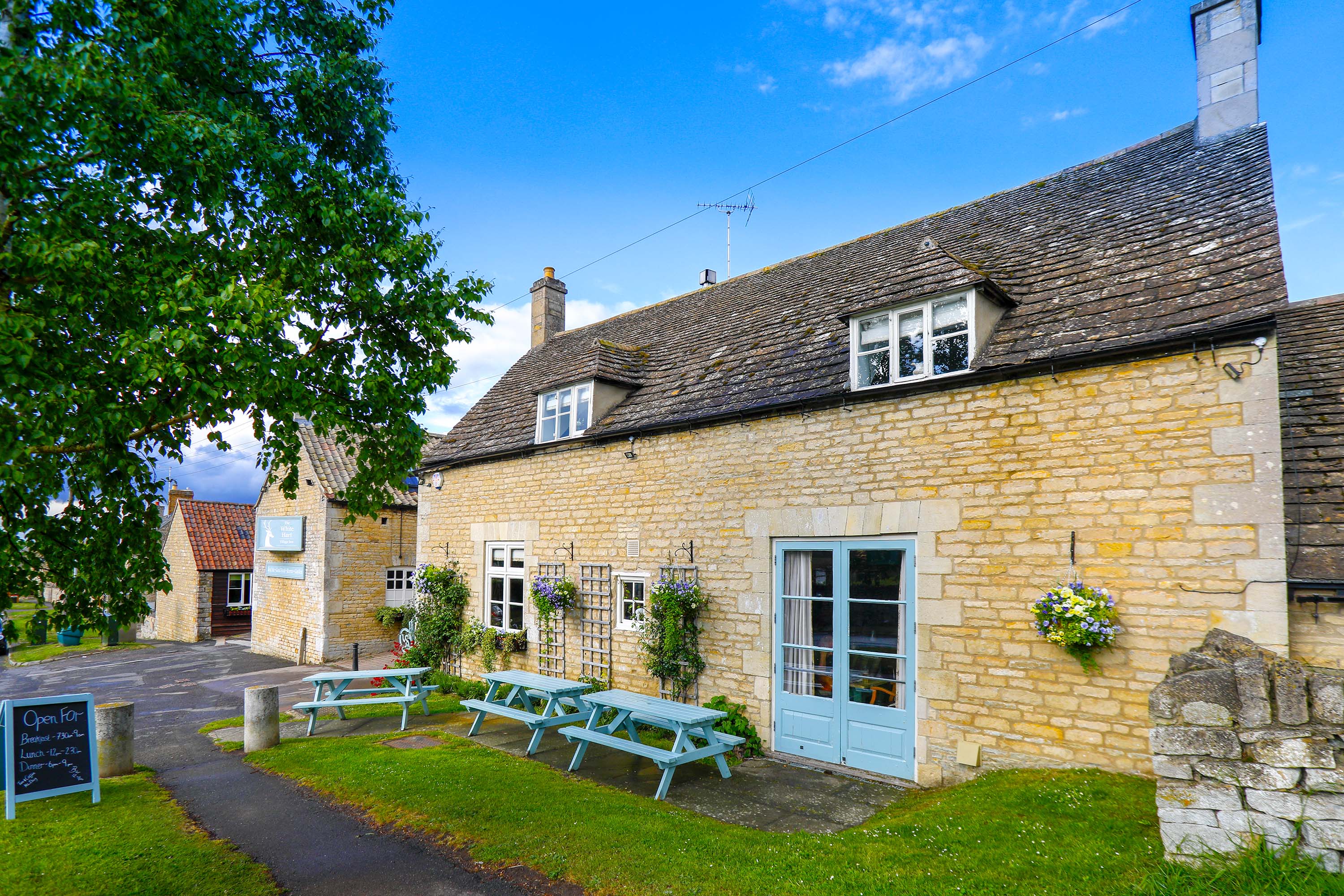 On The Menu
Starters
Sliced duck breast with crumbled blue cheese, pear and candy walnuts, maple syrup £7.25.
Salmon, prawn and chive mousse with a watercress and cucumber sauce dressing £6.95.
Main Courses
Lamb shank slow braised in a rosemary, garlic, redcurrant and port sauce with seasonal vegetables, mashed potato£19.95.
Local blade of beef in a rich red wine gravy with creamy mashed potato, buttered kale and chantenay carrots £15.95.
Pan roasted sea bass with crushed new potatoes, tenderstem broccoli, king prawns and a lemon butter sauce £16.25.
Chargrilled chicken breast in pearl onions, bacon, pea and brandy cream sauce with dauphinoise potatoes £15.20.
Dessert
Locally picked apple and blackberry crumble with homemade custard £6.95.
Sticky toffee pudding with a butterscotch sauce and vanilla ice cream £6.95.
NB: Featured dishes are subject to change.
The White Hart, Main Street, Ufford, Stamford PE9 3BH. Call 01780 740250 or see www.whitehartufford.co.uk.