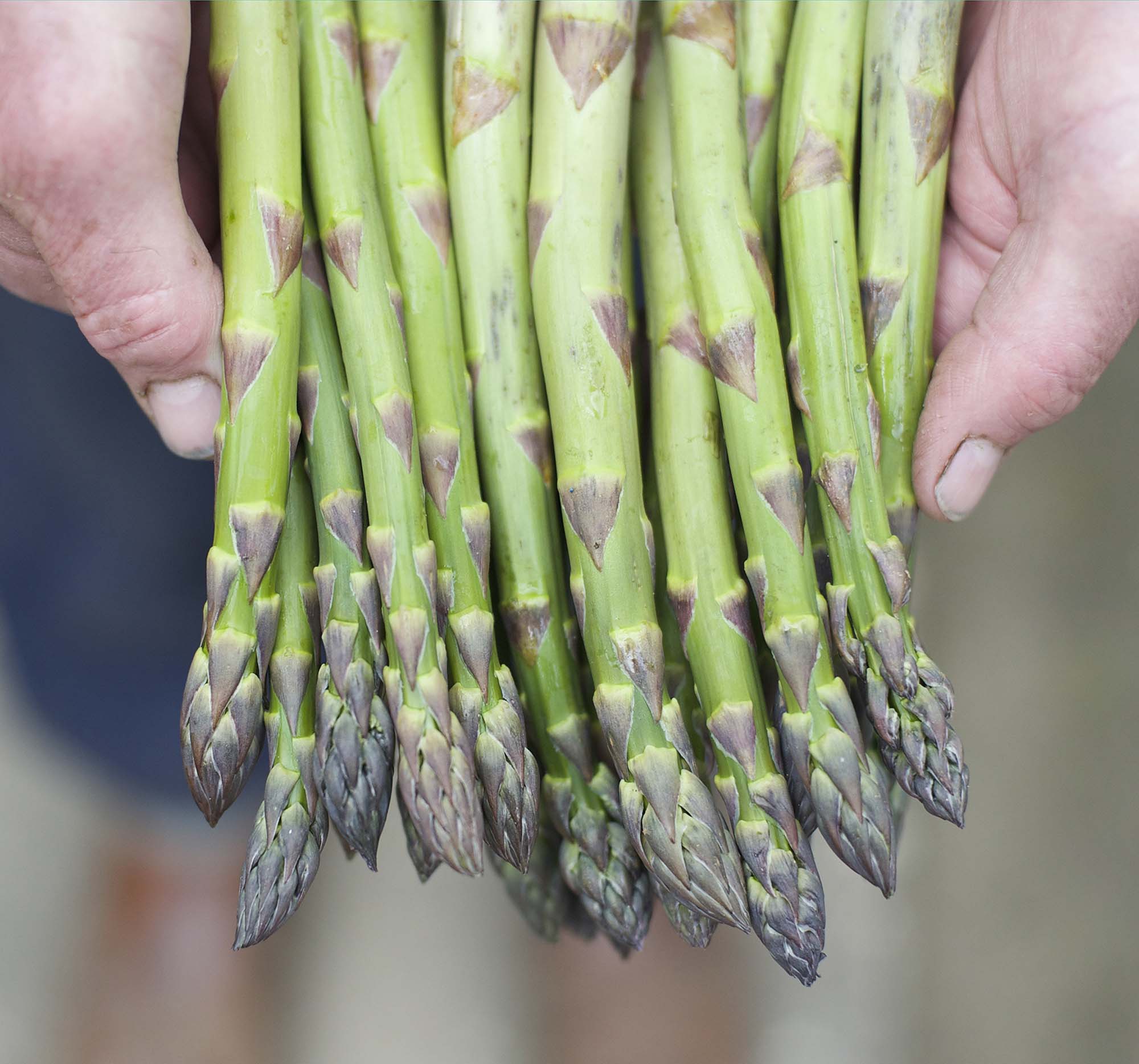 St George's Day means the beginning of local asparagus season, and an especially busy time for local farmer Josh Makey…
The Gently Undulating Fields around Stamford and Rutland will soon see spears of asparagus making an appearance like little soldiers, then the flickering of fern-like greenery.
And on our local restaurant menus, you can expect to see many a proud boast of local asparagus topped with duck eggs, flanking local lamb or served simply with hollandaise or lemon.
St George's Day marks the beginning of the asparagus season… and a busy few weeks for Josh Makey. The Manton farmer has land adjacent to the reservoir on which he grows arable crops including Gwilym asparagus in the seven or eight week season, and strawberries later in the year.
The crop is planted as a crown and one crown should yield a crop for about 10 years. The soils in our are are ideal for growing asparagus. It's very much a crop that thrives in sandy free-draining soils rather than the claggier heavier clay- or silt-based alluvial soils of the fens in Norfolk, Cambridgeshire or Lincolnshire. It take around three years to be able to harvest the first asparagus crop after planting, but once it's in the ground, the crop is no slouch, in fact in ideal conditions, warm and dry, with decent draining soil, the crop can grow a whopping ten inches in a 24 hour period!
Green asparagus is most common, but purple asparagus has a slightly stronger flavour. All asparagus is rich in vitamins and great for the digestive system… and by reputation, a potent aphrodisiac! White asparagus is grown underground, deprived of the ability to colour up with chlorophyll hence the lack of green hue. It requires peeling before consumption and is generally much thinner.
Jersey series is the most common variety, with Jersey Knight especially vigorous in its growth and Jersey Giant a little thicker. Harvesting the crop is perhaps one of the reasons that asparagus is one of the more expensive vegetables, with little automation of the job possible because of the delicacy of the product and the short nature of the season making machinery a poor investment.
Consequently spears are cut manually in an operation that's quite labour intensive  for an 600-acre arable farm which grows crops with greater mechanisation such as wheat, barley, and Josh's rapeseed oil, produced from his 150 acre crop. Harvesting asparagus is a matter of taste and personal judgment, but of course, our recommendation is to harvest it young.
A few experiments with a sharp paring knife will quickly demonstrate to the beginner when this stage has arrived. Cut neatly and cut deep.
If the base of the spear feels gritty as one cuts, this is a sure sign that the stem has got tough and pithy. Ripe stems should cut like butter. It helps to use a sharp knife with a sickle-shaped blade.
Special asparagus knifes can be found in some garden supply shops. Whilst the season may be short, asparagus remains one of the most versatile vegetables. Roast it with Parmesan and garlic or lemony breadcrumbs; toss with dressing, almonds, and goat cheese; garnish with fava beans, lemon zest, and toasted almonds; or mix in risotto with fresh spring peas, parsley, and Parmesan.
Alternatively, you can simply steam it and season with butter or olive oil, garlic, pepper, and Parmesan or shredded Gruyere for an easy side dish. However you enjoy it, though, asparagus is one of those vegetables which puts the joy of seasonality back on the table. If you're going to enjoy it, don't bother with internationally grown varieties… enjoy the time and work that Josh and the family have invested in their local crop.