Ladies
Stamford's Wedding Dress Designer…
Finding the perfect wedding dress is tricky… so it should come as no surprise that many brides prefer to work with couturiers like Stamford's Anna D'Amato… who enjoys creating beautiful dresses with hints of the 1930s using plenty of beautiful fabrics, embellishments and overlays!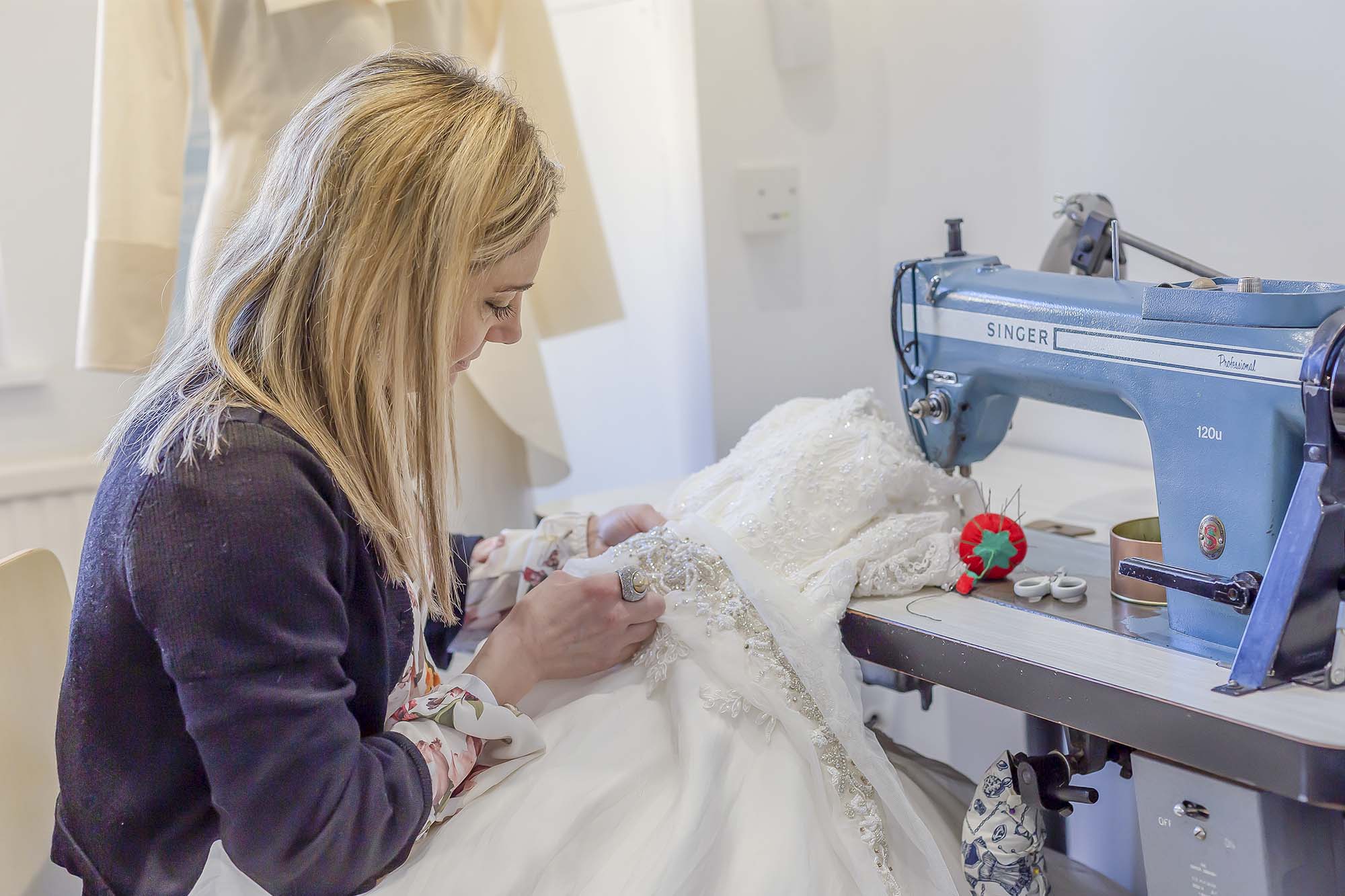 Your Wedding Dress serves as a reminder for that special day; the day of your dreams. It's the dress that captures the beauty of the bride for all guests to see as she walks down the aisle. Brides can spend a lot of time trying to find their perfect dress, sometimes with fruitless results. So instead of hunting high and low, why not enlist a couturier like Stamford's Anna D'Amato to create a one-off, totally unique dress instead?
Anna is a luxury clothing designer, from Stamford who came to the area in 2014 after relocating from London having enjoyed a 15 year career in costume for films and TV and designed costumes for box office hits such as Star Wars and Phantom of the Opera. Anna was also the seamstress for Madonna's stage performances for two years. It was after this spell in tinsel town, in 2002 that Anna first entered the world of bridal design as she missed making her own pieces and instead wanted to produce unique gowns and bespoke items from her home studio.
Anna Couture Boutique in Stamford arrived first in 2017 offering special occasion wear for the mother of the bride. An exciting opportunity arose for Anna when the owner of Chanticleer, bridal boutique, in Cheltenham retired and she was able to buy the business and rebrand. This is when Anna Couture Brides, now located opposite The George Hotel in Stamford, opened in 2018.
If it wasn't for Anna's best friend however and one of those 'fate' moments, Anna may not have ended up in the lucky position she now sees herself in.
Anna's best friend had asked her to make her wedding dress and together they went to The National Wedding Show for inspiration whereupon they came across bridal designers. "Anna you could do this, I could see you here!" enthused Anna's best friend and after a moment or two of consideration Anna had signed up to the next show in London and had to produce a collection in a few months! From then on Anna's name grew and everything slotted into place.
"The whole process of choosing your wedding dress should be magical, and whether this is couture or non-couture, you want to feel special and come out with the right dress for you."
Anna advises that when you first become engaged, there are two things to think about first of all when choosing your dress; style and budget. Look on websites, through magazines and brochures to look at different style dresses and start thinking about the style you desire. Then of course, think about how much you will have to purchase the dream dress. From experience Anna states that you should budget between £1,000-£2,000. It shocks most brides that she can work with such an affordable budget even when a dress is bespoke.
Secondly, it is important that you make appointments within dress shops for consultations and to try on the styles of dresses that you have seen to see if they suit you – you will be surprised at how different your dress can end up compared to your original thoughts!
Anna's most popular dress is a 1930s inspired long-sleeved gown and it's entirely unique, a design you won't find in magazines. Popular styles currently seem to be a simple backless design or the ever popular ballgown princess look.
The ideal amount of time to leave to find your dream wedding dress for most bridal shops is one-two years. This allows for them to order in your dress in the correct size and for alterations to be made. As Anna designs and alters her dresses herself in the shop, this time scale can be shortened to a year, or even just 6 months in advance!
If you find your dream dress but not in the colour that you are hoping for, dress designers should be able to incorporate different materials or colours. No colour scheme or theme is too outrageous! For bridal shops, white and ivory still remain by far the most popular shades to choose.
"White often takes top place but Ivory is slowly creeping up there," says Anna. "But the weight of your wedding dress is also something just as important to take into consideration. For example, if you are marrying abroad or in high summer, brides often don't want a heavy or tight dress as this will enable them to feel freer and more comfortable as you will be in it for a long period of time. Boho style is always great for warmer weather."
Using a professional dress designer will ensure you're able to select your fabrics to ensure that you're happy with the feel of your dress. This will be tailored to you and your movements throughout the day. Dress shops however are often limited to the options they have available in their dresses.
It is advisable to have at least three dress fittings, and then as many more as you feel are needed afterwards. For Anna, the first appointment is the one in which she will take measurements, the second appointment is for what she calls calico toile where a bride will see the pattern of her dress and see this on their body silhouette. At the third appointment, you see the final design.
At your dress fittings all dress shops and designers suggest that you wear similar underwear to that which you will be wearing on the day. This is important to ensure that you are comfortable, and that everything sits where it should!
Also, if you can, wear lighter colour underwear to prevent any darker colours showing through. Anna also advises not wearing a full face of make-up when first trying on styles of dresses to prevent stains and damaging the dresses, but you can to go back to your chosen dress for a fitting after you have had a make-up trial. It's also important to consider how you will wear your hair on your wedding day as this can often alter the style of dress you choose and also shoes for the length.
Veils remain popular – especially the fuller and longer length styles – however hair vines are also becoming more in trend. There are also options available, and if like most women you don't like your arms, options like sleeves and jackets can help.
Again, it's important to consider where and when you will be getting married, as if it is a hot day, you may want a little more of your body on show. Anna would like to tell all brides, though, that: "On your wedding day, no one is looking at your arms but the stunning dress and smile on your face… so please just be happy and confident!"
Find Out More: Anna D'Amato is a couturier specialising in wedding dresses, designing unique gowns perfect for all special occasions under her own brand, Chanticleer. Visit her on High Street St Martin's, Stamford, Lincolnshire PE9 2LF. Call 01780 762614 or see www.houseofannacouture.co.uk.