Chef Adebola Adeshina and his team celebrate their first three years in the village of Castor, having created a restaurant with dazzling dishes, civilised dining and a generous helping of theatrics…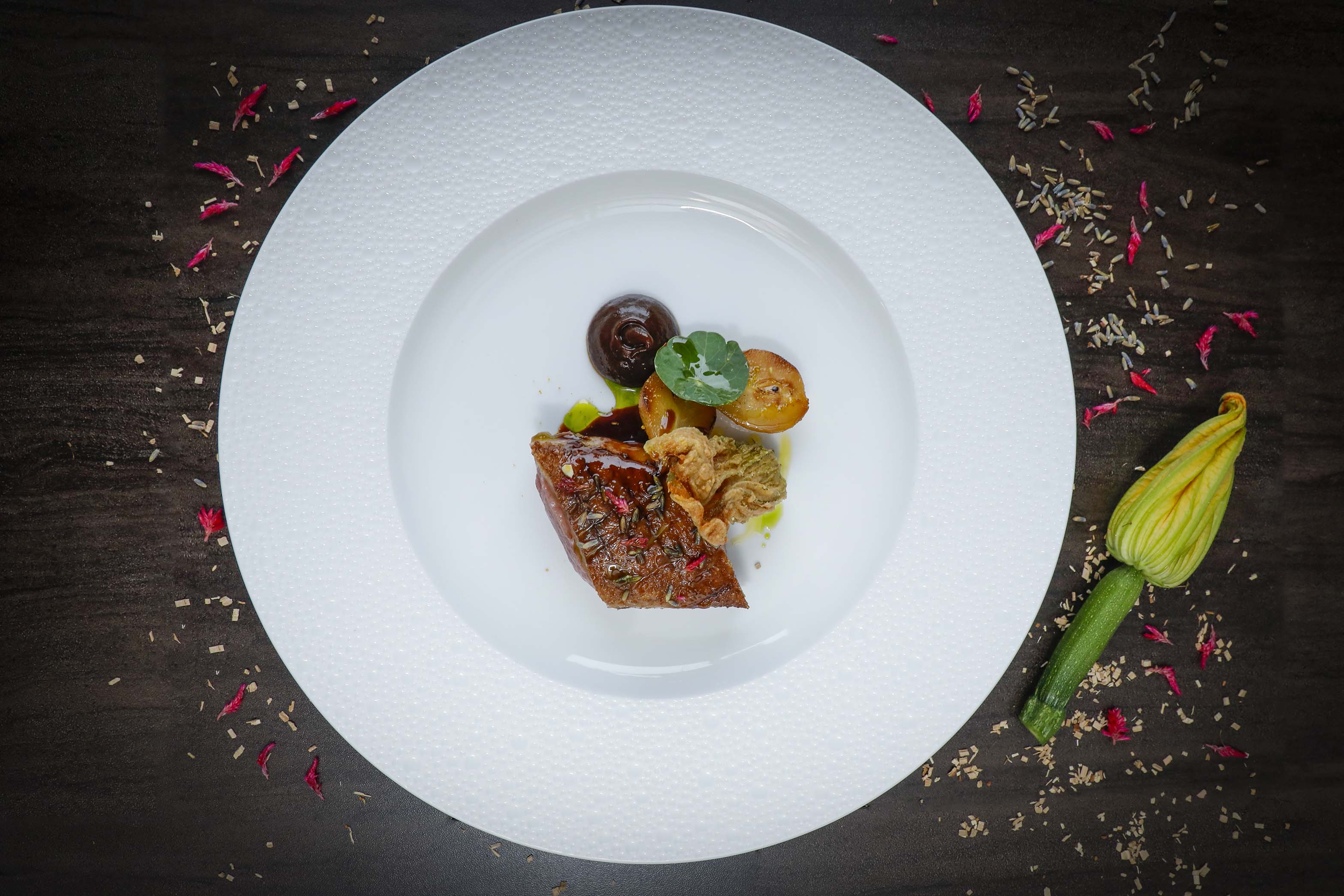 Be Careful What You Wish For… that's my advice. After days of searing temperatures and 40°c heat, I was grumbling quite vocally in the office for some respite from the stuffy, close atmosphere. Upon reaching The Chubby Castor between Stamford and Peterborough, to meet chef Adebola Adeshina, though, the heavens opened. Bang went the idea of me dining and photographing outdoors, not to mention the picture I had in mind of the pretty 18th century thatched restaurant bathed in sunshine. Instead there was thunder, lighting and torrential rain. It was dramatic, but not half as dramatic as what was about to appear at the table.
Ade and his team are simply phenomenal. I'd been looking forward to visiting The Chubby Castor for a while and it didn't disappoint in terms of theatrics, or the sheer professionalism and talent of the five chefs in the kitchen. The chef comes from London and spent the late 90s and 2000s working for Gordon Ramsey at Maze and Aubergine, and with John Torode at Mezzo in between. He was instrumental in helping Restaurant Gordon Ramsey gain its third Michelin star and has seasoned his CV with a sprinkling of other London restaurants like Claridges at the very time they were at the top of their game.
But of course, there comes a point in any Londoner's life when they want to swap Tubes and skyscrapers for idyllic villages and a better quality of life. Hence three years ago, Ade and partner Alina created The Chubby Castor in the old Fitzwilliam Arms, bringing dazzling civilised dining to a much nicer location… with more civilised prices, too.
The outdoor dining area is very pleasant, though not when 2020's worst storm is passing through the village, so instead we enjoyed the stylish 45 cover restaurant. Two private dining rooms are also available for private parties, and there's an open kitchen so you can see Ade and his team at work in the freakishly neat and clutter-free kitchen.
Menus? Well, there's a set menu which runs during lunchtime and evening service, with two starters, main courses and desserts, changed fortnightly. Alternatively, there's a seasonally-changing à la carte menu with a choice of five dishes per course. Finally, the dedicated Sunday lunch menu promises a contemporary twist on old favourites, and two or three courses for £26 or £30 respectively.
Presentation is stunning and our duck breast was smoked under a cloche at the table. Such features are novel, but happily, at The Chubby Castor they don't detract from the technical quality of Ade's dishes and the fundamental requirement of food at this level to be delicious and flawlessly executed. Chefs can only do the 'bells and whistles' if they get the basics right and in terms of the flavour, texture and composition of each dish, The Chubby Castor can't be faulted. From the flatbread and focaccia with homemade butter to our chargrilled squid starter, to our duck, every aspect was both confident and flawless. Bread, amuse bouche and pre-desserts are served to all diners, whilst good wine recommendations appear alongside each item.
Our intention is to return after lockdown to enjoy the restaurant's seven course taster menu, at £80/head or £130/head with a flight of wine. But for now, suffice to say à la carte dining is a really polished experience not just in terms of the appearance of the food and restaurant, but very much manifest in the dishes themselves.
Whilst some ingredients are supplied locally – game from the estates of Deene and Burghley, for example – Ade and the team also reach a little further, sourcing poussin and Iberico meat direct from suppliers in France and Spain respectively. Naturally at the level at which The Chubby Castor operates, bread, sauces, desserts, ice creams and sorbets are all made in house.
A shout-out, too, to sommelier and front of house man Stephen Andrei Neagu, and to Head Chef Cory White. Alongside Ade, Alina and the rest of the team, The Chubby Castor is comfortably one of the smartest, most innovative and one of the most enjoyable dining experiences in the area.
On The Menu…
Starters:
Orkney scallop, plantain, peanuts, curried aioli.
Fillet tartare, Cornish salt, pickled radish, yuzu mayo, mushroom powder.
Main Courses:
Pave of Icelandic cod, mussels, kohlrabi, lemongrass and raisins vinaigrette.
Barbecue Burghley lamb, sweetbreads, harissa and pancetta couscous.
Roasted Squab pigeon, sand carrot, giblets & vegetable pithivier.
Tournedos Rossini; dry aged fillet, duck liver, brioche, scottish girolles, truffle sauce.
Desserts:
Arborio rice pudding with caramelised peaches and peach soup.
Strawberry soufflé, strawberry and mint salsa, basil sorbet.
Lemon curd tart, ginger tuile, Scottish raspberries.
Alto el Sol chocolate, chocolate and honeycomb soil, honey ice cream.
NB: Featured dishes are subject to change.
The Chubby Castor is based at 34 Peterborough Road, Castor, PE5 7AX. Call 01733 380 801 or see www.thechubbycastor.com.