The Marquess of Exeter and his Marchioness ensured that during The Great War they did all they could to support the effort of those fighting on the continent, and those left behind…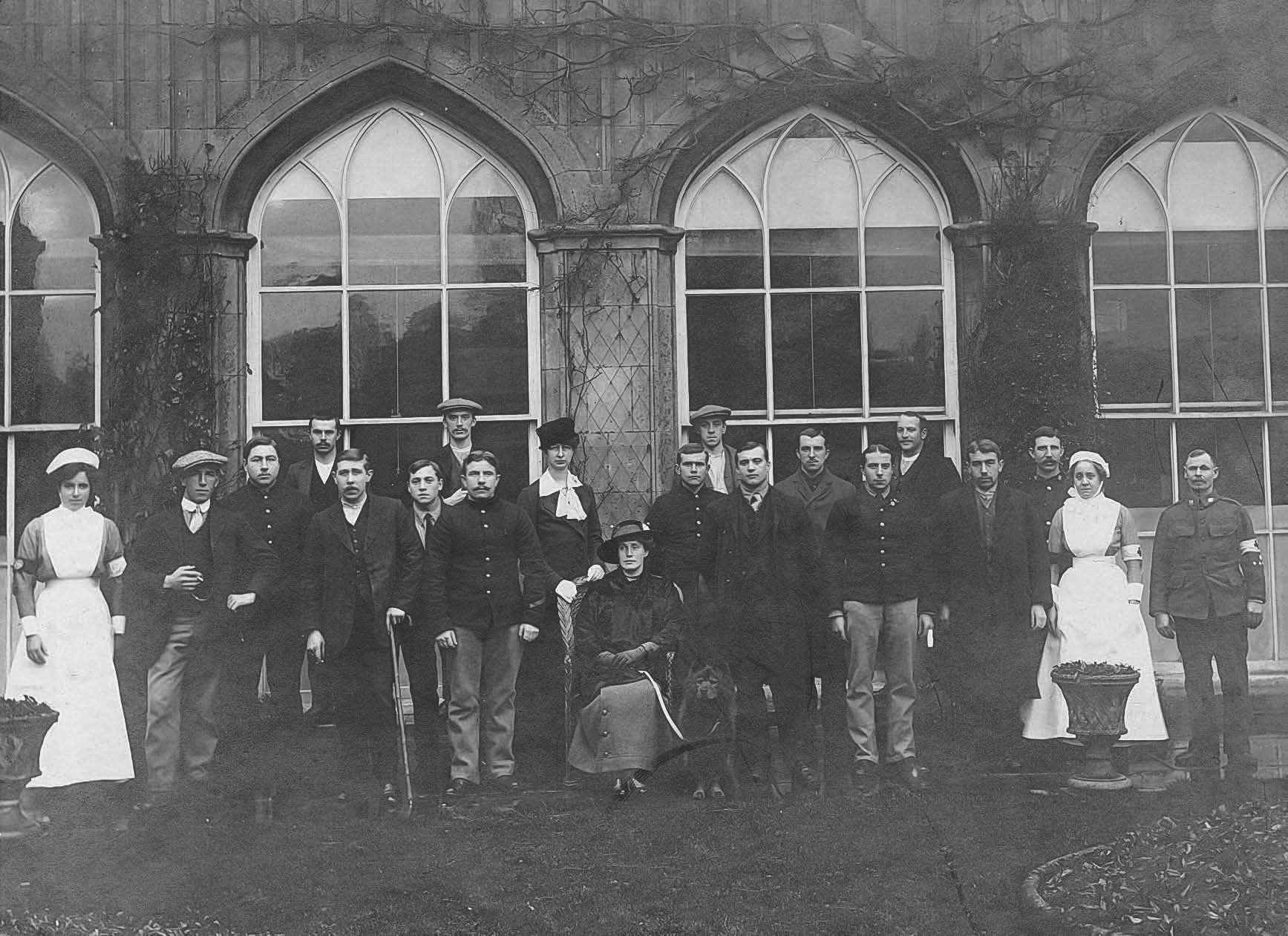 With Its Elizabethan Architecture, and its deer-grazed parkland, Burghley House is the epitome of a peaceful English stately home. With the exception of families enjoying walking in the grounds, perhaps the clinking of teacups in the Orangery restaurant or the giggling of children in the Garden of Surprises during the summer, there are few noises to disturb the happiness and idyll, but it wasn't always so.
Even Burghley House fell under the shadow of The Great War and the aristocratic Marquess of Exeter and his Marchioness were as compelled as the rest of the population to do their bit to help the country survive what would prove to be a long and horrific conflict. But from the horrors of war come the tales of heroism, and the efforts of those who lived and worked around Burghley have been documented over a century on by the property's historians.
The 5th Marquess of Exeter…          
William Thomas Brownlow Cecil, the 5th Marquess of Exeter – for the sake of our word count we'll refer to him simply as the Marquess from this point on – lived from 1846 to 1956, sadly long enough to witness both World Wars.
The Marquess was a Territorial Army Officer prior to the outbreak of war and held the rank of Lieutenant Colonel in the 54th (East Anglian) Artillery Division. Whilst at Burghley the Marquess and his Regiment were given emergency orders just one day after Britain declared war on Germany, and told to mobilise for 'full time war service.'
The regiment established coastal defences in Norfolk and Suffolk to prevent incursion by U-Boats, but left England for Northern France on 17th November 1915. Thereafter the regiment were sent to Mena Camp in Egypt prior to Gallipoli and were involved in battles in Gaza, Jaffa and at the Battle of Sharon prior to returning to England in January 1919.
Burghley's Staff at War…      
Charles Betts was a soldier in the Marquess's regiment, serving with him in Egypt. Betts  had previously worked on the Burghley estate and later undertook officer training in Cairo. During this period he wrote a letter back to his wife in which he acknowledged the gratitude of Lord and Lady Exeter who continued to pay half of his wages to his wife whilst he was away on active service.
It was a similar story for Arthur Groves who was Under Butler at the stately home before signing up to serve with the Royal Garrison Artillery  in June 1917. Groves returned to Burghley and was promoted to Butler, working for the family until his eventual retirement in the early 1960s.
Major Vivian Horsman Bailey was Adjutant to the 5th Marquess from 1916 until the end of the war and was awarded the Military Cross for acts of gallantry. Upon his return to Burghley he became the Marquess's Personal Assistant and lived at the Dairy Farm on the Burghley Estate.
Another of Burghley's wartime heroes was Edgar Cunnington who was employed in the estate's saw mill from 1908. He joined the Marquess's regiment in June 1911 aged just 17 years and six months. Edgar fought with the regiment in France, Egypt, Mesopotamia and in Syria, Basra and Baghdad, chiefly protecting oil pipelines.
Edgar Cunnington, was in charge of what was broadly termed transportation, which at that time meant taking care of horses and camels more than motor vehicles.
On returning to Burghley he resumed his work in the saw mill and retired in 1965 after 57 years of service. As a final act of service to his old wartime commander Edgar Cunnington made Lord Exeter's coffin when he died in 1956 with timber set aside for the purpose a number of years earlier. Of course, many of the young men who left Stamford to fight weren't as lucky, and Private Victor Barrett joined the 7th Battalion Lincolnshire Regiment and was sent to France to fight. Victor was killed in the Battle of Ypres on 20th December 1915 and is buried in the Menin Road South Military Cemetery in Belgium.
The Hospital at Burghley…   
During both wars, large privately owned buildings were frequently requisitioned for wartime purposes and Burghley was no exception, serving asa hospital. The first soldiers to return from fighting for a period of convalescence were 15 Belgian officers in October 1914.
At first there were just 15 soldiers but from 1916 this increased to 20. Initially it was proposed that the soldiers would recuperate in the servants' quarters, but additional beds and plumbing for sinks were installed in the Orange Court – now known at the Orangery Restaurant – and the soldiers were accommodated there.
Soldiers recovering would wear Hospital Blues – blue uniforms with red ties – and were treated as though still on active service. They would have to obey orders and needed a signed pass to leave the hospital.
On Tuesdays, Fridays and Saturdays they were permitted to leave the hospital and visit Stamford 'to get fresh air and exercise, not to spend time in the streets…'
Whilst staying at Burghley, the soldiers would eat porridge for breakfast and were given rabbit pie, mutton chops, boiled eggs and sausages on alternating days too. Lunch included dishes like stewed hare, rabbit, and cold beef. Supper was usually cold meat, bread and cheese.
Many patients took advantage of their stay to have dental treatment, especially extractions and false teeth. This lasted from 1914 to 1916 when 'unnecessary' dental treatment was stopped.
Naturally gunshot wounds and shrapnel accounted for many of the injuries, but pneumonia, trench foot and the effects of gas attacks were also seen. The Commandant and Matron of the facility was Nurse Mildred Cathcart, with records showing Mary Cathcart, Musgrove, Jones and an Orderly named Partridge helping to run the hospital too. Medical care was administered by Dr Greenwood.
The Marchioness of Exeter…
Lady Exeter was also committed to helping out with the war effort. Myra Rowena Sibell Cecil, Marchioness of Exeter, to give her the proper introduction, lived from 1879 to 1973 and took over management of the estate whilst the Marquess was away.
Lady Exeter supported Stamford's Red Cross fundraising efforts, attending endless meetings and also spent time with soldiers who were recuperating in the hospital.
She would take soldiers to concerts and would even give them the opportunity to go for a ride in her car – a real novelty. She would also send parcels to soldiers serving in Europe comprising soap, tooth paste, shaving soap, Oxo cubes and writing pads and pencils so they could sent letters back home. As well as helping to run the estate, the Marchioness also gave birth to her daughter, Romayne in March 1915.