If you're dreaming of a White Christmas, Bourne couple Harry & Vix Meddings-Stokes can help. The couple's business, Snowboy Systems, provides ground snow, falling snow, wind and rain for TV, film, retail and theatre work across the UK…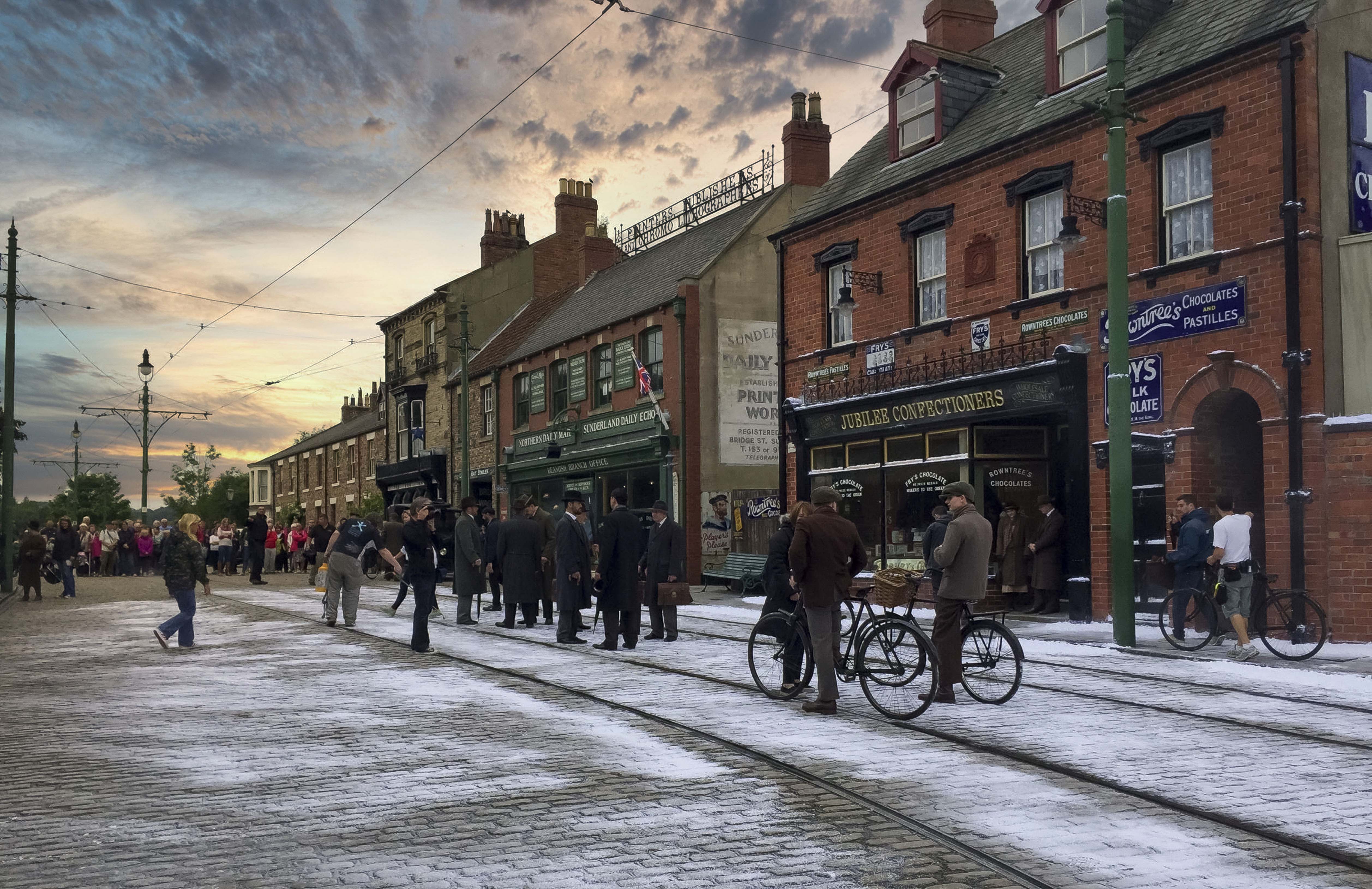 The pop group Crowded House said of the subject of their 1991 song, 'everywhere you go, you always take the weather with you.' In the case of Harry & Vix Meddings-Stokes, never has a more applicable lyric been written. The pair have been in the special effects industry for the duration of their professional lives and work hard to create ground snow, falling snow, wind, rain and smoke effects for their clients, mostly involving TV, film, commercial photo or video work, and theatre.
I came across Snowboy Systems a couple of years ago and considering it to be a pretty perfect festive magazine story, I've been chasing it down ever since.
Alas, the time we work on our Christmas editions also happens to be Harry & Vix's busiest time of the year too. That's because snow is most in demand a few months prior to the festive season when firms like supermarkets want to create that season's Christmas publicity campaigns.
This year has been a bit of an anomaly, as firms have held off for as long as possible to see how Covid restrictions will affect their customers and how restricted we'll find ourselves during the festive season.
But with the uncharacteristic availability of an hour or two to chat at this time of year, Vix was at least able to talk me through the company's work… or rather, she would have been. Poor Vix could barely answer one question before I excitedly asked two or three more. It was a brilliant conversation – great fun – which is usually a barometer for its translation into a good article… but I'm getting ahead of myself.
Harry's father, Phillip Stokes, had worked in the special effects industry for a number of years before founding his own company in 1984. Phillip was also involved in Spilsby Theatre and for one production, needed a realistic falling snow effect.
With no machines existing at the time suited to his performance, Phillip took the initiative and… well, made one. It was a machine he named the Snowboy, and Harry subsequently joined him in business making and using the machines.
Phillip worked alongside another of the industry's greats, Derek Meddings, meeting on the set of 2001: A Space Odyssey. Derek soon had Baftas and Oscars to his name and is best known as the man who made Superman fly in the 1978 film.
Vix is Derek's niece and she often joined him on set to help out with his work. With both Harry & Vix working in the industry, the two met in 2000 when she and Harry both worked on the WWII mini-series Band of Brothers.
Now, most couples meet in bars or by going on dates to the cinema. Not Harry and Vix though… oh no. Their eyes met across a crowded gantry at the British Aerospace factory in Hatfield whilst the two were alone, sprinkling a little falling snow onto a WWI trench as the brave Tommies lay down their guns for a Christmas Day truce. There's something romantic about that, I reckon.
Harry inherited the business at 19 years of age. He and Vix later got together and now run the company, having changed its name from Enterprises Unlimited to Snowboy, after the machine that Phillip invented.
Today, half of Snowboy's business is hiring out the modern iterations of Phillip's original invention. The largest of which is the latest in a series of giant bespoke truck-mounted snow machines large enough to cover an entire street in snow.
The other half of the company's work is creating effects. This year you'll see the company's handiwork in the Christmas campaign of fashion brands Joules and Joe Browns. A couple of other projects for large retailers are in the offing too, but until footage is wrapped and approved by the client, confidentiality is an essential element of the couple's work.
If you're a fan of romantic Christmas movies, you'll remember the final scenes in the 2001 film adaptation of Bridget Jones's Diary, in which the eponymous heroine chases Colin Firth and the couple reunite in the snowy streets of London. Harry helped create that very scene; specifically the falling snow.
Or perhaps you were one of the nine million viewers who tuned into the final episode of Downton Abbey, in which Lady Edith finally gets her happy ending prior to Christmas 1924. That snowy scene was actually filmed in mid-July 2015 at County Durham's Beamish open air museum… and that snow? Snowboy, of course.
Last year the Christmas campaign for Tesco featured a delivery van time travelling on a snowy street. 2019's Christmas market-themed Marks & Spencer advert took place in a snow-covered winter wonderland.
Waitrose's commercial a few years ago featured diners enjoying Christmas lunch in a snowed-in pub. Each of the above featured weather or technical assistance from Snowboy.
"We create a number of effects from ground snow to falling snow to frost, rain and wind," says Vix. "We're as busy as usual with commercial work but everything is happening later partly because companies are waiting to see what's happening with Covid. However, theatre and pantomime work has all but disappeared this year for obvious reasons."
"The company is best known for its snow, and we don't need to advertise or promote ourselves; those who need our services just 'know' about us. It's a bit of a close-knit industry, and our reputation has meant that work just naturally comes in. Likewise we have our own staff but we also know a number of trusted freelance technicians who we can call upon, so we can grow our team very quickly and dynamically."
"What is changing in the industry is that with digital technology like green screen and the prevalence of computer-based post-production, teams are smaller and schedules are tighter than ever before."
"Because of technology we're also able to work indoors more. Good lighting designers can turn day into night easily and convincingly, and it's sometimes easier to work indoors where you can control the elements."
"Our work can take up anywhere from a couple of days to a couple of weeks. Typically though we are also busy prior to – and after – the shoot days themselves. There's always a lot of prep work and we need to make sure that before everyone else arrives on set we're achieving the desired look for our client to meet our brief.
"On the shoot days themselves, we're on-set constantly, operating machines and making sure everything is OK, then after the shoot there's always a lot of clearing up to do! Hoovering up a snowy street is a surreal experience but part of the job!"
"Camera technology has improved enormously, and so our effects have to stand up to greater scrutiny than ever. Whether our snow will be viewed from far away for a wide shot or close up, the effect has to be convincing in high definition."
"For ground snow we use a biodegradable paper product which lays just like snow. It stands up well to closeup shots and it's not slippery; on set, there's a lot of crew and equipment so health and safety is something that's enormously important. Paper snow was first used in the 1994 film Mary Shelley's Frankenstein. Dentritic salt – essentialy bath salts – used to be used to create it. I've also heard that in the early days of film making, asbestos would also be used as snow… you definitely wouldn't get away with that today!"
"Falling snow uses a completely different technique and our Snowboy machines use a special sort of foam product that is aerated into realistic flakes."
"It melts away leaving no mess and depending on the way it's deployed, we can control the height at which it dissipates to achieve different effects."
"It can also be used in a studio as well as outside, and because it's at room temperature you don't end up chilling an actor to the bones or melting snow under hot studio lights!"
"Snow is actually an easier effect to create than rain. Only water looks like water, especially close up, and water needs to be lit really well."
"We've created custom tanks for shoots before, which recirculate water and shower it out. For Andy Murray's appearance in the Jaguar campaign Show Your Edge we created an even rain pattern for a slow-motion camera to film Andy playing tennis in a dark, low-key studio environment. We also showered Miley Cyrus in her video Adore You and we created the wind and rain for the camping retailer Go Outdoors."
Snowboy Systems can also help to ensure episodes of our favourite dramas go out with a bang. Explosions and pyrotechnics are another specialism. Usually effects like fire are created with gas-fired rings which can be controlled easily.
Occasionally though there's the need for a good old traditional explosion with a liquid propellant. On one motoring show Harry had set up the effect, which would see a vehicle blow up in the middle of a quarry.
A rather ambitious senior member of the production team asked if more propellant could be used as they wanted a really big bang. Harry's tactfully advised that there was a sufficient quantity already to achieve the desired result. The gentleman was quite insistent that the effect should be 'big, big, big.' Harry assured him his was in safe hands. The cameras rolled. Lights, camera, action… ka-pow!
As the car (very, very much) exploded and the shockwave sent a ripple through the production team and all of the equipment, the team member's series of expletives had to be overdubbed from the final footage and nobody to our knowledge has questioned Harry's barbecue skills since.
Working for such high-end clients as Harrods – the team covered the world's most famous department store in show one August for the luxury retailer's pre-Christmas launch – means a sense of professionalism.
Whilst it's a fun, exciting profession, it's also one that requires creative flair, technical ingenuity and problem-solving ability in equal measure. These days, shoots are tight for time and money.
Everything in TV and film production is expensive… and across the media generally, the occasional ego of talent or a 'creative' leads can necessitate a degree of tact. Being able to think on your feet is an essential skill and though the industry is less dependent on gaffer tape these days, Vix points out that there are always several different ways to achieve an effect, and the occasional necessity of a quick fix. To remain cool-headed and practical to achieve a desired effect in a short space of time is a real asset… Harry and the team are capable of doing just that, hence they've earned a reputation as being a safe pair of hands in the special effects industry.
Of course, you can't just order an off-the-peg snow-making trailer – more's the pity – so Harry also has to serve as an engineer and make his own rigs and equipment. Much of the equipment he uses is unique and engineered for his purpose, which means not only do his effects help him to produce the desired result on-screen, they also add to his experience creating machines that deliver realistic effects.
Naturally there are celebrities too. Harry remembers being in the presence of film nobility in the form of Peter O'Toole, whilst Vix enjoyed working alongside one of her favourite actors, Sean Connery, in the 1998 film The Avengers.
"It's a faux pas to approach a celebrity during a shoot. Everyone's busy and everyone has their eye on the production. It just becomes work and the novelty wears off to a large extent," says Vix.
"But occasionally there's down time and some of the more 'famous' people we've worked with have been really lovely!"
As a rule the company works a season ahead, creating snow in autumn, spring showers in winter and so on. But if you turn on the TV this Christmas and see groceries or festive gifts advertised amid a blanket of snow, we'll let you into a secret; that commercial hasn't been shot in Lapland or the Arctic Circle. The fact it looks so convincing, though, is testimony to the skills and creativity of Harry, Vix and the rest of the Snowboy Systems team. So this month, if the fire is so delightful, and if you've no place to go, give the crew a call… and let it snow, let it snow, let it snow!