Enjoy 'un accordéoniste redoutable' this month as we introduce the incredible sound of Stamford accordionist, composer and singer Jonny Kerry, whose hugely talented gypsy jazz, bossa nova and French musette performances will be music to your ears…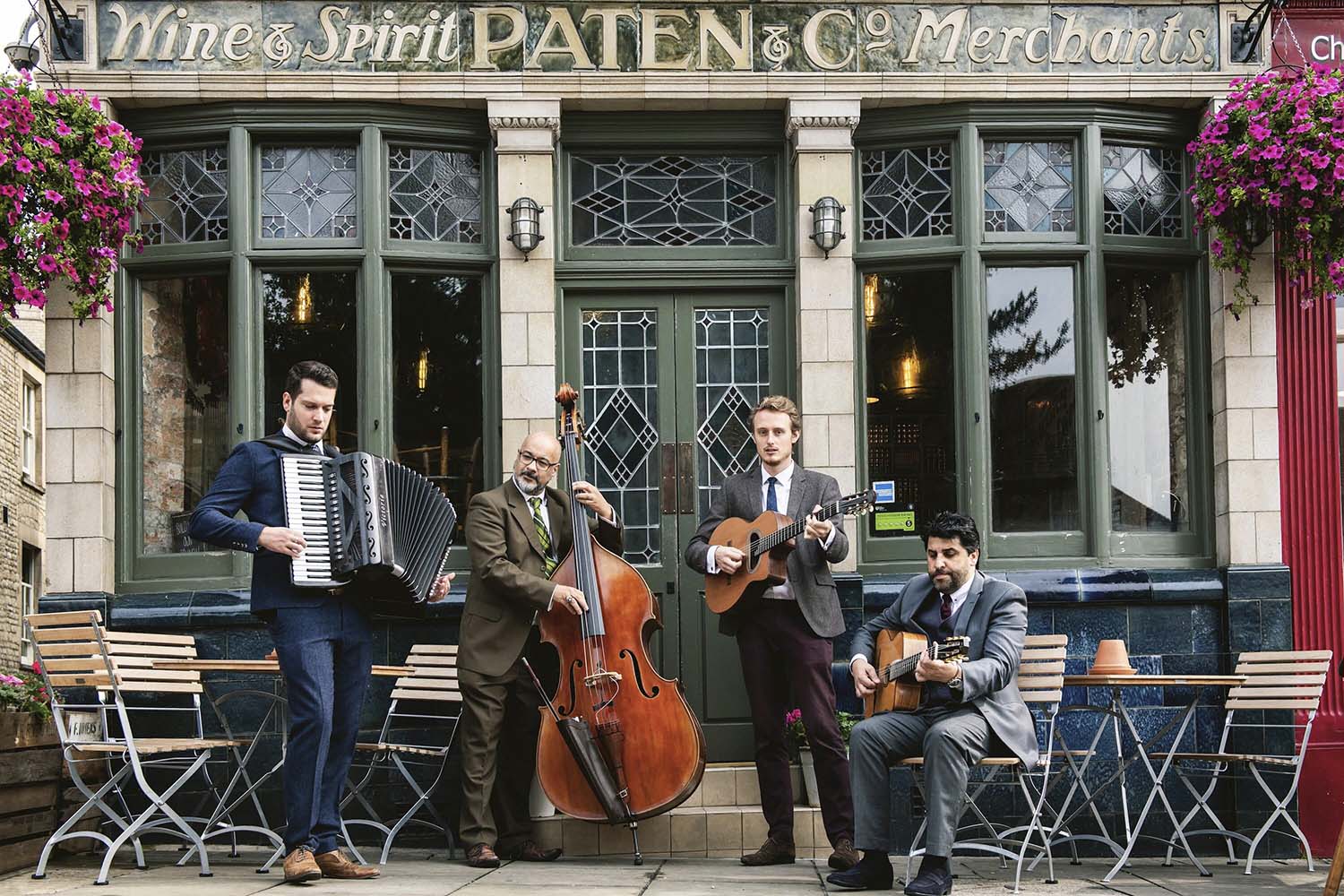 We May Have Let Europe, but Europe will never leave us. From Italian espressos overlooking the piazzas of Florence, Siena or Trieste to a night at the opera in Vienna, or a Bratwurst in a BMW by the Bundesbank, our continental cousins will forever remain in our hearts.
And the soundtrack to Europe – at least in our minds – is the gallic sound of La Môme Piaf – Little Sparrow – herself. She's performing the bal musette by a little café, to the sound of an accordion, as a chap cycles past, wearing a beret and a blue and white stripy top, festooned with a string of onions around his neck. We're wild for the sound.
The French are remarkable. Culinary geniuses, and fiercely protective of their language, fabulously romantic… but insanely irresponsible motorists, at least in Paris. There's no other country, no other folk, who could have popularised the stubbornly unusual accordion. It's unique, magical and, sadly, underrepresented in this country despite being popular elsewhere in the world, as Stamford's Jonny Kerry knows very well.
"People associate the instrument almost exclusively with France. But in fact, it's an instrument of German origin, and is even more popular today in Brazil."
Stamford resident Jonny knows exactly what he's talking about. That's because he himself is an accordionist, and not just any accordionist, but one of the world's top 100 Jazz accordionists and one of the UK's best performers on the instrument overall.
Just recently Jonny was competing in the world-class 1st International Trophée Richard Galliano competition hosted by the veteran of the instrument, with his huge continental following. Accepted into the competition were 32 world-class accordionists, including Jonny, who ranked eighth in the competition when an overall winner was announced in late-December.
There are just three things to know about Jonny. Firstly, he's devastatingly handsome; remarkably so, in fact. Secondly, his voice is phenomenal.
Search for, and listen to, his performance of The Shadow of Your Smile on YouTube and you'll hear that for yourself. His truly mellifluous vocal performance makes a Michael Bublé jazz standard sound like an Ed Miliband speech. Never mind any of the song's past custodians – Tony Bennett, Andy Williams, Perry Como, each of whom sound mediocre in comparison – the Stamford accordionist outclasses them all. Thirdly; Jonny really truly has found his musical soul-mate in the accordion.
"There's a certain offbeat charm to the instrument, like someone who writes in green ink instead of blue or black," he says. "I don't know what it is about the instrument, there's just a sort of general uniqueness to it, it has a certain… je ne sais quoi."
Jonny was born into a musical family in Grantham, with mother and father Phillip and Tracy performing the pedal steel guitar and the bass respectively – alongside his aunt and uncle, Carolyn and Michael Ashwin – in a four-piece band, favouring more acoustic songs and folk among their repertoire. Commendably, Jonny's parents never pushed him in the direction of a career in music, instead allowing their son to discover the joy for himself.
"We always had an upright piano in the playroom and I found my way to it," he says. "My parents always said that I was different to other children in approaching it, as I could pick out a single note or melody."
"We also had a recording studio in our family home, and dad was a songwriter who would compose his own music and record it. He occasionally toured, but mostly worked in his music shop in Nottingham, playing all the instruments in the shop between customers. I enjoyed exploring the studio as a kid, trying out the different instruments there, and then at secondary school I'd always spend my lunchtimes in the music room playing on the piano."
"I did have some formal tuition in the form of piano lessons, but I've never been able to read music – I'm not sure if it's a form of mild dyslexia as the notes just seem to jump around and distract me whilst I'm trying to coordinate my fingers on the piano keys – so I guess I almost tricked my piano teacher by playing by ear, when I was supposed to be reading music."
"I really enjoyed the piano and I loved performing classical music, but one day my grandfather Paul came home with an old accordion he had purchased from an antiques shop. I was 14 and it seemed absolutely amazing, the sound was unlike anything I'd heard before. It was defiant and different, a sort of non-conformist. I began listening to Edith Piaf and Yann Tiersen… I was hooked on the sound and I still am!"
The long-lost cousin of the accordion is the Asian Sheng, which was introduced to Europe in 1777. It led to the creation of a group of instruments including the harmonica and the accordion. A similar instrument – bar a few technical differences – the concertina soon made its way around Germany. It was used in popular dance genres like the polka and in Italy it was common in the Tarantella.
Friedrich Buschmann of Berlin and Cyril Demian of Vienna are both credited with the accordion's invention in 1822 and 1829 respectively, and it soon gained a reputation as a sort of low-brow instrument. That's perhaps because it became associated with street music and performances at raucous dance halls of the era. The instruments were also taken to war where they would be used to entertain troops.
Unlike pianos, accordions could travel around with musicians on their backs to be played everywhere, which included ad hoc performances in drinking venues.
Along with the fact that the instrument was used in raucous venues and for lively new popular genres like polka and gypsy jazz in Germany and Italy, it later became associated with the risqué new dance genre of tango. It also had an uptake in France, most notably among the Auvergne. This included people who left their old province to seek a fortune in Paris running cafés and bars.
Many of these would be clustered around the 11th and 12th arrondissements, the former especially regarded for its fashionable café culture and nightlife. There was also a good cluster around the 5th arrondissement, popular with the bohemian students of the schools and universities – including the Sorbonne – exactly where Henri Murger's Scènes de la vie de bohème, and subsequently Puccini's La Bohème was set.
Entertainment in these venues would typically include dancing to the bourrée to traditional instruments like the cabrétte and vielle à roue (a bit like the English hurdy gurdy). The emerging music style of the café bars was the bal de familles – latterly bal musette – the genre featured in music halls too and it would later transition into gypsy jazz.
Because of the slightly seedy – let's be charitable and say bohemian – culture, some of Edith Piaf's oeuvre features slightly risqué cabaret songs or lewd subject matter. Indeed her performance of Michel Emer's song L'Accordioniste was about a prostitute finding love with a journeyman accordion player. Thankfully the instrument has a rather more respectable following these days… which brings us back to Jonny.
"The instrument really enjoys great popularity with Brazilian audiences," he says. "Choro forró is a popular instrumental genre, and still enjoying his enduring popularity is the French-Italian accordionist Richard Galliano – who gives his name to the competition – still active, he's just turned 69." Galliano has released more than 50 albums and has nearly 50 million views on YouTube… though it's worth saying that Jonny himself has over a million views!
"But still the accordion doesn't have the same profile as other instruments, and is often seen as a bit old fashioned. I've been performing at some weddings or corporate functions and have been asked what I'm playing; some people have never heard of the accordion. It's still used by modern musicians – particularly folk-rock groups like Mumford & Sons and The Levellers – but typically it's a background instrument. I want to bring it to the fore."
"It's a more modern instrument than, say, the violin, so its design and technical performance has improved greatly over the last hundred years. It's easy to learn initially, but it's an instrument that has its own style and so not every song will suit it," says Jonny. "Some songs work, but others just don't. It's best suited to those which are rhythmic and have ballad-like melodies, accompanied by guitar strings being picked."
"I had been performing in a band called Maniére Des Bohemiens, based mostly around Nottingham and with a band called Café Manouche, with my brothers on guitar and double bass respectively."
"Three years ago, I formed the Jonny Kerry Quartet. I play alongside Harry Diplock on guitar, Ducato Piotrowski & Mike Green on double bass. The band has performed at concerts and festivals all over the UK but some of our work comes from corporate events and weddings, bookings for which have been limited over the last year for obvious reasons."
"The time away from performance has been unfortunate but it has at least given me the opportunity to work on solo material too. I've already released one instrumental solo accordion project which explores the French Café accordion musette, tango & jazz music from the 1920s to the 1950s. The repertoire consists of well-known, easy-listening songs, but now I want to introduce vocals too."
"I've recorded material to create and release a second album and I had intended to release it in 2021, but because of all the disruption that we've seen in 2020 I may wait until 2022."
The music industry is suddenly conducive to self-publishing artists. For about £60 you can release music to a publisher which will administrate and pass on royalties from services like Spotify and iTunes.
It's difficult to raise your profile significantly if you're a conventional popular music artist, the likes of which you'll see on X-Factor or Pop Idol – you'll just be lost in the crowd of wannabe youngsters – but if you've a unique, unusual (and good) offering, like Jonny, it's comparatively easy to release and monetise your music, especially if you've a good social media presence… which, we're happy to report, Jonny does.
"The appeal of artists like Piaf and Tiersen is their uniqueness and the accordion has that lovely sense of gratuitous difference and non-conformity. It's a little anarchic and absolutely evocative."
"I love the sound and happily I'm finding that I'm not alone," says Jonny. "I'm looking forward to more people hearing my material in 2021 and to introducing the instrument to a whole new audience!"
Jonny Kerry is the Stamford-based accordionist and singer who performs his solo material, plus covers, and performs with the Jonny Kerry Quartet. For more information on the artist, see www.jonnykerry.com and search for Jonny Kerry on YouTube or his social media channels.